This Easy Horchata Recipe is the perfect drink to serve at your next Mexican inspired fiesta.
Horchata is probably one of my favorite drinks to have at a Mexican Fiesta! And if you know me, you know I love fiestas! Friends, family, and food = happiness!
We recently attended a Mexican themed family dinner with lots of my extended family. It was sort of like a mini family reunion, and boy was it fun! I love that food can bring people together.
Anyway, I had actually been craving horchata for a few weeks, but hadn't managed to get to it yet, so imagine my excitement when I knew we were going to have a Mexican themed get-together!
All my dreams coming true (see first paragraph), and I knew I just had to make one of my favorite drinks to share with all my family.
Also, horchata is so, so easy to make for a large group. I made this for my brother's spooky Halloween wedding and it turned out perfectly. 
It would have been crazy of me to pass on an easy recipe!
I turned to the blog to make sure I had all the ingredients (because it had been awhile since I last made it), and couldn't believe I had never posted it before!
So now it's time to share my knowledge about horchata and get my Easy Horchata Recipe onto the blog!
I'm sharing with you all things about horchata!
Horchata (pronounced or-CHAH-tah) is a traditional chilled Mexican drink. Perfect for hot, summer days or Mexican fiestas. Or just because.
This chilled Mexican drink is made from rice (or almonds), flavored with cinnamon, and  then sweetened with sugar, before it's poured over ice.
To put it simply, it tastes like…rice pudding. Yep. That's what it tastes like. Don't knock it till you try it. So very delicious.
Many versions of horchata are dairy-free; however, my quick and easy horchata recipe uses whole milk.
Authentic Horchata Recipe:
When you make horchata the authentic way, normally it's an overnight process, soaking rice and all.
But, I typically don't have the patience to wait, so that's why I created my easy horchata recipe that will knock your socks off!
There are so many good things about this horchata recipe, but one thing I love is that it can be made both in advance and the day of.
Friends, I have to tell you that the longer the horchata sits in the fridge the more time the flavors have to meld together, which results in a more intensely flavored drink.
Either way you make this easy horchata recipe, you won't be disappointed!
And don't wait for a Mexican fiesta to make horchata—I'm sure you're in need of this drink now!
Let me know what you think of my quick horchata by sharing in the comments below or tagging me on Instagram @moremomma!
xoxo,
Meg
PS. Pair this with my Instant Pot Barbacoa Nachos for dinner tonight!
How to Make Horchata: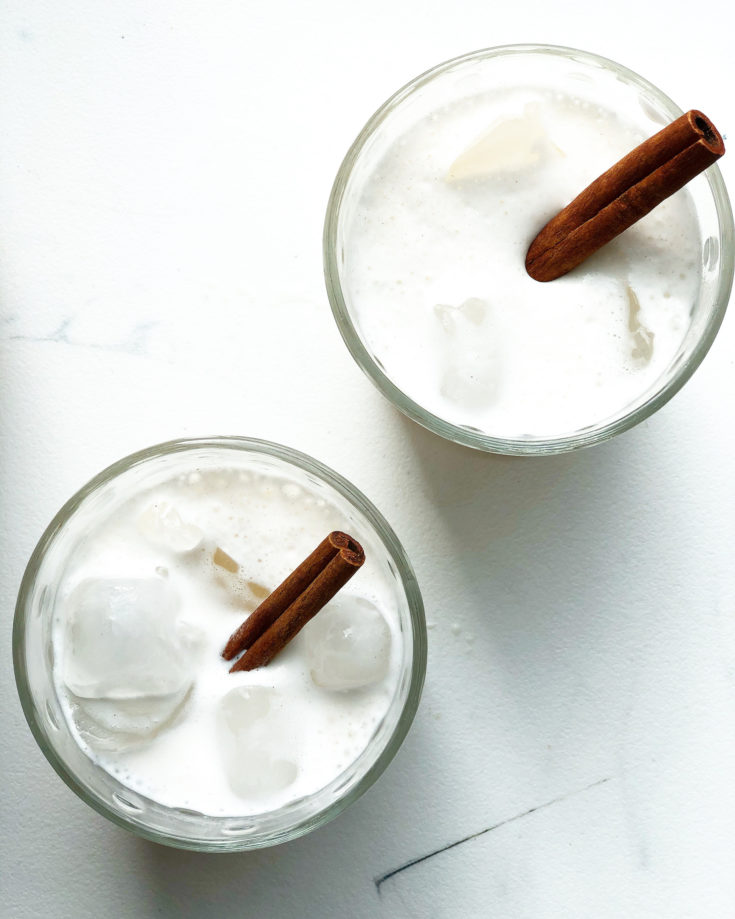 Yield:

Serves 16
Cinnamon Horchata
Easy, refreshing horchata recipe that is quick to make.
Ingredients
1 Gallon Whole Milk
1 ½ Cups Dry, Uncooked White Rice
1 Cup Granulated Sugar
2 Teaspoons Ground Cinnamon
2 Teaspoons Vanilla Bean Paste or Vanilla Extract
Instructions
Note: You will need to work in batches.
Pour 4 cups of milk and 1½ cups dry, uncooked rice in a blender.
Add ¼ cup sugar, ½ teaspoon ground cinnamon, and ½ teaspoon vanilla, then blend for 1 minute.
Strain the liquid in a fine mesh strainer over a large pitcher. Place the rice back into the blender and add an additional 4 cups of milk along with ¼ cup sugar and ½ teaspoon each of ground cinnamon and vanilla. Repeat this process two additional times with the remaining milk (2 more batches).
Combine all the milk mixture into a large pitcher or place back into the gallon milk container and stir to combine.
Let sit in the fridge for as long as you can, up to 48 hours (10 minutes will do too, if you don't have time).
When you are ready to serve, stir the horchata and then pour over ice.
Recommended Products
As an Amazon Associate and member of other affiliate programs, I earn from qualifying purchases.
Nutrition Information:
Yield:
16
Serving Size:
1
Amount Per Serving:
Calories:

219
Total Fat:

8g
Saturated Fat:

5g
Trans Fat:

0g
Unsaturated Fat:

2g
Cholesterol:

24mg
Sodium:

105mg
Carbohydrates:

29g
Fiber:

0g
Sugar:

25g
Protein:

8g