These gnocchi are not your typical gnocchi! This crispy pan seared gnocchi recipe is going to blow your mind! Especially because it is loaded with bacon and cheese and you can make this easy gnocchi recipe in under 10 minutes.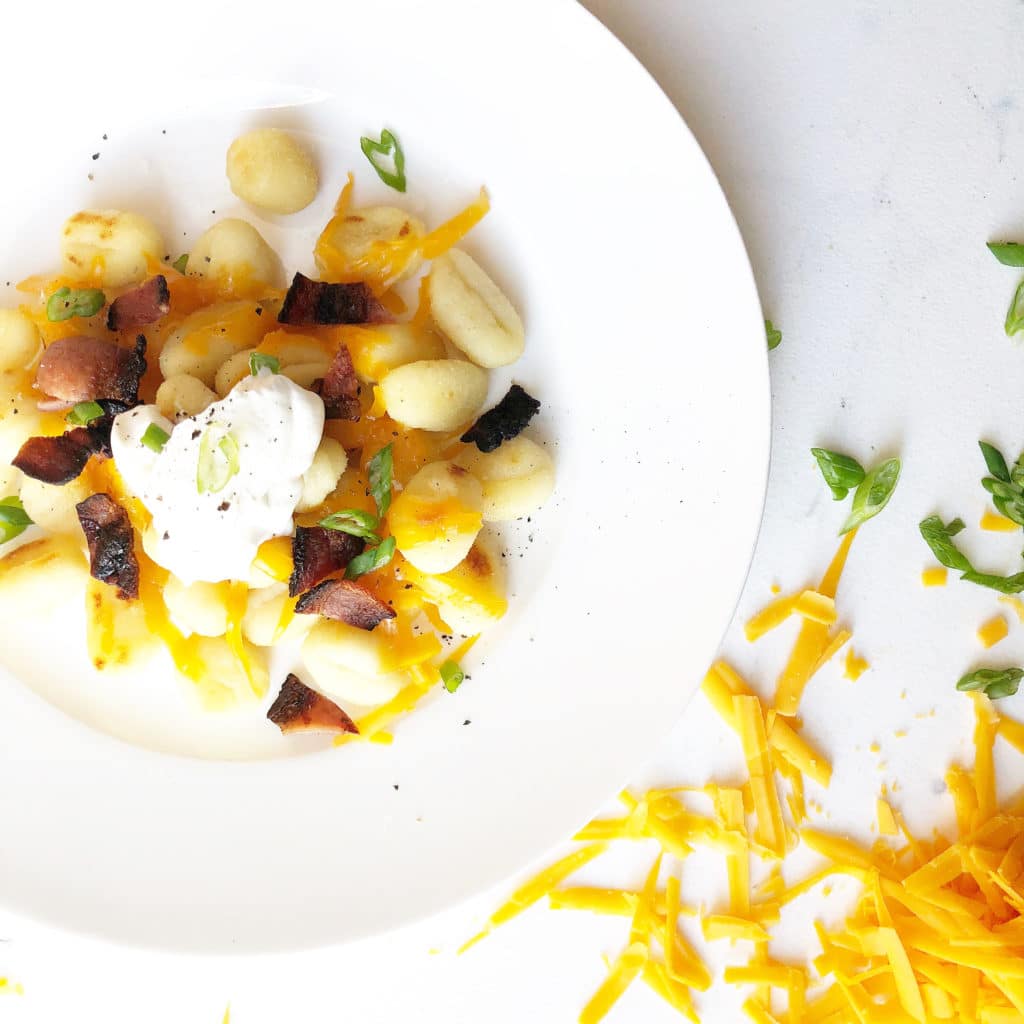 Don't you love recipes that only have a few ingredients? This crispy pan seared gnocchi recipe is my new favorite 10 minute dinner with few ingredients!
Gnocchi are really like a blank canvas. Golden brown potato gnocchi can be topped with a variety of toppings like tomato sauce, parmesan cheese, pesto, or even my Instant Pot bolognese. My favorite toppings of choice lately are shredded cheddar, crispy bacon, chives, sour cream and salt and pepper. It's like a loaded potato but made in under 10 minutes!
Typical homemade gnocchi take about 30 minutes to make. If you buy pre-made gnocchi at Trader Joe's you can pan sear them in under 5 minutes. You all know I am a sucker for all the good Trader Joe's dinner recipes and this one is one of my favorites. Everything can be found at Trader Joe's and you only need a couple ingredients!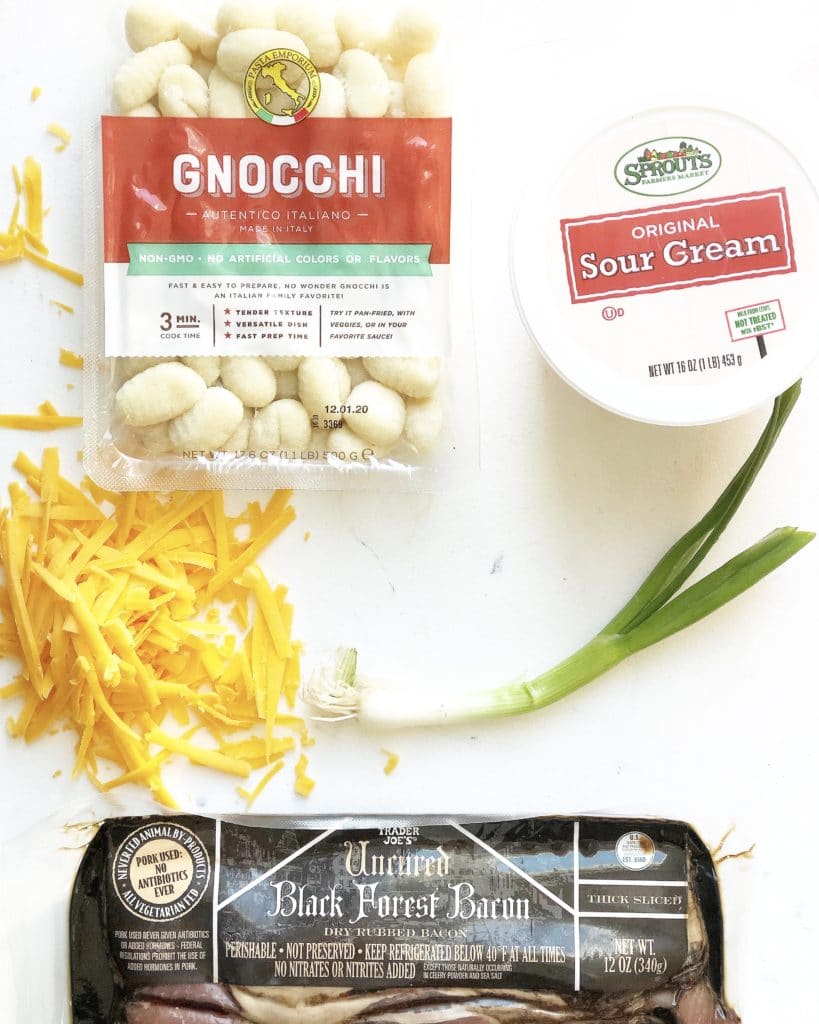 Here is what you will need to make loaded crispy pan seared gnocchi:
1 Package Pre-made Gnocchi
1 Package Black Forest Bacon
Cheddar Cheese
Chives
Sour Cream
Butter
Salt and Pepper
To cook the gnocchi simply pan fry the gnocchi and top with all the toppings and season with salt and pepper.
What are gnocchi?
Gnocchi are traditionally Italian and made with potatoes, flour, egg, and cheese. They are formed into small dumplings and typically cooking in a large pot of salted boiling water, over medium high heat, and then tossed in a sauce of some sort.
Where to buy gnocchi?
Most major grocery stores will sell a pre made gnocchi. My favorite place to buy it is Trader Joe's. The pre made gnocchi package from Trader Joe's is about 1 pound and has a shelf life of a couple months. Keep a package in your pantry to have on hand for a quick and easy weeknight meal.
How to make loaded potato crispy pan seared gnocchi:
Yield:

Serves 3
Loaded Potato Crispy Pan-Seared Gnocchi
Loaded, crispy potato gnocchi are the perfect mix between a crispy French fry and loaded baked potato.
Ingredients
1 Pound Package Pre-made Gnocchi
2 Tablespoons Butter
1 Cup Shredded Cheddar Cheese
3 Slices Bacon, Cooked until Crispy
Sour Cream
Chives, Sliced
Kosher Salt and Pepper, to Taste
Instructions
Preheat a large nonstick skillet over medium heat.
Add the butter and gnocchi and sauté for 5-7 minutes or until crispy.
Top with crispy bacon, shredded cheddar cheese, sour cream, chives, salt and pepper.