Shaved brussel sprout salad is studded with delicious cranberries, parmesan cheese, toasted pine nuts, and crispy bacon. Toss this salad with the perfect citrus dressing and you have perfection! This shaved brussel sprout salad is perfect for an easy side dish especially for the holidays. 
Shaved brussel sprout salad with cranberries and citrus dressing is the perfect salad or side dish for your next gathering. 
It's fresh, full of flavor and is a healthy way to dress up brussel sprouts. I love serving it all year round!
Most recipes you find floating around the internet call for roasting brussel sprouts. Not here! The brussel sprouts in this recipe are served raw which yields for a delicious crunch and an even healthier option. 
Health benefits of brussel sprouts: 
Brussel sprouts are in the Brassicaceae family and are packed with fiber, vitamins and minerals. Firstly they are high in vitamin K. Secondly they contain a large amount of vitamin C and B6. Lastly they have high amounts of potassium, iron, magnesium and phosphorus. 
This little vegetable is also high in antioxidants and have been linked to reducing cancer cell growth and decrease inflammation. Therefore they may help to protect against cancer. 
As with any vegetables eating them raw is the best way to receive all of the great health benefits and and nutritional value. 
Can you eat raw brussel sprouts:
Yes, and it is actually the best way reap all the amazing health benefits of the brussel sprouts.
I recommend shaving them like we do in the this recipe. 
Eating them raw will give you a crunchy texture which is perfect in salads. 
How to shave brussel sprouts:
First, remove a small amount of the bottom of the brussel sprout. 
Second cut the brussel sprout in half.
Lastly shave each half with a knife or on a mandolin.
If you like this salad recipe try these delicious salad recipes:
Roasted Butternut Squash Salad with Maple Orange Dressing
Shaved Brussel Sprouts Salad Recipe: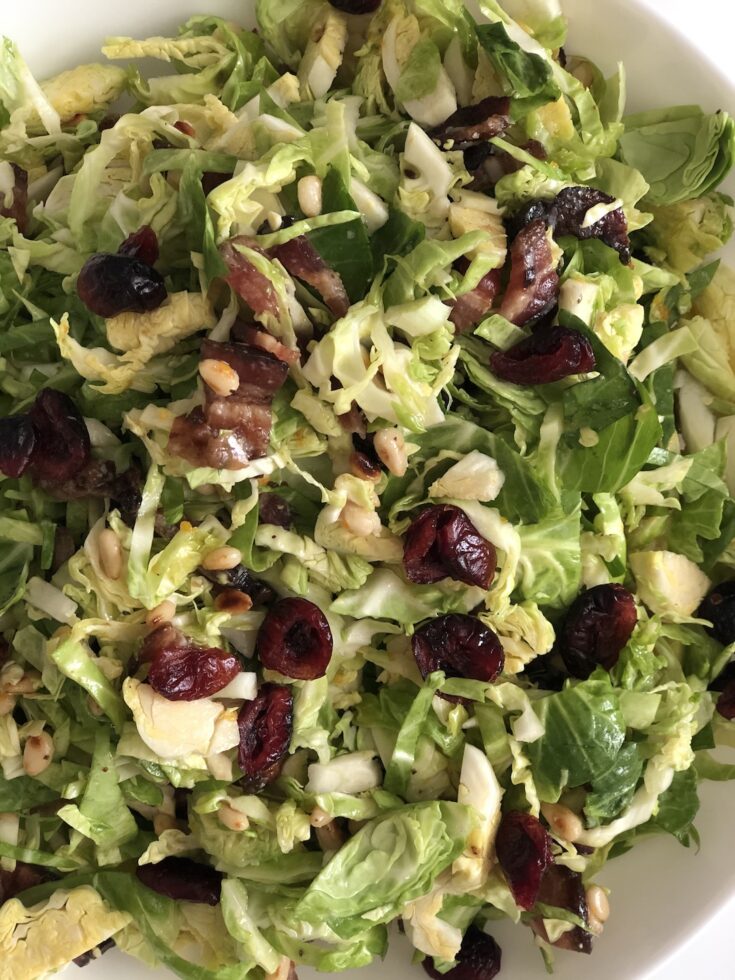 Yield:

Serves 4
Shaved Brussel Sprout Salad
Crunchy, citrusy shaved brussel sprout salad is perfect for a side or a main dish.
Ingredients
For the Dressing:
1 orange, zested and juiced
1 lemon, zested and juiced
2 tablespoons olive oil
salt and pepper to taste
16 ounces brussel sprouts, shaved
5 pieces bacon, cooked until crispy, roughly chopped
1/2 cup pinenuts, toasted
1/4 cup parmesan cheese, shredded
1/2 cup dried cranberries
Instructions
To make the dressing combine zest and juice into a mason jar.
Add oil and salt and pepper.
Seal and shake to combine. Set aside.
Finely shred the brussel sprouts and place in a serving bowl.
Remove any excess grease from the bacon and chop. Add to the serving bowl.
Add the toasted pine nuts.
Top with dressing.
Add grated parmesan cheese. Add cranberries.
Toss to combine and serve.
Notes
Serve cold or room temperature.
Nutrition Information:
Yield:
4
Serving Size:
1
Amount Per Serving:
Calories:

251
Total Fat:

14g
Saturated Fat:

4g
Trans Fat:

0g
Unsaturated Fat:

10g
Cholesterol:

18mg
Sodium:

426mg
Carbohydrates:

25g
Fiber:

4g
Sugar:

17g
Protein:

10g