Use your sourdough starter discard to make this delicious, chewy sourdough starter pizza dough recipe. It taste just like a Neapolitan style pizza.
Today I'm sharing my recipe for yeastless pizza dough or a sourdough starter pizza dough recipe, You'll never want to buy pre-made pizza dough again.
This dough has an authentic Italian pizza dough flavor, and I just know that it will become your new go-to pizza dough recipe anytime of the week.
You do want to plan ahead for this recipe. The dough needs to rest in the fridge for at least 24 hours or up to 72 hours to develop the flavor.
Yeastless pizza dough
This dough is simply the best. I have been making so much yeastless sourdough bread, which results in sourdough starter discard.
Instead of throwing that discard away, I make it into pizza dough, and let me tell you, friends, it is legit! Once you have your sourdough starter, the possibilities are endless.
How to make a sourdough starter
This recipe is so great because it doesn't require yeast. To start this yeastless dough recipe, you'll need 4 ounces of flour (1¼ cup) and 4 ounces of water (½ cup).
Check out The Baker and Chef's post about yeastless dough and for some great tips on making sourdough bread.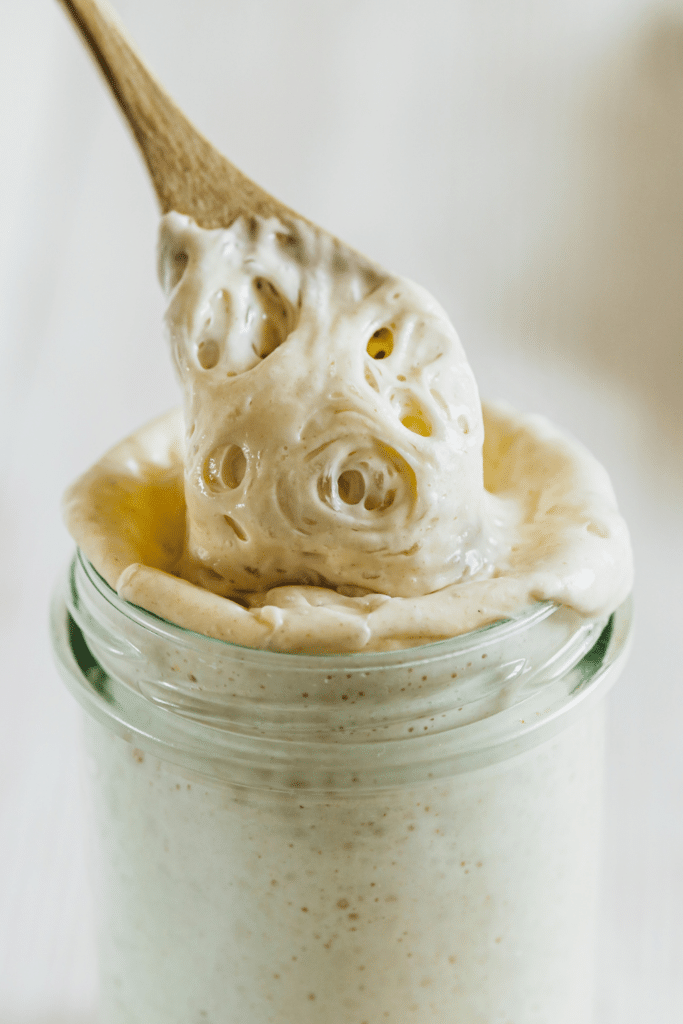 Who invented pizza?
Pizza has been around for a lot longer than we may think. Many cultures like the Egyptians, Romans, and Ancient Greeks, made flatbreads with toppings. But the modern pizza was invented in Naples, Italy, in the 18th or early 19th century.
Pizza was mainly eaten in Italy until World War II. The allied troops stationed in Italy tried Italian pizza and loved it so much that they wanted to bring it back to the states. This began the rise of the ever-popular pizza!
Pizza has since evolved into many different styles:
The Original Neapolitan:
The dough is made of OO flour and the crust is thin, crunchy, and baked in a wood-fired oven. Toppings are minimal with small amounts of sauce and cheese.
New York Style:
A variation of Neapolitan style pizza, this pizza is known for its large, foldable slices. The crust is crispy and can be topped with a wide array of toppings.
Sicilian:
A square-shaped pizza known for its thick, pillowy crust. It is usually made with the cheese underneath the sauce to prevent the crust from becoming soggy. Traditional toppings include bits of tomatoes, anchovies, herbs, and onion.
California Style: T
he dough is similar to the Neapolitan, but the toppings are much more adventurous. Chef LaDou is credited in creating the California style pizza and was hired at Chef Wolfgang Puck's restaurant, Spago, which put this style into a national audience.
Chicago Deep Dish:
Pizzeria Uno in Chicago developed the Chicago style deep dish pizza in the 1940's. This type of pizza is cooked in a large, metal cake pan, and is thick with a layer of toppings.
Chicago Thin Crust:
The pizza crust of this type of pizza is crispier and crunchier than the New York style. It is also cut into squares or strips, instead of triangles.
Detroit Style:
This pizza is square-shaped instead of circular, and is similar to a Sicilian style pizza, but with a deep dish style crust and sauce on the top of the toppings.
Greek Style

:
This pizza was created by Greek American immigrants. The crust is thick and chewy, and is cooked in well-oiled pans, which create a deep-fried bottom.
St. Louis Style:
This pizza is made with a crust that is crispy, almost like a cracker. It is usually cut into rectangles and topped with a combination of cheddar, swiss, and provolone cheeses.
 What pizza oven to use:
Homemade pizza just tastes so much better when made in a pizza oven, don't you think? Unfortunately, not everybody has the luxury of their own in-house industrial-size pizza oven.
Here are some recommendations for pizza ovens.
The family-friendly Ooni Pizza Oven is a great option. They have a wood burning option or a gas option depending on what you prefer. I always recommend the wood burning for flavor purposes.
Another option is the Pronto Pizza Oven. It can preheat in 10 minutes, uses propane (so it's portable!), and can cook the pizza in a few minutes!
If you are looking to invest in a pizza oven this is the pizza oven we have in our backyard. It is wood burning and I have really enjoyed it!
Cooking pizza can also be done on in your home oven and on the stovetop, too!
Enough talk about pizza – Let's get busy!
Sourdough Stater Pizza Dough Recipe
Yield:

4 individual-size pizzas
Sourdough Starter Pizza Dough Recipe
Prep Time:
3 days
24 seconds
Total Time:
3 days
5 minutes
24 seconds
Yeast-free pizza dough that will change your pizza game!
Ingredients
Dough:
1 cup Sourdough Starter
2 cups Bread Flour or 00 Flour
½ cup Water
1 teaspoon Extra Virgin Olive Oil + (more to oil bowl)
1 teaspoon Kosher Salt
Toppings:
Tomato Sauce
Italian Cheese Blend
Pepperoni
Olives
Mushrooms
Maldon Salt
Instructions
Add the sourdough starter to a mixing bowl. Add 2 cups of bread flour or 00 flour and stir slightly.
Add the water and stir to combine. Add the olive oil and salt and knead into a ball.
Oil the bowl and dough ball and place the ball back into the bowl. Cover with saran wrap and place in the fridge for 24-72 hours.
When ready to make the pizzas, place the dough on a lightly floured work surface and cut the dough into 4 equal portions and roll into balls.
Carefully stretch the dough from the inside toward the outside to make individual pizzas.
Place one of the pizza doughs on the edge of a floured pizza peel. Top with a very tin layer of sauce and sprinkle with cheese and toppings of choice. Drizzle with a little olive oil and sprinkle with Maldon salt.
Preheat your pizza oven or an oven to 500 degrees F for 10 minutes.
Place the pizza in the pizza oven or on a cookie sheet or pizza stone in the oven.
Cook for 5 minutes in the pizza oven (rotate half way through). Cook for 10 minutes in the oven.
Remove the pizza and slice into quarters.
Notes
*If using a pizza oven, follow manufacturers directions.
You can change up the toppings however you like. Here are some of my favorites:
Margherita Pizza: tomato sauce, fresh mozzarella, fresh basil, a drizzle of olive oil, sprinkle of Maldon salt
Fig and Prosciutto: thin layer of fig jam, Italian cheese blend, prosciutto, top with fresh arugula tossed with lemon juice
Buffalo Chicken: buffalo sauce, rotisserie chicken, Italian cheese blend, top with cilantro
Recommended Products
As an Amazon Associate and member of other affiliate programs, I earn from qualifying purchases.
Nutrition Information:
Yield:
4
Serving Size:
1
Amount Per Serving:
Calories:

402
Total Fat:

5g
Saturated Fat:

2g
Trans Fat:

0g
Unsaturated Fat:

3g
Cholesterol:

7mg
Sodium:

862mg
Carbohydrates:

74g
Fiber:

4g
Sugar:

2g
Protein:

14g