Are you ready for a quick salad? This zesty quinoa salad is full of bright flavors and tossed with a citrus vinaigrette.
This salad is definitely going to be this summer's ultimate salad. Seriously, it is bursting with in-season fresh fruit and earthy quinoa, and then dressed in a delicious zesty citrus dressing. And if that's not enough, it is equally perfect as a side dish and main meal for these long, summer days. And boy, oh, boy, are these days long!
Salad is such a staple in my house. We eat it basically everyday, whether it is for lunch or dinner or as a side dish. I love how bright green leaves can be transformed into so many fresh recipes. Some of my favorite salad recipes are Crispy Buffalo Chicken Salad, Italian Chopped Salad, and Nuts About Berries Salad. So, so good!
For this salad, I've paired two fresh, in-season fruit, and they happen to be two underrated fruits: nectarines and blackberries!
Nectarines are like a smooth-skinned peach. They are stonefruit, which means that it has a large seed in the middle of the fruit. My kids just gobble up nectarines and I always have to hide a couple from them when I want to make this salad.
Blackberries are another great fruit to eat. They're packed with so many essential nutrients and antioxidants, that I don't mind when my kids eat them by the fistful.
Here's a More Momma tip for washing blackberries (and other fragile fruit): Do not rinse under water because the pressure can crush them. Instead, place the berries in a colander and dip them in a bowl of cold water. Gently swish the colander in the water, and then allow the berries to drain. No more squashed or bruised berries!
How to make zesty quinoa salad:
Add frozen corn to a foil-lined baking sheet. I'm keeping things easy here, but you're welcome to use fresh corn on the cob.
Drizzle with olive oil and sprinkle with salt. A quick roast @ 400°F for 20 minutes should do the trick.
Multitasking is taking place now! Prepare the quinoa while the corn is roasting.
And dice one quarter of a red onion and two nectarines.
Give some sliced almonds a toast on a hot skillet.
Make dressing from the juice and zest of lemons, some honey, olive oil, and salt. I like to make it directly in a mason jar because you can seal the jar and shake to mix.
By now all ingredients should be cooked and prepped.
Put 1 cup cooked quinoa in a bowl and add the corn, nectarines, blackberries, onions, and almonds.
Pour the dressing over the ingredients and stir. Top with some arugula and mix to combine.
Zesty Quinoa Salad Recipe: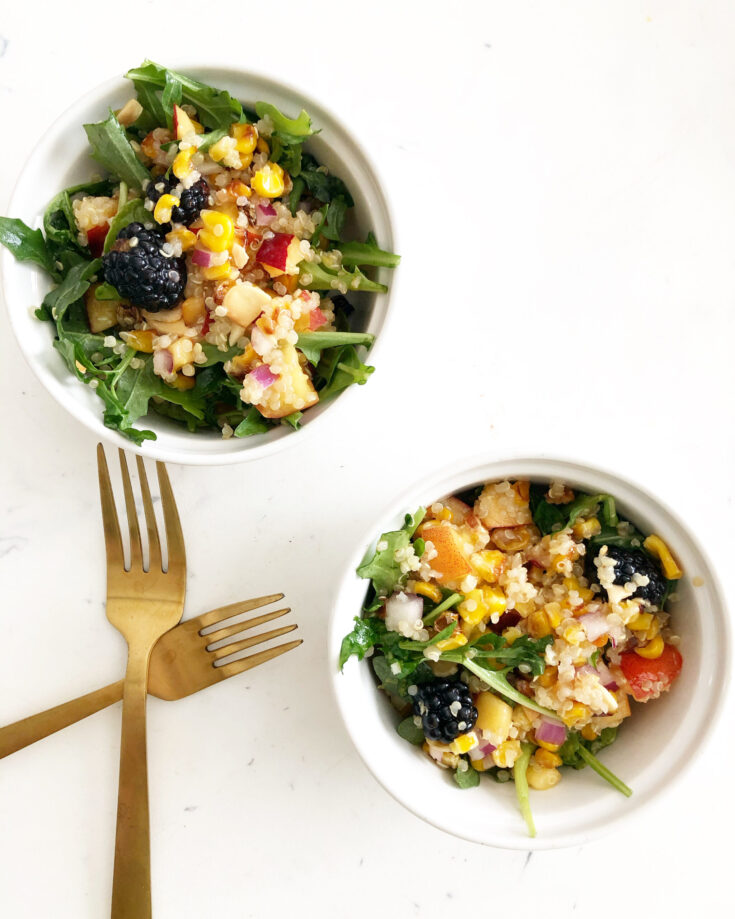 Yield:

6 cups
Zesty Quinoa Salad
This vegan salad is perfect for a side or a main dish.
Ingredients
16 ounces frozen corn
1 teaspoon avocado oil
1/2 teaspoon Kosher salt
1 cup quinoa
1/4 cup red onion, diced small
2 nectarines, diced small
1/4 cup sliced almonds, toasted
1/4 cup blackberries
3 cups arugula
For the Dressing:
zest and juice of 2 lemons
1 tablespoon honey
1/4 cup extra virgin olive oil
1/2 teaspoon Kosher salt
Instructions
Preheat the oven to 400 F.
Place the corn on a foil lined baking sheet. Toss with oil and salt and roast for 20 minutes.
Cook the quinoa to package directions. Let cool slightly.
While the quinoa and corn are cooking, prep the other ingredients.
Make the dressing by combining dressing ingredients in a mason jar. Seal with lid and shake to combine.
Add the corn, quinoa, nectarines, onion and almonds to a mixing bowl or salad bowl and toss to combine.
Add blackberries and dressing and mix to combine.
Add arugula and toss to coat greens.
Friends, I made this whole meal in 20 minutes. I just know you're going to love how fresh and delicious this salad is.
If you are looking to improve your skills in the kitchen and even introduce your kids to cooking, join me at the More Momma Cooking School!