This southwest chicken bowl is my new favorite bowl variation. It's the perfect lunch or dinner for a busy day.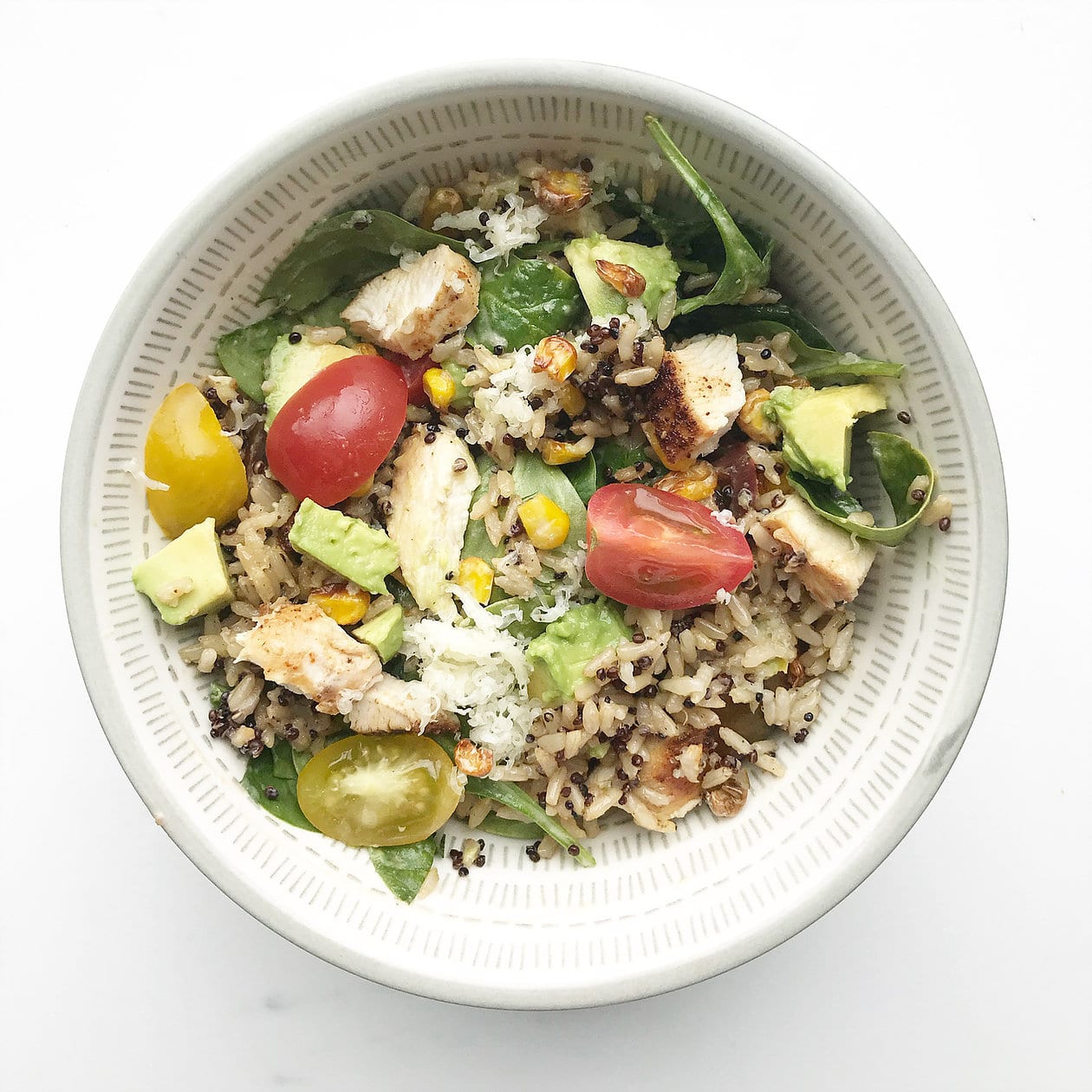 Who else is on the meal prep train? I love this southwest chicken bowl for a quick and easy meal prep lunch or dinner.
I can make everything ahead of time and then grab and go as needed. This meal is perfect for an on the go dinner too! We take it to the soccer park, baseball field or swim meets in these reusable meal prep containers.
If you are looking for a quick, easy, healthy and delicious bowl idea this is the recipe for you!
How To Make The Best Bowls:
You can change up this recipe to fit your individual needs! I love adding extra veggies or utilizing leftovers. Choose one from each category to make a new bowl!
Starch: rice, brown rice, quinoa, potatoes, sweet potatoes
Protein: rotisserie chicken, grilled chicken, grilled steak, shrimp, hard boiled eggs
Vegetables: spinach, arugula, lettuce, roasted vegetables of choice
Toppings: sauces, condiments, herbs, salsas
Other Bowl Variations:
If you are in need of some other bowl variations try some of these ideas below. All can be meal prepped ahead of time.
Salsa Verde Rice Bowl:
salsa verde, shredded rotisserie chicken, canned beans, canned corn, pico de gallo, rice
Bruschetta Chicken Quinoa Bowl:
Pre-made bruschetta, rotisserie or grilled chicken, arugula, balsamic glaze, quinoa
Taco Rice Bowls:
Ground taco meat, lettuce, cheese, pico de gallo, rice
Southwest Chicken Bowl Recipe:
Yield:

Serves 2
Southwest Chicken Bowl
Make this bowl as a meal prep or for a quick lunch of dinner on the go.
Ingredients
1 Packet Quinoa and Brown Rice Mix (I buy these packets that you microwave)
1 Chicken Breast
1 Teaspoon Avocado Oil
1/4 Teaspoon Kosher Salt
1/4 Teaspoon Taco Seasoning Blend
1/4 Cup Frozen Corn, Thawed
1/4 Cup Cherry Tomatoes, Sliced in half
1/4 Cup Avocado, Diced
1/2 Cup Spinach, Roughly Chopped
1/4 Cup Monterey Jack Cheese, Shredded
Dressing:
2 Tablespoons Ranch Dressing
2 Tablespoons Jarred Red Salsa
Instructions
Preheat a grill pan on medium high heat.
Coat chicken in oil and season with salt and taco seasoning on both sides.
Place on the grill pan and cook for 5-7 minutes per side or until cooked through. Set aside.
Cook your quinoa and brown rice to package directions. Place 1 cup in your serving bowl.
Prepare all your toppings.
Cut the chicken into cubes and place on top of your quinoa and brown rice. Top with corn, tomatoes, avocado, spinach and cheese.
Combine ranch dressing and salsa together in a small mixing bowl and drizzle desired amount over your bowl.
Stir to combine and serve.