These beautiful stained glass gingerbread house cookies are so beautiful and good enough to eat! 
The perfect way to celebrate the holidays is with a stained glass gingerbread house cookie. They are easier than regular gingerbread houses because you don't have to assemble a whole house and they are so dang cute.
Simply decorate the cookie and you got yourself a beautiful gingerbread house cookie.
These cookies are perfect to make for your next holiday cookie exchange too. Try out these other cookie recipes that go perfectly with these bad boys. 
Best Christmas Cookies Ever: One Dough Makes 4 Cookies
Easy Classic Chewy Chocolate Chip Cookies
Once Baked Chocolate Chip Almond Biscotti
I am going to show you exactly how to make these cute houses and give you a step-by-step guide to master them on your own. 
Ingredients:
butter
granulated sugar
unsulphured molasses
all purpose flour
baking soda
salt
ginger
cinnamon
nutmeg
powdered sugar
water
powdered egg whites
gel food coloring (if desired)
Jolly Rancher hard candy
sprinkles of choice
How to create stained glass:
The stained glass windows are my absolute favorite part of these cookies. They literally glow if you put light behind them. What a special sight! The kids just think it's magical and so do I. 
Stained glass windows are easier to create than you might think. Normally sugar like this would require a candy thermometer and some skill, but using the Jolly Rancher hard candy requires only a rolling pin and a plastic baggie. 
First you will need to place your Jolly Ranchers into a baggie, remove the air and crush them with a rolling pin. Make sure to crush into a fine powder like consistency. If you want to go for a true stained glass look, crush different colors in separate bags.
Next cut out a space for your window in your cookies with a small cookie cutter. I like to use a fun shape like a star, but you can also cut out squares or rectangles as well. 
Then bake the cookies. 
When you have 3 minutes left you will add the Jolly rancher shards into the cut out and continue cooking. You can add multiple colors of the shards or a single color. 
Finally, let the cookies cool to harden the sugar. 
Stained glass gingerbread recipe: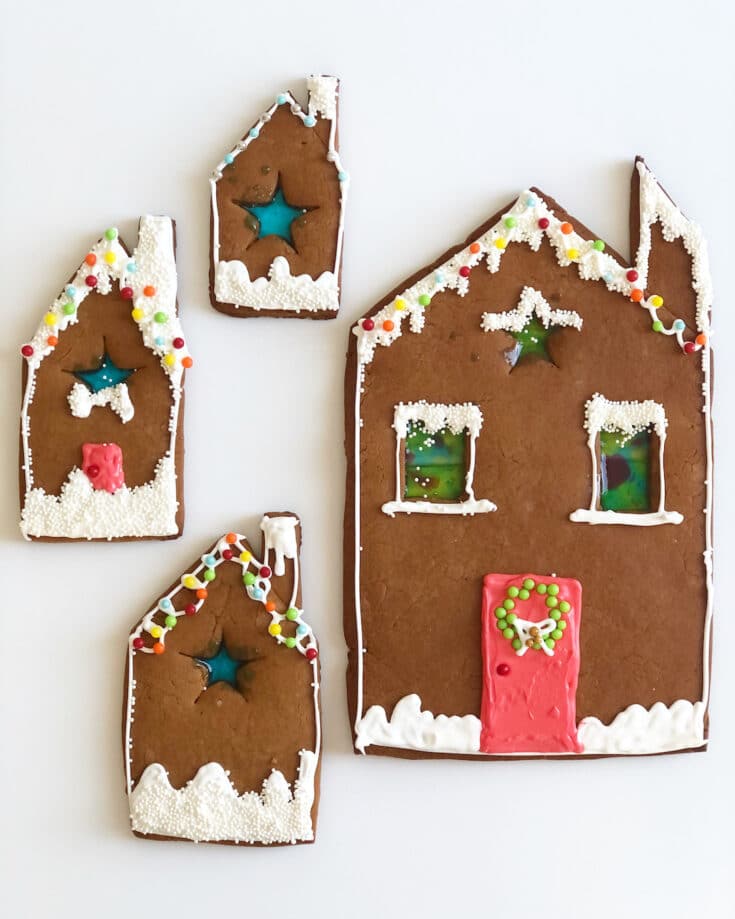 Yield:

12 house cookies
Gingerbread House Cookies
Make these into gingerbread cookies or you can use this exact recipe for gingerbread houses or gingerbread men.
Ingredients
1 cup butter
1 cup granulated sugar
1 cup unsulphured molasses
4 1/2 cup all purpose flour + 1/2 cup
1 teaspoon baking soda
1 teaspoon salt
1 tablespoon ground ginger
1 teaspoon ground cinnamon
1 teaspoon ground nutmeg
Royal Icing Ingredients:
1 1/3 cups powdered sugar
1 tablespoon powdered egg whites
2-4 tablespoons water (depending on your desired thickness)
gel food coloring (if desired)
Decorating Ingredients:
Jolly Rancher hard candy
Sprinkles of choice
Instructions
Melt the butter on low heat in a small saucepan.
Add the sugar and stir until dissolved.
Add the molasses and stir to combine.
Remove from the heat and set aside to cool until lukewarm.
In a large bowl, whisk together the flour, baking soda, salt, ginger, cinnamon and nutmeg.
Make a well in the center of the dry ingredients, pour in the lukewarm butter mixture and beat to blend everything together.
Stir in the remaining 1/2 cup flour and form a ball.
Remove the dough from the bowl and form into a disk. Wrap in plastic wrap and chill for 30 minutes.
After refrigerating, roll the dough into a 1/8 inch disk.
Preheat the oven to 350 F.
Use a stencil or a ruler to cut even rectangles (about 5 inches x 3 inches) or make any size you like.
Cut the top of the rectangle to create a roof and use the triangle scrap piece to cut the chimney. Add the chimney to your roof.
Use a small star or square cookie cutter and punch out dough in the middle of the cookie. This will create your window for the stained glass look.
Use a bench scraper to lift the cookies and place them on a parchment lined baking sheet.
Continue with the rest of the houses. Make the edges perfectly straight by pressing the bench scraper or knife against the sides of the house.
Bake the cookies for 10 minutes. (Make sure you check instruction 18).
Meanwhile prep the stained glass ingredients.
To make the stained glass windows crush the jolly ranchers in a small baggie with a rolling pin. You can use one or multiple colors of jolly ranchers, but just crush each color in individual bags.
When you have 3 minutes left of baking add the candy pieces (a single color or multiple colors) into the window holes and put back in the oven to finish cooking.
Remove from the oven and let the cookies cool.
Make the royal icing by blending all ingredients together in a stand mixer or hand beaters until soft peaks form.
Color icing if desired. Place the icing in pastry bags.
Cut a very small tip off the bottom of the pastry bag. Begin piping in single strokes to your desired design.
Decorate according to video instructions or to your own desired design.
Recommended Products
As an Amazon Associate and member of other affiliate programs, I earn from qualifying purchases.