Peppermint ice cream is the perfect festive holiday dessert. It's rich, creamy and full of peppermint candy. 
Peppermint ice cream is a favorite around our house. This rich, creamy ice cream base is full of peppermint flavor and crushed up candy canes. It's a beautiful dessert to serve around the holidays too. 
The best part is you can serve this ice cream in homemade chocolate waffle cones, or use it for my famous Christmas Ice Cream Cake. It really is a show stopper and easy to make. 
I came up with this recipe by switching up one of my favorite ice cream flavors that we covered in the More Momma Cooking School's ice cream class.
Originally this ice cream was a chocolate Oreo flavor, but with a few teaks it can turn into a delicious peppermint stick ice cream or you can add peppermint joe joe's or Oreos and make it a peppermint Oreo ice cream. Either way, it's so dang good!  
I promise everyone will enjoy this ice cream, especially the kids! With the fun and festive color and the oh-so-delicious and decadent homemade chocolate cones this will for sure be a hit. 
You can even serve this on Christmas Eve night for a special treat. 
Change up the color:
The fun part about this recipe is you change change up the color however you like.
I like to used a bright red color because it reminds me of candy canes, but you can do any color you like. 
Change it up with a bright green or go with a more natural approach and keep it white. 
Ingredients:
The ingredients are pretty straight forward. Just make sure to grab good quality ingredients, especially when it comes to the peppermint extract.
Here is everything you need to make this delicious ice cream. 
heavy cream
whole milk
3/4 cup granulated sugar
egg yolks
peppermint extract
candy canes
peppermint joe joe's (optional)
Tips for making ice cream:
Make sure you cream together the sugar and egg yolks until the egg mixture is a pale yellow. 
Temper the egg yolks by adding one cup of the hot cream and whisk. Then add remaining cream. This will help the eggs to slowly come up to temperature and not to immediately scramble. 
Cook the custard over medium low heat. If you cook it at a higher temperature the custard will burn and curdle. 
Strain the finished custard to catch any lumps. 
Make sure you freeze your ice cream machine for a full 24 hours before using it. 
Check out these other delicious Christmas dessert recipes:
Best Christmas Cookies Ever: One Dough Makes 4 Cookies
Christmas Ice Cream Sandwiches
Peppermint ice cream recipe: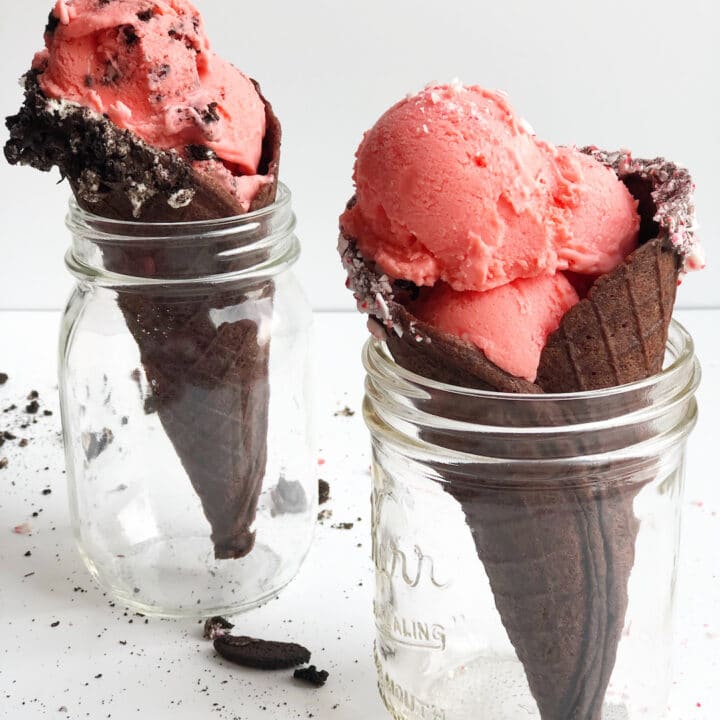 Peppermint Ice Cream
Total Time:
4 hours
23 minutes
Try this homemade peppermint ice cream two ways! You can fold in crunched up peppermint candies or fold in some peppermint Joe Joe's from Trader Joe's. Either way this dessert is epic!
Ingredients
1 1/2 cup heavy cream
1 1/2 cup whole milk
3/4 cup granulated sugar
6 egg yolks
3 teaspoons peppermint extract
gel red food coloring (a couple drops)
Optional:
1/2 cup crushed candy canes
1/2 cup peppermint Joe Joe's from Trader Joe's or Oreo cookies
For Chocolate Waffle Cones:
2 large egg whites
1/2 cup granulated sugar
1/4 cup heavy cream
1/2 teaspoon vanilla bean paste or extract or peppermint extract
2/3 cup all purpose flour
3 tablespoons dark cocoa powder
6 tablespoons butter, melted
For Dipping The Cones:
1/2 cup crushed candy canes
1/2 cup peppermint Joe Joe's from Trader Joe's or Oreo cookies
Instructions
Add the milk and cream to a small saucepan and heat over medium heat until the mixture is hot and simmering slightly.
Add the sugar to a mixing bowl.
Separate 6 egg yolks and add the yolks to the sugar.
Add the egg yolks to the sugar and whisk until the mixture has turned a pale yellow, about 3 minutes.
Add the peppermint extract to the milk. Add a couple of drops of food coloring and stir to combine. Let sit for 3 minutes.
Temper the eggs by adding a small amount of milk to the egg mixture and whisk. Then add the remaining amount of milk and stir.
Place the mixture back into the saucepan and cook, stirring constantly over medium low heat for 3 minutes to thicken.
The mixture should coat the back of the spoon slightly.
Run the mixture through a fine sieve into a mixing bowl to strain any lumps.
Place a layer of saran wrap directly on top of the ice cream mixture and refrigerate for at least 4 hours or until chilled.
Place the ice cream mixture into your ice cream machine and turn on for 15 minutes to churn.
With a rolling pin, crush desired optional additions (peppermint candy or joe joe's) in small plastic baggies.
When the ice cream is done (it will still be soft), place it in plastic containers. Stir in your optional additions. Cover with a lid and freeze for at least an 2 hours to harden. Serve in homemade chocolate waffle cones (recipe follows).
Chocolate Waffle Cone Recipe:
Combine all of the ingredients together in a mixing bowl until the batter is well combined.
Preheat your cone machine and scoop about 1/4 cup batter in the center of the machine. Close and cook until desired color (you can set this on your machine).
Carefully remove the waffle cone from the machine and quickly mold into the cone shape using the cone mold. Let sit for 5 minute or so to harden completely.
Repeat with the remaining cones.
To create a dipped edge, melt the chocolate chips in 30 second intervals in a microwave safe bowl. Stir to melt the chocolate completely.
Dip the edge of the cone in the chocolate, shaking off the excess and then dip into crushed candy cane or peppermint Joe Joe's.
Set in cups.
Let cool completely and then serve ice cream in your cones.

Notes
If your cones have a little hole in the bottom you can plug it up with a mini marshmallow. This can help prevent the ice cream from dripping everywhere while you are enjoying your cone.
Recommended Products
As an Amazon Associate and member of other affiliate programs, I earn from qualifying purchases.