Get your veggies in with this cauliflower taco meat. Meatless Monday is easy and delicious with these cauliflower tacos. My new favorite taco of choice.
Vegetarian tacos are the new thing! These tacos have the best cauliflower taco meat that will have you craving cauliflower instead of ground beef. I promise!
Quick and easy dinners are what I am all about these days. 30 minutes or less is all I have time for. This taco recipe is gluten free and vegetarian. It's a great recipe if you are craving tacos but want a lighter, healthier version.
Why use cauliflower for tacos meat?
Cauliflower has a unique texture that mimics the texture of ground meat. It is also a great vegetable that carries and absorbs flavors easily. Think of it as a blank canvas.
Other great choices for vegetarian tacos are brussel sprouts, sweet potatoes, hash browns, mushrooms or chickpeas.
Can I use cauliflower rice for tacos meat?
Yes, you definitely can use riced cauliflower, but I do prefer cutting the cauliflower from a whole head of cauliflower. Riced cauliflower is convenient, but won't give you quite the texture we are looking for to create the best cauliflower taco meat.
How to make cauliflower tacos:
Cut the cauliflower into small pieces and saute in a hot, cast iron skillet with avocado oil or olive oil.
Add some chili powder, garlic powder, cumin, and oregano to spice it up.
Then add hot sauce or salsa of choice and stir to combine.
Crisp up some corn tortillas and stuff them with your cauliflower taco meat.
You can serve these tacos with tons of toppings.
Some of my favorites are greek yogurt (in place of sour cream), shredded cheese, avocado, cilantro lime dressing, and some fresh squeezed lime juice. It is absolute deliciousness.
Cauliflower taco variations:
Try out of my favorite cauliflower taco variations like these buffalo cauliflower tacos or my friend's cauliflower tinga tacos.
What to serve with cauliflower tacos:
If you are looking for a quick side to make with cauliflower tacos check out my Easy Grilled Mexican Street Corn.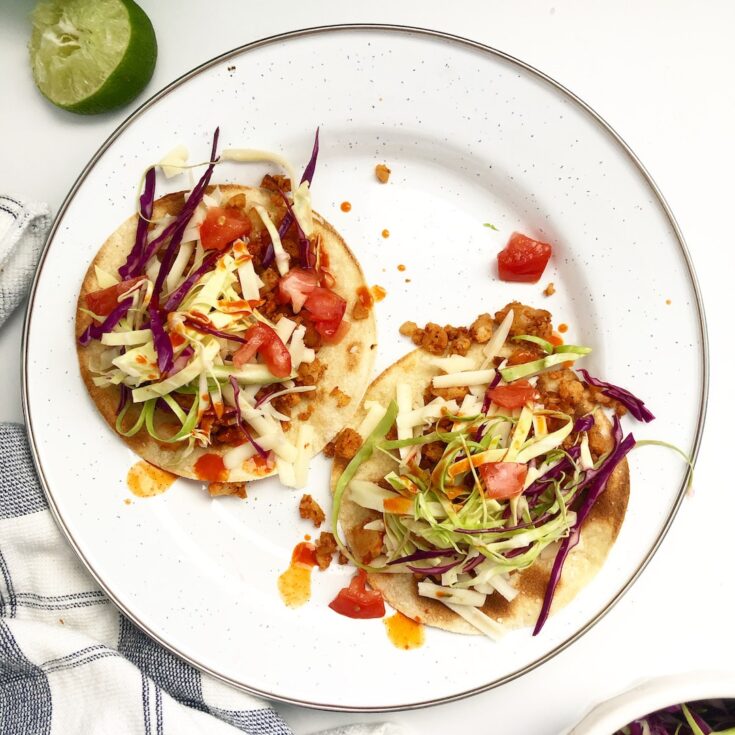 Yield:

Serves 4
Cauliflower Tacos
Vegetarian tacos are at a whole other level with these cauliflower tacos.
Ingredients
1 Large Head Cauliflower, (cut into very small pieces)
1 Teaspoon Avocado Oil
1 Teaspoon Chili Powder
1 Teaspoon Garlic Salt
1/2 Teaspoon Oregano
1/4 Teaspoon Cumin
Red Salsa (to taste)
10 Corn Tortillas
Cooking Oil Such as Avocado Oil or Canola Oil
Kosher Salt
Toppings:
Shredded Pepper Jack Cheese
Hot Sauce
Cabbage, Shaved
Pre-made Pico De Gallo
Instructions
Preheat a large cast iron skillet or skillet over medium heat. Add the oil and cauliflower and saute for 5-7 minutes. Stirring occasionally.
Add the chili powder, garlic salt, oregano and cumin and stir to combine.
Add salsa to taste and set aside.
Prepare all of your toppings.
Prepare the crispy tortillas by preheating a small cast iron skillet over medium heat. Add 1/2 inch of cooking oil to the pan.
Carefully place a tortilla into the hot oil and fry on both sides until crispy.
Remove the tortilla to a paper towel lined baking sheet and season with salt.
Cook the remaining tortillas.
When ready to assemble fill the tortillas with cauliflower mixture and toppings of choice.
Recommended Products
As an Amazon Associate and member of other affiliate programs, I earn from qualifying purchases.