These zucchini meatballs on garlic toasts are one of my favorite healthy, vegetarian weeknight dinners. You definitely don't miss the meat and they are bursting with flavor. 
These zucchini meatballs are juicy and bring a burst of lemon zest to your tastebuds. It's the perfect quick, healthy weeknight vegetarian dinner that my kids even love. And that's a big feat!
It tastes just like comfort food but this vegetarian recipe is so much healthier than a regular meatballs recipe. It really is a great recipe!
If you are anything like me, sometimes I just need a break from meat. I feel lighter and just overall better when I have at least one meatless meal a week. Not to mention it saves us some money too! 
I follow the meatless Monday hack where every Monday we try to have a meatless meal. Although can pick any day of the week that works for you, it does't have to be Monday. 
It get's fun when and we have to get creative because we don't typically eat vegetarian. Although we do have some favorites that are on repeat in our home! Here are some of our favorite meatless Monday meals.
Other Meatless Monday Recipes:
Sweet Potato Tacos with Lime Crema
10 Minute Trader Joe Caprese Flatbread
The Best Cauliflower Taco Meat
Ingredients for Zucchini Meatballs:
These meatballs are full of fresh ingredients. I love making these in the Summer when we have an abundance of zucchini from the garden. If you need some other zucchini recipes to use up all your zucchini try these …..
This recipe also works great in the winter time too! Warm vegetarian meatballs covered in marinara sauce and topped with cheese all on a crunchy garlic toast, what could be better!
Here are the ingredients you will need:
Zucchini
Feta Cheese
Parmesan Cheese
Eggs
Dill
Pepper
Ciabatta Bread
Garlic
Butter
Parsley
Salt 
Garlic Salt
Marinara Sauce
Mixed Italian Cheese Blend
Vegan Zucchini Meatballs (Option):
Make these vegan by using these simple ingredient substitutes:
Egg: Make an egg substitute by combining 1 tablespoon chia seeds with 2 tablespoons water. Let sit for 1 minute and use in place of the egg. 
Butter: Use your favorite vegan butter or olive oil. 
Feta Cheese: Leave out. 
Parmesan Cheese: Add 1/2 cup bread crumbs instead of the parmesan. 
Mixed Italian Cheese Blend: Just leave it off
Tips With This Recipe:
This recipe really only works when you finely shred the zucchini. If you shred it on the normal grate they won't come together properly. So just make to to use the fine side of your box grater. 
Don't skip out of the lemon zest and dill they add a ton of flavor.
Squeeze out excess liquid. If you don't squeeze out the extra liquid the meatballs won't stay together. Zucchini has a lot of water in it so it will release a lot of liquid when mixing all the ingredients together. 
Use a good quality tomato sauce. This may sound silly, but it makes a huge difference. We love Rao's tomato sauce and it's the best on the market in my opinion. It is a little pricy, but I find it the cheapest at Walmart. 
Freezing and Storage:
Make extra of these zucchini meatballs and freeze for later. You can freeze the finished cooked meatballs on a parchment lined baking sheet for 4 hours.
Then transfer to a ziplock bag and store in the freezer for up to 2 months. It's a great vegetarian meal prep item. You can serve them with pasta or spaghetti squash as well. 
Zucchini Meatball Recipe: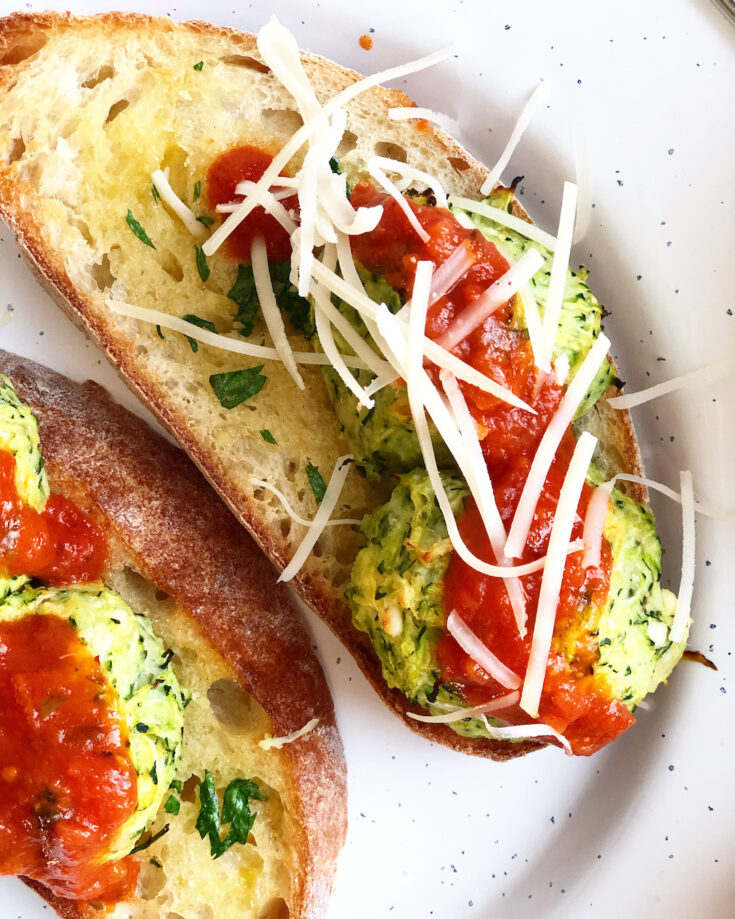 Yield:

Serves 4
Zucchini Meatballs
Delicious vegetarian meatballs are the ultimate comfort food.
Ingredients
5 zucchini, finely shredded, drained of excess liquid
2 lemons, zested
1/2 cup crumbled feta cheese
1/4 cup grated parmesan cheese
1 tablespoon fresh dill, roughly chopped
1/4 teaspoon black pepper
1/3 teaspoon garlic salt
2 eggs
1 loaf ciabatta bread, sliced in 1/2 inch slices
1/2 stick butter
2 cloves garlic or 2 cubes frozen garlic
1 tablespoon flat leaf Italian parsley, finely chopped
1 jar good quality marinara sauce (I like Rao's), warmed
2 cups Mixed Italian cheese blend
Instructions
Preheat the oven to 450 F. Finely shred the zucchini. Make sure to use the fine side of the grater.
Place the zucchini in a fine mesh strainer over a mixing bowl and squeeze out as much liquid as possible.
Remove the excess liquid from the bowl. Add zucchini back into the bowl.
Zest two lemons into the bowl.
Add the feta and parmesan cheese.
Add the fresh chopped dill.
Add the black pepper, garlic salt and eggs.
Mix with your hands to combine. Then form golf ball sized balls in your hands. Squeeze out any excess liquid. Place on a foil lined baking sheet.
Bake for 20 minutes.
Make the garlic toasts by slicing the ciabatta into 1/2 inch slices.
Place the butter in a microwave safe bowl and add garlic. Microwave for 30 seconds to melt.
Add the parsley to the butter mixture and stir to combine.
Place the bread on a foil lined baking sheet and spread with butter mixture. Toast for 5 minutes at 450.
Serve the meatballs on the toast and top with marinara sauce and cheese.
Recommended Products
As an Amazon Associate and member of other affiliate programs, I earn from qualifying purchases.