Wondering what to do with your Thanksgiving leftovers? We've got 10 great Thanksgiving leftover recipes to turn them into something new (including ice cream!).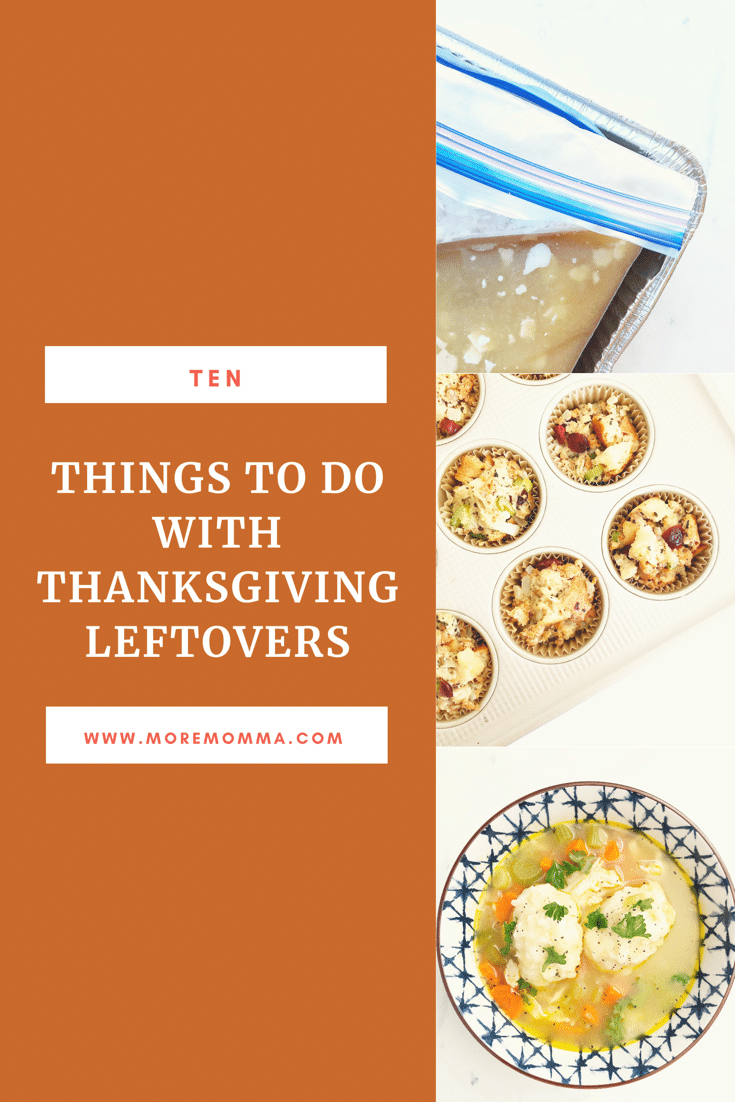 So, I have a confession…My husband and I are just not huge fans of leftovers (normally), but there is one exception, and that is Thanksgiving leftovers!
Here are some leftover recipes that I love to do with all those delicious Thanksgiving leftovers.
10 things to do with Thanksgiving leftovers
Save your turkey carcass and make homemade stock. I put the whole carcass into a large stockpot. Fill the pot with cold water (leaving 2 inches from the top). Add 1 onion (cut in half, keep the skin on), 4 stalks celery (cut into 4 pieces), 2 carrots (cut into 4 pieces), and add any leftover herbs you may have (I like thyme, rosemary, and sage). Bring to a boil and reduce to a slow simmer for 2 hours. I put the pot on half of the burner so it can circulate itself (you don't want to stir). When the stock is ready, strain and let cool. Place 4 cups into separate ziplock bags and place flat in your freezer. *You can also do this in the instant pot; just put on high pressure for 80 minutes.
Use your leftover turkey in these delicious recipes by subbing the chicken for turkey. Chicken and dumpling soup or cranberry chicken salad sandwich.
Use leftover cranberry sauce on cranberry chicken salad sandwiches, or put them in orange cranberry muffins.
Make a soup with extra leftover vegetables. I love using a base of carrots, onions, and celery. I sauté a cup of each vegetable in a medium stockpot with 1 tablespoon olive oil for about 5 minutes. I then add my leftover roasted vegetables (about 2-3 cups) and 8 cups of chicken stock. I bring to a boil and then puree with an immersion blender. Add some yummy herbs like fresh thyme, rosemary, or sage, and a sprinkle of ground cinnamon and some salt and pepper. It's delicious AND you can freeze this for another week's dinner.
Freeze extra sweet potato casserole in ice cube trays for a delicious smoothie pack. I place 4-5 sweet potato ice cubes in small ziplock bags. When I'm ready to make the smoothie, I add the bag of sweet potato ice cubes, 1/2 cup vanilla almond milk, a sprinkle of cinnamon, 1 banana, and 1 scoop of vanilla protein powder. I blend it up and drink it for breakfast, lunch, or a snack.
Place your extra stuffing in muffin tins and freeze! You can reheat for a quick side for another week. If you have extra rolls or bread, cut it up into cubes and make bread pudding, or a french toast casserole.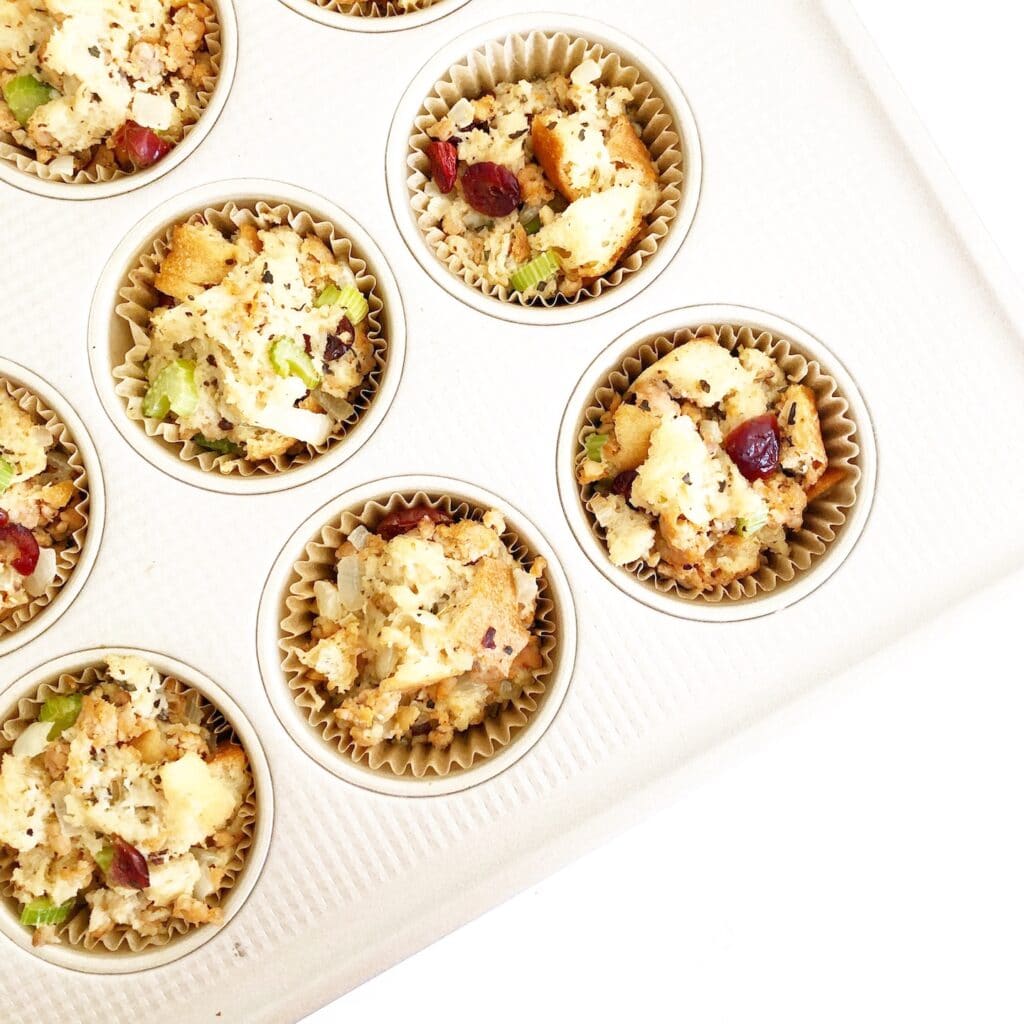 All that extra dessert can be transformed into a delicious ice cream. Start with a

basic vanilla ice cream bas

e and add crumbles of pie when almost finished churning. Or, for a faster ice cream, buy some vanilla ice cream and stir in the pie crumbles.
Put those extra mashed potatoes on top for a quick turkey shepherd's pie, or make a mashed potato bar this week with bacon bits, shredded cheddar cheese, pickled jalapeños, chives, sour cream, and any other toppings you love.
Make a delicious panini or sandwich with all the leftovers you can find.
Freeze extra gravy in ice cube trays for a quick sauce to top on chicken or pork later on in the week.
Thanksgiving leftover wreath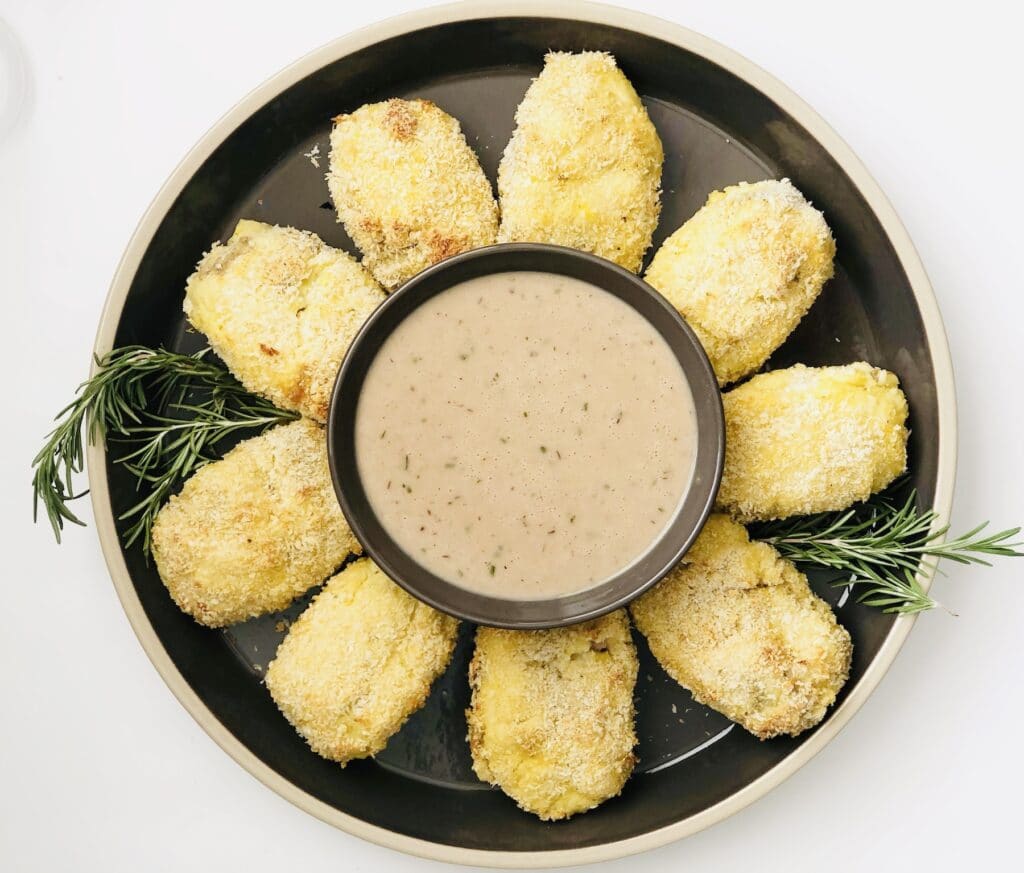 One of my favorite Thanksgiving leftover ideas is this Thanksgiving croquette wreath. I gather the kids the day after Thanksgiving make a festive leftover wreath and we start decorating for Christmas.
It's one of my favorite traditions!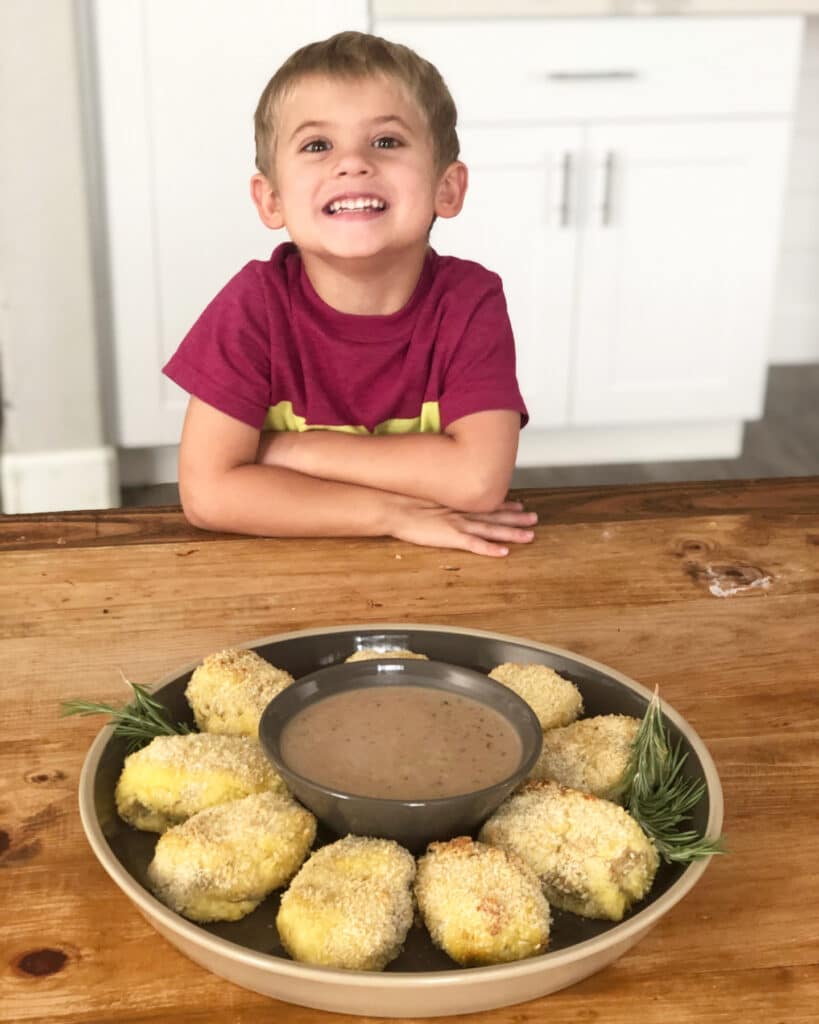 Get your whole family involved:
I use all my favorite leftovers and my pampered chef stoneware to make a crispy, croquette.
I blend up the leftover gravy with some fresh herbs and cranberry sauce in the Pampered Chef blender. 
The best part of this is getting your kids involved. 
Have them dump the ingredients into the blender or assemble the croquettes with you.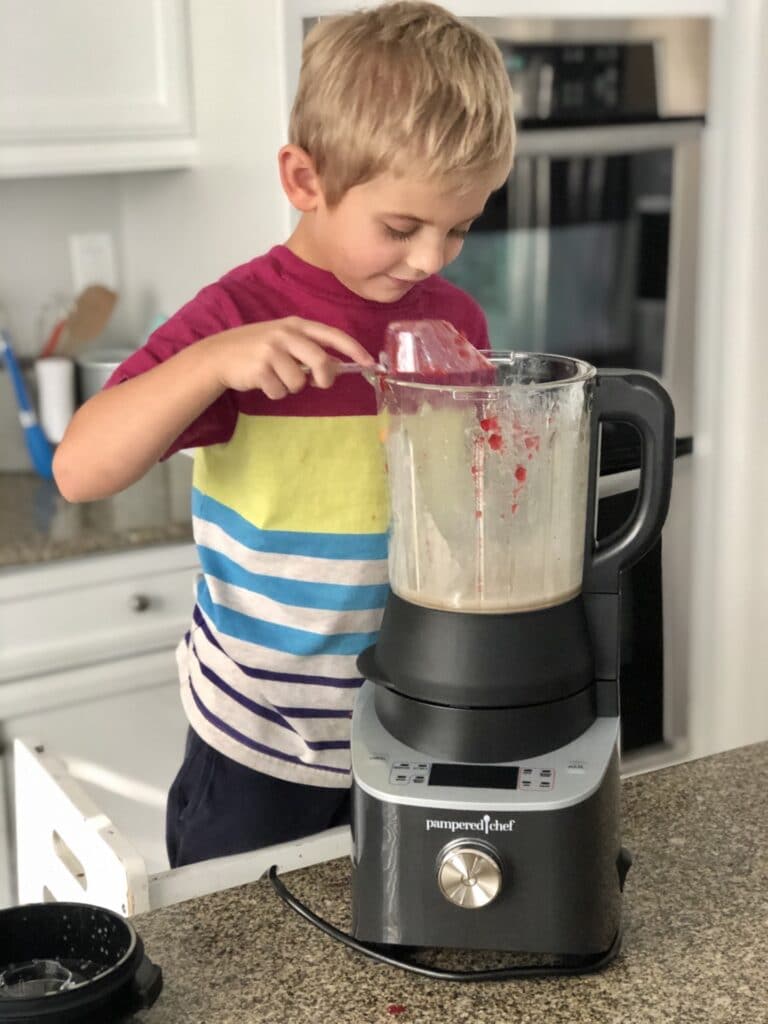 Use what you have on hand:
The best part about making this Thanksgiving leftover wreath is you can use whatever leftovers you have.
If you don't have any leftover turkey you can stuff these with leftover vegetables.
If you are out of leftover mashed potatoes you can use leftover yams. 
The possibilities are endless! 
We used leftover mashed potatoes, turkey, cranberry sauce and gravy. You can also add cheese to these croquettes if you have any leftover cheese from your cheese boards. Brie would be a wonderful option!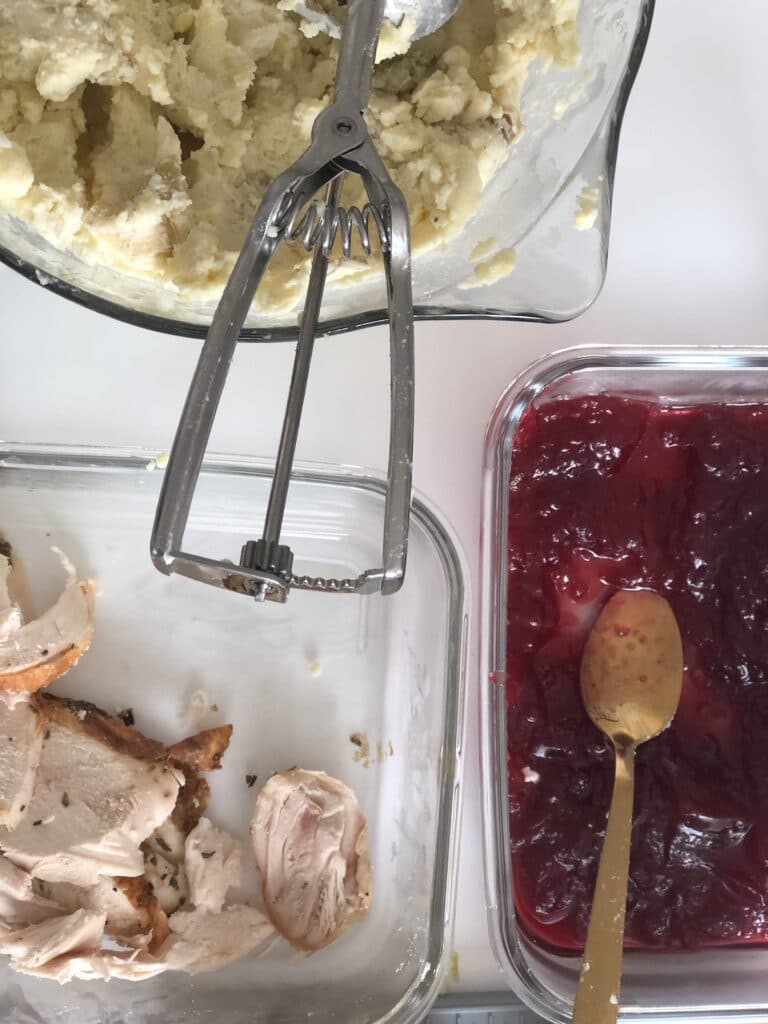 How to make a food wreath:
Yield:

6-12 croquettes
Thanksgiving leftover wreath
Total Time:
15 minutes
45 seconds
Use your Thanksgiving leftovers to create the perfect festive food wreath. The more leftovers you have the more croquettes you can make!
Ingredients
leftover mashed potatoes (use what you have left)
leftover turkey (use what you have left)
leftover cranberry sauce (use what you have left)
1 cup flour
3 eggs
2 cups panko bread crumbs
1 teaspoon poultry seasoning
cooking spray
Kosher salt
leftover gravy
1 tablespoon rosemary
Instructions
Preheat the oven to 425 F.
Scoop 1/2 cup leftover mashed potatoes into 24 balls. (You may have more or less thank 24 depending on how much leftovers you have.
Tear the leftover turkey into small pieces.
Flatten the potato ball and fill with turkey and 1 teaspoon leftover cranberry sauce. Top with another flattened potato ball and form an oval. You can also make smaller ones if you need to.
Fill the remaining croquettes.
Create a dredging station with flour, eggs, and panko in individual bowls or plates. Add the poultry seasoning to the panko and stir to combine.
Crack the eggs into their container.
Dredge the croquettes into the flour and then eggs and then panko. Set aside.
Bread all the croquettes and place on the Pampered Chef stoneware.
Spray with cooking spray and sprinkle with salt.
Bake at 425 F for 20-25 minutes or until the pankp is golden brown.
To make the sauce add the gravy, cranberry sauce and herbs to the pampered chef blender.
Place on the sauce setting.
The sauce will be warm and thickened.
Place the croquettes on the pampered chef stoneware serving platter and fill the bowl with the warm sauce.
Serve the croquettes with the sauce.