Have you ever wanted to make homemade candy corn from scratch? It's surprisingly easier than you probably thought! Try this homemade pumpkin spice candy corn for your Halloween candy this year. 
This homemade pumpkin spice candy corn recipe is a healthier alternative to the store bought version.
Are you a lover or hater of candy corn? Candy corn is a festive holiday treat that I love, but it's filled with unhealthy ingredients, and kind of tastes like wax. Am I right?
I feel like you either love it or hate it!
The great thing about making homemade candy corn is that you can be creative with how it's flavored! I used pumpkin pie spice extract for this homemade candy corn recipe, but you can use any extract you would like.
Make it for other holidays, too!
You can use green and red food coloring with peppermint extract to make a festive Christmas candy corn. Or use red and blue food coloring along with watermelon extract to make a fun Fourth of July treat! The possibilities are endless.
Here are some of my favorite combinations. I love using these gel food colorings because they are easy to use and provide great color and is very concentrated so it will not affect the candy making process.
What will you need to make candy corn at home?
You will need a candy thermometer and saucepan to make candy corn. Make sure you use a good, quality candy thermometer like this one, to make sure your sugar heats to the right temperature. You don't want your sugar mixture to get above 240°F, or you will get a hard candy instead of a semi-soft candy.
Should I make this recipe with my kids?
You can definitely make this recipe with your kids, but you want to be very careful when cooking the mixture on the stovetop. Candy burns are the worst! I recommend doing that step for them.
Candy making is a great skill to learn but you just want to be very careful cooking hot sugar.
What are the ingredients for candy corn?
Did you know store bought candy corn is full of unhealthy ingredients. This candy corn recipe is made from a mixture of sugar, powdered milk, water, corn syrup, coloring, and flavoring. Check out the recipe below for exact details, but feel free to change up the colors and flavors to what you like.
This pumpkin spice flavor is perfect for Halloween or Thanksgiving. You can even put these candy corns in little bags and give them away to neighbors or friends. It also makes for a great place setting treat for Thanksgiving. Just place a name tag on them and your guests can enjoy this little treat while they are sitting down to eat Thanksgiving dinner.
Other Homemade Halloween Treats:
Halloween may look different this year and that is why making some of your favorite Halloween candy can be a fun way to celebrate.
If you are looking for some other fun Halloween treats try this Easy Halloween Punch for Kids or Halloween Cake Ideas: Coco Themed Cake.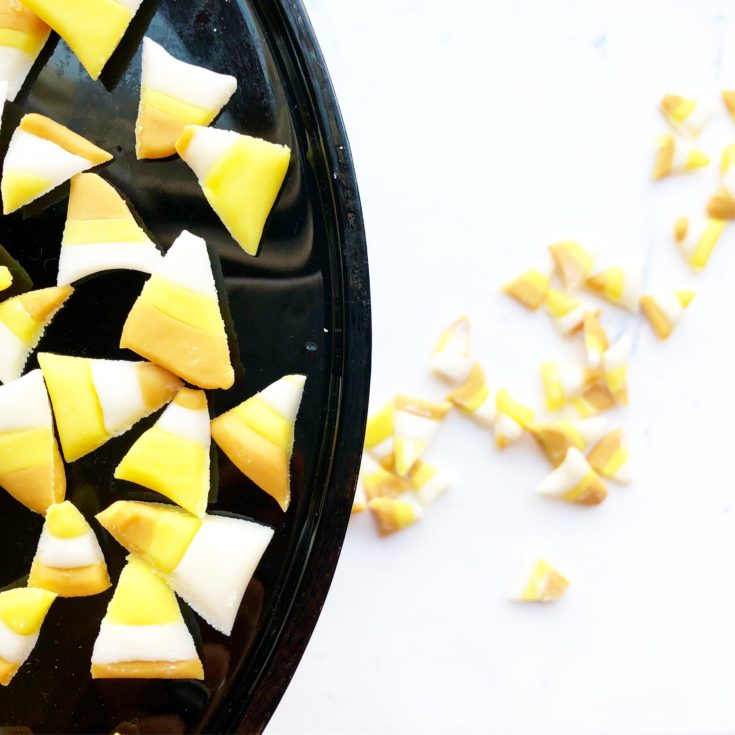 Yield:

10 servings
Homemade Pumpkin Spice Candy Corn
Homemade candy corn is a healthier alternative to the store-bought versions.
Ingredients
1 3/4 Cup Powdered Sugar
3 Tablespoons Dry Milk
3/4 Cup Granulated Sugar
1/2 Cup Corn Syrup
4 Tablespoons Water
3 Tablespoons Unsalted Butter
½ Teaspoon Pumpkin Pie Spice Extract
All-Natural Yellow and Orange Food Coloring
Extra powdered sugar for dusting (if needed)
Instructions
Sift together the powdered sugar and milk powder.
In a small saucepan heated over medium heat, combine the granulated sugar, corn syrup, and water. Stir and cook until the sugar is dissolved (about 3 minutes).
Add the butter and stir.
Place a candy thermometer into the pan so that the bottom is submerged into the liquid.
Bring the mixture up to 240°F. Do not stir! Be careful--it must reach the exact temperature to get the right consistency for your candy. Remove from the heat when it reaches 240°F.
Add the extract and powdered sugar mixture.
Stir with a silicone spatula until a dough ball forms.
Place the mixture on a parchment-lined baking sheet. Let cool for 5-7 minutes until touchable (be very careful, it will be very hot).
Separate the dough into three equal pieces. Put on latex gloves.
With your finger, form an indentation in the middle of two dough balls (you will keep one white). Add the yellow food coloring to one dough ball and orange coloring to the other.
Knead in desired amount of food coloring until the dough reaches the desired color.
Roll each dough ball into a long log, about ¼'' in diameter.
Place the three logs together, side by side (orange, yellow and then white), and pinch together to form one larger log.
Stretch slightly to form a long rope. Cut with a knife at alternating 45 degree angles to form triangles.
Let the candy corn dry overnight. You can dust with cornstarch if they are sticking together.
Store in an airtight container.
Notes
Use latex gloves to protect your hands from the food coloring.
Recommended Products
As an Amazon Associate and member of other affiliate programs, I earn from qualifying purchases.