Whether you just had a baby or you need to some easy meals when you don't feel like cooking these family freezer meals are super easy to make and can feed your family when you don't want to cook.
I know a lot of people that spend hours on a single day to stock up on freezer meals, but I have a better way!  You don't have to spend hours in the kitchen making freezer meals.  It's actually a lot easier than you may think.
Here are my go-to tips on stocking your freezer with family freezer meals without having to spend hours in the kitchen.
Go-To Tips To Stock Your Freezer:
Make double of what you are already making and place half in the freezer.
Enlist your friends: Have a freezer meal party where you are each in charge of making one freezer meal.  Each friend makes enough freezer meals for the amount of people there and you each will walk away with a ton of of different freezer meals with minimal time spent making them.
Make soup once a week. Soup is one of the easiest freezer meals you can make and if you follow number 1 You can simply just make double and freeze.
Buy your family's favorite freezer meals at the grocery store. If you family loves frozen pizza or lasagna by all means buy one or two to have on hand when you don't have time to cook.
These family freezer meals are some of my go-to meals to have on hand at all times. Some of these recipes are from the More Momma Supper Club Meal Plans where we do a ton of make-one-freeze-one dishes and other freezer meal dishes. Others are some of my fellow blogger friend's recipes that I love.
Whether you have 10 minutes or 2 hours to make freezer meals, I promise you can always have a stock pile of delicious family friendly freezer meals on hand. If you need help with how to freeze items without getting freezer burn or which containers work best check out this post with all my favorite freezer tips. 
Try some of these recipe out and let me know what you think.  You can always rate the recipe on the recipe card too.
Enjoy! And happy freezer meal cooking!
Family Freezer Meal Recipes:
Turkey Bolognese:

Yield:

Serves 6

Instant Pot Bolognese

Additional Time:

10 minutes

Quick Instant Pot Bolognese is the perfect meal to freeze for a quick dinner to have on hand.

Ingredients

2 Teaspoons Avocado Oil
2 Cups White Onion, Diced Small
4 Cloves Garlic, Minced
2 Pounds Ground Turkey
2 Pounds Sweet Italian Chicken Sausage, Removed from Casing
2 Cups Red Cooking Wine
2 (28 ounces) Cans Italian Style Peeled Tomatoes
1 Tablespoon Kosher Salt
½ Cup Tomato Paste
Splash of Heavy Whipping Cream

To Serve:

Pasta of Choice
Parmesan Cheese
Basil, Torn

Instructions

Turn your Instant Pot on to the sauté mode. Place the oil, onion, and garlic in the pot and sauté for 1-2 minutes, or until the onions are translucent.
Add the ground turkey and sausage. Cook until the meat is almost cooked through, breaking up the meat into small pieces while cooking.
Add the wine, tomatoes, salt and tomato paste. Cook on manual, high pressure for 20 minutes.
Move the nozzle from sealing to venting to perform a quick release on the Instant Pot. Stir in cream if desired.
Cook pasta according to package directions and toss with desired amount of sauce. Top with parmesan cheese and basil.

Notes

To Freeze:

Let the bolognese cool slightly. Place the sauce in 4 freezer reusable Ziplock gallon bags and freeze flat. Or for individual servings freeze in soup cube trays.

To Reheat:

Thaw the sauce in the fridge the night before. Place the sauce in a saucepan over medium heat and cover with a lid. Cook for 5-10 minutes, or until the sauce is warmed through.

Serve over cooked pasta or in baked potatoes.

Recommended Products

As an Amazon Associate and member of other affiliate programs, I earn from qualifying purchases.

Instant Pot Duo 80 7-in-1 Electric Pressure Cooker, Slow Cooker, Rice Cooker, Steamer, Saute, Yogurt Maker, and Warmer, 8-QT, Stainless Steel/Black

Reusable Gallon Storage Bags 5-Pack, LEAKPROOF Freezer Bags, EXTRA THICK Gallon Ziplock Bags for Marinate Meats, Vegetables, Fruit, Cereal, Sandwich, Snack, Travel Items, Meal Prep, Home Organization

Chicken Pot Pie:

This is one of my families favorites. You can even make the biscuits ahead and freeze those too.

Classic Chicken Noodle Soup:

I would recommend leaving the noodles out when freezing.  You can bring the soup up to a boil in the reheating process and then cook the noodles then.  They won't become mushy if you follow this step.  Although you can certainly freeze the soup with noodles in it as well. 
Instant Pot Mac and Cheese: Make sure you thaw this recipe in the fridge the night before and then reheat in the oven. 

Chicken Tortilla Soup:

Such a great make-one-freeze-one item!  I love freezing this soupercubes to have on hand for a quick lunch option. 
BBQ Chicken Bacon Taquitos:

Yield:

Makes 10

BBQ Chicken Bacon Taquitos

Freezer Taquitos are quick and delicious for an on the go dinner.

Ingredients

2 Cups Rotisserie Chicken, Shredded
1/2 Cup Bacon, Cooked and Roughly Chopped
2 Cups Cheddar Cheese, Shredded
1/4 Cup BBQ Sauce (you can add more if you like a stronger flavor)
10 Flour Tortillas (you can also use corn)
Cooking Spray
Kosher Salt

Instructions

Combine rotisserie chicken, bacon, cheddar cheese and bbq sauce in a bowl.
Fill a tortilla with a couple tablespoons of the chicken mixture and roll the tortilla to form a taquito.
Continue to fill the remaining tortillas.
Place the taquitos in a resealable ziploc bag or plastic ziploc and store in the freezer.
When ready to serve place the taquitos on a foil lined baking sheet and spray with cooking spray. Sprinkle the tops with kosher salt and bake at 400 for 20 minutes.

Recommended Products

As an Amazon Associate and member of other affiliate programs, I earn from qualifying purchases.

Slow Cooker French Dips:

By far my favorite slow cooker sandwich recipe.  Make a bunch of the meat and freeze to have on hand for multiple recipe like sandwiches, nachos, or even to place in tacos. 

Chicken Artichoke Dip Pinwheels:

Change up the filling for this recipe with any of your favorite pizza toppings. 
Turkey Chili: One of my most popular recipes!  This healthy turkey chili freezes wonderfully for a quick comfort meal that everyone in the family loves. 

Taco Pasta:

This one is a keeper friends.  I can't wait for you to try it out. 
Butternut Squash Soup: Another great soup to freeze. I always try to have one of these on hand.  My favorite thing to serve this soup with is my famous pretzel rolls. It's the perfect combination. 
Chicken Teriyaki Bowls: This one is great as a meal prep freezer lunch. I freeze these in individual meal prep containers so that I can quickly throw them into the microwave and have a healthy, delicious lunch. 

Asian Pork Meatballs

: One of my dear friend's recipes. These are to die for! 
Pizza Hand Pies: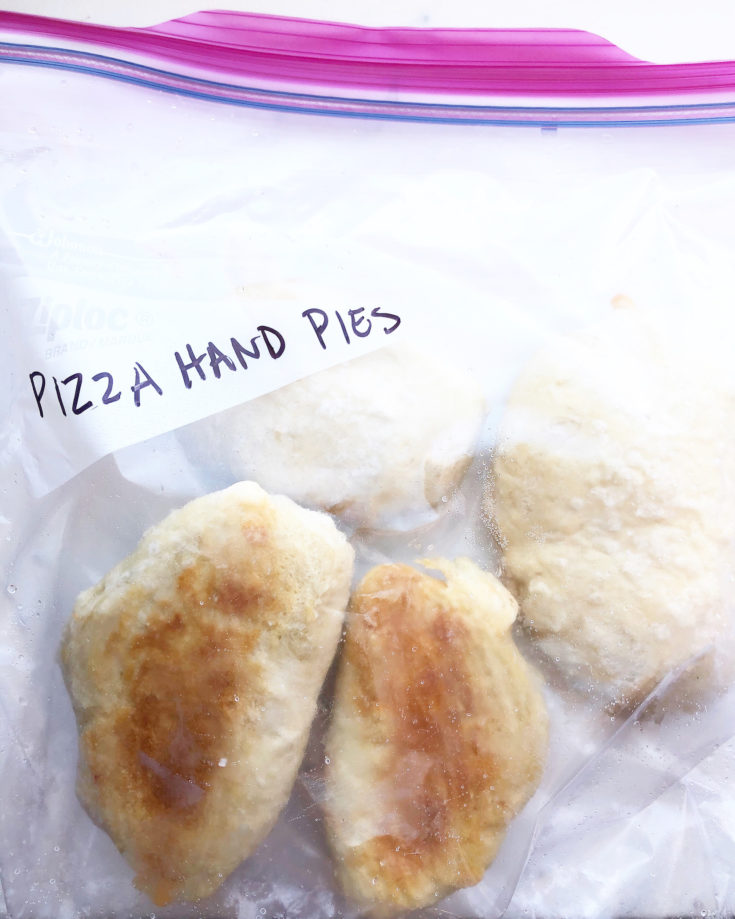 Yield:

Makes 6
Freezer Pizza Hand Pies
Make these pizza hand pies for a quick on the go dinner that you can pull out of the freezer, microwave and have an on the go meal for when you really don't have time to cook.
Ingredients
2 Tablespoons All Purpose Flour
1 Pre-made Pizza Dough (Trader Joe's)
Toppings Of Choice
Mixed Italian Cheese Blend
Vegetables
Pepperoni
Pineapple
Cooking Spray
Kosher Salt
For Dipping:
Instructions
Preheat the oven to 400 degrees F.
Lightly dust a clean work surface with flour. Evenly cut the pizza dough on the work surface into 6 equal pieces.
Create a disk with the dough by pressing the dough with your fingers.
Place desired amount of toppings into the center of the dough (being careful not to overfill and leaving a 1/4 inch edge around the outside).
Fold the dough in half to create a pocket and seal the edges by crimping them together with your fingers.
Place the pizza pocket on a parchment lined baking sheet.
Continue with the remaining dough.
Spray the pizza pockets with cooking spray and top with salt.
Bake the pizza pockets for 15 minutes.
(If eating immediately) Serve with tomato sauce for dipping.
Let cool completely and then place in a ziploc bag to freeze.
Notes
To reheat:
Preheat the oven to 400 degrees F and place desired amount of pizza pockets on a parchment lined baking sheet. Cook for 20-25 minutes or until warmed through.
You can also place the pockets into the microwave for 1-2 minutes.
*Serve with tomato sauce for dipping.
Recommended Products
As an Amazon Associate and member of other affiliate programs, I earn from qualifying purchases.