Rigatoni bolognese is one of the many recipes I learned how to make while I was at culinary school in Italy. It's rich and full of flavor and is a show stopper Italian pasta dish. 
I really can't wait for you to try this rigatoni bolognese. It's topped with creamy herby whipped ricotta and is so good. It's a labor of love, but so worth the time spent.
You can make a big batch and freeze it to have on hand whenever you have a craving. Because let me tell you, once you try it you will crave it! It's that good. 
While I was attending culinary school in Italy I learned how to make this traditional bolognese sauce in one of my classes. Although my teacher did note that every family has their secrets and make it a little differently.
What I love so much about the Italian culture is how they cook their food. They do it all by eye and pass down their recipes through generations by simply cooking together. Children learn from their Nonna and the food culture is passed down. 
This bolognese is cooked for hours on the stove to develop the flavors. I would suggest to make it in the morning so you can cook it for the full eight hours. Just let it simmer on low all day.
You can also make it a day in advanced. It just gets better and better the longer the flavors have to meld together. 
Lastly, we top this bolognese dish with a delicious whipped ricotta. This adds a creaminess to the pasta dish and is used as a topping.
Whipped ricotta is simply ricotta cheese that has been blended in a food processor for a minute or until whipped and smooth.
It is then seasoned with fresh garlic and herbs. Although I highly recommend adding the whipped ricotta to this recipe, it is optional and not traditional. 
Make It For A Crowd:
This rigatoni bolognese is really a show stopper and a great recipe to make for a crowd.
Serve this delicious Italian dish with my Focaccia Bread Recipe, Italian Antipasto Salad, and Italian Crostata. It makes for the perfect Italian dinner party. 
What is Bolognese:
Bolognese is a meat based sauce from Bologna, Italy. It is commonly used for lasagna or tagliatelle al ragù. It's rich and hearty and is commonly served in Italian trattorias. 
What Does Bolognese Taste Like?
Bolognese is a rich tomato and meat sauce. It tastes like caramelized, roasted meat with red wine. The flavor is very deep and hearty. 
It is much different than a traditional American pasta meat sauce as it is much richer and deeper in flavor. 
Pasta for Bolognese:
Bolognese is a thick sauce with lots of delicious meat. You will want a pasta that has some sort of crevasse so that the sauce can get into those little nooks and crannies and hold the sauce.
When the bolognese gets stuck into the little crevasses you can enjoy a little sauce with each bite.
If you use a flat pasta the sauce will sink to the bottom. You will end up with a big bowl of meat sauce at the end instead of enjoying it with each bite.
If you can't find rigatoni try one of these pastas:
Orecchiette
Penne
Fusilli
Conghiglie
Anelli
Casareccie gemelli
Riccloli
Can I freeze Rigatoni bolognese:
Yes! I love to freeze the bolognese sauce in plastic soup containers.
First let the bolognese cool.  Then transfer to the containers. Make sure you fill the containers up all the way leaving about 1 inch of headspace. Then you can freeze for up to 6 months. 
To re-heat run the container under hot water for a few minutes. Then transfer the sauce to a saucepan and cook covered with 2 tablespoons water over low heat for 20 minutes. 
You can also make this into a casserole dish and freeze. Combine the rigatoni and bolognese together and mix with some Italian cheese blend or mozzarella cheese. Cover with foil and freeze for up to 3 months. 
To re-heat thaw the pasta in the fridge the night before. Then cook at 375 F, covered for 1 hour. Remove the foil and broil until golden brown. 
What is Bolognese sauce made of?
Bolognese is typically made with ground beef and ground pork. The meat is slowly cooked with red wine, milk, onion, carrot and celery in a large dutch oven.
This recipe is a little different because we use cream instead of milk and I omit the celery. 
What does milk do in Bolognese?
Milk is a tenderizing agent. It can help to tenderize the beef when cooked for long periods of time.
We are actually going to be using cream instead of milk for this recipe as it can help to cut the acidity of the tomatoes and red wine.
How To Make Rigatoni Bolognese:
We start by making a homemade simple tomato sauce.
To make the tomato sauce start by preheating a large dutch oven over medium heat. Cook the garlic and olive oil until fragrant.
Add the San Marzano tomatoes and basil leaves to the pot and simmer. 
Turn the heat to medium and cook for 15 minutes. Blend with an immersion blender until smooth.
Next, brown the meats in a large pot or dutch oven over medium high heat. Add the onion, carrots, homemade tomato sauce and other ingredients and turn the heat to low. Slowly simmer the sauce for at least 4 hours with the lid off. This will help to reduce the sauce and thicken.
Cook your pasta in boiling salted water until al dente. Reserve 1/2 cup pasta cooking water.
Place some of the finished sauce to a saute pan. Add the rigatoni and toss to combine. Add reserved pasta cooking water as needed to thin the sauce. Finely chop fresh basil, grate parmesan cheese and make the herby whipped ricotta.
Serve the cooked pasta in a serving bowl and top with basil, parmesan and whipped ricotta. You can add red pepper flakes on top or some freshly ground black pepper as well.
Rigatoni Bolognese Recipe: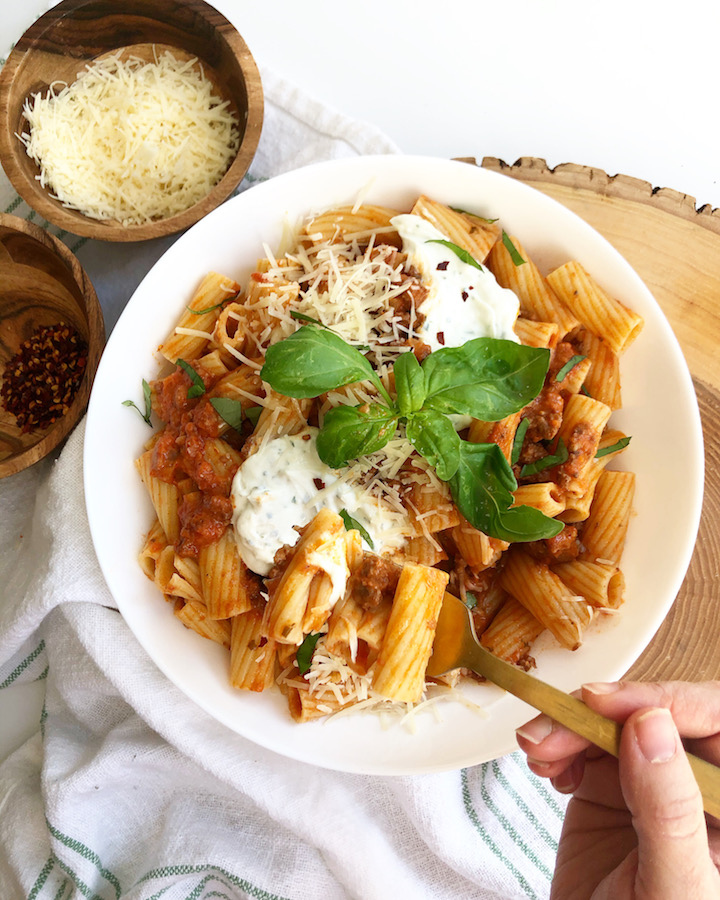 Yield:

Serves 15
Rigatoni Bolognese With Herby Whipped Ricotta
Cook Time:
8 hours
4 seconds
Total Time:
8 hours
30 minutes
4 seconds
You will have extra sauce to freeze. This sauce would feed 20 if you make more pasta.
Ingredients
Simple Tomato Sauce:
8 cloves garlic, roughly chopped
1/4 cup olive oil
4 (28 ounce) cans Italian Style Whole San Marzano Tomatoes
8 large leaves fresh basil.
For the Bolognese:
3 tablespoons butter
1 large white onion, finely chopped
2 pounds ground beef
2 pounds mild Italian pork sausage, raw, removed from casing
1 bottle good quality red wine (cabernet or chianti work well)
1 1/2 cups finely shredded carrots
3 bay leaves
1 tablespoon kosher salt
2 tablespoons brown sugar
(optional) 1/8 teaspoon red pepper flakes
1/2 cup heavy cream
Herby Whipped Ricotta:
16 ounces ricotta cheese
2 garlic cloves, roughly chopped
4 leaves fresh basil, roughly chopped
1 teaspoon kosher salt
Pasta:
To Garnish:
1 cup Parmesan cheese, finely shredded
4 leaves fresh basil, chiffonade
Red pepper flakes
Instructions
Add 8 cloves roughly chopped garlic and olive oil to a large Dutch oven.
Cook on medium low heat for 3 minutes. Be careful not to burn the garlic.
Add the cans of tomatoes and stir.
Add the basil. Simmer on low for 30 minutes uncovered.
Meanwhile, in a large Dutch oven or pan heated over medium heat melt the butter.
Add the finely chopped onion. Saute for 10 minutes or until soft and caramelized.
Remove the onion from the pan into a bowl. Set aside.
Add the ground beef and sausage to the pan. Turn onto medium high heat.
Break up the meat as it cooks into small pieces.
Once the meat is almost fully cooked add the wine.
Add the sauteed onion along with the carrots into the meat mixture.
Blend the simple tomato sauce with an immersion blender until smooth.
Add the meat mixture into the tomato sauce (make sure your Dutch oven is large enough). You can also use an extra large pot.
Add 3 bay leaves and stir to combine. Simmer on low uncovered for a minimum of 4 hours. Preferably 8 hours if you can.
After the sauce has cooked, skim off the top layer of grease with a ladle. Add the salt.
Add brown sugar and cream and stir to combine. You can also add a pinch of red pepper flakes if desired. Cook for an additional 10 minutes.
To make the whipped ricotta place the ricotta into a food processor and blend for 30 seconds.
The ricotta should be whipped and fluffy. If you need to process more, blend for 20 more seconds.
Add the garlic and basil to the ricotta mixture and blend until smooth. Set aside.
To cook the pasta bring a large pot of water to a boil and add 2 tablespoons salt.
Add your desired amount of rigatoni pasta and cook to package directions.
Reserve 1/2 cup pasta cooking water.
Add the pasta to desired amount of sauce and toss to combine.
Serve the pasta in a serving bowl and top with whipped ricotta cheese, parmesan, fresh basil and red pepper flakes.
Recommended Products
As an Amazon Associate and member of other affiliate programs, I earn from qualifying purchases.
Nutrition Information:
Yield:
15
Serving Size:
1
Amount Per Serving:
Calories:

739
Total Fat:

41g
Saturated Fat:

17g
Trans Fat:

1g
Unsaturated Fat:

24g
Cholesterol:

118mg
Sodium:

1251mg
Carbohydrates:

42g
Fiber:

2g
Sugar:

5g
Protein:

40g