Air fryer falafel have a crispy exterior and are soft and moist on the inside. They are served in a pita and topped with homemade tzatziki and fresh vegetables. Try out these air fryer falafel for a delicious and healthier alternative to fried falafel.
These air fryer falafel have become a new favorite recipe in our house, especially for meatless Monday. They become nice and crispy on the outside while staying moist on the inside.
The air fryer has really become a staple in our home. We love using this convenient kitchen appliance to get a quick and healthy dinner on the table. Check out this post if you need any help with your air fryer. I go though how to use it and common cooking times for air fried foods. 
I also have some other delicious air fryer dinner recipes on the blog. Two of my favorites are air fryer chicken wings or air fryer chicken sandwiches. Both are kid friendly and quick to make.
Now let's hop into making these delicious air fryer falafel and answer some common questions.
What Is A Falafel?
Falafel is a Middle Eastern dish made with garbanzo beans or fava beans. In some instances they are sometimes made by combining both of these beans.
The dried garbanzo beans are soaked for a minimum of 5 hours and then cooked until tender. They are then blended into a paste like consistency. Some falafels are also made with chickpea flour.
The falafel mixture is typically seasoned with flavorful herbs and spices like cumin, coriander, parsley and cilantro. They are then deep fried until golden brown to create a crispy exterior.
The falafel balls are then served in pita bread or a middle eastern flatbread.

Ways To Serve Falafel:
Falafel can be used in so many delicious recipes. Make a big batch of these air fryer falafel and serve them in a variety of different ways. Here are some of my favorite ways to serve them.
Gyros: My favorite way to serve these falafel are in a fluffy pita with toppings and homemade tzatziki. This recipe is below in the recipe section. Jump to the recipe if you want to check it out!
Meal Prep Bowls: You can make these into meal prep bowls by adding 3 falafel to a meal prep bowl. Serve with hummus, cucumber, cherry tomatoes, green bell pepper and some tzatziki sauce. This would be a great lunch to take to the office.
Greek Salad: Serve these delicious falafel on top of a Greek salad for a delicious gluten free lunch or dinner option.
Sandwiches: You can serve these in a sandwich for lunch.
Burritos: Serve the falafel in a tortilla with toppings like rice pilaf, hummus, cucumber, tomatoes and tzatziki sauce.
Burgers: Shape the falafel into large disks to form a burger patty. Cook in the air fryer for 12-15 minutes and serve on a toasted bun with toppings of choice.
Ingredients You Will Need:
It may seem like you need a lot of ingredients for this recipe. But ingredients are used in multiple areas of the recipe. If you want to cut down on ingredients you can buy a pre-made tzatziki sauce at the grocery store.
For The Chickpeas:
dried chickpeas, soaked for at least 5 hours
parsley
minced garlic
lemon zest
cumin
coriander
salt
pepper
baking powder
egg
cooking spray
For The Tzatziki:
plain Greek yogurt
cucumber, finely shredded
minced garlic
fresh dill
lemon, juiced and zested
black pepper
kosher salt
For The Gyros:
pita bread
pre-made hummus
cucumber
cherry tomatoes
red onion
coarse salt to top
Soaked Chickpeas Vs Canned Chickpeas:
Traditional falafels are made with dried chickpeas. The dried chickpeas are soaked in water for 5-12 hours or overnight. This rehydrates the beans and cuts the cooking time in half. Although you will need to plan ahead and soak your beans the night before or in the morning.
If you forget to soak the beans cook them for double the amount of time until they are soft and tender.
Dried beans give a wonderful flavor and texture to your falafel because you can control the ingredients that are included. Many canned beans have extra preservatives, sodium or ingredients that can change the flavor of this recipe.
If you can, I would recommend using dried chickpeas. They are really inexpensive and are easy to work with. You can find a pound of dried chickpeas for $1 at the grocery store.
You can also use canned chickpeas if needed. Although the flavor does taste a little different. If you are using canned chickpeas make sure you drain and wash them throughly to remove any canning liquid.
Shaping The Falafel Mix:
After you make the falafel mixture you will need to shape the balls. There are many different ways to do this. Some people prefer their falafel to be shaped in disks. Disks are great if you are serving them in a sandwich or for falafel burgers.
The more traditional route would be to shape the mixture into small golfball sized balls. This is the shape we will be using for our recipe today.
An easy way to shape the falafel mixture is to use a scoop. I like the two tablespoon scooper. This will ensure the falafel are all the same size and will cook evenly in the air fryer basket.
Can You Freeze Falafel:
You can certainly freeze these falafel. I like to freeze them before cooking in the air fryer.
Freeze the falafel after scooping the on a baking sheet. Flash freeze for at least 2 hours. Then transfer the falafel to a ziplock bag and freeze for up to three months.
When you are ready to cook, follow the recipe directions. Cook for an additional 5-7 minutes or until the center of the air fried falafel are cooked fully.
Other Favorite Meatless Monday Recipes:
We love having at least one meatless meal a week to cut down on our grocery bill. Here are some of our other meatless Monday meal ideas.
The Best Cauliflower Taco Meat
Zucchini Meatballs on Garlic Toasts
Sweet Potato Tacos with Lime Crema
How To Make Air Fryer Falafel:
Here are the general steps. Refer to the falafel recipe below or video for exact amounts and cooking times.
Add the chickpeas to water to soak for 5 hours or overnight. Drain and cook.
Add the chickpeas to the food processor along with the other ingredients and blend until well combined.
Scoop the falafel and form into balls. Place into the air fryer basket and cook the falafel until golden brown.
Serve the falafel in pita with toppings of choice.
Air Fryer Falafel Recipe: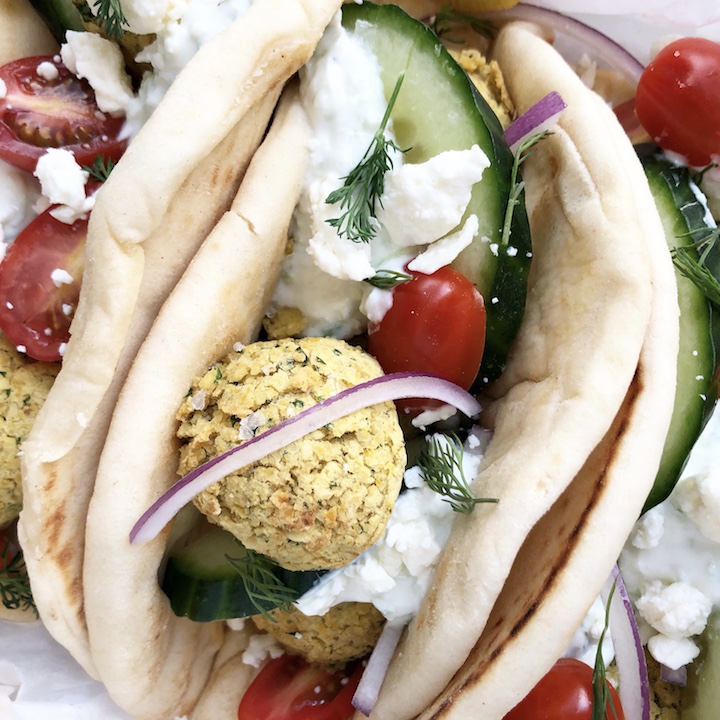 Yield:

Serves 6
Air Fryer Falafel Gyros
Total Time:
6 hours
15 minutes
If you want a quicker dinner use 2 cans chickpeas rinsed and drained. I do prefer the dried ones better if you have the time!
Ingredients
Falafel Mix:
2 cups dried chickpeas, soaked for at least 5 hours in 4 cups water
1 cup parsley, stems removed
2 cloves minced garlic
2 lemons, zested
1 teaspoon cumin
1/4 teaspoon coriander
2 teaspoons salt
1/8 tsp pepper
1 teaspoon baking powder
1 egg
cooking spray
For The Tzatziki:
1 1/2 cup plain Greek yogurt
1/2 cup cucumber, finely shredded, drained
1 clove garlic, minced
1 tablespoon fresh dill, roughly chopped
1 lemon, juiced and zested
1/8 teaspoon black pepper
1/2 teaspoon kosher salt
For The Gyros:
6 pita bread
1 container pre-made hummus
1 cucumber, sliced thin
1/2 cup cherry tomatoes, sliced in half
1/4 red onion, sliced thin
coarse salt to top
Instructions
Soak the chickpeas in 4 cups of water for at least 5 hours or overnight. Drain and boil in 8 cups fresh water for 45 minutes on high. Drain and set aside.
Add 1 cup parsley to a food processor.
Add 2 cloves minced garlic. Blend for 20 seconds.
Add the cooked and drained chickpeas to the food processor.
Add the zest of 2 lemons.
Add cumin, coriander, salt and pepper.
Add baking powder and egg. Blend for 30 seconds or until well combined.
Push the mixture off the sides of the food pressor and blend again for 15 seconds.
Scoop about 2 tablespoons of the falafel mixture and form a tight ball. Place in the air fryer basket. Be careful not to overcrowd the basket.
Continue to scoop out the rest of the falafel mixture onto a cookie sheet.
Spray the falafel with cooking spray.
Cook on air fry mode at 390 for 7-10 minutes depending on how crispy you would like them.
Make the tzatziki sauce and prep the toppings while they are cooking.
Remove from the air fryer.
Assemble the gyros with toppings of choice.
Recommended Products
As an Amazon Associate and member of other affiliate programs, I earn from qualifying purchases.
Nutrition Information:
Yield:
6
Serving Size:
1
Amount Per Serving:
Calories:

346
Total Fat:

5g
Saturated Fat:

1g
Trans Fat:

0g
Unsaturated Fat:

3g
Cholesterol:

34mg
Sodium:

1464mg
Carbohydrates:

59g
Fiber:

8g
Sugar:

8g
Protein:

19g