Homemade heirloom tomato bruschetta is one of my favorite appetizer recipes. Fresh heirloom tomatoes, basil, fresh cloves of garlic, extra virgin olive oil all on a toasted slice of bread. It's quick to make and a beautiful appetizer to serve for a crowd. 
This heirloom tomato bruschetta is full of garlic, basil and sweet juicy heirloom tomatoes. Serve it on crusty toasts and you got a beautiful and easy appetizer or side dish for an Italian dinner party. 
When I lived in Italy I would buy 5 or 6 tomatoes from the open air market every week. Each day I would slice them up, drizzle a little extra virgin olive oil on them and sprinkle them with a little salt. I ate this almost every day while I lived there! It was heaven on earth!
Italian tomatoes are sweet, juicy and so full of flavor. There really is a "tomato" flavor that I never knew existed.
I obviously hadn't tasted a true tomato until I lived in Italy. American tomatoes are picked before they are ripe and gassed to finish the ripening process. In my opinion they have no real taste. 
When I came back from Italy I really went through major tomato withdrawals. I know that may sound funny, but I missed the real taste of a tomato. It wasn't until I started buying heirloom tomatoes that I finally got that tomato flavor back! 
This bruschetta is a little different than most recipes you will find on the internet. It's the closest you will get to eating bruschetta in an Italian trattoria, but in the comforts of your home. I can't wait for you to try it out for yourself. 
What is Bruschetta:
Bruschetta is a delicious Italian dish consisting of toasted bread and a delicious tomato topping. The topping consists of a mixture of tomatoes, olive oil, garlic and basil. Although, there are variations consisting of beans, vegetables, cured meat or cheeses. 
In Italy bruschetta is typically served cold as an antipasto before the meal. 
What are Heirloom Tomatoes:
Heirloom tomatoes are tomatoes that are open pollinated or non-hybrid. This means they are not genetically modified by any means. They are full of flavor and are my preferred tomato of choice. 
These tomatoes are not gassed or picked early. In my opinion, they are the closest tasting tomato to what you would find in Italy.
They are also sweeter and grow in a variety of different colors and sizes. I mean just look at how beautiful these tomatoes are! 
I really recommend to use heirloom tomatoes whenever you can. Especially for this dish since it's the star. 
Ingredients You Will Need:
This delicious appetizer is so easy you only need a few ingredients. I do recommend sticking to the exact ingredients for this dish. The heirloom tomatoes really do make a HUGE difference in the flavor. 
Heriloom Tomatoes
Extra Virgin Olive Oil
Maldon Salt (or a coarse salt)
Fresh Basil
Fresh Garlic
Baguette
Ways To Serve Bruschetta:
If you are looking for some non-traditional ways to serve bruschetta try these ideas.
Bruschetta and Cheese: Top fresh mozzarella or burrata cheese with bruschetta and a drizzle of balsamic vinegar or balsamic glaze. Serve with Toasted bread or on a bed of arugula as a salad.
Pesto Grilled Cheese With Bruschetta: Serve the bruschetta in a grilled cheese with some homemade pesto and fresh mozzarella.
Bruschetta Pasta: Toss it in some angel hair pasta with a little parmesan cheese.
Bruschetta Chicken: Grill some chicken with some salt and pepper. Then top the grilled chicken with fresh bruschetta.
Honestly, it goes well on just about anything!
Other Appetizer Recipes:
If you are looking for some other delicious appetizer recipes try some of these. 
Frozen Chicken Wings In Air Fryer (Korean Style)
Crunchy Air Fryer Tortilla Chips
The Perfect Deviled Eggs with Black Forest Bacon
How To Make Heirloom Tomato Bruschetta:
Prepare the bread: Toast your bread on a grill pan or in the oven. Drizzle the bread with olive oil and grill or place them on a baking sheet and cook under the broiler until toasted and golden brown.
Combine the fresh tomatoes, minced garlic, fresh basil leaves and extra virgin olive oil and season with salt. I like to use a coarse Maldon salt.
Gently toss the tomato mixture to combine all the ingredients. Serve with toasts on a serving platter.
Heriloom Tomato Bruschetta Recipe: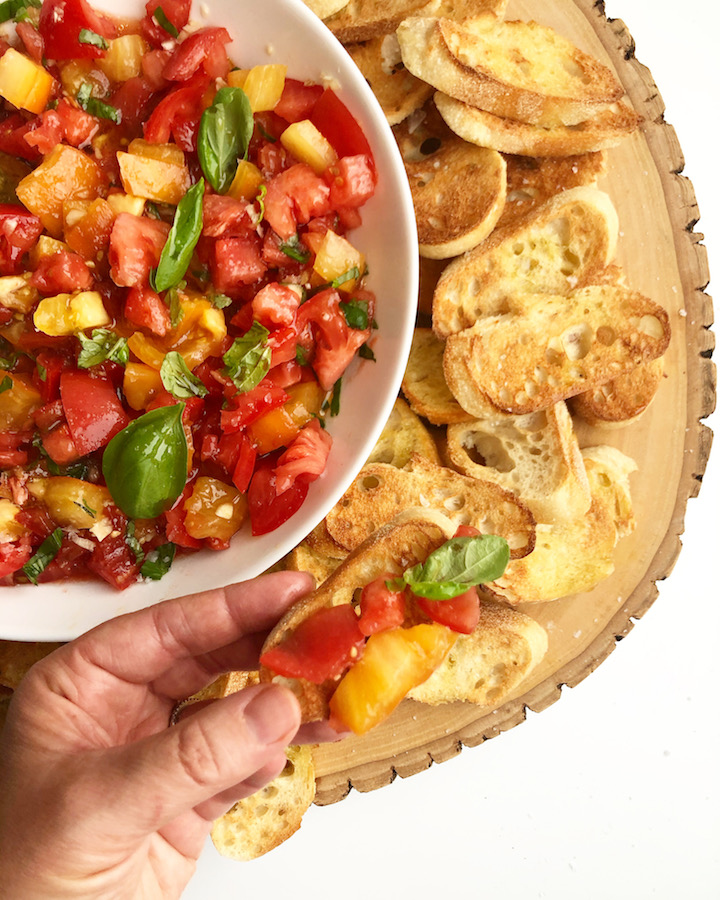 Yield:

Serves 8
Heirloom Tomato Bruschetta
The perfect appetizer for a crowd!
Ingredients
1 baguette, sliced into 1/4 inch slices
2 tablespoons Extra virgin olive oil, split
3 cloves garlic, minced
6 heriloom tomatoes, diced
1/4 cup basil leaves, chiffonade
1 teaspoon coarse Maldon salt
Instructions
Place sliced bread on a foil lined baking sheet. Drizzle with olive oil and toast under the broiler for 1-2 minutes or until golden brown.
Mince 3 garlic cloves. Ad to a mixing bowl.
Dice six heirloom tomatoes and place them into the mixing bowl.
Finely chip 1/4 cup of fresh basil and add to the mixing bowl.
Add 1 tablespoon extra virgin olive oil and 1 teaspoon of coarse salt to the bowl. Gently toss to combine.
Serve the bruschetta with the toasts.
Nutrition Information:
Yield:
8
Serving Size:
1
Amount Per Serving:
Calories:

79
Total Fat:

4g
Saturated Fat:

1g
Trans Fat:

0g
Unsaturated Fat:

3g
Cholesterol:

0mg
Sodium:

337mg
Carbohydrates:

10g
Fiber:

1g
Sugar:

3g
Protein:

2g