My new favorite cinnamon rolls are by far these new boysenberry cinnamon rolls. Sweet berry filling inside a soft pillowy no rise cinnamon roll dough topped with cream cheese frosting takes less than an hour to make.
These boysenberry cinnamon rolls bring back so many memories for me! As a little girl I used to climb the hill in my backyard and pick ripe boysenberries every Summer with my siblings. My mom would make fresh, homemade boysenberry pies and it was one of my favorite memories of Summer.
I have tried to follow that tradition with my kids and have planted a couple boysenberry plants in our back yard. The kids love to bring their cups out and pick the ripe ones. They think they are apart of a huge harvest and I just love it.
This memory has made me crave all things boysenberry this Summer and I have tried to put them into many different dishes. One of my favorites are these soft, pillowy boysenberry filled cinnamon rolls with a creamy cheese frosting. The combination is like no other and brings me straight back to picking those berries in my backyard.
Cinnamon rolls are so versatile and can be filled with almost anything. I love this Summer variation with boysenberries. You can use any jam or jelly you like with this recipe.
How do I know my yeast is activated?
Yeast activates with a warm liquid. To activate dry yeast you want to mix it with a warm liquid. I also like to add sugar or honey to help feed the yeast. This helps it to activate quicker.
You can tell by this picture what the yeast looks before and after activation. The bottom picture after it has been activated is bubbly and fluffy looking. This means the yeast is ready to use.
Try these other cinnamon roll variations:
No-Rise Caramel Apple Cinnamon Rolls with Salted Caramel Frosting
Homemade Pumpkin Cinnamon Rolls with Maple Cream Cheese Frosting
Easy No Rise Almond Cinnamon Rolls
How to Make Boysenberry Cinnamon Rolls: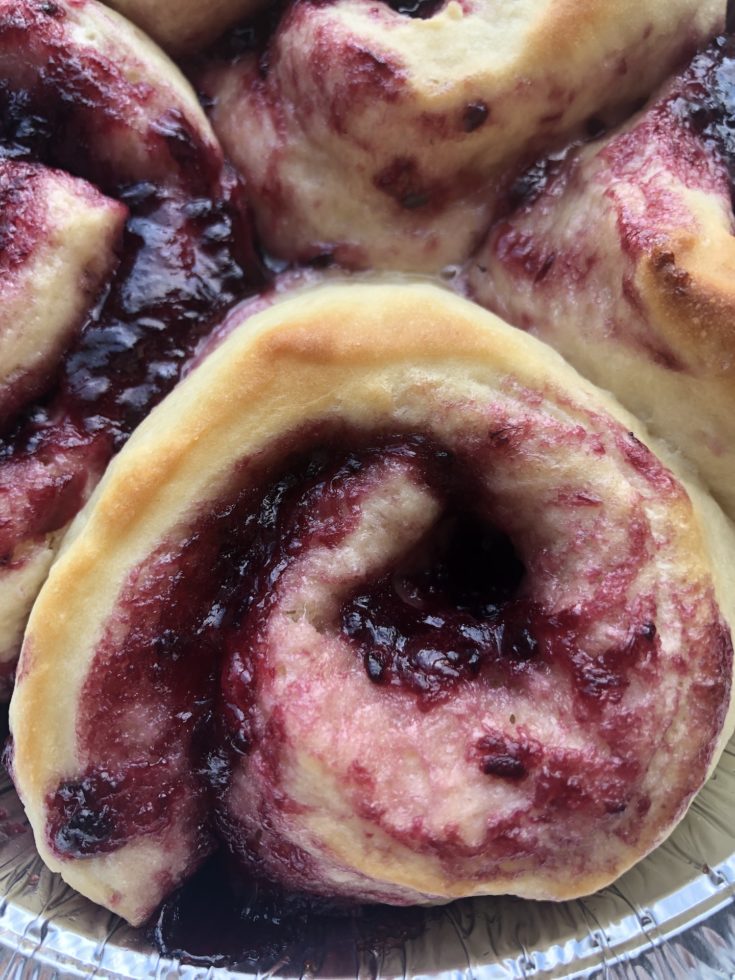 Yield:

2 Dozen Rolls
No Rise Boysenberry Cinnamon Rolls
Additional Time:
10 minutes
No rise fluffy rolls filled with boysenberries and topped with a silky cream cheese frosting is where it's at!
Ingredients
1 3/4 Cups Warm Water
3 Tablespoons Yeast
1/2 Cup Vegetable Oil
1/2 Cup Granulated Sugar
2 Eggs
1/2 Tablespoon Salt
5 1/4 Cup Bread Flour
Filling Ingredients:
1 Cup Boysenberry Jam
1/2 Cup Sugar
1/2 Cup Butter, Softened
1 Teaspoon Ground Cinnamon
For the Frosting:
1/2 Cup Butter, At Room Temperature
8 Ounces Cream Cheese, At Room Temperature
4 Cups Powdered Sugar
1 Teaspoon Vanilla Extract or Vanilla Bean Paste
Instructions
In an electric mixer fitted with a dough hook, combine the first four ingredients together. Let sit for 10 minutes.
Add the rest of the ingredients and turn on low for 5 minutes until dough is silky. DO NOT LET RISE! (The dough may be a little sticky)
Smear oil on the counter and roll the dough out the same size as a large cookie sheet.
Combine all filling ingredients and spread evenly on top of the dough.
Starting on one end, roll and pinch seam of the dough. continue to roll the dough until a log forms. Cut into 24 rolls (you can use a bench scraper for this or unflavored floss works really well also). Place on a greased pan. Repeat with the second half of the dough.
Let rise 10 minutes while oven preheats to 400 degrees F. Bake for 15 minutes.
Remove from the oven and top with cream cheese frosting (recipe follows).
Cream Cheese Frosting:
In an electric mixer cream butter and cream cheese together until well combined.
Add powdered sugar and turn on to the lowest setting to avoid powdered sugar getting everywhere.
Add vanilla. Spread over rolls.
Notes
You can also use whatever jam you have on hand.
Recommended Products
As an Amazon Associate and member of other affiliate programs, I earn from qualifying purchases.