This cantaloupe salad with fig basil vinaigrette is the perfect way to celebrate Summer. It's sweet, salty and so satisfying.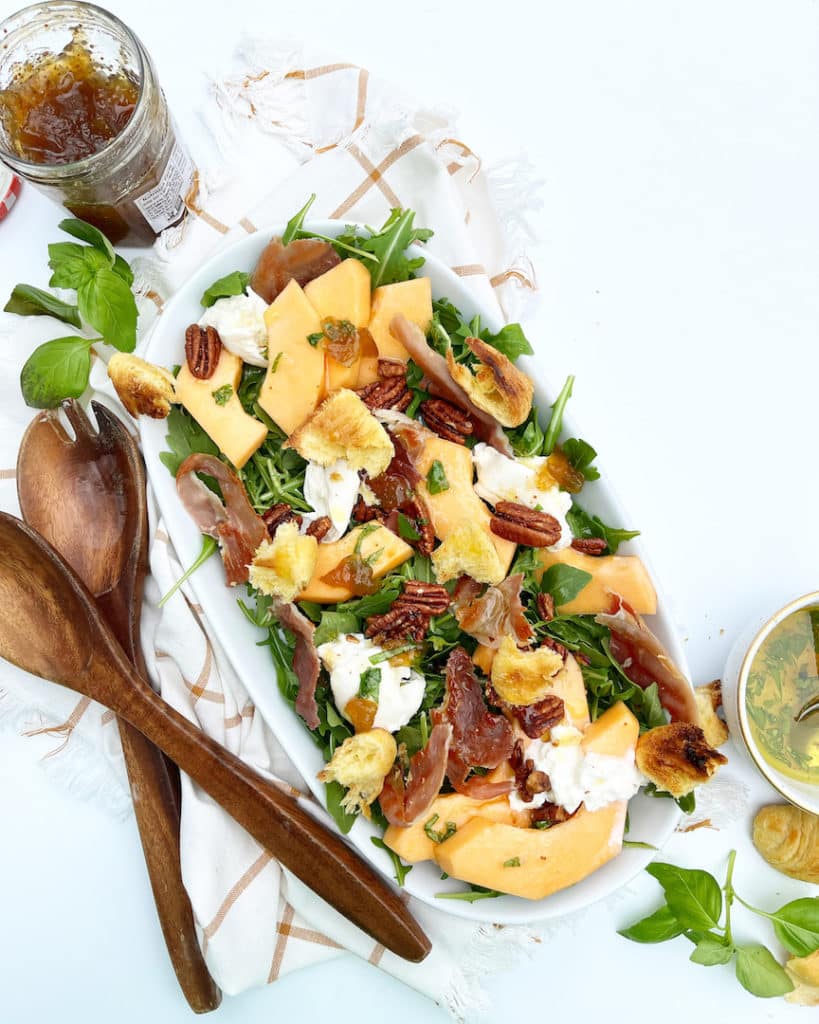 This Cantaloupe salad is the perfect Summer recipe.
With the arrival of summer, we are blessed with an abundance of vibrant fruits, and one that stands out with its sweet aroma and refreshing taste is the cantaloupe.
This juicy and succulent melon is not only a delicious snack on its own but also makes for a stunning addition to various culinary creations.
Today, we delve into the realm of culinary creativity and explore the wonders of cantaloupe salad.
Get ready to tantalize your taste buds and embrace the flavors of summer in this refreshing, delightful, and visually appealing dish.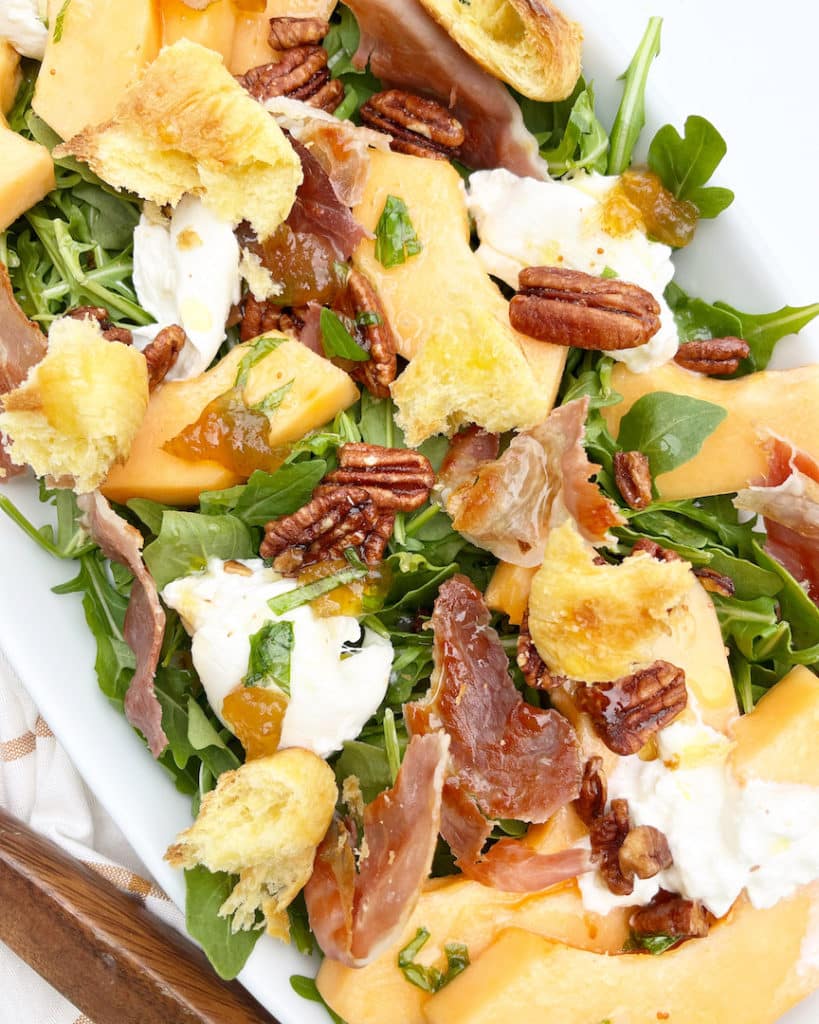 The Beauty of Cantaloupe:
Cantaloupe, also known as muskmelon, is a member of the Cucurbitaceae family, boasting a distinctively sweet flavor and a vibrant orange flesh.
Packed with essential vitamins, minerals, and antioxidants, cantaloupes offer a host of health benefits while being low in calories.
Their high water content makes them incredibly hydrating, perfect for hot summer days.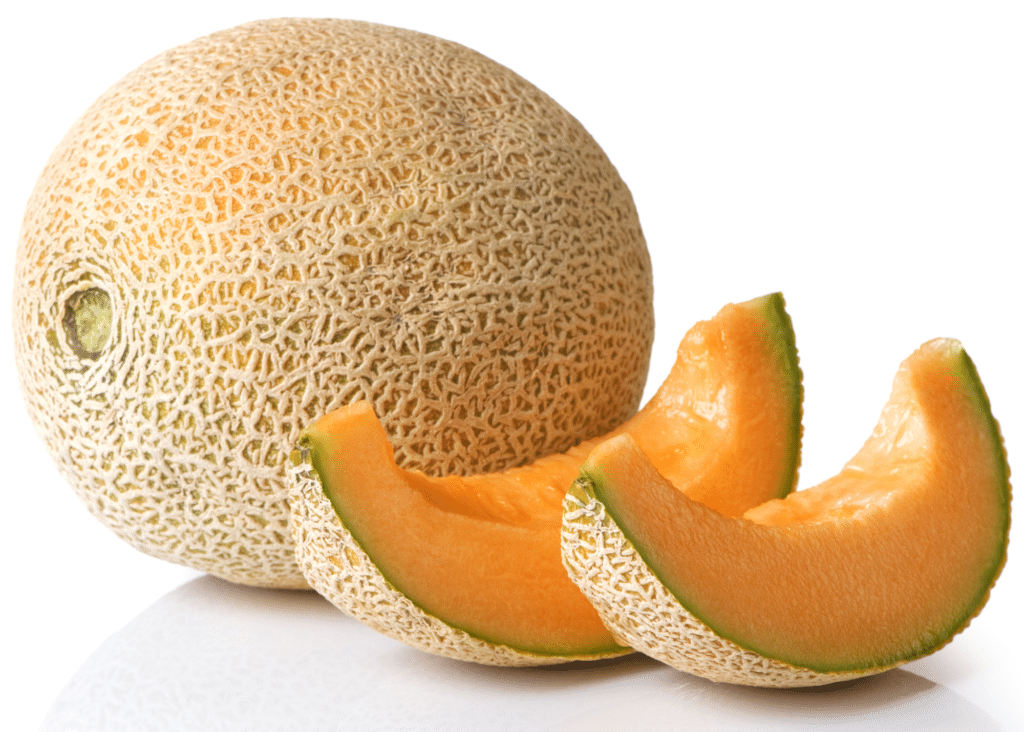 How To Cut A Cantaloupe:
Cutting a cantaloupe may seem like a daunting task, but with the right technique, it can be a breeze. Here's a step-by-step guide on how to cut a cantaloupe:
Wash the cantaloupe: Before starting, rinse the cantaloupe thoroughly under cold water to remove any dirt or impurities from the skin.
Prepare your workspace: Place a cutting board on a stable surface and gather a sharp knife and a clean spoon.
Cut off the ends: Using a sharp knife, slice off both ends of the cantaloupe. This will create a stable base for cutting and allow you to access the flesh inside.
Slice the cantaloupe in half: Stand the cantaloupe upright on one of the cut ends. Carefully slice through the melon from top to bottom, following the natural curve, to create two halves.
Scoop out the seeds: Take a spoon and scoop out the seeds from the center of each half. Scrape along the cavity to remove all the seeds and discard them.
Remove the skin: Hold one cantaloupe half firmly and use the knife to carefully slice between the flesh and the skin, following the contour of the fruit. Continue all the way around the half, removing the skin. Repeat the process for the other half.
Cut into desired shapes: Now that the skin is removed, you can proceed to cut the cantaloupe into your desired shapes. Common options include slicing it into wedges, cubes, or using a melon baller to create round balls.
Repeat with the other half: Follow the same steps to remove the skin and cut the remaining half of the cantaloupe.
Serve and enjoy: Your freshly cut cantaloupe is now ready to be enjoyed as a snack, added to fruit salads, or used in various recipes.
Note: Always exercise caution while handling sharp knives and ensure your fingers are safely positioned away from the blade. Take your time and work methodically to avoid any accidents.
With this simple guide, you'll be able to cut a cantaloupe easily and safely, unlocking its delicious flavors for your culinary adventures. Enjoy the refreshing taste of this summer fruit!
Recipe: Cantaloupe Salad: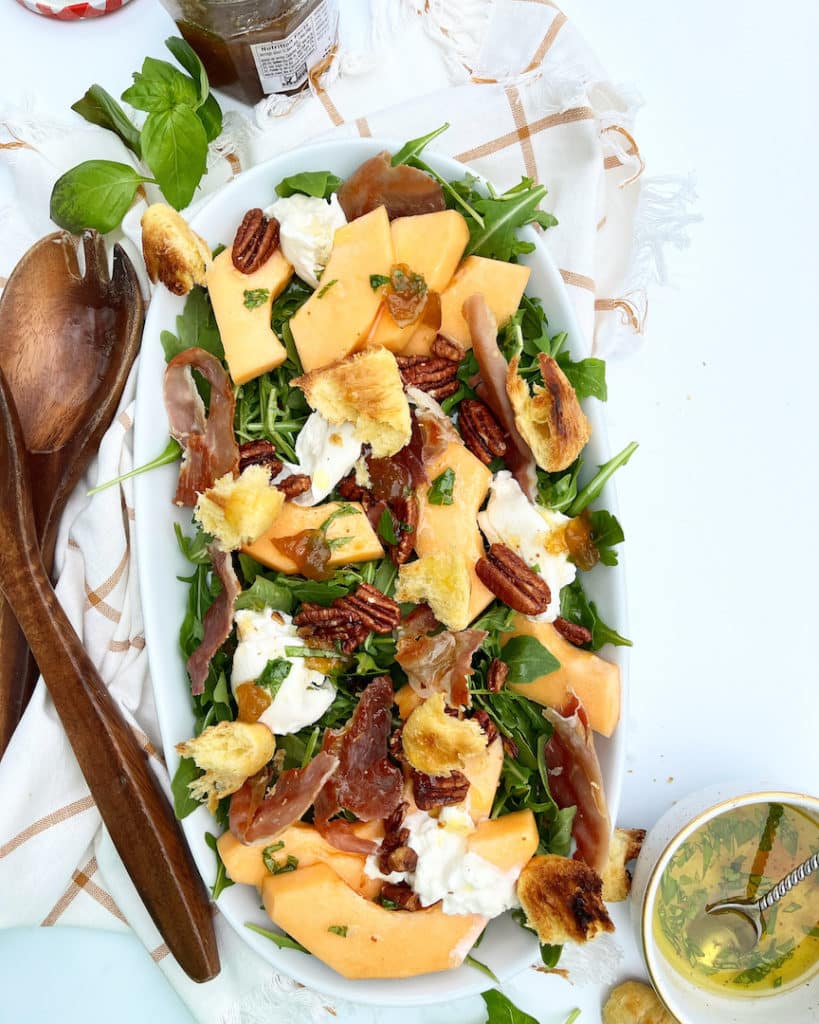 Ingredients You Will Need:
Croissant: You can really use any bread you like for the croutons. I love the buttery, flaky croissants.
Arugula: Peppery arugula pairs perfectly with the sweet and salty flavors of the cantaloupe and prosciutto.
Sliced prosciutto: Prosciutto adds a delicious saltiness to the salad.
Cantaloupe: Make sure you smell your cantaloupe before buying. It it smells like cantaloupe it's ripe.
Burrata cheese: You can also use fresh mozzarella cheese if you can't find burrata.
Candied pecans: I love to buy my candied pecans at Trader Joes's or you can make your own.
Extra virgin olive oil: Make sure you use a really high quality extra virgin olive oil for your salad dressings. This adds a lot of flavor.
Fig jam: Buy a high quality fig jam. I normally find mine at Sprouts. I prefer this brand.
Salt and cracked black pepper: I like to use Maldon salt or Kosher salt.
Fresh basil: Fresh basil is a must in this recipe. It adds so much flavor and brings all the ingredients together.
Instructions:
Prepare the cantaloupe: Cut the cantaloupe in half, scoop out the seeds, and remove the skin. Cube the melon into bite-sized pieces and set aside.
Assemble the salad.
Dressing: In a separate small bowl, whisk together the dressing ingredients until well combined.
Final touches: Drizzle the dressing over the salad mixture and gently toss until all the ingredients are evenly coated.
Serve and enjoy: Transfer the salad to a serving dish or individual plates. Serve immediately and relish the invigorating flavors of this cantaloupe salad.
Why Cantaloupe Salad?
Bursting with Flavor: Cantaloupe adds a delightful sweetness to the salad, contrasting beautifully with the saltiness of the prosciutto and the peppery notes of arugula. Each bite is a burst of complementary flavors.
Vibrant Colors: The vibrant orange hues of the cantaloupe, the rich green of the arugula, and the pops of white from the burrata create an eye-catching and visually appealing salad that is perfect for summer gatherings.
Nutritional Benefits: Cantaloupes are a powerhouse of nutrients, including vitamin A, vitamin C, potassium, and fiber. Incorporating this melon into your salad provides a refreshing and healthy addition to your diet.
Versatility: Cantaloupe salad can be customized to suit your taste. You can experiment by adding other fruits like berries or peaches, swapping arugula for spinach or mixed greens, or even drizzling a balsamic reduction for an extra touch of tanginess.
Cantaloupe salad is a delightful way to celebrate the flavors of summer. Its refreshing taste, vibrant colors, and health benefits
What To Serve With Cantaloupe Salad:
These delicious breads pair perfectly with this cantaloupe salad. Try them out to round out your Summer meal.
Copycat CPK Focaccia Bread Recipe
Copycat Olive Garden Breadsticks
Famous Pretzel Dinner Roll Recipe
Cantaloupe Salad Recipe: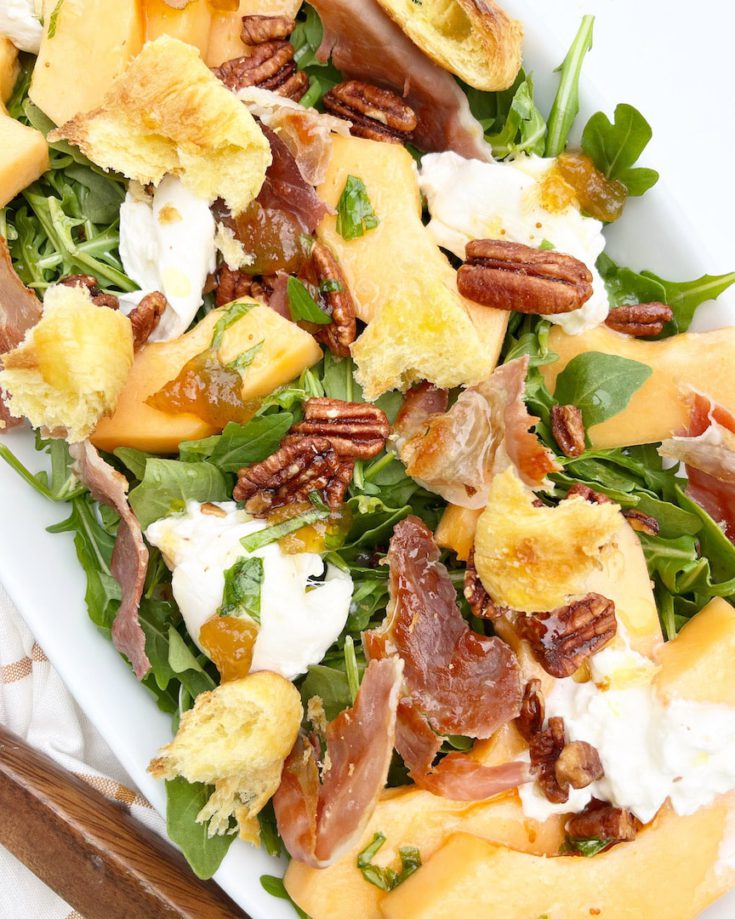 Yield:

Serves 6
Cantaloupe Salad With Fig Basil Vinaigrette
Bright, light and refreshing cantaloupe salad.
Ingredients
1 croissant, torn into chunks
6 cups arugula
4 slices prosciutto
1 cup cantaloupe, sliced thin
1 ball burrata cheese
1/2 cup candied pecans (I like to buy them from Trader Joe's)
Fig Basil Vinaigrette:
3 tablespoons white balsamic vinegar
2 tablespoons extra virgin olive oil
1 heaping teaspoon fig jam
1/4 teaspoon salt
1/8 teaspoon fresh cracked black pepper
1 tablespoon fresh basil, chiffonade
Instructions
Tear the croissant into small chunks and place on a baking sheet. Place under the broiler for 1-2 minutes or until toasted. Set aside.
Place the arugula on your serving platter or in a large salad bowl.
Preheat a large non-stick pan over medium heat. Cook the prosciutto on 1-2 minutes per side or until crispy. Let cool slightly and then tear into small pieces. Set aside.
Top the arugula with cantaloupe, prosciutto, torn burrata, candied pecans and croissant croutons.
Place all the dressing ingredients into a small mason jar. Seal and shake to combine.
Toss the salad with desired amount of dressing and serve.
Nutrition Information:
Yield:
6
Serving Size:
1
Amount Per Serving:
Calories:

197
Total Fat:

13g
Saturated Fat:

3g
Trans Fat:

0g
Unsaturated Fat:

8g
Cholesterol:

24mg
Sodium:

714mg
Carbohydrates:

13g
Fiber:

1g
Sugar:

8g
Protein:

8g