Chocolate chess pie is a classic southern dessert with a brownie-like filling with a crackly meringue-like top. The chocolate flavored pie filling is decadent and rich and it's the perfect dessert for a special occasion.
I have tested so many pie recipes and I have to say this chocolate chess pie is by far my favorite. Maybe because it combines two of my favorite things; chocolate and pie!
This recipe is made with three simple layers. First the easy, simple pie crust which serves as a bottom crust layer. Then the filling, which consists of a rich, chocolaty brownie like filling. Lastly, it is topped with a homemade vanilla bean whipped cream and garnished with chocolate shavings.
This pie may look extravagant, but it is pretty easy to make and is perfect to serve for an elegant dinner party, backyard BBQ or a special date night dinner. You can also make many components in advance so it's perfect for company.
If you are interested in learning more about pies and pie making check out our More Momma Cooking School. We have a class in our year long cooking course where our head Pastry Chef Alex teaches all about pies. It's full of delicious pie recipes and techniques that can help you step up your pie game!
What is Chocolate Chess Pie?
Chocolate chess pie is said to have originated in England, but is known widely in the southern United States.
This pie is usually thickened with egg as opposed to flour and made with simple ingredients like sugar, eggs and butter.
It is considered a custard type pie and has many popular variations. 
Ingredients For Chocolate Chess Pie:
The best thing about this chocolate chess pie recipe is it is made with simple, staple ingredients that you probably already have on hand in your pantry.
If you don't have them on hand, these ingredients can be used in many other dishes so you won't be buying any obscure ingredients that you will only use one time.
Pie Crust Ingredients:
All Purpose Flour
Granulated Sugar
Butter
Cold water
Salt
Chocolate Filling Ingredients:
Dark Chocolate: Use a good quality dark chocolate. I buy one pound chocolate bars from Trader Joe's and they work great!
Melted Butter: Use a good quality butter such as Kerrygold. 
Granulated Sugar
Eggs: We will be using two eggs and one egg yolk for this recipe.
Dark Cocoa Powder: I use the specialty dark Hershey's cocoa powder for this recipe. You can find it at most major grocery stores. It's rich and decadent and deepens the color of this pie. 
Vanilla Bean Paste: This is my go to for baking. Vanilla bean paste is a concentrated vanilla much like vanilla extract. If you don't have vanilla bean paste you can substitute vanilla extract 1 to 1.
Heavy Cream: We will be using heavy cream for the filling along with making homemade whipped cream for the topping. Some recipes call for evaporated milk, but I feel that heavy cream gives it a richer texture and better flavor.
Salt: I love Redmonds Real salt for all cooking and baking. It is packed with minerals and better than table salt. 
Powdered Sugar: We use powdered sugar to sweeten our homemade fresh whipped cream topping.
Variations:
There are many variations of chess pie floating around on the internet. Some favorites are buttermilk chess pie and lemon chess pie. Both are found in The Joy Of Cooking Cookbook.
I also found this classic Buttermilk Chess Pie from The Kitchn for a more traditional option. This was the recipe that I found my inspiration for this version. 
My favorite variation by far is this chocolate chess pie. But feel free to change up the recipe yourself to see what you like the best.
Pie Crust:
There are so many great pie crust recipes out there, but I love this perfect pie crust that our head pastry chef created in the More Momma Cooking School. It makes one pie crust and is a foolproof recipe.
You can make the pie crust 2 days in advances if stored in the fridge, or a month in advance if you store in the freezer.
Make sure to wrap your pie crust tightly in saran wrap before refrigerating or freezing.
I recommend making your own pie crust. However, if you don't want to make your own pie crust you can use a store bought pie crust. They even sell frozen unbaked pie shells at some grocery stores.
Storage:
How Long Does Chess Pie Last?
Eat this pie within two days. If you are not eating the pie right away hold off on the whipped cream until right before you are going to serve.
Does a Chess Pie Have To Be Refrigerated?
The pie only needs to be refrigerated if you top it with whipped cream. You can store the pie at room temperature without the whipped cream. Just cover it with some aluminum foil after it has cooled completely.
How To Make Chocolate Chess Pie:
This pie is actually easier to make than you may think. Here are the basic steps to make chocolate chess pie.
Make the Pie Crust:
You can make the crust up to 2 days in advance. Refrigerate for at least 30 minutes before rolling the dough out.
After the dough is chilled, roll the dough and place in a pie plate. Crimp the edges and top with a piece of parchment paper.
Blind Bake The Pie Crust:  
To blind bake pie crust, place a piece of parchment paper on top of the pie crust and fill with baking weights or dried beans. Bake as directed. This will start baking the crust without it sinking in the plate.
Make the Filling:
Melt the chocolate and butter together in the microwave.
In a large bowl whisk together the eggs, sugar, dark cocoa powder, vanilla bean paste, cream and salt. Add the melted chocolate mixture into the bowl and whisk to combine. 
Bake:
Pour the mixture into the par-cooked pie shell and bake for 45 minutes.
How Do You Know When Chess Pie is Done?
When you gently shake the pie plate it should not have any giggle to it. If it is still giggly you can cook for an additional 5-10 minutes.
Once the pie has cooked, remove it from the oven and let cool for 1-2 hours. 
Prepare The Whipped Cream:
Make the whipped cream by whipping the heavy cream in a metal bowl. Add powdered sugar and vanilla. Top the pie with the whipped cream and chocolate shavings. 
Chocolate Chess Pie Recipe: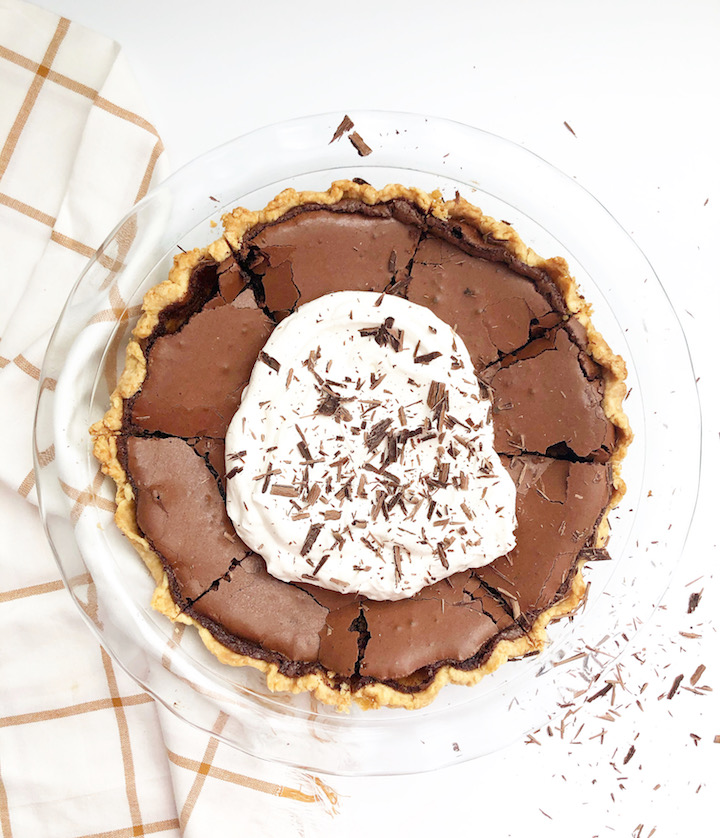 Yield:

Serves 8
Chocolate Chess Pie With Homemade Whipped Cream
Total Time:
3 hours
15 minutes
Rich, silky chocolate chess pie is the perfect decadent pie for any occasion.
Ingredients
Pie Crust:
1 1/4 cups all purpose flour
1/4 teaspoon salt
1 tablespoon granulated sugar
1/2 cup butter, chilled and diced
1/4 cup ice cold water
Filling;
1/4 cup butter
3 ounces dark chocolate, cut into small chunks
1 cup granulated sugar
2 whole eggs
1 egg yolk
3 tablespoons dark cocoa powder
1 teaspoon vanilla bean paste
1/4 cup heavy cream
1/2 teaspoon salt
Topping:
1 cup heavy cream
2 tablespoons powdered sugar
1/4 teaspoons vanilla bean paste
1 tablespoons shaved chocolate
Instructions
Make the pie crust by adding the flour to a large mixing bowl.
Add the salt.
Add the granulated sugar.
Add the chilled diced butter and cut the butter into the flour with a pastry cutter.
Stir in the ice cold water. Then use your hand to form a dough ball.
Wrap the dough in saran wrap and refrigerate for at least 30 minutes or up to 3 days.
Remove from the refrigerator and let sit out for 10 minutes (this makes it easier to roll out).
Sprinkle the dough lightly with flour and roll into a large circle to about 1/4 inch thickness. I like to roll it directly on the saran wrap for easy transfer to the pie plate.
Transfer the crust to your pie plate.
Crimp the edges with your knuckles or with a fork.
Cut a piece of parchment paper into a large circle and place it into the pie crust. Then add the pie weights or dried beans.
Bake at 375 for 10 minutes. Then let cool.
Combine the chocolate with the butter in a microwave safe bowl and microwave for 30 seconds. Stir and microwave for 20 seconds or until melted. Set aside.
In a mixing bowl combine the sugar with 2 whole eggs and 1 egg yolk.
Whisk to combine. Then add the dark cocoa powder.
Add the vanilla bean paste, heavy cream and salt. Whisk to combine.
Then add the melted chocolate and butter mixture and stir to combine.
Remove the pie weights or dried beans from the pie plate. Then fill with the filling mixture.
Bake at 350 for 45 minutes. Check the pie at the 30 minute mark. If the crust is getting too golden you can place a pie shield on top. The pie should be set on top. Let cool for 1-2 hours.
Make whipped cream topping by adding cream to a mixing bowl. Whip with hand beaters until soft peaks.
Add powdered sugar and vanilla bean paste and whisk to combine.
Cut the pie into 8 portions.
Top with whipped cream. Shave chocolate over the whipped cream with a vegetable peeler.
Serve at room temperature or chill in the refrigerator.