This garlic naan bread recipe is quick to make and topped with a garlic butter. It's light and fluffy and the perfect side to go with a good Indian meal.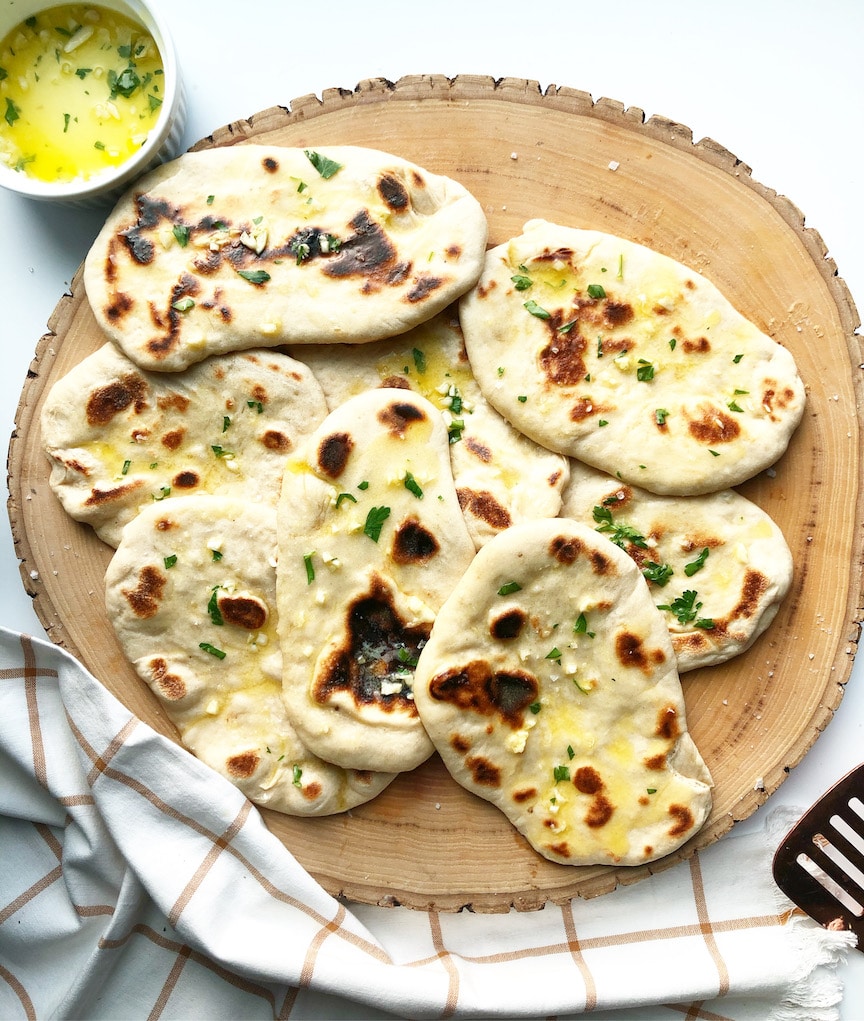 We love homemade naan bread for so many reasons. But this garlic naan bread recipe is by far my favorite version! Nothing can beat warm cooked naan topped with melted butter and minced garlic. I just love this recipe!
Naan bread is the perfect vehicle to sop up delicious sauces. It works so well with some of these great recipes.
Rigatoni Bolognese With Herby Whipped Ricotta
What is naan bread:
Naan bread is a flatbread leavened with yeast and typically cooked over high heat.
The bread is said to have originated in Persia. Many Asian countries have adopted this delicious bread to serve as a side with their dishes. 
There are many variations of naan bread with different ingredients used. Today we are going to make a garlic version.
Ingredients for naan bread:
Naan bread is a yeast leavened bread. You will only need a few additional ingredients to make this deliciously fluffy flatbread. Here are the ingredients you will need to make this garlic naan bread recipe.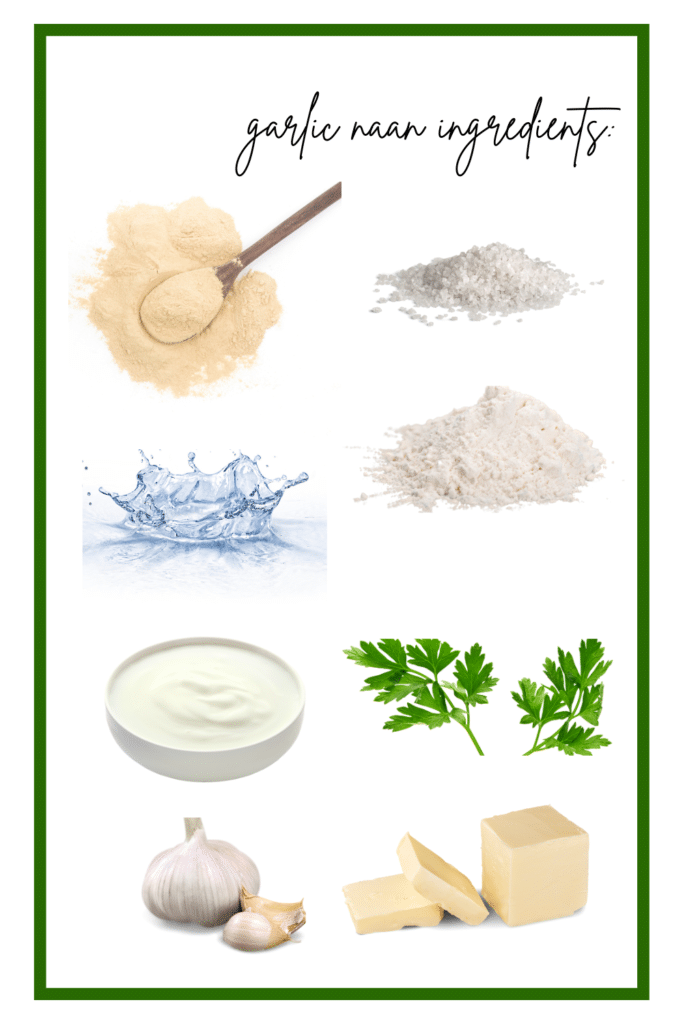 Dry active yeast: Make sure your yeast is not expired. I store my yeast in the freezer or fridge for optimal storage length.  Some recipes call for baking soda instead of yeast, but I prefer the yeast.
Water: You can also use milk for a softer bread, but it is traditionally made with water. 
Plain greek yogurt: Yogurt adds a distinct flavor and also helps to soften the bread. 
Melted butter: You will need butter for the dough and also to brush on top of the finished naan. 
Bread flour: Bread flour has more protein in it which yields a better dough structure. It also absorbs liquid differently. If you don't have bread flour you can substitute with all purpose flour, but I promise the bread flour is worth it.
*My all time favorite bread flour is Central Milling Type 80 Bread Flour. I buy it in bulk and use it for all my sourdough recipes. It's the best bread flour I have found! 
Salt: I love Redmonds Real Salt for cooking. It is packed with minerals and is a healthier option. 
Garlic: For this recipe I prefer freshly chopped garlic than my usual frozen garlic cubes. 
Parsley: Use an Italian parsley as opposed to a curly parsley. 
How to make naan bread: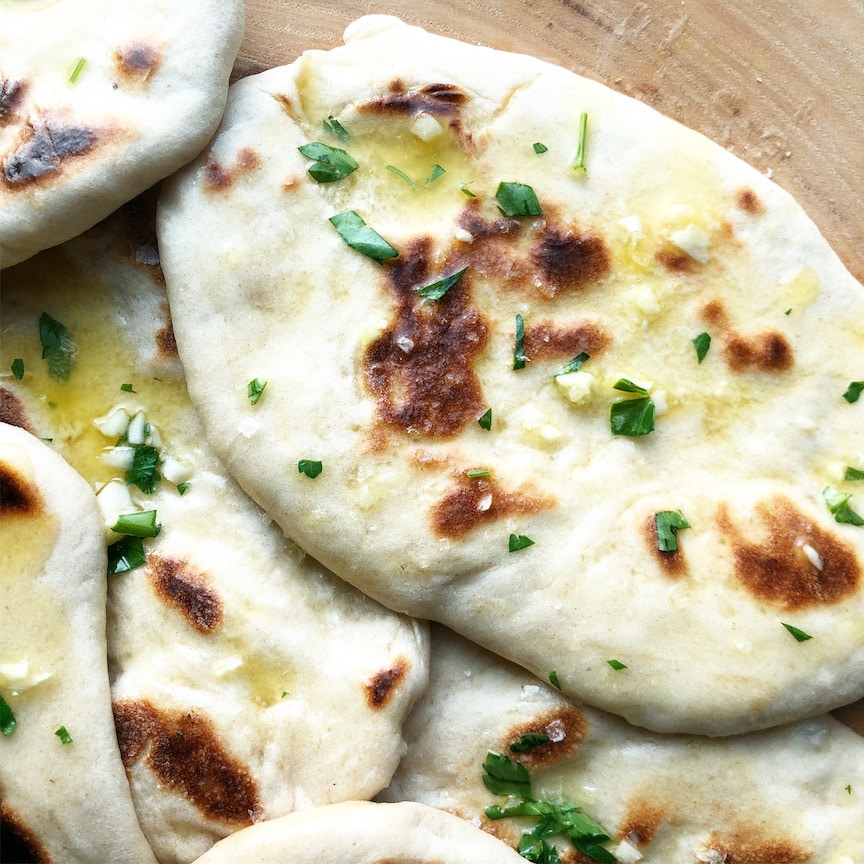 Make the Dough:
The first step to making homemade naan is to make the dough. Combine the yeast, melted butter, warm water, yogurt, bread flour and salt in a stand mixer fitted with a dough hook and knead for 3 minutes.
First Rise:
Let the dough rise in a warm, draft free place until it doubles in size. If it's not quite doubled that's okay. 
Form Dough Balls:
When the dough is done rising, take a piece of the dough (about 1/4 cup) and roll into a ball. Place the dough ball on a parchment lined baking sheet. Continue with the rest of the dough. This recipe yields around 11-12 dough balls.
Second Rise:
Cover the dough balls with a wet paper towel and let it rise again for 30 minutes.
Roll The Naan:
Next, take each dough ball and roll it into a flat oval or circle. The shape doesn't have to be perfect. Roll to about 1/4 inch thickness.
Cook the Naan:
Cook the naan in a cast iron pan or grill plan heated over medium high heat. When bubbles start to form you can flip and continue cooking for 30 seconds to 1 minute. 
Top The Naan:
Top with the melted butter and garlic mixture.
Variations:
Change it up with some different varieties. 
Buffalo: Brush with a mixture of melted butter and 1 tablespoon buffalo sauce.
Cheesy Naan: Cook with 1/4 cup shredded cheese to caramelize and create a cheesy crust. 
Mediterranean: Brush with olive oil and sprinkle with zaatar seasoning.
Everything But The Bagel: Top with melted butter and everything but the bagel seasoning. 
Cinnamon Sugar: Top with melted butter and cinnamon sugar.
Ways to use naan bread:
I love naan because you can do so much with it! It works great as a sandwich bread for savory sandwiches, or is perfect for grilled cheeses. 
Also use it for naan bread pizzas. Top the naan with your favorite pizza toppings and toast in the oven. 
It really is a perfect base for so many delicious dishes.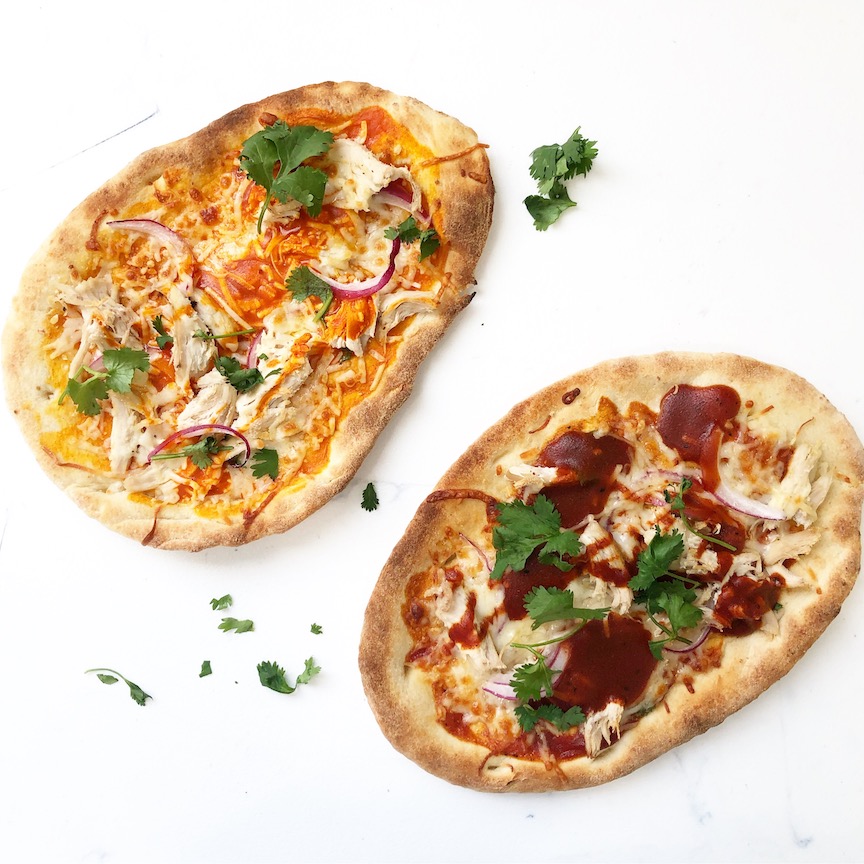 Storage:
Store homemade naan bread at room temperature in an air tight container or wrap in foil for up to 3 days. 
You can also freeze the naan in a freezer safe ziplock bag for up to 3 months. If you do freeze the naan, try to remove as much air in the bag as possible to prevent freezer burn. 
Garlic Naan Bread Recipe: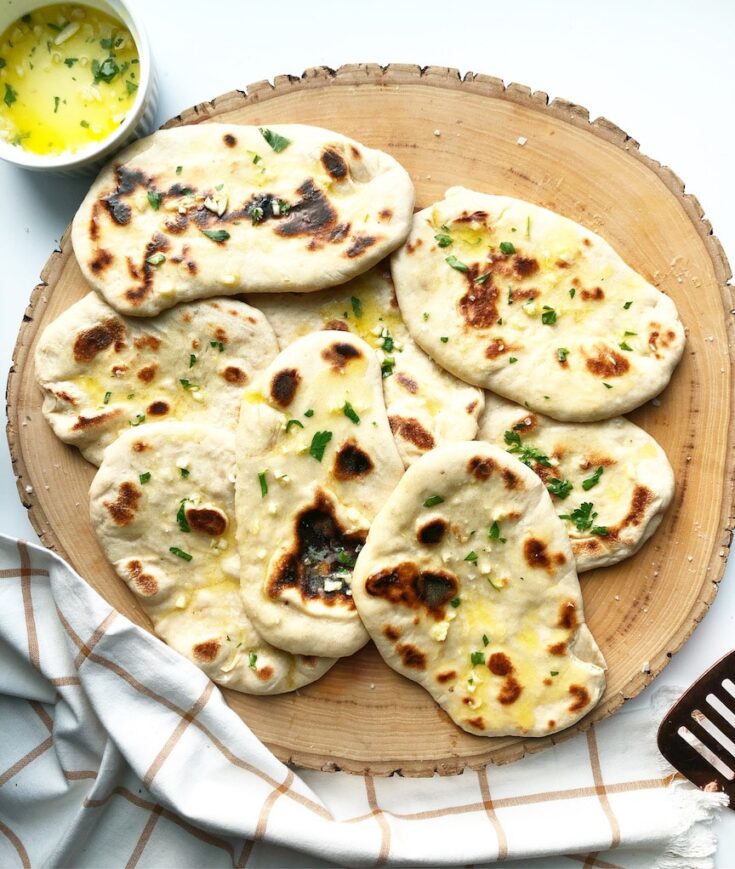 Yield:

12 pieces
Garlic Naan Bread
Prep Time:
1 hour
30 minutes
Total Time:
1 hour
32 minutes
Soft, fluffy naan bread topped with garlic butter.
Ingredients
1 1/2 teaspoons dry active yeast
1 cup warm water (like baby's bath water)
1/4 cup plain greek yogurt
2 tablespoons butter, melted (plus 4 tablespoons to top)
3 cups bread flour
2 teaspoons real salt or kosher salt
2 cloves garlic, minced
1 teaspoon flat leaf Italian parsley, roughly chopped
Instructions
Add the yeast to a stand mixer fitted with a dough hook.
Add the warm water and let sit for 5 minutes to activate the yeast.
Add the yogurt and butter and mix on low just to combine.
Add the bread flour and salt. Mix on low.
Knead for 3 minutes until it forms into a ball. Remove the dough hook and cover and let rise for 1 hour.
After the dough has about doubled in size grab about 1/4 cup of dough and form balls. Place on a parchment lined baking sheet.
Cover with a wet paper towel and rise for 30 minutes.
Roll each dough ball into a disk or oval. Roll to about 1/4 inch thickness.
Finish rolling out all of the dough balls.
Preheat a cast iron griddle or pan over medium high heat. Cook the naan bread for 1-2 minutes or until golden brown.
When the bread starts forming bubbles on the top flip and cook for an additional 30 seconds to 1 minute. Remove and place them on a serving plate.
In a small bowl combine 4 tablespoons melted butter with the garlic and parsley.
Brush the hot naan with the garlic butter. Serve immediately.
Recommended Products
As an Amazon Associate and member of other affiliate programs, I earn from qualifying purchases.
Nutrition Information:
Yield:
12
Serving Size:
1
Amount Per Serving:
Calories:

146
Total Fat:

3g
Saturated Fat:

1g
Trans Fat:

0g
Unsaturated Fat:

1g
Cholesterol:

5mg
Sodium:

420mg
Carbohydrates:

25g
Fiber:

1g
Sugar:

0g
Protein:

5g