Make this beautiful chocolate nest cake for Easter or to celebrate Spring. It's a show stopper and it's easy to make too! I will walk you through each step of the way.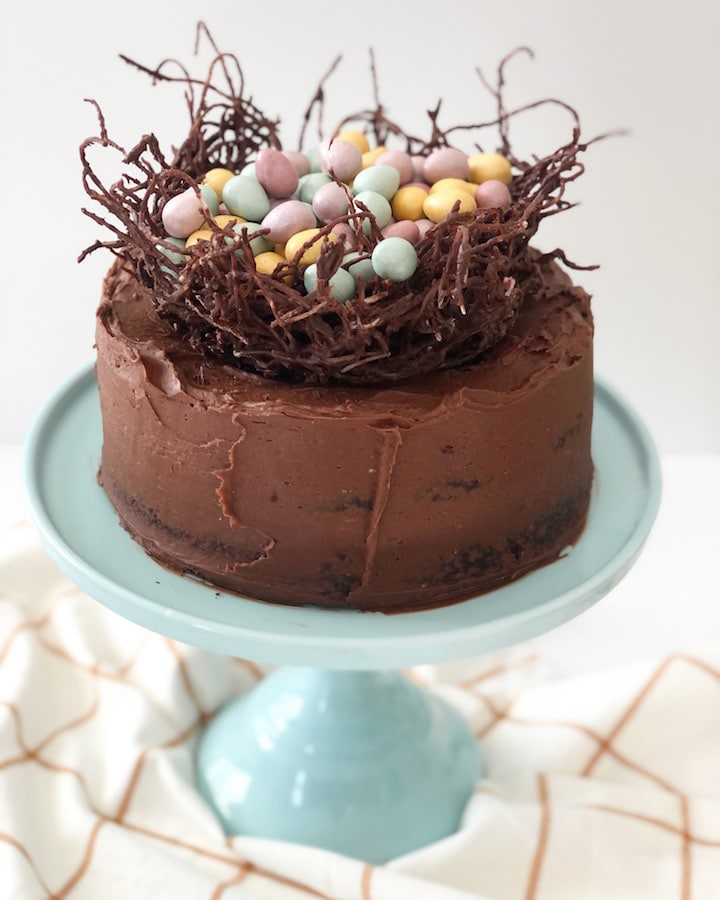 This chocolate nest cake is full of chocolaty flavor and topped with a beautiful edible nest. You can fill the nest with mini chocolate eggs (pictured above) or fill it with Easter eggs filled with fun candy or surprises.  
This cake is such a beautiful way to celebrate Easter or Spring. I can't wait to see your cakes! You can tag me on Instagram @Moremomma. Now let's get cooking. 
Ingredients You Will Need:
For the cake
Cake Flour: Cake flour is a low protein flour. It is milled very finely. It produces a very soft, tender and moist cake. If you don't have cake flour on hand or can't find it try out my friends recipe for how to make your own cake flour. 
Baking Soda: Baking soda helps as a leavening agent in the cake. 
Salt: Whenever baking you want to add a little salt. This will help intensify the chocolate flavor while making sure the cake is not too sweet. 
Sugar: Use regular granulated sugar for this recipe. 
Yogurt: You can also use buttermilk for this recipe. Any plain yogurt will do. This will help keep the cake moist and tender. 
Dark Cocoa Powder: I prefer dark cocoa powder, but you can also use regular unsweetened cocoa powder. 
Vanilla: You can use vanilla extract for my favorite vanilla bean paste. 
Butter: Use an unsalted butter and make sure to leave it out for 30 minutes or so to get to room temperature. If you forget to leave it out you can also microwave it for 30 seconds or so to soften slightly.
Eggs: Use large eggs for this recipe. 
For The Buttercream
Butter: Make sure your butter is softened so that the buttercream will incorporate and mix properly. 
Powdered Sugar: Powdered sugar is a must! This is what all frostings are typically made with. 
Dark Cocoa Powder: Again I prefer the dark cocoa powder, but you can also use unsweetened cocoa powder. 
Semisweet Chocolate: I just use chocolate chips for this recipe, but you can also use a good quality chocolate bar as well. 
Cream: Heavy cream helps thin the buttercream. 
Vanilla: Vanilla extract or vanilla paste work great for this recipe. 
Chocolate Cake:
I can't take credit for this delicious chocolate cake. This recipe comes out of the Joy of Cooking Cookbook. It's an oldy but goody. 
The chocolate cake is rich, chocolaty and stays super moist. I used the Joy of Cooking Cocoa Devil's Food Cake recipe but you can also use a boxed cake mix or Cake By Courtney's Chocolate Cake recipe. 
I do have to say that making the chocolate cake homemade makes a big difference in flavor. In my opinion it's worth the extra time. But if you don't have the time use a box cake mix that you like. 
How To Make A Chocolate Nest:
The chocolate nest looks a lot more complicated than it is. Believe it or not the nest is made out of uncooked rice noodles and melted chocolate. 
Here are the simple steps on how to make the chocolate nest cake topper. 
Melt the chocolate:
I like to use chocolate chips for this part. Microwave the chocolate chips in a microwave safe bowl in 30 second increments until melted.
Usually this takes about 1 minute 30 seconds. Stir in between to ensure the chocolate doesn't burn. 
Form your nest:
Pull the rice noodles apart and place them in a bowl. I like to use my smallest mixing bowl, but any bowl will do.
Make sure you pick a bowl that is similar in size than the diameter of your cake. If you want a smaller nest you can use a cereal bowl. 
Pour the melted chocolate into the noodles and with clean hands toss to fully coat the noodles. You really have to use your hands for this part!
Next form the nest by pushing the noodles up the sides of the bowl. Place a smaller bowl (I use a cereal bowl) inside the nest to help keep its form.
Chill:
Refrigerate for 10-30 minutes to harden.
To remove the nest, run a fork around the outside edge between the nest and the bowl to help loosen the nest. Carefully pull the nest out of the bowl. 
Now you are ready to fill with eggs and place on top of your cake. 
Ideas To Fill Easter Eggs:
Here are some fun ideas for Easter eggs. You don't have to do the stereotypical candy! 
stickers
mini toys
love notes
coins
money
candy
jelly beans
Other Easter Inspired Desserts: 
Make your Easter extra special with these delicious dessert ideas. 
Creamy Lemon Tart With Fresh Berries
Best Carrot Cake with Cream Cheese Frosting
Easter Mango Raspberry Sherbet Bars
Summer Berry No Bake Cheesecake Tart
Chocolate Nest Cake Recipe: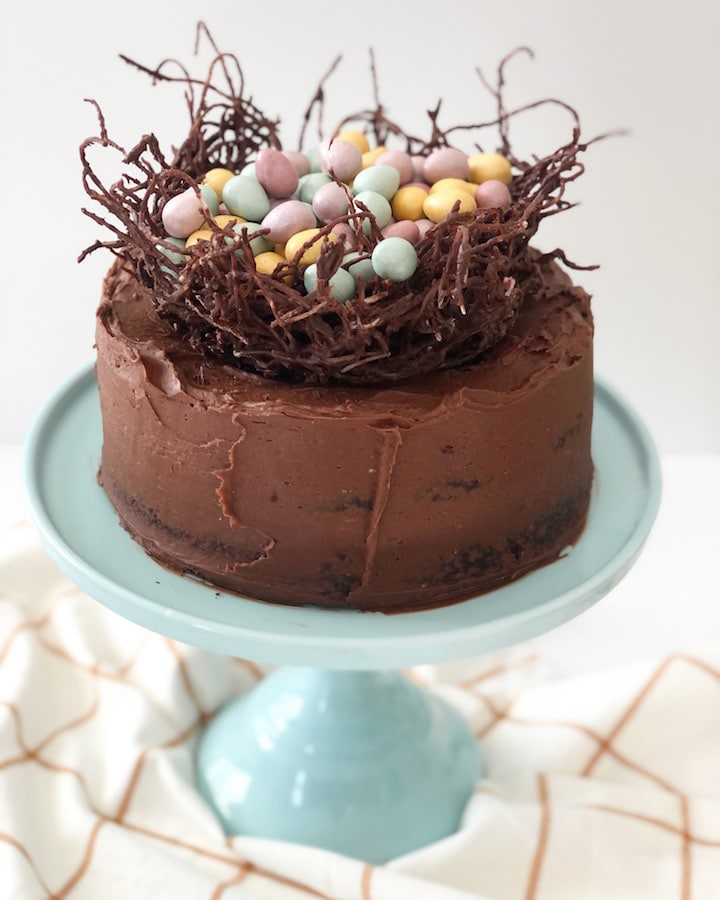 Yield:

Serves 10
Spring Chocolate Nest Cake
Cook Time:
1 minute
5 seconds
Additional Time:
30 minutes
Total Time:
51 minutes
5 seconds
The perfect cake for Easter or a Spring celebration. Wow your guests with this chocolate nest cake!
Ingredients
Cake Recipe By The Joy Of Cooking Cookbook
2 cups sifted cake flour
1 teaspoon baking soda
1/2 teaspoon salt
2 cups granulated sugar
1 cup yogurt
1/2 cup unsweetened cocoa powder
1 teaspoon vanilla
1/2 cup butter
2 eggs
For The Chocolate Buttercream:
1 cup butter, softened
6 cups powdered sugar
3/4 cup chocolate chips, melted
1 teaspoon vanilla extract
2 tablespoon dark cocoa powder
1/4 cup heavy cream (+ 2 tablespoons if needed)
For The Chocolate Nest:
1 sheet rice noodles (uncooked)
1 cup semisweet chocolate chips
candy eggs or easter eggs filled with goodies
Instructions
Preheat the oven to 350 F.
Beat the softened butter in a stand mixer with a paddle attachment for 20 seconds.
Add 1 cup of granulated sugar and mix to combine.
Add 2 eggs one at a time.
In a separate bowl measure out 1 cup of yogurt and add 1 cup granulated sugar.
Then add a 1/2 cup dark cocoa powder and 1 teaspoon vanilla. Stir to combine.
In a separate bowl add 1 teaspoon baking soda.
Then add 2 cups sifted cake flour and whisk to combine.
Alternate adding the yogurt mixture and flour mixture into the stand mixer. Mix on low to medium speed until all ingredients are incorporated.
Line 2 (8 inch cake pans) with parchment paper and spray with cooking spray.
Pour the batter evenly into the cake pans. Bake in the oven for 30-35 minutes.
Then let cool, wrap in foil and freeze for 30 minutes.
To make the nest place one sheet rice noodles into a small mixing bowl. Break them up with your hands.
Top the noodles with 1 cup melted chocolate. With your hands coat the noodles in the chocolate. Form the nest by pushing the noddles up the sides of the bowl and then place a smaller bowl on top of the nest. Refrigerate.
To make the frosting cream together 1 cup softened butter with a paddle attachment for 1 minute in your stand mixer.
In 1/2 cup increments, add the powdered sugar.
With the mixer on low speed slowly pour in the melted chocolate.
Steam in the heavy whipping cream.
Then add 2 tablespoons dark cocoa powder. If your frosting is too thick you can thin it with more cream.
Assemble the cake by placing one of the chilled cakes on a cake pedestal. Using an offset spatula spread the cake with a thin layer of frosting.
Top with the remaining cake layer. Then frost the cake with the remaining amount of frosting.
Run a fork in between the noodles and the side of the bowl to help loosen. Remove the nest and place on top of the cake.
Fill your easter eggs with candy and place in the nest or use other chocolate egg candy.
Recommended Products
As an Amazon Associate and member of other affiliate programs, I earn from qualifying purchases.