This easy lemon cake with raspberry cream cheese frosting is one of my absolute favorites. The best part is how easy it is to make.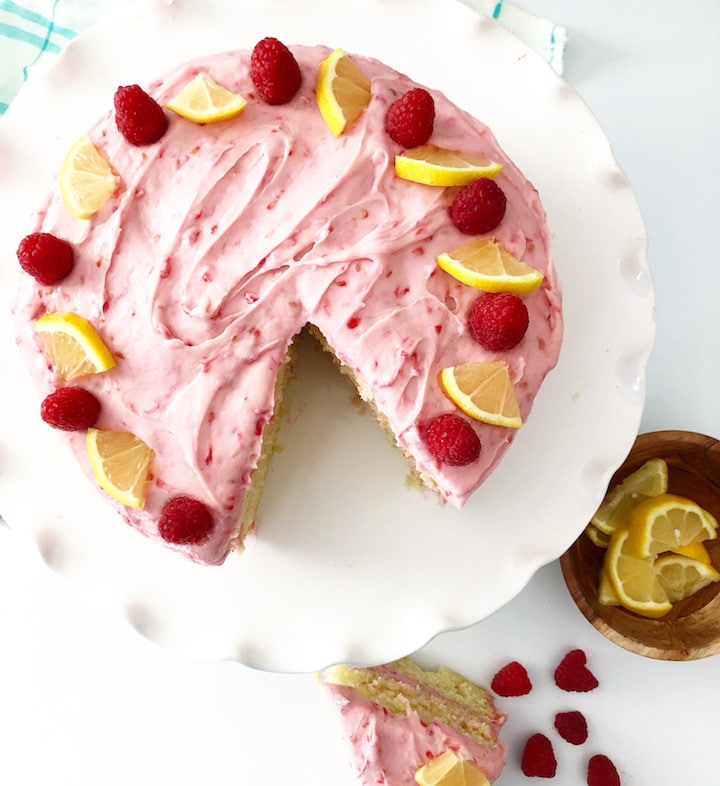 Easy lemon cake with raspberry cream cheese frosting is perfect for Easter, a Spring get-together, baby shower or birthday. It's lemony and full of delicious raspberry flavor.
I have been making this lemon cake for over 10 years now. It's always a fan favorite and is the perfect easy dessert to make for just about any occasion.
This cake is so versatile. You can change it up by using different fruit in the frosting like blueberries or strawberries. Or make this into delicious lemon cupcakes with raspberry cream cheese frosting. Whatever you choose to do it will be the star of the show.
Flavor Variations:
If you can't find fresh raspberries you can change up the flavor by using different fruit. Try these delicious options below.
Blueberry: Instead of raspberries use fresh blueberries. This will turn your frosting blue which makes for a beautiful Spring cake or it is great for a boy baby shower cake!
Strawberry: Strawberries go wonderfully with the lemon cake. This version tastes like a strawberry lemonade. Just switch out fresh strawberries for the raspberries.
Boysenberry: Boysenberries are a great Summer version of this cake. Top with fresh boysenberries and you have a beautiful Summer cake.
Vanilla: If you can't find any fresh fruit available you can make the frosting with vanilla instead. Add some vanilla bean paste instead of the fruit. The vanilla bean paste has vanilla beans running through it so you will see beautiful little vanilla specks all throughout your frosting.
Ingredients:
This lemon cake calls for a few simple ingredients and with the convenience of cake mix and lemon pudding it's quick to make.
How To Make Lemon Cake:
To make the lemon cake combine all the cake ingredients in a mixing bowl. Using hand beaters beat the batter until smooth.
Pour the batter into parchment lined cake pans and bake.
Let cool completely and wrap in saran wrap. Freeze for at least 30 minutes or overnight.
How To Make Raspberry Cream Cheese Frosting:
Make sure all your frosting ingredients are at room temperature. This will ensure that you wont have clumps in your frosting.
Combine the cream cheese and butter in a stand mixer and whip to combine. Then add the powdered sugar and fresh berries. Mix to combine.
This frosting is great on my Lemon Rolls With Raspberry Cream Cheese Frosting.
Storage and Freezing:
You can make this cake ahead of time. Make the cake layers and let cool completely. Then wrap them in saran wrap. Wrap in foil and then place the cakes in the freezer. You can freeze the cake for up to a week.
When you are ready to assemble the cake take them out of the freezer and remove the foil and saran wrap. Make the frosting and ice according to recipe direction.
The cake will thaw in about 1-2 hours. I recommend refrigerating the cake if you are leaving it out for more than 3 hours because the frosting has cream cheese in it.
Other Lemon Recipes:
If you love lemons try these other delicious lemon inspired recipes.
Creamy Lemon Tart With Fresh Berries
Easy 3-Ingredient Homemade Lemon Bars with Fresh Berries
Healthy Lemon Poppyseed Muffins
3-Ingredient Mini Lemon Meringue Pie
Lemon Cake With Raspberry Cream Cheese Frosting: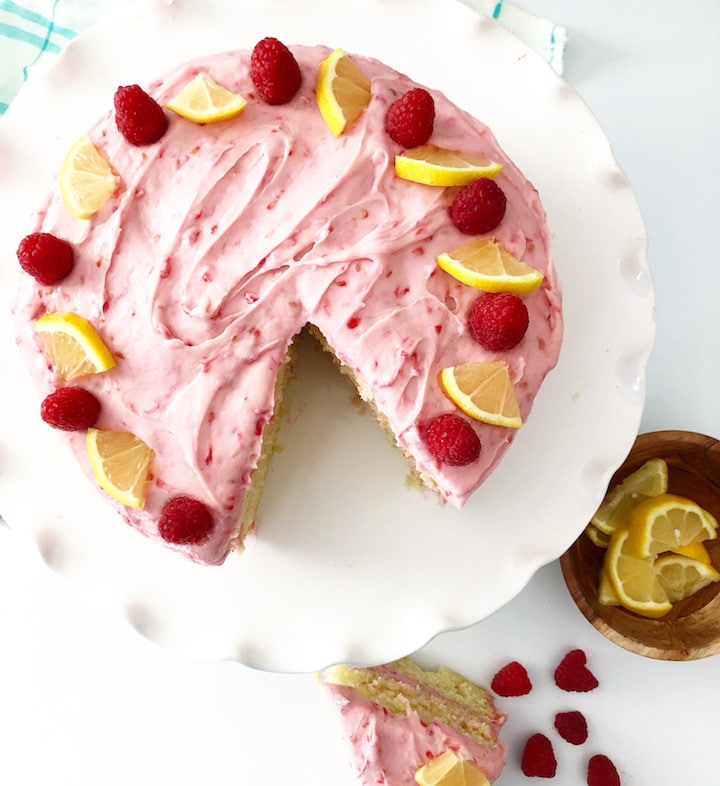 Yield:

Serves 10
Lemon Cake With Raspberry Cream Cheese Frosting
Additional Time:
30 minutes
Total Time:
1 hour
5 minutes
The perfect lemon cake topped with a creamy raspberry cream cheese frosting. This is an easy, yet delicious cake to make for any occasion.
Ingredients
1 Box Yellow Or White Cake Mix
1 Package Instant Lemon Pudding
4 Egg Whites
1 1/4 Cup Water
1/3 Cup Vegetable Oil
Raspberry Cream Cheese Frosting:
1/2 Cup Butter, Softened
8 Ounces Cream Cheese, Softened
2 Pounds Powdered Sugar
1/2 Cup Fresh Raspberries + 1/2 Cup To Top
Instructions
Preheat the oven to 350 F.
Add one package cake mix to a mixing bowl along with the lemon pudding mix.
Then add the egg whites.
Add the water.
Add the vegetable oil.
Mix to combine.
Line two 8 inch cake pans with parchment paper and spray with cooking spray on sides and the bottom.
Pour half the batter into each pan.
Bake for 25-30 minutes or until cooked through. Let cool. Wrap in foil and freeze for at least 30 minutes.
To make the frosting add the butter and cream cheese to a mixer. Mix on medium speed for 30 seconds.
Add powdered sugar and fresh raspberries to the mixer.
Mix on low until well combined.
Remove the cake by running a knife in between the pan and the cake. Place the cake onto a cake pedestal and remove the parchment paper. Spread a layer of frosting on the top of the cake.
Top with the remaining cake. You can put parchment paper under the sides of the cake to catch any frosting.
Ice the cake with an offset spatula moving the frosting from the top of the cake down to the sides.
Slice a lemon into thin quarter slices.
Remove the parchment paper and top with fresh raspberries and lemon slices in a decorative pattern.
Chill until you are ready to serve.
Nutrition Information:
Yield:
10
Serving Size:
1
Amount Per Serving:
Calories:

681
Total Fat:

27g
Saturated Fat:

12g
Trans Fat:

1g
Unsaturated Fat:

13g
Cholesterol:

54mg
Sodium:

350mg
Carbohydrates:

109g
Fiber:

0g
Sugar:

93g
Protein:

5g