Impress your friends and family with this cedar plank salmon that is made in the oven. Coated in a coconut crust and seasoned to perfection this salmon cooks directly on a cedar plank straight in the oven. Top it off with a homemade mango salsa and you got yourself a winner. 
Cedar plank salmon can be made directly in the oven, no more brunt up planks on the grill. Let's dive right into this delicious recipe.
This recipe has me feeling all the feels today. Plans for a trip with my hubby to visit the Caribbean this spring have been halted because of 'Rona. Like so many people, this darn pandemic has canceled a lot of our plans.
Can it just end, please?! Seriously, I think we're all ready to mingle and hug every person we see and get back to backyard BBQs and date nights. I know I am.
I've had this trip planned since we had to cancel our vacation to Thailand because of illness. This was supposed to be part relaxing and rejuvenating and part thrilling. Zip-lining in a tropical forest? Sounds like so much fun! Snorkeling in the beautiful blue ocean? Amazing! Dinner on the Caribbean beach? Every night? Yes, yes, and yes!
Alas, I'm forced to bring the tropics inside my home and will have to plan for a different getaway in the unforeseeable future. As the saying goes, "Third time's the charm." I've got my fingers and toes crossed that it's true!
Cooking Salmon:
Most people are familiar with preparing salmon by at least one of these 8 methods: Baking, Roasting, Skillet to Oven, Grilling, Poaching, Pan-fried, Curing, and Braising.
Each method provides such delicious results; however, my favorite method is baking or grilling on a cedar plank.
I am going to teach you how you can cook salmon directly on a cedar plank straight in the oven. No grill needed.
What does a cedar plank do for salmon?
If you've never cooked a cedar planked salmon, you're in for a real treat.
Cooking salmon on a cedar plank produces such an incredible woodsy infused flavor that is not achieved through those other cooking methods.
You might wonder how the salmon gets the smoky woodsy flavor by simply sitting on the wood plank. Well, as the plank dries in the oven or on the grill, the salmon will pick up a woodsy aroma and flavor. It's so good!
This recipe is for coconut crusted salmon. Yes! We're adding a little sweet to the heat of the creole seasoning. I like to season my salmon (always) before cooking, because it provides so much more depth to the flavor. 
Are cedar planks for salmon reusable?
Although some say you can reuse them, I would not recommend it. Because you are cooking fish directly onto the plank It would not be sanitary to reuse the plank.
Even though I wouldn't recommend reusing the planks, you can buy less expensive plank sheets that are perfect for this recipe.
Why is it necessary to soak the cedar planks?
The planks need to be soaked in order for them to not burn. It is especially important to soak the planks for at least 30 minutes when making this recipe in the oven.
If you don't, you run the risk of your plank catching on fire. So soak them for a minimum of 30 minutes, longer if you can. Cook the salmon in fairly small similar sized filets. A large filet will take too long to cook, and you'll run the risk of overcooking the smaller pieces.
You most certainly do not want a fire in your oven! Just soak the plank to prevent burning.
Do you flip fish on cedar plank?
With this recipe you will not need to flip the fish on the cedar planks. Because we are cooking the fish in the oven the hot air will circulate around the whole fish and will cook the fish evenly.
What To Serve With Cedar Plank Salmon:
Salmon is such a basic recipe that can be used in so many ways. I love to serve this Coconut Crusted Salmon with any of the following side dishes. 
Mexican Quinoa Salad With Chili Lime Vinaigrette
Strawberry Shortcake with a Twist
Mango Salsa
Did you know that there are more than 7 common types of mango? The National Mango Board explains the differences in common U.S. mangoes and when you'll likely see them hit the produce section at your grocery store. Make this salsa year round by using the mangoes that are in-season!
The best thing about this salsa is that it's so versatile. Use it in this Southwest Chicken Bowl, on top of shrimp tacos, with chips, or whatever else pops into your mind!
Let me know what you think about this recipe on Instagram @moremomma.
Until next time!
Xoxo,
Meg
Cedar Plank Salmon In The Oven Recipe: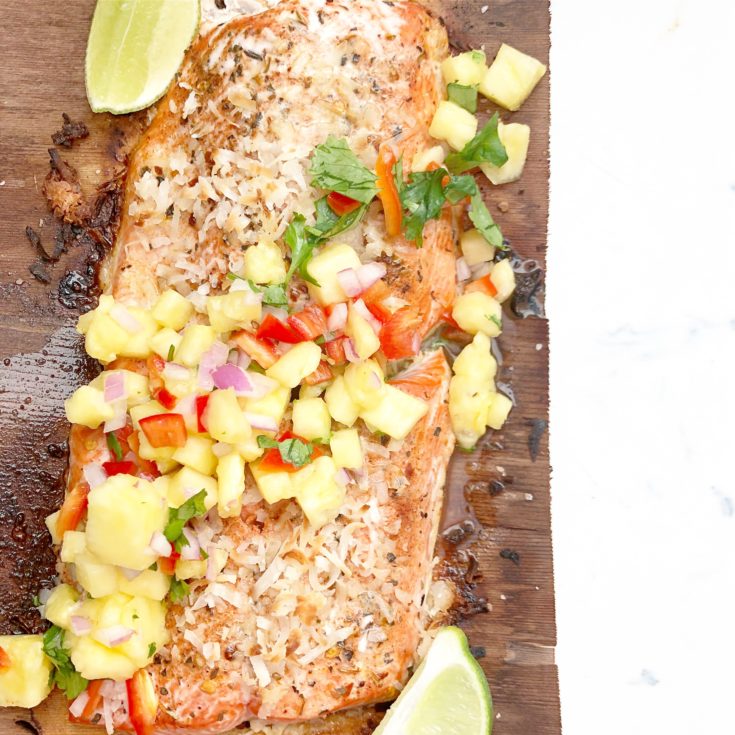 Yield:

4
Cedar Plank Salmon with Mango Salsa
Flaky salmon with some tropical flavors makes a delightful dinner
Ingredients
Cedar Plank, Soaked in Water for 30 Minutes to 1 hour
2 Pounds Fresh Salmon, Bones Removed
1 Teaspoon Real or Kosher Salt
1-2 Teaspoons Creole Blackening Seasoning
¼ Cup Shredded Sweetened Coconut
Mango Salsa
1 Cup Mango, Diced
½ Cup Red Bell Pepper, Diced
¼ Cup Red Onion, Diced
1 Tablespoon Jalapeño, Seeded and Finely Minced
1 Tablespoon + 1 Teaspoon Lime Juice
1 Tablespoon Chopped Cilantro
¼ Teaspoon Real Salt
Instructions
Soak the cedar plank in water for at least 30 minutes, then place the cedar plank on a foil-lined baking sheet. Preheat the oven to 375°F.
Place the salmon skin side down on the cedar plank. Season with salt and Creole seasoning (great job for kids).
Place in the oven for 10 minutes.
After 10 minutes, top with shredded coconut and place back in the oven for an additional 10 minutes or until cooked through.
While the salmon is cooking, make the mango salsa by combining all the salsa ingredients in a small bowl (great job for kids).
To serve, place one piece of salmon on each plate and top with mango salsa.
Notes
Encourage your kids to help by guiding them with simple tasks
Recommended Products
As an Amazon Associate and member of other affiliate programs, I earn from qualifying purchases.