Fresh baked fluffy buttermilk biscuits with strawberry compound flavored butter are flaky and delicious!
Buttermilk biscuits go with so many meals, and these are no exception! They're everything you dream of in a homemade biscuit. Pair it with a to-die-for homemade strawberry butter, you'll find any reason to serve these.
This strawberry butter has so much strawberry flavor, but not too much to be overpowering. I love to spread it on top of warm waffles and then top with strawberry syrup. I simply can't resist strawberry flavored things.
Enough talk about how good this recipe is, let's answer a few common questions and then get to business!
What fats can be used for biscuits?
You'd be surprised, but the type of fat used in biscuits make a huge difference. Fats are one of the main ingredients in biscuits, so you need to make sure you use the right kind for optimum results.
Butter and shortening are the best options; however, using butter will actually result in a taller, flakier biscuit than using shortening, which produces a shorter, drier biscuit. Check out Southern Kitchen's article on biscuits and fat — there's so much information!
What can I use if I don't have buttermilk?
Making a buttermilk substitute is really easy, and I'm sure you have the ingredients to do so. All that's needed is milk and white vinegar or lemon juice. Measure one tablespoon of the acid (vinegar or lemon juice) into a liquid measuring glass and then fill with milk until you have reached 1 cup. Stir, then let it sit for 10 minutes before using.
Another great option is using Saco cultured buttermilk. I keep a container of powdered buttermilk in my fridge and when it's needed, I add necessary amount of powder to the dry ingredients and the required amount of water (to reconstitute) to the wet ingredients.
Can I make buttermilk biscuits ahead of time?
The short answer to this question is yes, but you can only prepare biscuits ahead of time up until mixing the wet and dry ingredients together. The leavening agent (baking powder) immediately reacts to the acid (buttermilk) as soon as it makes contact.
The longer the mixed biscuit dough sits prior to cooking, the less of a reaction you'll get, in this case I'm referring to the rise.
So go ahead and prepare both your wet and dry ingredients, but in separate bowls. When you're ready to bake, combine all ingredients together, shape, and bake!
What is a compound butter?
It's a fancy way of elevating your everyday stick of butter. A compound butter is basically butter mixed with something else. It's easy to make and tastes and smells gourmet. You may find compound butter at steak restaurants. There they serve herbed butter on top of protein (steak, shrimp, chicken, etc). It is so good!
What other kinds of flavored butter goes well with biscuits?
So many! But really, butter and biscuits are meant to be. There's nothing like adding plain butter to biscuits, but why not be adventurous and try some compound butter? Try your hand at cinnamon honey butter, maple cinnamon butte, raspberry or blueberry butter, or butter with lemon or orange zest.
How to make fluffy buttermilk biscuits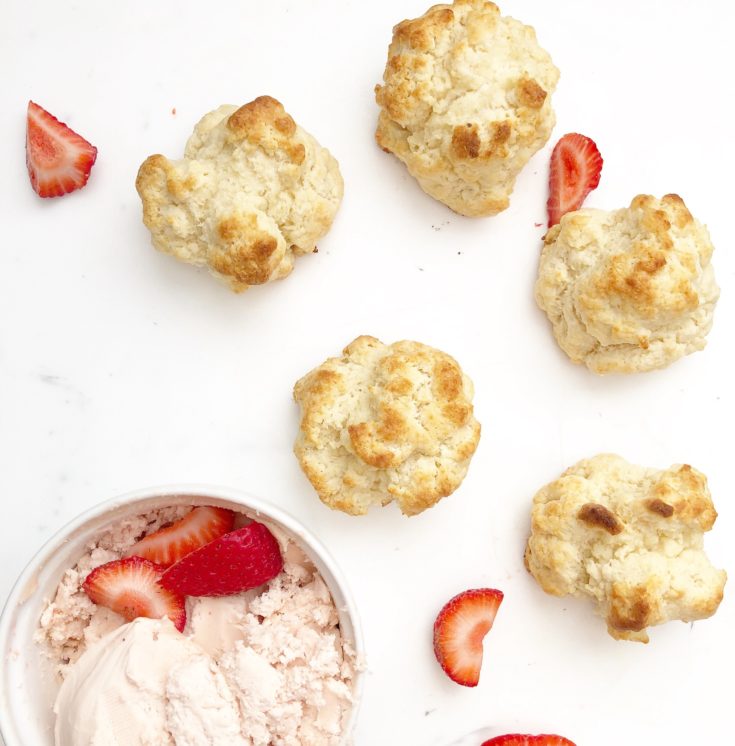 Yield:

12
Buttermilk Biscuits
Flaky, buttery biscuits that are a show stopper!
Ingredients
2 Cups All-Purpose Flour (plus more for dusting)
1 Tablespoon Baking Powder
½ Teaspoon Kosher Salt
½ Cup Butter or Shortening
1 Cup Milk or Buttermilk (if using milk, add ½ teaspoon baking soda)
2 Tablespoons Melted Butter
Instructions
Place the flour, baking powder, and salt in a mixing bowl or food processor.
Cut in the butter or shortening until it resembles coarse meal. If using a food processor, pulse 10 times.
Stir milk or buttermilk into the mixture. Mix quickly with a spoon (or pulse 5 times), just until dough starts to come together.
Pour onto a lightly floured work surface (it will look soggy).
Dust your hands with flour and gently flatten mixture to about 3 inches thick.
Fold dough like an envelope. Turn and fold again and pat down slightly. Dough should be around 2 ½ inches thick.
Cut biscuits with a biscuit cutter or a glass cup (2 inches in diameter).
Place the biscuits on a parchment-lined cookie sheet.
Preheat the oven to 450°F.
Brush the biscuits with melted butter and bake for approximately 15 minutes.
Notes
You can freeze uncooked biscuits in a freezer-safe Ziploc bag. When ready to cook, place on a parchment-lined baking sheet and cook straight from the freezer.
Strawberry Butter Recipe: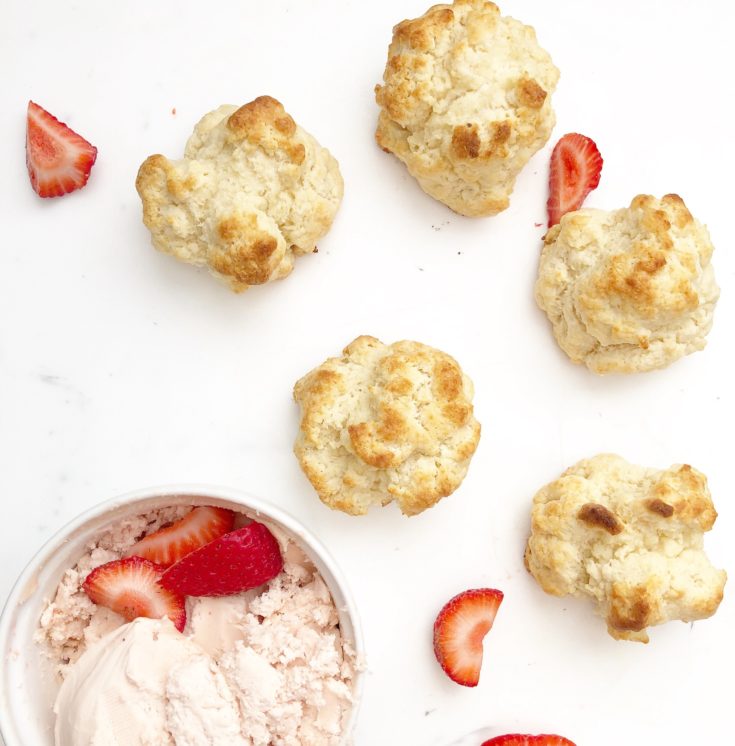 Yield:

10 Servings
Strawberry Butter
Buttery and sweet, the perfect accompaniment biscuits, waffles, and more.
Ingredients
½ Cup Unsalted Butter, Softened
6 Ripe Strawberries, Washed, Stems Removed, and Quartered
½ Teaspoon Vanilla Extract
¾ Cup Powdered Sugar
¼ Teaspoon Kosher Salt
Instructions
Combine all ingredients in a small food processor and mix until combined.
Pour into a ramekin or small bowl.
Store in the refrigerator.
Notes
Switch up the recipe with blueberries, raspberries, or boysenberries.
Pair this recipe with any of my protein recipes. Two of my favorites are Instant Pot Ribs (in my Spring Meal Plan) and Lobster Mac and Cheese.
What compound butter is your favorite? I'd love to hear your thoughts in the comments or on Instagram @moremomma!
xoxo,
Meg