Summer berry salad is one of our favorite sweet summer salads to make. It's full of ripe berries, candied pecans, goat cheese and tossed with a delicious homemade strawberry dressing.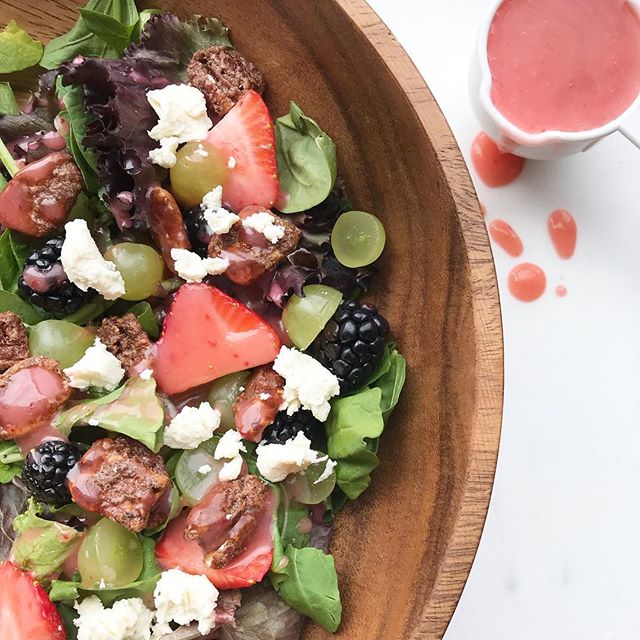 Café Zupas has the most amazing salads, soups, and sandwiches. Now, if you've never heard of
Café Zupas
you're definitely missing out. It's a chain restaurant in Utah that makes your food fresh, cafeteria style. They make a delicious salad that inspired this Summer Berry Salad recipe. 
I was recently introduced to the fast casual restaurant when I ate there before a BYU game. The line wasn't long and we were treated with a sliced baguette and chocolate covered strawberry. How fun is that?!
Anyway, I ordered their Nuts About Berries Salad and fell in love! Fresh, sweet and tart berries on a bed of mixed greens topped with a sweet vinaigrette. I don't know about you, but it sounds so refreshing!
Never mind that I had other obligations to tend to; recreating this salad jumped up to a top priority.
Recreating This Recipe:
Recreating this recipe was perfect timing and totally meant to be because I was in charge of the food at my friend's bridal shower the following weekend!
Needless to say the salad was a hit and has been ever since. It's made its presence at multiple bridal showers, baby showers, catering events, and family gatherings.
What I love about this salad is that it's one salad that my husband will actually eat! Must be the berries and sweet vinaigrette.
If you're wanting more protein, top the salad with grilled chicken or steak. 
It's the perfect dish for Spring and Summer when berries are in-season and ripe and I can't wait for you to fall in love with my latest obsession!
What To Serve With This Salad:
This salad can be a main dish or a side. Check out these other dishes that pair perfectly! 
Ingredients For Summer Berry Salad:
Bag Mixed Greens
Strawberries
Boysenberries
Blueberries
Green Grapes
Candied Pecans (from Trader Joe's or homemade)
Honey Goat Cheese
White Balsamic Vinegar
Honey
Kosher Salt
Liquid Coconut Oil
Video Tutorial:
Summer Berry Salad Recipe: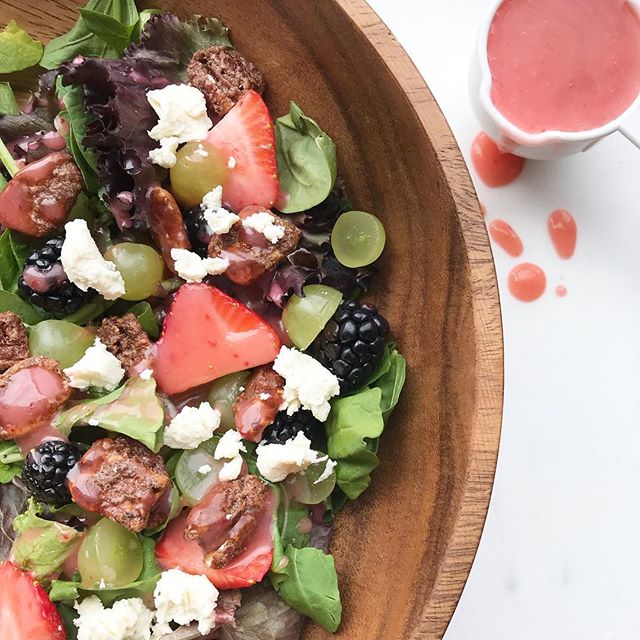 Yield:

4
Summer Berry Salad
This copycat Café Zupas Nuts About Berries Salad is bound to be a favorite at your next get together.
Ingredients
1 (5 ounce) Bag Mixed Greens
½ Cup Strawberries, Sliced
¼ Cup Boysenberries
¼ Cup Blueberries
¼ Cup Green Grapes, Halved
¼ Cup Candied Pecans (from Trader Joe's or homemade)
¼ Cup Honey Goat Cheese, Crumbled (from Trader Joe's)
Dressing Ingredients:
½ Cup Strawberries, Sliced
1 Tablespoon Honey
¼ Cup White Balsamic Vinegar
¼ Teaspoon Kosher Salt
¼ Cup Liquid Coconut Oil
Instructions
Place all salad ingredients on a serving platter or in a salad bowl.
To make the dressing, place strawberries, honey, white balsamic vinegar, and salt into a mini cuisinart or blender and blend until smooth.
Stream in coconut oil while pulsing the strawberry mixture. Continue pulsing until combined.
Pour desired amount of dressing over the salad and toss together before serving.
Notes
Grilled chicken can be added for additional protein.
Recommended Products
As an Amazon Associate and member of other affiliate programs, I earn from qualifying purchases.