Refuel your kids with these easy, after school snacks that will give your kiddos the energy they need. Perfect for stocking in your pantry and fridge, these snack ideas make after school snacking effortless and delicious.

Can you believe it's already that time of year again? The nights seem to be just a little shorter and the house is starting to fill up with back-to-school items. Bedtimes are now a little earlier, and, if you're lucky, the kids are anxious to get into a new routine. It's back-to-school time! Which means it's also time for after school snacks.
Like most parents, I always have to be two steps ahead of my kids. That means before they're even out of the house and at school (whether it be pre-k, high school, or every grade in between), I have to be thinking about after-school snacks.
Prepackaged snacks are great to have when in a crunch; however, my goal is to provide easy and healthy snacks for my kids to munch on, instead of reaching for a bag. I'm talking about offering snacks that are nutritions and packed with protein, which will hold them over until it's dinnertime.
That time after school when all the kids want mom's attention, but you're trying to juggle homework and get dinner started, is what I call the "witching hour of dinnertime".
Feel the same way, too?
I have heard from other moms that they're able to avoid the "witching hour of dinnertime" by having the snacks already on the table or counter when the kids get home, ready to eat! That's such a great idea, and I cannot wait to implement it when we are able to go to school in the classroom.
Yep, that was me saying that I'm homeschooling my kids this year, and I know that will mean my kids will be in the kitchen all the time — like how it is during the summer!
Now, I know that I'm not the only parent who struggles with kids who constantly graze, so I've come up with these great ideas to help make the day run a little more smoothly.
Involve kids in making their own snacks!
In general, kids tend to love to eat the foods they make. This is the perfect opportunity to teach them how to work in the kitchen, and how to make easy and nutritious snacks. Teach them that not every snack needs to be a bag of chips.
If you need some more ideas on how to do this easily check out the More Momma Cooking School. We have classes specifically designed to teach kids how to make their own school lunches and after school snacks.
Designate a specific time for snacks:
Yes, just like at school, set aside a specific time when snacks are eaten. Kids love routine and structure, so use a chart or a timer, or whatever works in your home to help let them know when it's snack time.
Since we will be home all day, I plan on two times for snacks — a small morning snack and then again during the "witching hour of dinnertime!"
Stressed spelled backwards is desserts, and snack time can be just as fun as dessert, right?!
Enjoy simplicity in snacks. Let's be honest, whether your kids are homeschooling, online/remote learning, or prepping to go back to the classroom, life is busy, and the last thing you need is added stress about making snacks extravagant or Pinterest-worthy. Disclaimer: there's nothing wrong with Pinterest-worthy snacks, but not every snack needs to be such.
Take the pressure off yourself and enjoy making easy, simple snacks for (or with!) your kids! You've already got enough on your plate, let this be one less thing that stresses you out.
Meal Prep Snacks:
Meal prep those snacks! Are you a regular meal prepper? Add snacks into your meal prep schedule to save time during the day. Not into prepping meals for the week? That's okay! I still suggest preparing as many snacks for the week as possible. Choose snacks that store well in the pantry or fridge. Some of my favorite snacks to prepare are Mint Chocolate Chip Protein Balls, Protein Donuts, and Buffalo Ranch Chex Mix Snack.
Offer Fruits and Vegetables As After School Snacks:
Incorporate seasonal fruits and veggies. So often people forget about the beauty of and nutritional content in seasonal produce. They're less expensive than off-season produce, and they are full of vitamins, minerals, and antioxidants. Pair fruits and veggies with a protein-rich dip or nut butter and you've totally won! Simple, satisfying, and easy to make. That's my kid's favorite kind of snack!
These ideas are so great, and I plan on implementing all of them with the help of Sprouts, one of my favorite grocers. I can always rely on Sprouts to stock the best produce year-round, as well as other top-notch products that I feel good about serving to my kids.
I also love that I can search their weekly ad and plan what I will serve my kids and save money while I am at it.
Regardless of what's on my Sprouts grocery-list, I always find myself gravitating towards the ingredients I can use for making these snacks.
Pantry Staples From Sprouts:
My pantry is always stocked with shelf-stable items from Sprouts, such as fresh cashew butter, nuts, dried fruit, and oats. And I always love to throw in some yummy chocolates or gummy bears from their bulk bins just for fun!
Healthy After School Snacks:
Here are some of my favorite healthy after-school snacks that I make for my kids with ingredients that you can easily find at Sprouts:
Protein balls are so great because they're so versatile! Make them in different flavors and keep them in the freezer for a snack on-the-go.
Frozen fruit juice popsicles are another great make-ahead snack that's super easy. I love to keep these on-hand year-round! I use Sprout's 100% juice and freeze them in these Ziploc popsicle bags.
Frozen yogurt is another nutritious snack idea that you may not have thought about! Blend plain or vanilla yogurt with berries and bananas, then place in the freezer or in an ice cream machine for a quick, healthy frozen yogurt.
One of my go-to after-school snacks is a snack tray. They're quick, easy, and customizable. Sometimes I even do snack trays for dinner, and the kids love them! Put some fresh fruit and veggies, crackers, and cheese on a tray or plate and it's done.
Frozen bananas are simple and delicious, and can be a great dessert recipe, too! My kids love to slice the bananas and then spread a layer of peanut or other nut butter on the banana slices. Then, they sandwich two slices together and dip them in melted chocolate. So good!
Pizza toast is one of my personal favorite after-school snacks from my childhood! Sprouts makes the best bread, which I top with some tomato sauce, cheese, and deli pepperoni. I toast them in the oven for a few minutes and it's like a mini personal pizza. And FYI, this is so delicious on English muffins.
No-Cook After School Snack Ideas:
These snacks are super easy to make and don't require a lot of prep time. The only prep needed is to make sure you have ingredients on-hand and to give your kids direction, when needed.
I'm sharing my favorite easy, after-school snacks that require zero cooking, no freeze time, are basically grab-n-go snacks, and will keep your kids satiated without spoiling their dinner.
Apples or Celery with Peanut Butter

Cheese and Crackers — Sprouts has an amazing cheese selection for your more adventurous eaters

Toast with Butter or sprinkled with Cinnamon

Hummus with Vegetables for dipping or scooping — think carrots, bell peppers, radishes, etc.

Deli Meat and Cheese — when I have extra time, I love to roll these into the shape of a taquito and serve with a frilly toothpick

Watermelon slices

Trail Mix — either packaged or made with items from Sprouts' bulk bins

Granola Bars

Yogurt

Beef Jerky and a piece of Fruit

Fresh Fruit and Dip — my favorite tropical recipe is below!
What was your favorite after-school snack as a child? What kind of after-school snacks do your kids love? Share in the comments or tag me on social media with the hashtag #moremomma.
After School Snack Idea: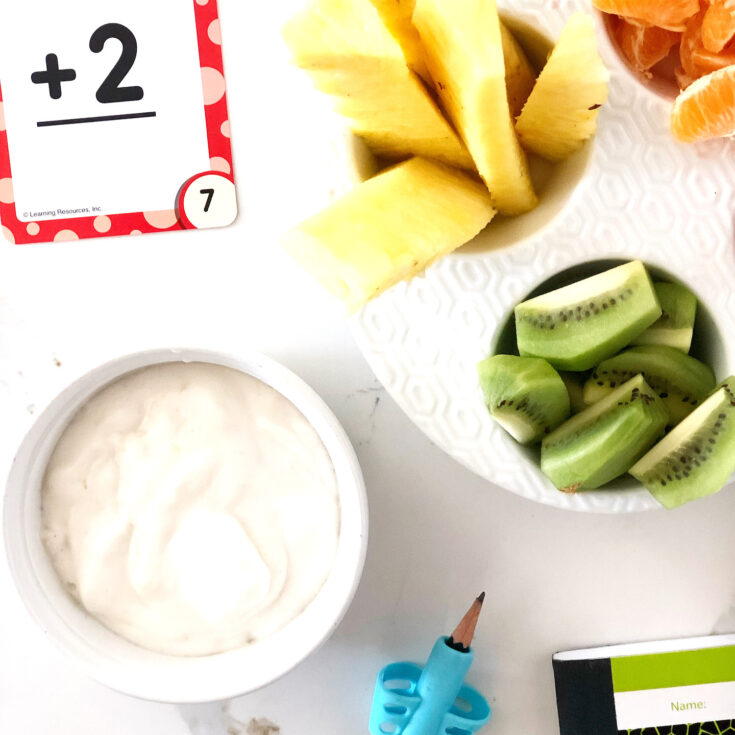 Yield:

Serves 10
Pineapple Coconut Protein Dip
This tropical dip is perfect to serve with fresh fruit. It makes an easy after-school snack that the kids will love!
Ingredients
8 ounces Noosa Coconut Yogurt
9 ounces So Delicious Dairy-Free CocoWhip Coconut Whipped Topping
½ cup Sprouts Crushed Pineapple, drained
Fruit of Choice:
Pineapple, sliced or speared
Mango, sliced
Strawberries, quartered
Kiwi, quartered
Cherries
Bananas, sliced
Instructions
Combine the yogurt with the CocoWhip and pineapple.
Mix to combine.
Serve with fruit of choice.
Nutrition Information:
Yield:
10
Serving Size:
1
Amount Per Serving:
Calories:

235
Total Fat:

6g
Saturated Fat:

2g
Trans Fat:

0g
Unsaturated Fat:

0g
Cholesterol:

0mg
Sodium:

39mg
Carbohydrates:

41g
Fiber:

8g
Sugar:

21g
Protein:

7g