Homemade strawberry shortcake recipe gets a surprising twist! With hints of almond, these are sweet, simple, and far better than any store-bought strawberry shortcakes. Try this quick recipe next time you've got a hankering for some strawberry sweetness.
Nothing sings summertime like homemade strawberry shortcake, amiright? No more pre-packaged shortcakes!
For me, those memories of prepackaged strawberry shortcakes kept popping to the forefront of my mind. And with so many questions, too!
Why do the shortcakes have to be so dry? Or why is the strawberry filling so gooey and bright red? Is it really necessary to have so many chemicals in them? (Obviously there is a need for preservatives when foods are prepackaged.)
Yes, I'm completely aware that there are people who swear by the store-bought strawberry shortcakes. If only they knew what they were missing, they'd immediately change their mind!
I mean, flaky, buttery, homemade biscuits with a fresh strawberry topping has got to be such a simple, yet decadent dessert.
Anyway, last year was our family's first family reunion in years. I'm talking since I was a teenager, maybe even younger. My sweet grandma, who adores strawberry shortcakes, was there, as well as all my aunts, uncles, cousins (plus their kids).
This reunion was totally epic. Bonfires, s'mores, potato sack games, and catching fireflies. Gosh, I just smile so big thinking about it. There was no family reunion this year, so I am grateful we gathered last year.
Each family was asked to bring a dish to share — a potluck, if you will.
Do you cringe upon hearing the word potluck and imagine bowls of green jell-o salad with shredded carrots? Me, too. Potlucks are always a gamble.
Luckily we had so many good foods! We had favorites from our childhood, a couple of Grandma's favorite recipes, and some new dishes. Can you guess what I took?
Strawberry shortcakes:
Pre-made strawberry filling and shortcakes would have been so much easier! But honestly, that would have cost a fortune with so many people and wouldn't have been as good.
So I did what any *sane* person would — make homemade strawberry shortcakes!
Let's break it down:
Strawberry shortcake filling:
Can we agree that the strawberry filling can make or break the shortcake dessert? For me, I like the strawberries to be macerated.
Macerate means to add sugar to fruit and let it steep, or sit for some time. This process enhances the fruit's natural sweetness and, when macerating berries, results in tender berries with lots of juicy syrup.
Strawberry shortcake biscuits:
To get the perfect biscuit, I used my favorite biscuit recipe. I love this recipe because it makes a tall and flaky biscuits.
For some added crunch and sweetness, add a sprinkle of coarse sugar on the tops of the milk-painted biscuits. So. Much. To Love.
You'll be surprised, but the type of fat used in biscuits makes a huge difference. Butter and shortening are the best options. Using butter will actually result in a taller, flakier biscuit than using shortening, which produces a shorter, drier biscuit.
Check out Southern Kitchen's article on biscuits and fat — there's so much information!
How to make shortcake dough:
This recipe is really simple and doesn't require kneading — a total win in my book!
Place the flour, baking powder, and salt in a mixing bowl or food processor. (Food processors are quick and efficient, resulting in uniform pieces of butter.) Then cut in the fat with a pastry blender or, if using a food processor, pulsing 10 times.
Next, stir milk or buttermilk into the mixture. If you don't have any buttermilk on-hand you can quickly make your own.
How to make homemade buttermilk:
Pour 1 tablespoon of white vinegar into a liquid measuring cup and add milk to the 1 cup line. Let the milk and vinegar mingle for a few minutes before using.
How to shape biscuits dough:
This is a no-knead, no-rise biscuit recipe, so clean off some counter space and let's get shaping!
Always dust a little flour onto your clean work surface. Turn the dough out onto the counter, and gently fold the dough to form a 2-inch thick rectangle.
From there, cut the dough into 8 equal squares and pop them onto a parchment-lined baking sheet.
How to make homemade whipped cream:
First, it's important to have a cold bowl. Next whip the heavy whipping cream with a hand blender or in a stand mixer.
When heavy whipping cream is whipped inside the cold bowl, the agitation causes multiple air bubbles to form together. This in turn results in a stiff structure.
Powdered sugar and vanilla are added for flavor and sweetness.
Some other favorite recipes to try:
Strawberry Cheesecake Ice Cream Recipe
Chocolate Chess Pie With Homemade Whipped Cream
Lemon Cake With Raspberry Cream Cheese Frosting
Strawberry Shortcake Recipe: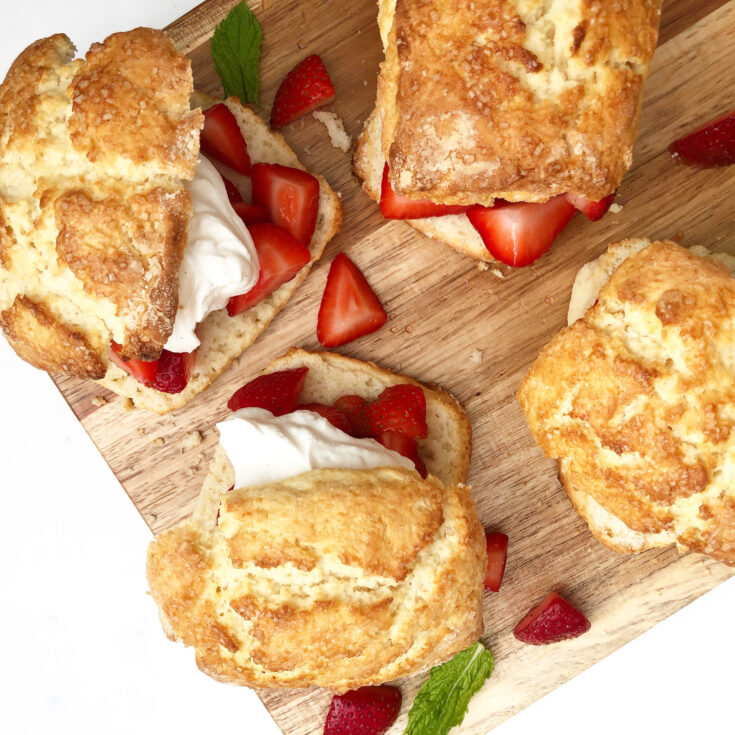 Yield:

8 Shortcakes
Almond Strawberry Shortcakes
Strawberry shortcakes get a makeover with a hint of almond. These are buttery, delicious, and are the perfect summer dessert.
Ingredients
Biscuits:
2 cups All-Purpose Flour
½ teaspoon Salt
1 tablespoon Baking Powder
½ cup Granulated Sugar
½ cup Butter or Shortening, Frozen and Cut into Small Cubes
1 cup Milk + More to Top
1 teaspoon Almond Emulsion
Coarse Sugar
Filling:
2 cups Strawberries, Sliced
2 tablespoons Granulated Sugar
2 cups Heavy Whipping Cream
¾ cup Powdered Sugar
½ teaspoon Vanilla Bean Paste or Extract
Instructions
Preheat the oven to 450°F.
Place the flour, salt, baking powder, and sugar in a food processor. Add the butter and pulse 5-7 times.
Stream in the milk and almond emulsion, pulsing as you go.
Dust some flour onto a clean work surface. Fold dough on the work surface and form a 2-inch thick rectangle.
Cut the dough into 8 equal squares and place on a parchment-lined baking sheet.
Brush the tops of the shortcakes with milk and sprinkle with coarse sugar.
Bake for 12 minutes.
Make the macerated strawberry filling by combining the strawberries and sugar together. Set aside.
Make the whipped cream by placing the whipping cream in a cold, metal bowl and whisk on high until soft peaks form. Add the powdered sugar and vanilla. Stir to combine.
Remove the shortcakes from the oven and let cool for at least 10 minutes.
Slice the shortcakes in half and top with the macerated strawberries and whipped cream.
Recommended Products
As an Amazon Associate and member of other affiliate programs, I earn from qualifying purchases.