Bring the garden to your dinner table with this easy Easter appetizer! It's fun, festive and a healthy way to celebrate the holiday.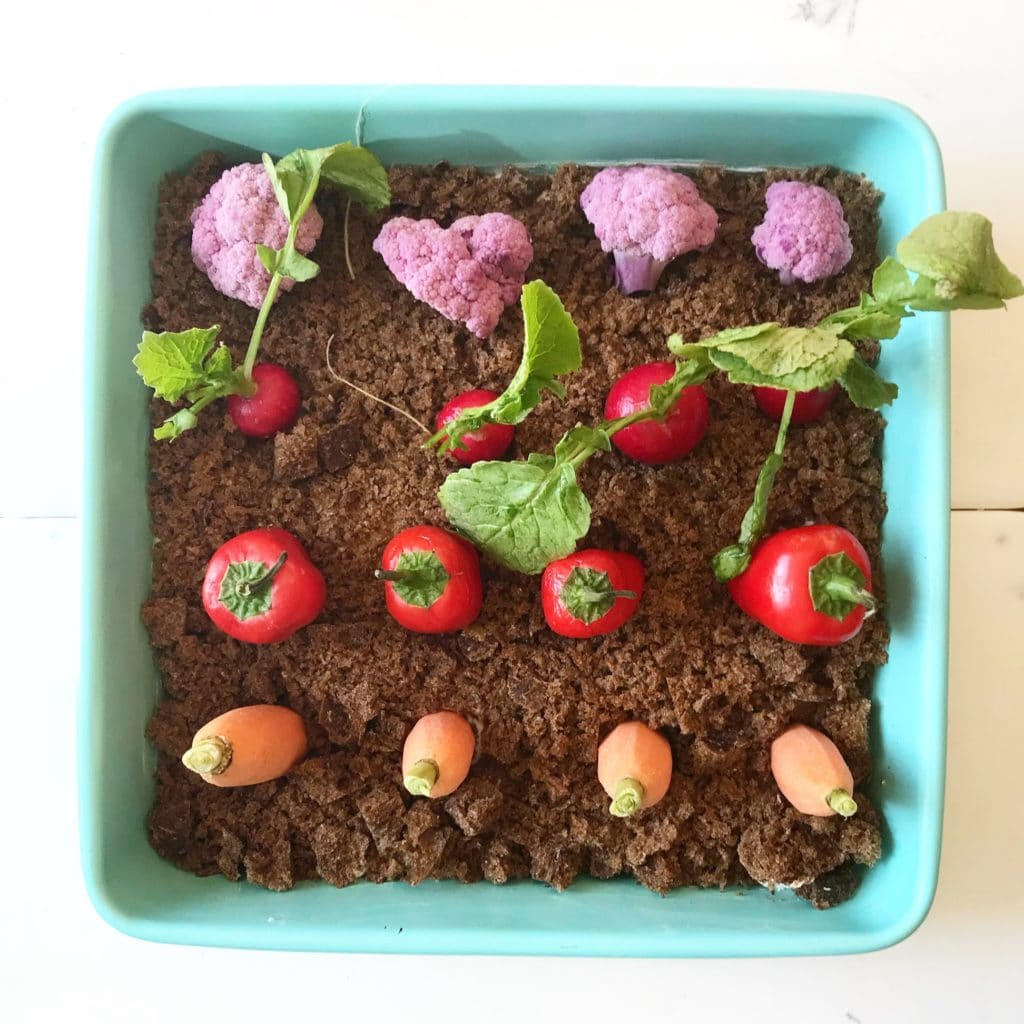 Is this Easy Easter Appetizer not the cutest thing you have EVER seen?
I recently saw something like this in the latest episode of The Food Network Magazine and I had to make it myself.
It is super easy to make and the kids went crazy over it. I mean, how could they not? It's a little edible garden!
Blending regular cream cheese with another soft cheese that's flavored, such as Boursin, will really give so much flavor and depth to this dip. If you haven't tried Boursin cheese before, you're in for a treat! It's a creamy, yet crumbly cheese I'm sure you'll love. Try serving it on top of a baguette, or on a cracker drizzled with balsamic glaze. Yum!
Pumpernickel bread is ideal for this recipe due to its mild and sweet flavor. Also, it makes the perfect "dirt" for this garden! I generally find pumpernickel bread at Trader Joe's. Your local bakery may sell pumpernickel, too. If you do have trouble finding it, whole wheat bread can also be used as a substitute.
My favorite veggies to "plant" in the garden are radishes, baby carrots, mini bell peppers, and purple cauliflower. What veggies do you and your kids like? Add those with my recommendations, or use what your family will eat!
Have fun gardening and enjoying your "harvest"! I love to see your creativity in the kitchen! Share your Crudité Garden with me on IG @moremomma.
https://youtu.be/QWHE_bnlPm8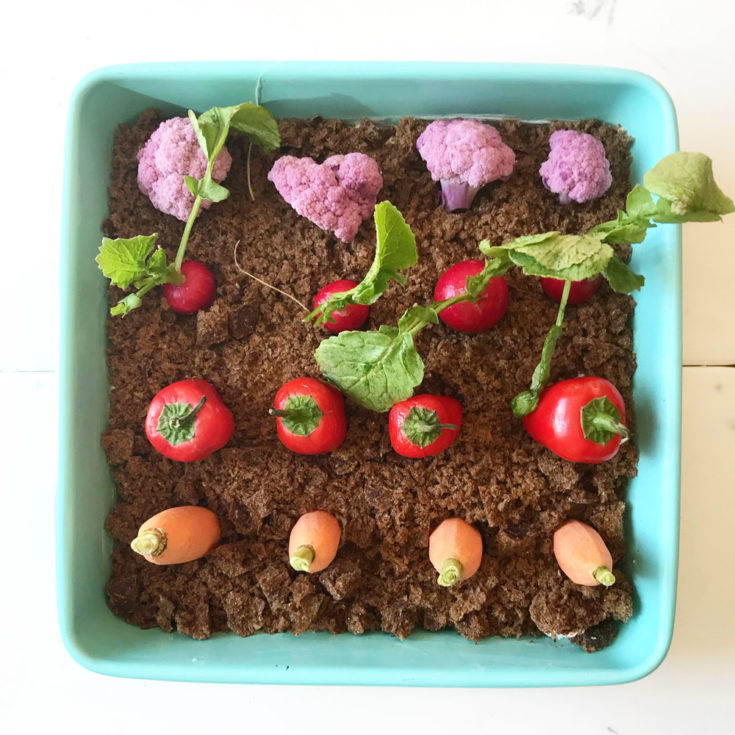 Yield:

Serves 8
Easter Garden Crudité Dip
Festive and healthy appetizer for your Easter gathering.
Ingredients
Ingredients:
2 (8 oz) Blocks Cream Cheese, Room Temperature for 30 minutes
2 (5.2 oz) Boursin Cheese, Garlic and Herb Flavor
2 ½ Cups Torn Pumpernickel Bread, (about 5 slices)
Variety of Mini Vegetables (Carrots, Radish, Purple Cauliflower, Mini Bell Peppers)
Instructions
Using a hand mixer, combine cream cheese with Boursin cheese in a medium-size mixing bowl until well-combined.
Spread the cheese mixture evenly in the bottom of a 9x9 cake pan or baking dish.
Tear the pumpernickel bread into small pieces and place in a food processor. Pulse until the bread becomes bread crumbs. Place 2 ½ cups of the bread crumbs on top of the cheese mixture.
Place your vegetables in rows on top of the bread, pressing down to the bottom of the pan to create a garden look.
Recommended Products
As an Amazon Associate and member of other affiliate programs, I earn from qualifying purchases.
Pair this Easy Easter Appetizer with my Easter Sherbet Bars for the perfect dessert!