Impress your guests this holiday season with the most perfect deviled eggs with Black Forest bacon!
As the story goes, I have never liked deviled eggs for the good portion of my life. I'd cringe each time they were on the Easter or Thanksgiving dinner table, and I'd skip that platter altogether, leaving plenty of room for other good foods.
I could have lived the rest of my life deviled egg-free. But that story changed while eating brunch at La Grande Orange Café in Pasadena. It's safe to say there's a different ending to my story.
I am now a huge fan of deviled eggs! You guys — Is it weird that I might have a small obsession with these? Nah, it's fine. I'm fine.
You know, they should really rename these to angel eggs because they taste so heavenly. They are literally to die for!
These perfect deviled eggs are so yummy and easy to make, that I'm positive they'll turn any deviled egg hater into a deviled egg lover ♡.
Anyway, I made it a high priority to recreate these little angels at home and I'm so glad I did. Now I can eat this deliciousness whenever!
Since I now love deviled eggs, I try to find any reason to serve them as a side dish. They're absolutely perfect to make for brunches and Easter.
Speaking of Easter…what's on your menu? Make sure you check out Easy Easter Appetizers and add Sherbet Bars for a fun twist.
Deviled eggs require a good hard-boiled egg. I get it — sometimes it can be difficult to get that perfect hard-boiled egg. Follow these directions and you'll be on your way.
How to cook perfect hard-boiled eggs:
Place desired amount of eggs in a saucepan, but do not overcrowd the pan.

Cover the eggs with cold water.

Bring the eggs to a boil.

Turn off the heat and let sit for 10 minutes.

Place the eggs in an ice bath for 1-2 minutes to cool.

Carefully crack the eggs on a hard surface, rotating the egg so that the whole surface area is cracked.

Run the egg under cold water while you peel the shell off the egg.

Store the eggs in an airtight container in the fridge.
What do you like to put hard-boiled eggs on? While they're not quite the same as a deviled egg, I do enjoy a hard-boiled egg in potato salad, cobb salad, and egg salad sandwiches.
Time for you to tell me what you once disliked but now love! Share it in the comments or tag me on Instagram @moremomma!
xoxo,
Meg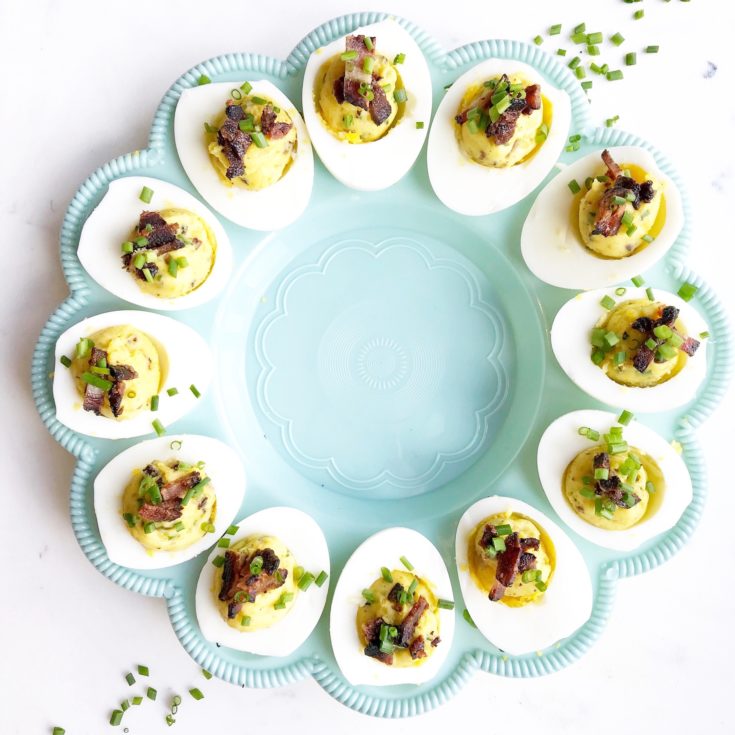 Yield:

Serves 10
The Perfect Deviled Eggs with Black Forest Bacon
Creamy, salty, smoky deviled eggs!
Ingredients
5 Hard Boiled Eggs, Peeled, Cut in half lengthwise
2 Tablespoons Mayonnaise
1 Teaspoon Yellow Mustard or Dijon Mustard
1 Tablespoon Pickled Relish
1 Tablespoon Chives, Chopped Finely
¼ Teaspoon Kosher Salt
⅛ Teaspoon Black Pepper
1 Tablespoon Black Forest Bacon, Cooked and Chopped Finely (about 2 slices)
Toppings:
Paprika
6 Slices Black Forest Bacon, Cooked and Chopped Finely
Chives, Chopped Finely
Instructions
Cut the hard boiled eggs (Refer to directions below) in half lengthwise.
Carefully scoop the yolks out of each egg half. Place the yolks in a small mixing bowl. Place the hallowed out eggs on your serving platter.
Run the yolks through a sieve or a fine metal strainer to prevent lumps. If you don't have a sieve or strainer you can break them up with a fork by smashing the yolks with the back of the fork.
Add the rest of the ingredients and mix to combine.
Place the filling in a small Ziploc bag and cut ½ inch off of one corner of the bag making a makeshift piping bag.
Using your piping bag, fill each egg with filling.
Top the eggs with paprika, extra bacon, and chives. Serve cold.

Hard Boiled Eggs On Stovetop:
Place eggs in a pot and cover completely with cold water. Place over medium high heat. Bring to a boil cook for 9 minutes.
Place the eggs in a large bowl off ice water and chill for at least 10 minutes. This makes the eggs easier to peel. Peel and use for deviled eggs.
Hard Boiled Eggs In Instant Pot:
Place 1 cup of COLD water in the Instant Pot for a 6 quart instant pot and 1.5 cups COLD water for an 8-quart Instant pot.
Add in an egg or steam rack and place your desired amount of eggs on the rack.
Seal the lid and make sure the valve is set to sealing. Cook on manual high pressure for 5 minutes.
Let the pressure release naturally for 5 minutes. Then place the eggs immediately in an ice water bath for 5 minutes. Peel and use for deviled eggs.
Recommended Products
As an Amazon Associate and member of other affiliate programs, I earn from qualifying purchases.