These easy meals for 2 are great to make for a delicious dinner at home or for a meal prep dinner that you can freeze to enjoy down the road.
This post is all about easy meals for 2. I am also going to share some ideas on how to store these meals.
The meals can easily be made ahead of time for a quick meal prep freezer dinner too!
And lastly I'll give you some other easy dinner recipes for two for when you get home from work and you really don't feel like cooking.
Whether you are a newlywed or an empty nester you probably want simple, easy to make dinners that don't have a ton of leftovers, am I right?
I can't wait to show you some of my favorite dinners that are perfect to make for two people.
Also consider making these for your elderly parents or grandparents. Meals like this can be such a blessing to them.
How to make dinners for two:
You can turn most recipes you see on the internet into a dinner for two by cutting down the recipe measurements.
If you don't want to google how to convert recipes for two people or search specific measurement conversions I have included a modification chart below.
Use it as a quick reference for your favorite recipes that may just make too much food for your families needs.
How do I store freezer meals for 2?
My favorite way to store meals for two in the freezer are with foil bread pans. For single servings the mini loaf pans work great! For servings of two use the regular size loaf pans.
What's great about these vessels is you can throw them straight from the freezer into the oven. No need to thaw or defrost.
You can also use soupercube trays which are great for single servings of soup or stews.
What are some easy dinner recipes to cook after work?
After a long day of work you probably don't want to spend a whole lot of time cooking. So here are some great ideas to cook for two.
10 minute dinners! Try out some of my favorite 10 minute dinners that you can easily convert for two people.
10 Minute Trader Joe's Flatbread
10 Minute Pineapple Pork Stir Fry
Easy Meals To Make For 2:
Easy Enchiladas:
First and foremost the easy enchiladas are a great meal to make for two. You can make the exact quantity you need without wasting a bunch of ingredients.
A tip with enchiladas:
You will most likely have left over enchilada sauce. Freeze the leftover sauce in ice cube trays to have on hand when you want to make another batch. Simply defrost in the microwave or thaw in the fridge the night before using it.
Also fill these bad boys with whatever you prefer. You can fill them with leftover meat you cooked the night before or shred up some zucchini and add that to the filling.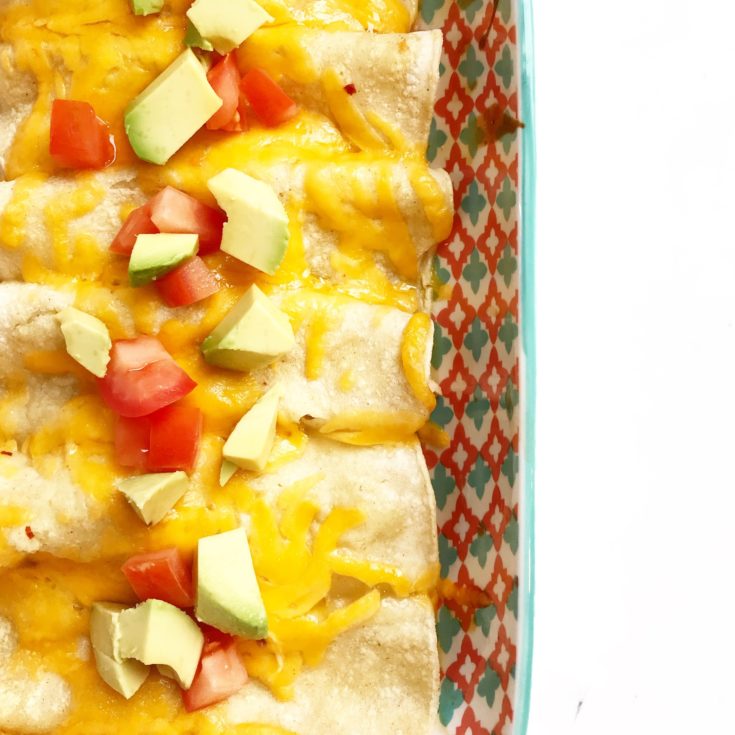 Yield:

Serves 2
Enchiladas for Two
Ingredients
1 Cup Rotisserie Chicken, Shredded
1 Cups Cheddar Cheese, Shredded
4 Flour Tortillas or 8 Corn Tortillas (if using corn warm them on the stovetop to become pliable)
1 Can Green Enchilada Sauce
Toppings:
1/2 Cup Cheddar Cheese, Shredded
Avocado, Diced
Tomato, Diced
Instructions
Preheat the oven to 450°F. Combine the chicken, cheddar in a large mixing bowl.
Pour 1/4 cup enchilada sauce in the bottom of a baking dish (or for a freezer meal in a foil bread loaf pan).
Dip the tortilla in the sauce on both sides.
Place 2-3 tablespoons of the mixture into a tortilla. Roll up to form an enchilada.
Repeat with remaining filling and tortillas.
Top with extra cheddar cheese.
For freezer meal cover with foil and place in the freezer.
To cook now place in the oven for 10 minutes or until the cheese is melted inside.
Top with optional avocado and tomatoes.
Notes
You can add any filling you would like. I like adding shredded zucchini to this recipe or some chopped cilantro and olives. Be creative with leftovers too. If you have left over steak or shrimp those work great too.
Also save your leftover enchilada sauce by place the extras into ice cube trays and freeze.
Recommended Products
As an Amazon Associate and member of other affiliate programs, I earn from qualifying purchases.
Lasagna Roll Ups:
You can make this recipe like a traditional lasagna as well, but I just love the look of a lasagna roll up for a dinner for two.
Change up the filling to be vegetarian by adding roasted vegetables or one of my favorite variations is to use roasted butternut squash.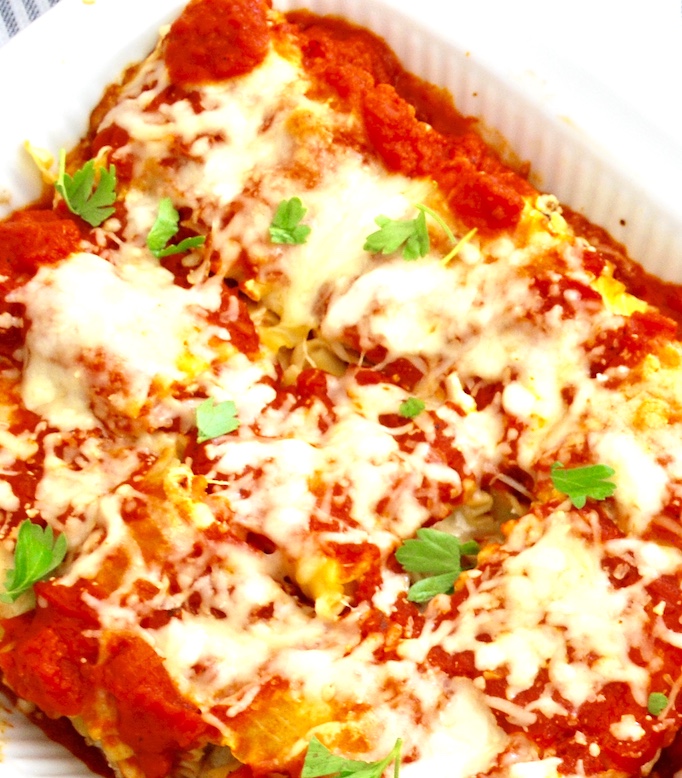 Yield:

Serves 2
Lasagna Roll Ups For Two
A great meal for two that can also be frozen.
Ingredients
4 Lasagna Sheets
2 Links Italian Sausage, Browned and Crumbled
1/2 Cup Frozen Spinach, Drained
1/2 Cup Ricotta Cheese
1 Jar Tomato Sauce
1 Cup Mixed Italian Cheese Blend
Fresh Basil, Chopped
Instructions
Bring a pot of water to a boil. Cook lasagna noodles according to package directions.
In a small bowl combine the cooked sausage, spinach and ricotta.
Lay the lasagna sheets flat on a clean work surface. Spread about 2 tablespoons of the filling evenly on the lasagna sheets.
Roll the lasagna sheet like a cinnamon roll.
Pour 1/4 cup tomato sauce in the bottom of your baking dish.
Place the lasagna roll ups in the baking dish and top with cheese.
You can freeze at this point or bake in a 400 degree F oven for 15 minutes.
Notes
I love freezing meals for two in foil bread pans. You can throw it directly into the oven to reheat.
Recommended Products
As an Amazon Associate and member of other affiliate programs, I earn from qualifying purchases.
Chicken Parmesan:
Comforting, yet so easy to make! I also love making this panko chicken and doubling it so I can use the other two pieces for a delicious morphing meal. Check out some ideas here.
Try topping it with avocado and lemon zest for a fun variation!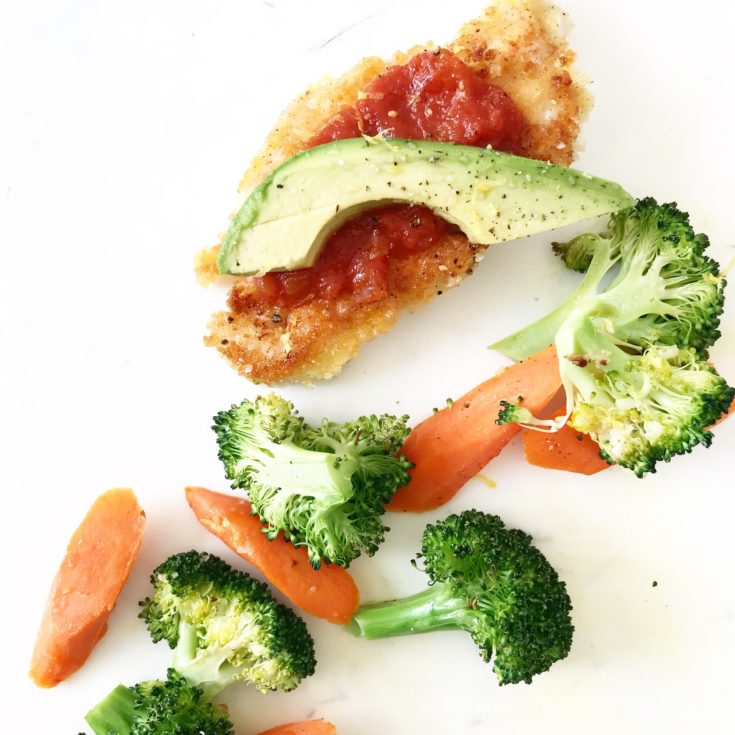 Yield:

Serves 2
Chicken Avocado Parmesan For Two
Ingredients
1 Cup Panko Bread Crumbs
2 Chicken Breasts, (cut in half lengthwise)
3 Tablespoons Avocado Oil
1 Jar Tomato Sauce (about a tablespoon on each piece of chicken)
Kosher Salt and Pepper (to taste)
1 Cup Broccoli Florets
1 Cup Carrots, Sliced Thin
Avocado Oil to drizzle
Salt and Pepper
Zest of 1 Lemon
Optional:
1/2 Avocado, Sliced
1/4 Cup Shredded Italian Cheese Blend
Instructions
Preheat oven to 400 degrees F. Pour bread crumbs into a shallow baking dish.
Meanwhile preheat a skillet on medium heat then add oil.
Dredge the chicken in panko bread crumbs and coat on both sides. Season with salt and pepper. Place chicken straight into the pre-heated pan and sear for 7 minutes per side.
Place the broccoli and carrots on a foil lined sheet pan. Toss with 1 tablespoon oil and season with salt and pepper. Roast in the oven for 10 minutes.
Remove the chicken from the pan and place the cooked chicken on the sheet pan with the vegetables. Top chicken with 1 tablespoon tomato sauce, (optional avocado slice) and 1-2 tablespoons cheese.
Bake in a 400 degree F oven for 5 minutes.
Remove from the oven and top with lemon zest.
Notes
You can make this recipe gluten free by using these gluten free panko bread crumbs below.
Recommended Products
As an Amazon Associate and member of other affiliate programs, I earn from qualifying purchases.
Rice Bowls:
Another great recipe to make for two. No recipe required. I love layering frozen rice in the bottom of a foil bread tin pan and topping it with shredded rotisserie chicken, black beans, cheese, salsa and whatever else you can think of.
Freeze it for a quick freezer meal for two or bake in the oven at 350 covered for 15 minutes.