This simple turkey chili recipe is easy to make and is packed with vegetables. It's a great choice to fuel your family!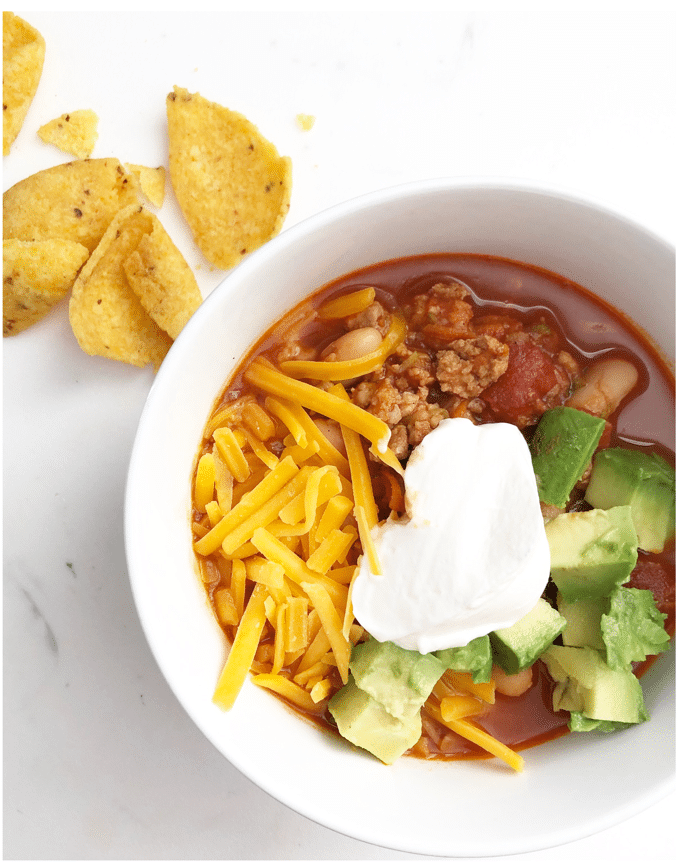 This simple turkey chili recipe is probably my all-time favorite fall recipe. It's family-friendly, the kids love it, and it's healthy (I sneak some veggies in it) hehe.
We typically serve it with corn chips or
cornbread
and various toppings.
My favorite thing to do is make a huge double batch and then freeze half. I place the chili in these convenient plastic soup containers to freeze for a day I don't feel like cooking.
Never heard of a Morphing Meal? A Morphing Meal is where I double an ingredient or star component in a recipe to make an entirely different meal for later use!
Now back to this chili!
Here are some FAQs about chili:
What makes the best chili?
The best chili in my opinion is made from a mixture of ground meats, good quality tomatoes, spices, aromatics, and beans.
Most chili recipes call for a higher quantity of beans. I prefer a higher quantity of meat in my chili, but you can certainly add more beans if you prefer.
What is the best meat for chili?
I have tested a variety of meat options in this healthy chili recipe and have concluded that I love the combination of sweet Italian chicken sausage and ground turkey.
If you are looking for a richer flavor, use ground beef and pork sausage instead.
Looking for a spicier meat? A hot Italian sausage should kick it up a notch for you.
How can I thicken my chili?
It's important to add the right amount of liquid. If you add too much stock, your chili won't be hearty and thick.
Adding beans as a thickener is a great way to get the thickness where you want because it doesn't change the flavor! Simply puree ½ cup of canned beans and add that to your chili.
Do I drain beans for chili?
Yes! Canned beans come with a thick liquid that is a mixture of water, salt, and starch. It is best to rinse the beans of this liquid to not change the flavor of your dish.
What can you add to chili?
Chili is really a blank canvas, so use your imagination!
You can add different vegetables like pumpkin, squash, beets, or any other hearty vegetable. I also like to add different types of beans or meats.
What is the best secret ingredient for chili?
My secret ingredient for the best chili is smoked paprika. I love using smoked paprika because it adds a smoky flavor without a lot of effort.
How do I make chili?
It's really quite easy and this chili recipe takes only about 30 minutes to make. A win any night of the week!
After you try this chili you might want to check out my Instant Pot Beef Stew or Chicken Tortilla Soup for more easy fall soup ideas!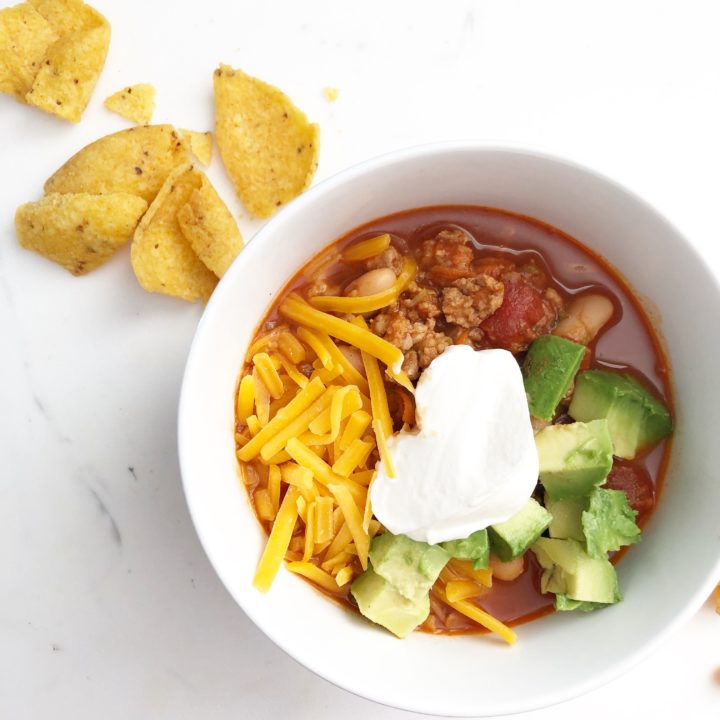 The Best Chili Ever
Additional Time:
27 minutes
This really easy turkey chili recipe is the perfect easy dinner. It's packed with vegetables and a great healthy recipe to fuel your family!
Ingredients
1 Pound Chicken Italian Sweet Sausage
1 Pound Ground Turkey
½ Cup Onion
2 Cloves Garlic, minced
1 Teaspoon Onion Powder
1 Tablespoon Chili Powder
½ Teaspoon Oregano
½ Teaspoon Cumin
1 Teaspoon Smoked Paprika
½ Cup Carrots, Shredded
½ Cup Zucchini, Shredded
1 (14.5) Ounce Can Diced Tomatoes
1 (15) Ounce Can Tomato Sauce
1 (15.5) Ounce Can Cannellini Beans
½ Tablespoon Dijon Mustard
½ Tablespoon Worcestershire Sauce
1 Cup Chicken Broth
2 Teaspoons Kosher Salt
Optional Toppings:
Sour Cream
Chives
Corn chips
Avocado
Shredded Cheddar Cheese
Instructions
In a large stockpot, brown the sausage and ground turkey over medium-high heat.
Add the onion and garlic and sauté for 3 minutes.
Add the onion powder, chili powder, oregano, cumin, and smoked paprika. Stir to combine.
Add the rest of the ingredients. Cover and let cook over medium heat for 15-20 minutes.
Serve with toppings of choice.
Notes
You can also use spicy Italian sausage if you like your chili with some heat.
Recommended Products
As an Amazon Associate and member of other affiliate programs, I earn from qualifying purchases.