These vegetarian meatball subs with pesto whipped ricotta are one of my very favorite easy vegetarian dinners. They are healthy, delicious and are family friendly.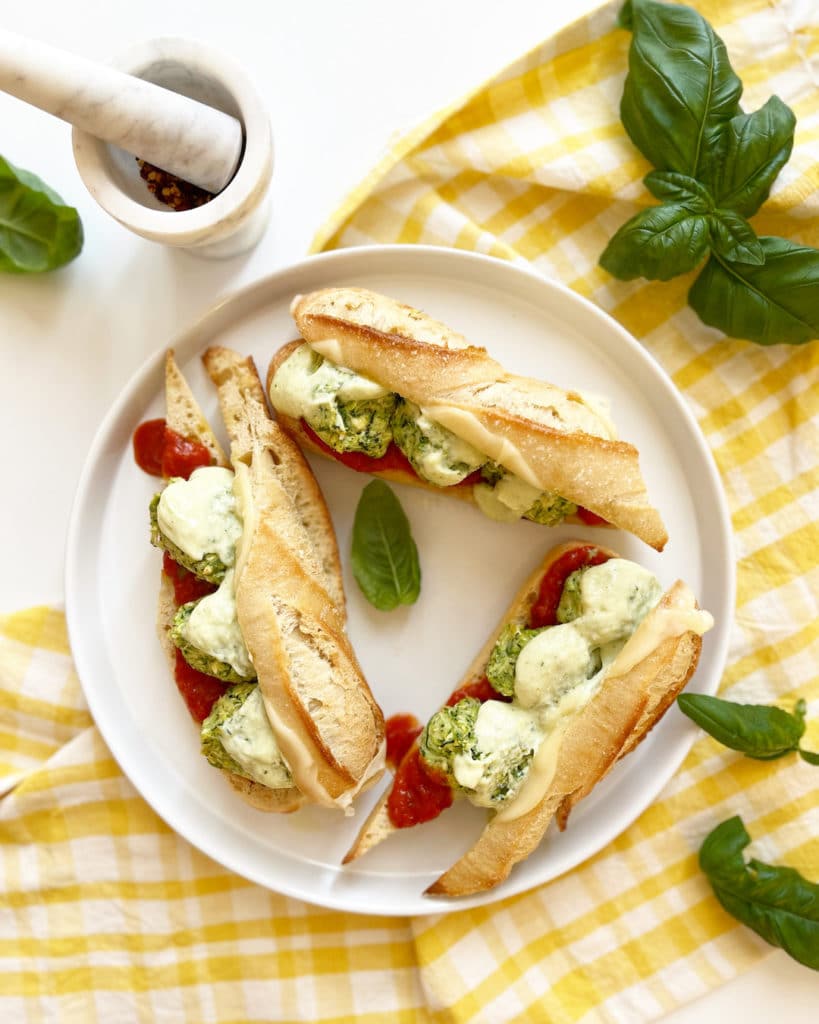 Meatless zucchini meatballs are made with finely shredded zucchini, fresh herbs, garlic, egg, feta and breadcrumbs. They are so delicious and are the perfect straight-from-the-garden dinner recipe.
I have been trying to eat one meatless meal a week due to the crazy prices of meat at the grocery store and these have been a huge hit! These zucchini meatballs have been on repeat and I have been serving them up in all different ways.
One of my favorite ways to serve these vegetarian meatball subs is to slather them in tomato sauce and top them off with a delicious whipped ricotta. These zucchini meatball subs are so delicious and you won't even miss the meat.
Ingredients To Make Zucchini Meatballs:
Zucchini: The perfect way to use up zucchini in the Summer! Make sure to grate it on the fine side of your grater and to drain any excess liquid.
Egg: The egg helps to bind everything together.
Panko bread crumbs: You can also use gluten-free Panko breadcrumbs or grated Parmesan cheese for a gluten-free option.
Feta cheese: Adds a delicious saltiness to the meatballs. Make sure you crumble the cheese into small pieces.
Fresh dil: I love the flavor of fresh dill. You can also use flat leaf Italian parsley if you prefer.
Garlic: Garlic as a delicious flavor to these meatballs. I like to use the pre-minced frozen garlic from Trader Joe's.
Salt and pepper: Don't skimp on the salt and pepper this will bring out all the flavors.
Lemon zest: As a delicious brightness to the meatballs. Use a micro plane to take off the zest. You just want to get the bright yellow part of the rind.
Ingredients for the Whipped Ricotta:
Ricotta cheese: Any ricotta will do!
Pesto: I like just good old store bought or you can make your own.
Salt and pepper: Because everything needs just a little salt and pepper.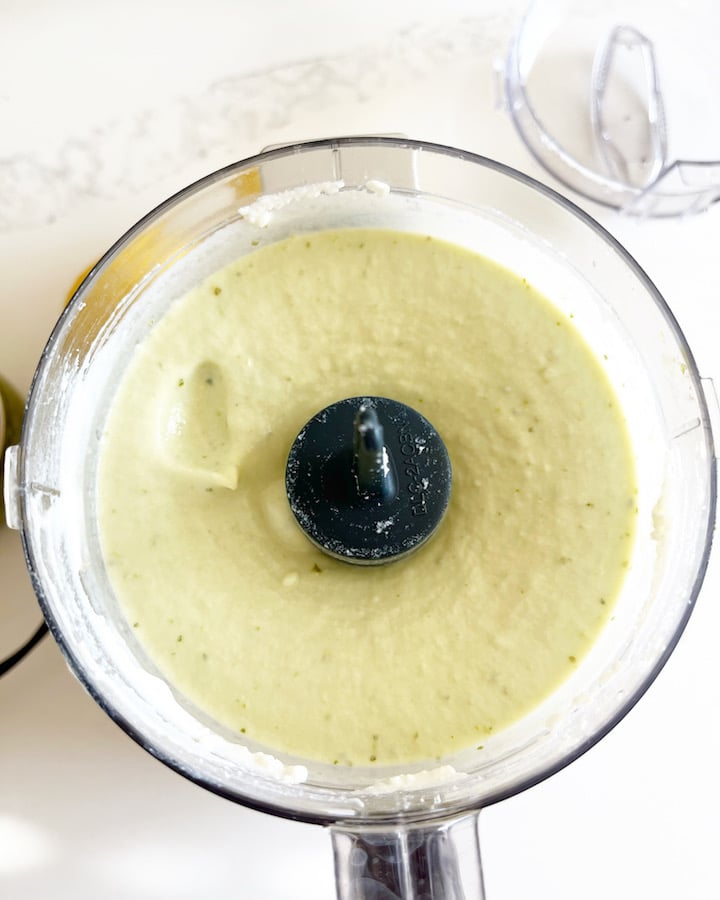 How To Make Zucchini Meatballs:
Making the zucchini meatballs is quite easy.
First you will want to shred the zucchini on the fine side of a grater. This is important to get the correct texture of the meatballs.
Drain excess liquid and add the rest of your ingredients.
Next grab a small amount of zucchini mixture about 2 tablespoons and press to form a ball and release any excess liquid.
Place the meatballs on a foil lined baking sheet and bake according to recipe directions.
You can also change up the flavors in the meatballs by adding your favorite ingredients.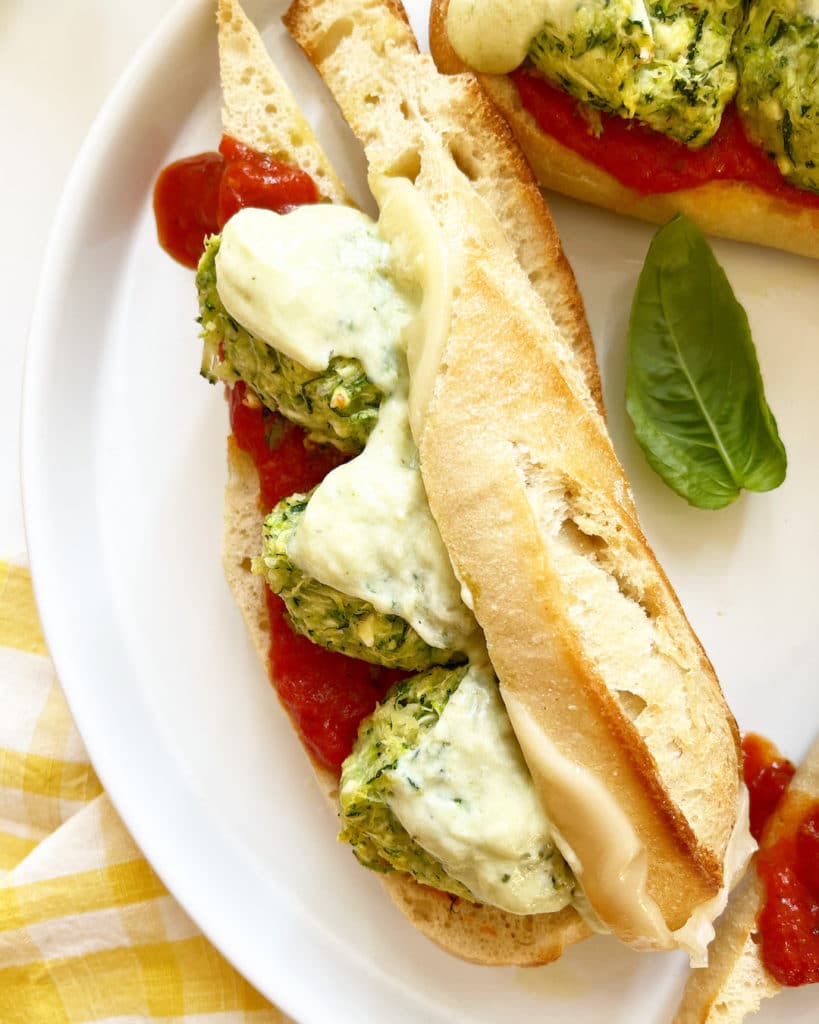 Vegetarian Meatball Subs- Air Fryer Version:
This recipe works great in the air fryer. If you want to make them in the air fryer cook at 390 F for about 7-10 minutes.
Some air fryer models cook differently so just pay attention to the meatballs as they are cooking and keep an eye on them.
Storage and Freezing:
Make the zucchini meatballs for a meatless meal prep item.
You can freeze cooked meatballs in a Ziploc bag for up to three months.
Make sure you flash freeze the meatballs on a cookie sheet evenly spaced before placing the meatballs into a freezer safe Ziploc bag. This will ensure the meatballs will not stick together.
Pull out the zucchini meatballs and placed directly in the oven to reheat and serve over pasta with tomato sauce or use them for this delicious meatless sub.
Gluten Free Zucchini Meatballs:
For a delicious gluten free zucchini meatball version try using grated parmesan cheese instead of the panko bread crumbs. You can even find gluten free panko bread crumbs these days if you prefer.
And for the sub portion use a gluten free baguette! I love these ones!
Other Delicious Vegetarian Recipes:
If you love easy vegetarian recipes try these delicious options.
Orzo Pasta Salad With Roasted Vegetables
Caprese Flatbread In Under 10 Minutes
The Best Cauliflower Taco Meat
Sweet Potato Tacos with Lime Crema
Vegetarian Meatball Subs Recipe: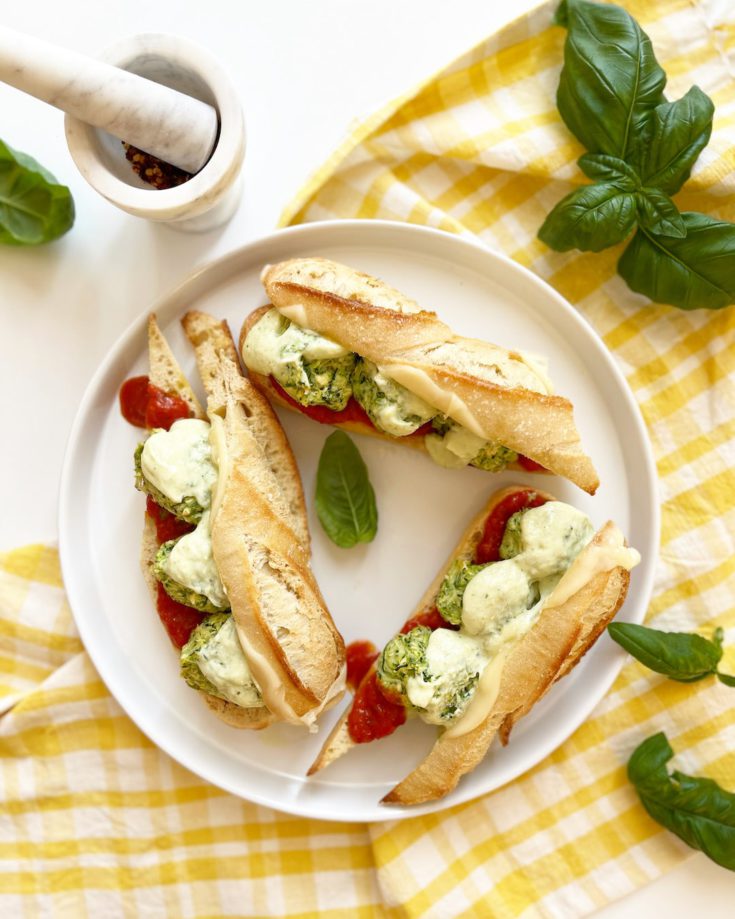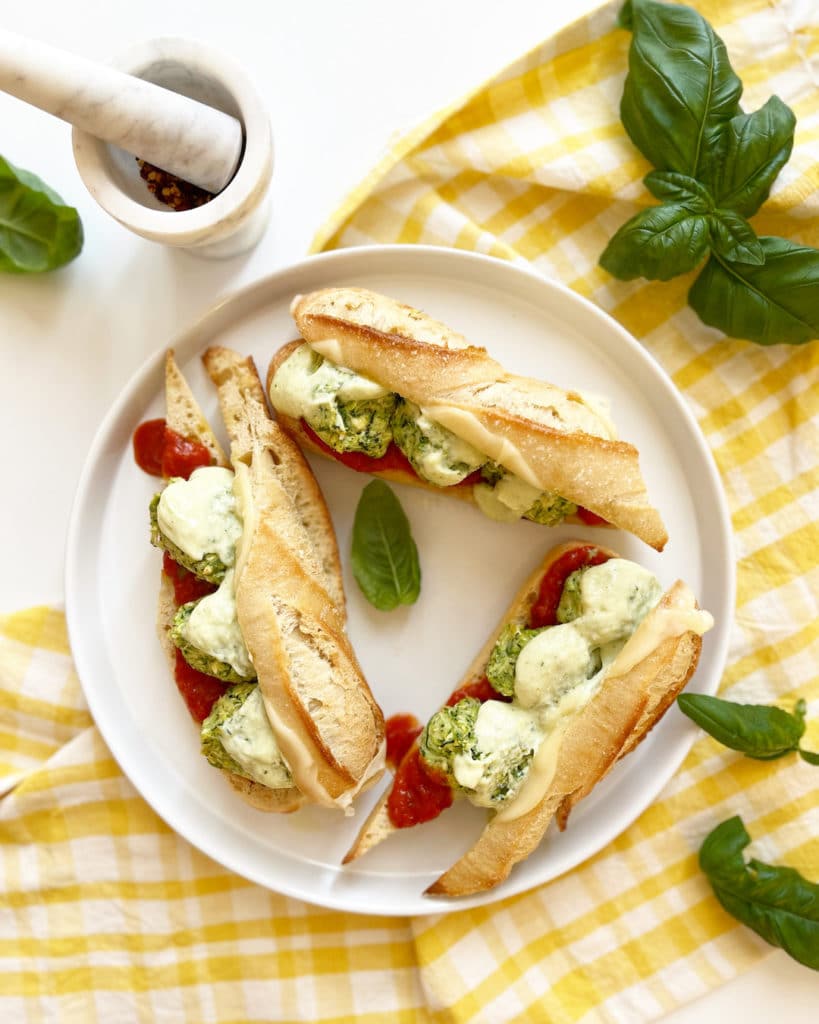 Yield:

Makes 4 subs
Vegetarian Meatball Subs With Pesto Whipped Ricotta
Delicious, meatless meal that can be made in a hurry!
Ingredients
3 large zucchini, finely shredded, drained of excess liquid (about 4 cups)
1 egg
1/4 cup crumbled feta
1/4 cup panko bread crumbs or grated parmesan cheese
2 cloves garlic, minced
1 tablespoon fresh dill
zest of 1 lemon
1 teaspoon Kosher salt
1/8 teaspoon black pepper
Pesto Whipped Ricotta:
15 ounces of ricotta cheese
2 tablespoons store-bought pesto
1/2 teaspoon Kosher salt
1/8 teaspoon black pepper
For the Sandwiches:
2 baguettes, cut in half and then cut in half lengthwise
4 slices provolone cheese
1 cup jarred tomato sauce, warmed
Instructions
Preheat the oven to 425 F.
Shred the zucchini on the fine side of the grater. Place in a fine mesh strainer over a bowl and press to drain excess liquid.
Place the zucchini in a mixing bowl and add the egg, feta, bread crumbs, garlic, dill, lemon zest, salt and pepper. Stir to combine.
Grab about 2 tablespoons worth of the zucchini mixture and squeeze any excess liquid out forming a small ball. Place on a foil lined baking sheet. Repeat with the remaining mixture.
Spray with cooking spray and cook the meatballs for 15 minutes.
To make the whipped pesto ricotta place the ricotta in a small food processor and process for 2 minutes or until creamy. Add the pesto, salt, pepper and lemon zest and process for another 1-2 minutes. Set aside.
Place the baguettes cut side up on a foil lined baking sheet (you can drizzle with olive oil if desired). Place under the broiler for 1 minute to toast. Then top one side with cheese and broil for another 1 minute to melt.
Assemble the sandwiches by placing the warmed tomato sauce on one side of the bread. Top with zucchini meatballs and top with whipped ricotta and the other piece of bread.
Recommended Products
As an Amazon Associate and member of other affiliate programs, I earn from qualifying purchases.