Try this delicious jalapeno popper meatball recipe for your next game day appetizer. These are stuffed with cream cheese and jalapeños and topped with crispy bacon.
Super Bowl is around the corner and this is the perfect appetizer for game day. These jalapeno popper meatballs are filled with cream cheese and a pickled jalapeno.
You get all the flavors of a jalapeno popper and they are always a game day favorite. They are even Keto friendly so you don't feel like you are loading up on a bunch of carbs.
I serve my meatballs in an Instant Pot or crockpot to keep them warm. Serve these stuffed meatballs with some buffalo sauce, ranch or even thousand island dressing.
Game Day Menu:
If you want some delicious game day recipes try some of my favorites below!
Copy Cat Chick-Fil-A Chicken Tenders With Sauce And NO Messy Dredging!
Jalapeno Popper Meatball Ingredients:
Ground Beef
1 Egg
Shredded Cheddar Cheese
Gluten Free Panko Bread Crumbs (Can also use regular panko)
Worcestershire Sauce
Kosher Salt
Black Pepper
Cream Cheese
Tamed Jarred Pickled Jalapeno Peppers
Vegetable Oil
Slices Bacon
How to make jalapeno popper meatballs:
Grab a golf ball size amount of meat and form into a ball. Place your thumb in the center of the ball to form a large indent. Fill the meatball with filling of your choice and then mold the meat around the filling, making sure it is completely sealed.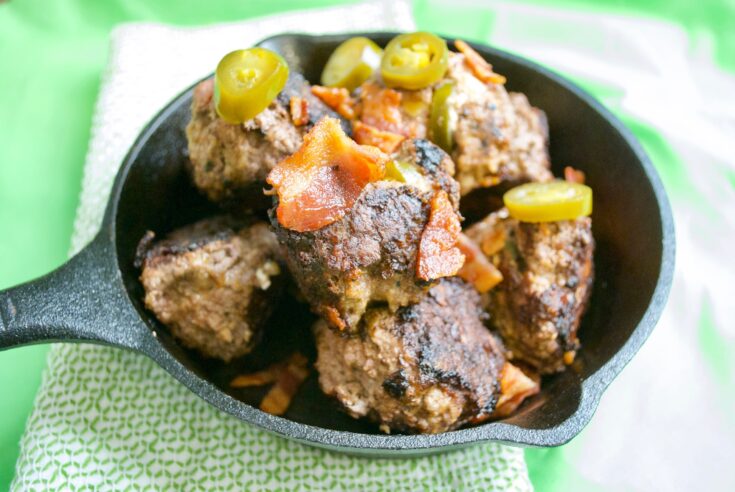 Yield:

Serves 4
Jalapeno Popper Meatballs
The perfect game day appetizer that taste just like jalapeno poppers.
Ingredients
1 Pound Ground Beef
1 Egg
1/4 Cup Shredded Cheddar Cheese
2 Tablespoons Gluten Free Panko Bread Crumbs (Can also use regular panko)
1 Teaspoon Worcestershire Sauce
1/2 Teaspoon Kosher Salt
1/4 Teaspoon Black Pepper
4 Ounces Cream Cheese, Cubed ½ Inch
2 Tablespoons Tamed Jarred Pickled Jalapeno Peppers
3 Tablespoons Vegetable Oil
3 Slices Bacon, Cooked, Crumbled
Instructions
Preheat oven to 400 F.
Place the ground beef into a mixing bowl and add the egg, shredded cheddar cheese, panko, Worcestershire sauce, bread crumbs, salt and pepper.
Mix with your hands until just combined (be careful to not over mix).
Grab a golf ball size amount of meat mixture with your hands and form the mixture into a ball.
With your thumb, imprint your finger in the middle of the ball to form a little well. Place one jalapeno and one cube of cream cheese into the well. Fold up the edges of the meat mixture to enclose the cream cheese and jalapeno.
Repeat with all the remaining mixture.
Preheat a large cast iron or ovenproof skillet over medium heat.
Add the vegetable oil into the pan and carefully place your meatballs in the pan (don't touch them for 5 minutes to sear).
Flip over and sear for another 5 minutes.
Remove from the stove and place the pan in the oven for 5 minutes.
Remove from the oven and top with crumbled bacon.
Recommended Products
As an Amazon Associate and member of other affiliate programs, I earn from qualifying purchases.