Gluten free donuts with sweet glaze and multicolored sprinkles are perfect for an easy gluten free breakfast. These vanilla and chocolate flavored gluten free cake donuts are quick and easy to make.
Stop searching the internet for gluten free donuts near me because these homemade gluten free donuts are better than any store bought gluten free donut out there.
There is no need to run out to your local donut store any more to curb your cravings. You can now make them in the comforts of your own home.
This recipe for gluten free donuts is made with only a few ingredients. The best part is you can change up the flavor by simply changing one ingredient. I will show you how to do it and give you some delicious ideas.
I can't wait for you to try these baked cake style donuts. And don't forget to make them for your friends and family that eat gluten free. They will for sure appreciate you and probably ask you for the recipe too!
Gluten Free Baking Tip:
Gluten free baked goods can sometimes be chalky or have a weird aftertaste. That's why I have a secret ingredient that I like to add to almost all my gluten free baked goods.
And the secret ingredient is….dry instant pudding mix!
My number one tip when baking gluten free is to add dry instant pudding mix to the batter. By adding the pudding mix your baked goods will be soft, fluffy, tender and flavorful without any of those unwanted weird tastes or textures.
The fun part is you can change up the flavoring of pudding to change up the flavor of your donuts.
Flavor Varieties:
Here are some of my favorite varieties when making this gluten free donut recipe. Follow the directions for the recipe, but substitute one of these pudding flavors for the vanilla flavor.
chocolate pudding
pistachio pudding
banana pudding
caramel pudding
pumpkin pudding
butterscotch pudding
lemon pudding
cookies n cream pudding
Using the right mix:
This gluten free donut recipe is made with gluten free pancake mix as it's base. I prefer to use the gluten free Bisquick brand.
There are many great gluten free pancake options, so find which one works best for you and your family.
Do I have to use a donut pan?
Donut pans are relatively inexpensive and help hold the donut batter into the correct shape. If you don't have a donut pan you can also make this recipe in mini muffin tins for gluten free donut holes or in a regular muffin tin for donut muffins.
I do however recommend to use the pan to create a traditional donut look. Plus you can use this pan for any other donuts you want to try.
Do they freeze well?
You can freeze these donuts for a convenient breakfast or snack on the go. Freeze the donuts flat on a parchment lined baking sheet for 4 hours. Then transfer the donuts to a ziplock bag and store in the freezer for up to 3 months.
When you are ready to enjoy thaw at room temperature for about 30 minutes.
Try my other gluten free recipes:
If you need some other gluten free recipes try these delicious recipes below. They are all easy to make and have zero weird aftertaste. My favorite is the gluten free chocolate chip cookie. So if you are looking for one to try definitely give that one a try.
Gluten free food does not have to taste weird or funny. These are tried and true recipes that are perfect for gluten free foodies.
Gluten Free Chocolate Chip Cookies
Easy Gluten Free Pumpkin Trifle
Pina Colada Pancakes with Gluten Free Option
Now lets make some gluten free donuts!
How to make gluten free donuts:
Follow these simple steps to make these donuts. Remember to switch out the pudding mix with the flavor of your choosing.
Combine the milk, oil and egg in a mixing bowl.
Add the gluten free pancake mix and the pudding mix.
Stir to combine.
Spray a donut mold pan with cooking spray.
Fill the pan with the batter.
Bake at 350 for 12 minutes.
Remove the donuts from the pan and let cool.
Dip in icing and top with sprinkles.
Gluten Free Donut Recipe: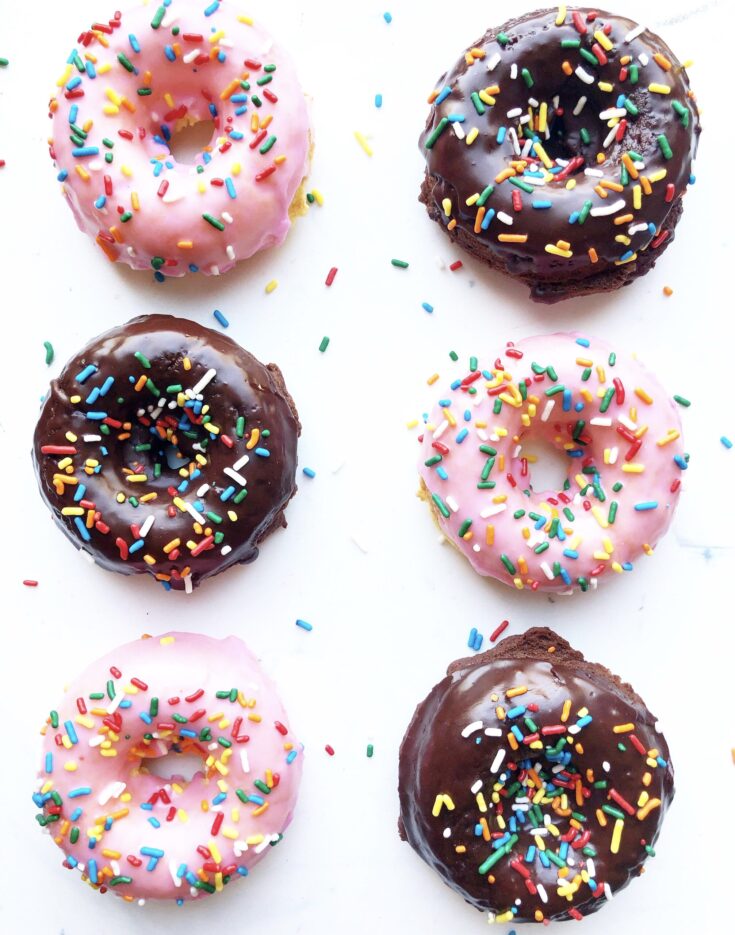 Yield:

Makes 6
Gluten Free Donuts
Fluffy and delicious, these gluten free donuts don't leave you with a funny aftertaste.
Ingredients
1 cup whole milk
1 egg
2 tablespoons oil
1 ( ) box dry vanilla pudding mix
1 cup Bisquick gluten free pancake and waffle mix
For the Icing:
1 cup powdered sugar
2 Tablespoons + 1/2 teaspoon water
1/8 teaspoon almond emulsion or 1/2 teaspoon vanilla extract
1/8 teaspoon food coloring of choice
multicolored sprinkles
Instructions
Preheat the oven to 350 F.
In a mixing bowl combine the milk, egg and oil. Whisk to combine.
Add the pudding mix and Bisquick mix and stir to combine.
Spray a donut pan with cooking spray.
Spoon the donut batter into the pan.
Bake for 12 minutes.
When the donuts are cooking make the icing by combining all of the ingredients in a small bowl.
When the donuts are done cooking remove them from the oven and let cool for 2 minutes.
Carefully invert the pan onto a wired rack to release the donuts.
Let cool.
Dip the tops of the donuts into the icing and place on the wire rack.
Top with sprinkles.
Notes
To make the chocolate donuts:
Substitute the vanilla pudding mix with chocolate pudding mix.
For the icing combine 1 cup powdered sugar, 1 tablespoon dark cocoa powder and 2 1/2 tablespoons water.
Recommended Products
As an Amazon Associate and member of other affiliate programs, I earn from qualifying purchases.
As always I love your feedback and comments. Join me over on Instagram for more delicious recipes. And if you can rate the recipe that would help get the recipe seen by more eyes.
You all are the best! Happy cooking!