Ever wonder how to use an Instant Pot? Here are the basics to get you feeling confident cooking with your Instant Pot.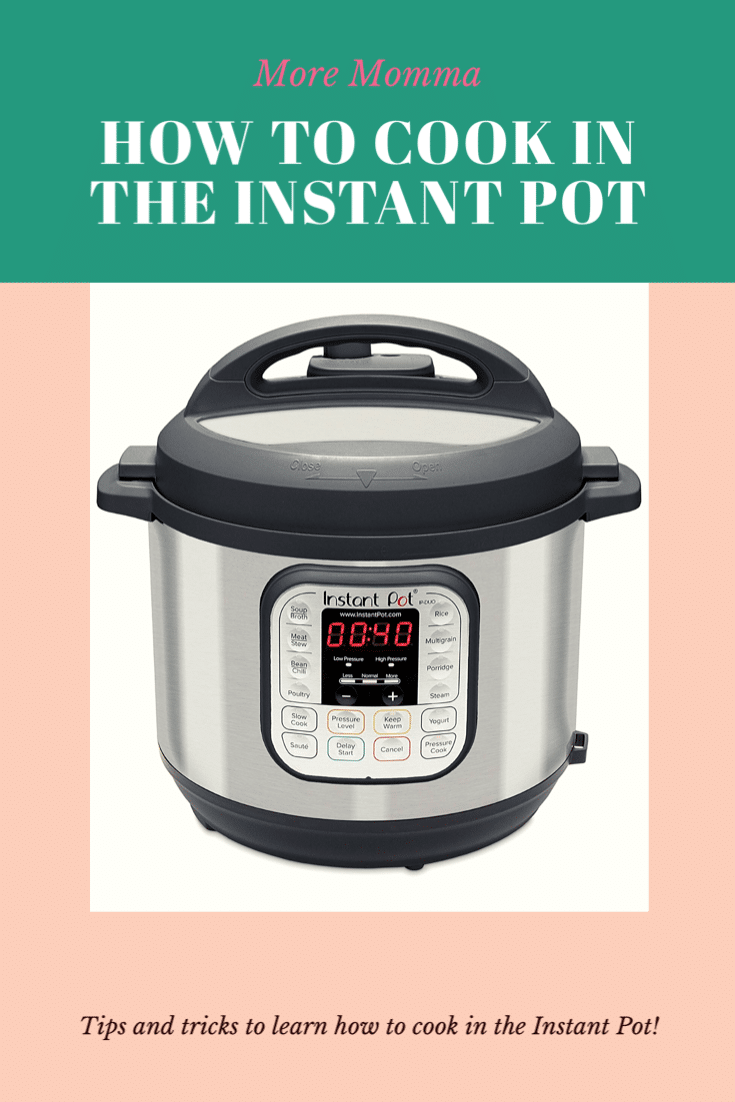 Remember if you are looking to learn more about how to cook in an Instant Pot check out my new Instant Pot Cookbook the No-Shop Instant Pot Cookbook with 240 options for amazing meals with ingredients you already have.
What is an Instant Pot?
The Instant Pot is a multi-cooker, meaning it has different functions to cook in multiple ways.
It is a pressure cooker, slow cooker, steamer, rice cooker and can even saute food. It's a great way to cook foods that usually take a long time, like braising or slow cooking.
What is the difference between an Instant Pot and a pressure cooker?
Pressure cookers cook over an open flame and the Instant Pot is an electric appliance.
Essentially it is a much safer way to cook under pressure since it has safety mechanisms built into the pot.
You do still need to follow some simple steps like adding liquid every time you cook and not overfilling the pot.
Does it really cut down cooking time?
The answer is yes and no. For dishes that normally take hours to cook the Instant Pot cuts down cooking time significantly. But for items such as pasta or vegetables, it is actually quicker to just cook them on the stovetop.
This is because the Instant Pot requires time to come up to pressure. Which normally takes around 10 minutes, but will vary depending on how full your pot is and if your food is frozen.
Therefore if you are in a major time crunch I would not recommend using it.
What are the best things to cook in the Instant Pot?
I love to cook many things in the Instant Pot, but my favorite items are recipes that normally take hours to cook like Instant Pot Kalua Pork or Baby Back Ribs Recipe. Some of my other favorites are baked potatoes and hard boiled eggs which come out perfectly every time.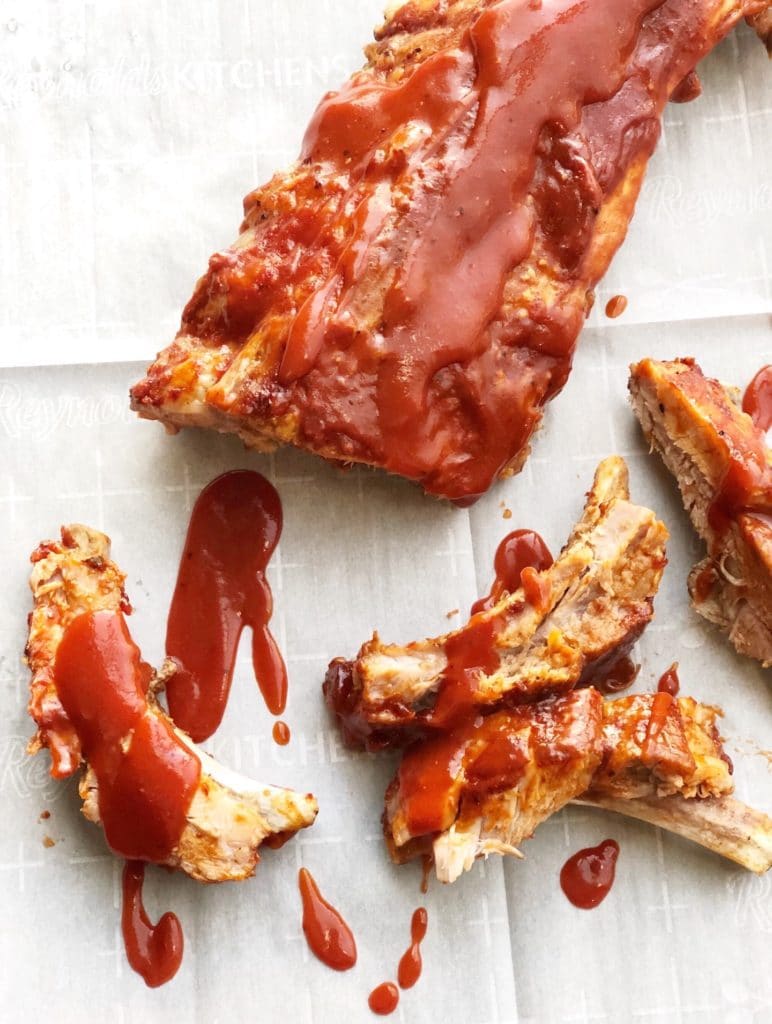 What size should I get?
Believe it or not many people have multiple Instant Pots. I would recommend getting the 8 quart if you entertain, have a larger family or if you like to meal prep. The 6 quart is great for couples and singles.
Many people find they like to do multiple dishes in separate Instant Pots but with the pot-in-pot method (which basically is cooking multiple dishes like chicken and rice in multiple pots within your insert) you can make everything in one. No need to buy or have two!
Tips with Cooking in the Instant Pot:
To prevent burning: Make sure you put the liquid down first in the bottom of the pot. Thick sauces such as tomato sauce can burn easily so place these types of sauces on top of your protein.
Use different sealing rings for savory and sweet recipes so that your creme brulee doesn't taste like last night's curry.
Use liquid such as broth instead of water to add more flavor.
Cook your meat first and then add your flavorful sauces. Since the appliance uses steam pressure your recipes can become watered down and soupy. I always advise to cook your dishes with liquid and seasonings, drain off any excess liquid or fat, and then add your sauces after cooking to not be watered down.
If cooking large amounts of meat, cut into smaller pieces to cook quicker and more evenly.
Account for pressurization time. Your Instant Pot will have to come to pressure which takes time. The amount of time will depend on a variety of different factors such as if you food is frozen, how high you have filled your pot and what you are cooking.
How do I clean the Instant Pot?
You can put the inner pot, rings and lid (on the top rack) in the dishwasher.
If your sealing ring still is smelling like last night's curry after a dishwashing cycle you can deep clean it by soaking it in a mixture of water and vinegar (use a 4:1 ratio). Soak it for 5 hours and then wash with warm soapy water.
*I always recommend to have a savory sealing ring for savory dishes and a sweet sealing rig for dessert dishes.
I buy my sealing rings here (affiliate link). These are great because they are different colors. You can choose which one you want for your sweet dishes and savory dishes to easily identify and keep them separate.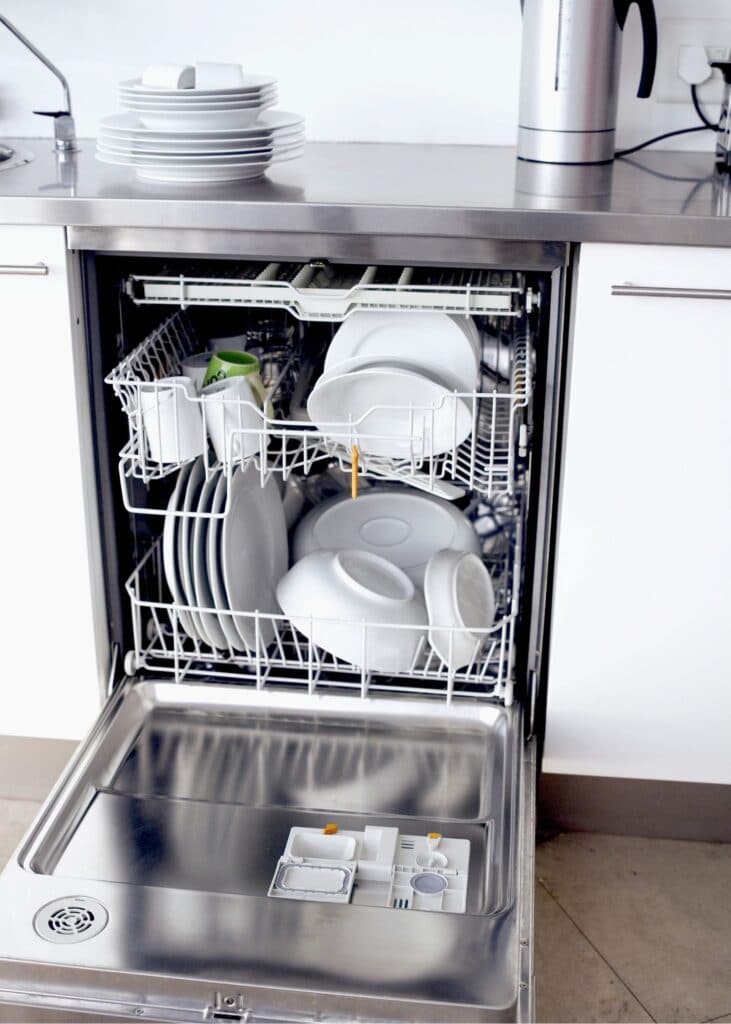 How To Use An Instant Pot Step By Step:
Now that we have covered some basics let's dive into everything you need to know about how to cook in an Instant Pot.
These are the main steps to follow and how to use an Instant Pot.
Place the item you are cooking into the insert.
Use a rack for pot in pot method, cooking eggs, ribs, and potatoes.
Add water or liquid. This is essential to cooking in the Instant Pot. The pot needs water or liquid to create pressure. I recommend using at least 1/2 cup.
Secure the lid.
Move the venting valve to the sealing position. If the valve is in the venting position it will never come to pressure.
Turn the appliance on the correct mode for your item.
Set the cooking time. You will not need to press the start button or any button after you + or – the time. It will automatically start.
Follow the release method once the time is up. If using the natural release let it sit until the pressure has released naturally, then remove the lid. If using the quick method carefully move the vent to the venting position.
Go To Items To Cook In The Instant Pot:
Here is some go to items along with their associated cooking mode, time and release method. I have also included some commonly asked questions of how to cook popular items in the Instant Pot below.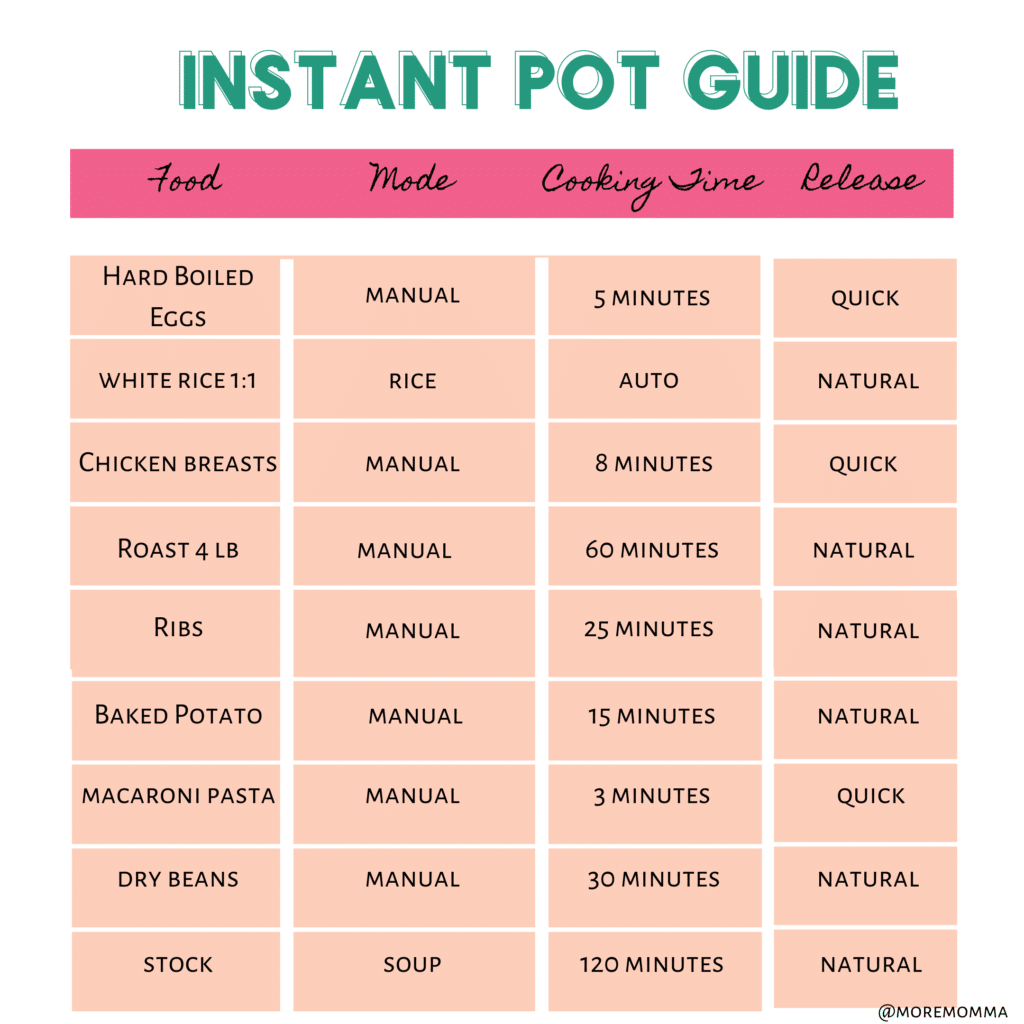 Hard boiled eggs:
Place 1 cup of water in the bottom of the insert.
Place the trivet in the pot and top with desired amount of eggs.
Seal the lid and turn the valve to sealing.
Turn on manual, high pressure for 6 minutes.
Manually release the pressure by switching the valve to venting.
Carefully remove the eggs and submerge them into cold ice water for an additional 5 minutes.
Peel over running water and enjoy!
Roast:
Season your roast with salt and pepper.
Turn the Instant Pot on saute mode and sear the roast on all sides in about 1 tablespoon of avocado oil until it is browned.
If you are cooking a roast larger than 2 pounds I would cut the roast into 3-4 inch chunks so that it can easily shred when finished cooking.
Add 1 cup beef broth or red wine.
Turn on manual high pressure for 60 minutes.
Let the pressure release naturally and then shred the roast with two forks.
Rice:
Rinse your rice under cold water.
Place the washed rice into the insert and add equal parts water. Rice is cooked in a 1:1 ratio in the Instant Pot as apposed to a 2:1 ratio (two parts water to one part rice) on the stovetop. Seal and place on manual.
Use the following times for different kinds of rice.
Let the pressure release naturally.
Jasmine Rice: 4 minutes
White Basmati Rice: 6 minutes
Brown Rice: 24 minutes
Wild Rice: 27 minutes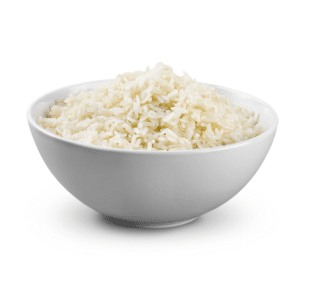 Risotto:
Turn the Instant Pot on saute mode and add avocado oil or butter.
Then add a shallot and saute for 1-2 minutes.
When the shallot has become translucent add the arborio rice and saute for 5 minutes to coat in the butter or oil.
Deglaze with white wine and stir to release any rice from the bottom of the pan.
Add chicken stock and set pressure on high for 5 minutes.
Perform a quick release and then stir in parmesan cheese.
Risotto is another great recipe to make in the Instant Pot. Since risotto is normally a little bit of a labor of love on the stovetop where you have to constantly be stirring and adding in more liquid when the liquid has been absorbed, you literally can make risotto in this appliance with little to no work at all.
My Favorite Instant Pot Recipes:
I hope this helps you get your Instant Pot out of the box and to good use. If you have any questions I would love to help you!
Feel free to comment below or head to Instagram and message me there. I am here for you!