I'm sharing my best pressure cooker pot roast recipe. This easy pot roast is tender and delicious! The best part is you can make it ahead and freeze it for a quick pressure cooker recipe.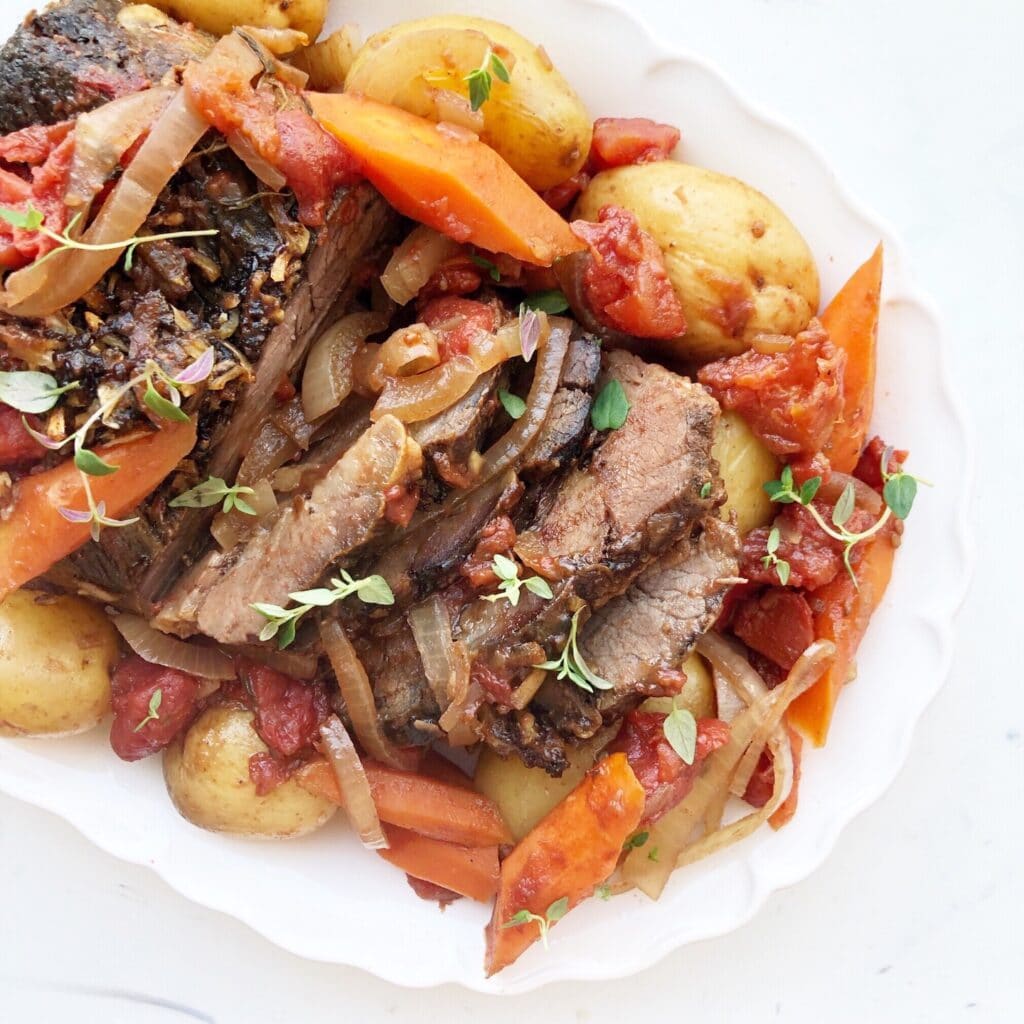 Pressure cooker pot roast is a new family favorite, especially for Sunday dinner. The best part is I make it ahead and freeze it for an even quicker no-fuss meal. 
The pressure cooker is an amazing tool. I love that I can have a quick meal like this easy pot roast on the table in a third of the time as a crockpot or stovetop versions. 
What pressure cooker to buy?
There are many different models and brands of pressure cookers out there. It can be very overwhelming to even know what to look for in a pressure cooker. 
My favorite pressure cooker is the Instant Pot. I have the 8 quart Instant Pot and love it. What's great about the Instant Pot is it has several modes and functions and does not have to be cooked over an open flame, instead it is an electric appliance. 
If you want to read more about Instant Pots, what type to get or have any question about how to get cooking in the Instant Pot check out this How to Cook With The Instant Pot Post. 
Can I make this recipe in a slow cooker?
If you do not have a pressure cooker or an Instant Pot you can definitely make this pot roast in the slow cooker. Just follow the directions in the note section of the recipe card. 
How to make ahead freezer Instant Pot Pot Roast:
Make ahead pressure cooker pot roast: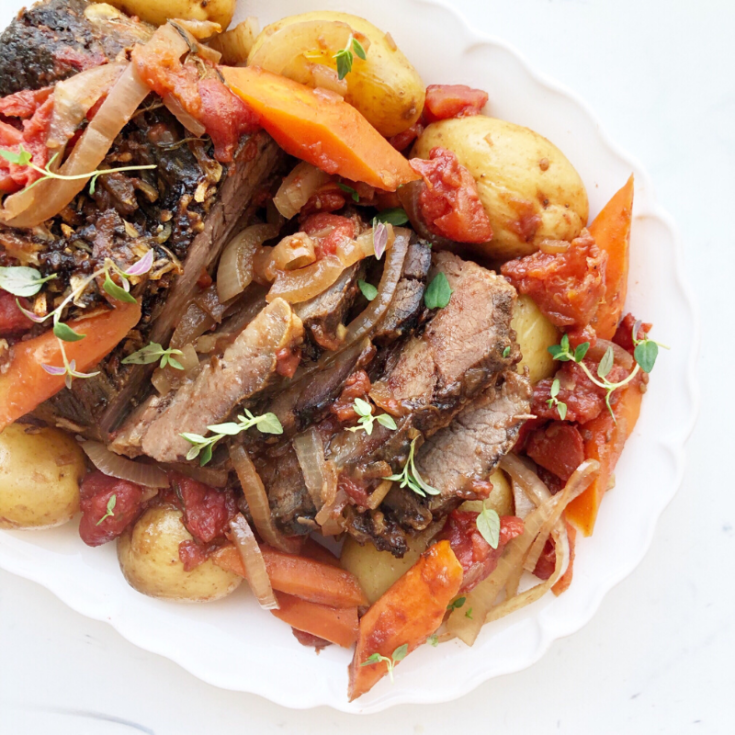 Yield:

6 servings
Instant Pot Pot Roast
Cook Time:
1 hour
30 minutes
Additional Time:
30 minutes
Total Time:
2 hours
10 minutes
This easy Instant Pot roast is tender, melt in your mouth delicious! This super easy meal requires little prep and the pressure cooker does all the work! 
Ingredients
2 Pound Pot Roast (I like to use chuck roast)
1 Cup Red Cooking Wine
1 Can Diced Tomatoes
2 Tablespoons Worcestershire Sauce
1 Lipton Onion Soup Packet
2 Thyme Sprigs
2 Slices Bacon, Cooked and Roughly Chopped
1 Cup White Onion, Sliced Thin
2 Cups Small Red or White Potatoes, Cut in Half
2 Cups Carrots, Cut on a Bias
1 Tablespoon Cornstarch Mixed with 1 Tablespoon Cold Water
Instructions
Place the chuck roast in the Instant Pot insert.
Add wine, tomatoes, Worcestershire sauce, the Lipton soup packet, thyme, bacon onion, potatoes and carrots.
Seal the lid and turn the valve to the sealing position.
Turn the Instant Pot on to manual high pressure for 60 minutes.
Let it naturally release for 10 minutes.
Remove the meat from the pot and slice.
Turn the Instant Pot onto saute mode and add the cornstarch and water mixture. Cook for 5 minutes to thicken the sauce.
Serve the sliced meat with potatoes, carrots and sauce.

To Freeze:
Add the pot roast to a freezer ziplock bag.
Add wine, tomatoes, Worcestershire sauce, Lipton soup mix, thyme and bacon to the bag.
Add onion, potatoes and carrots. Seal the bag and freeze until you are ready to use.

To Cook From The Freezer In The Instant Pot Cooker:
When ready to cook, thaw for 30 minutes.
Place all the contents in the bag into the pressure cooker on manual high pressure for 90 minutes.
When it's finished cooking release pressure manually my moving the valve to the venting position.
Add the mixture of cornstarch and water and turn on saute mode.
When sauce has thickened slice the pot roast against the grain and serve.
Notes
Crockpot Directions:
Place your meat in the crockpot and season with salt and pepper. Turn on low for 8 hours. Half way through the cooking process remove the liquid the meat has released and add in the rest of your ingredients (minus the corn starch).
When there is about 10 minutes left in the cooking process, remove the meat and slice into 1/4 inch slices.
Turn up the crockpot (if you have a sauté most use that). Add a mixture of 1 Tablespoon corn starch mixed with 1 Tablespoon water to thicken the sauce for about 5 minutes (make sure you mix it together before adding it). You can put your meat back in after you cut it and serve!
Recommended Products
As an Amazon Associate and member of other affiliate programs, I earn from qualifying purchases.
Instant Pot Beef Stew in Puff Pastry Cups and Instant Pot Barbacoa Shredded Beef Nachos are two of my favorites quick and easy dinner ideas.