This shamrock shake recipe has a secret healthy ingredient and is a fun way to celebrate St. Patrick's Day. Skip the drive through and make your own. 
Are you longing for a Shamrock Shake? Well you can learn how to make a shamrock shake at home with this shamrock shake recipe!
This is not your typical McDonald's Shamrock Shake either! This one has a fun little secret ingredient that adds a little bit of nutrition.
Shamrock Shakes are our traditional St. Patrick's Day dessert. It's a fun treat for the kids and a fun treat for Mommy and Daddy as well!
We love shamrock shakes in our house. This shake was created by McDonald's and is typically made with vanilla ice cream, drops of green food coloring and mint extract. They top it with whipped cream and a cherry when you drive through the fast food line.
Although we love the traditional shake, I had to create a copycat recipe so I could make it at home.
The best part about making it at home is you can control what goes into the shake. You also can adjust it to fit your families needs or allergy needs. I am going to share how we make ours and how you can change up the recipe for a dairy free option as well.
I can't wait for you to enjoy these minty milkshakes in your own home. There is nothing better on St. Patrick's day than drinking this green shake with your kiddos.
The Secret Ingredient:
I cut out the green food coloring and colored it (believe it or not) with a couple leaves of spinach! You can totally leave it out if you want, but it just adds some more green color and a little nutrition as well.
What You Will Need:
Mint Ice Cream (you can also use vanilla ice cream with mint extract for a more traditional option)
Milk 
A Handful of Spinach
Marshmallows
Rainbow Candy
Lemon Oreos (This is you gold at the end of the rainbow)
Whipped Cream
Maraschino Cherry
How To Make A Shamrock Shake: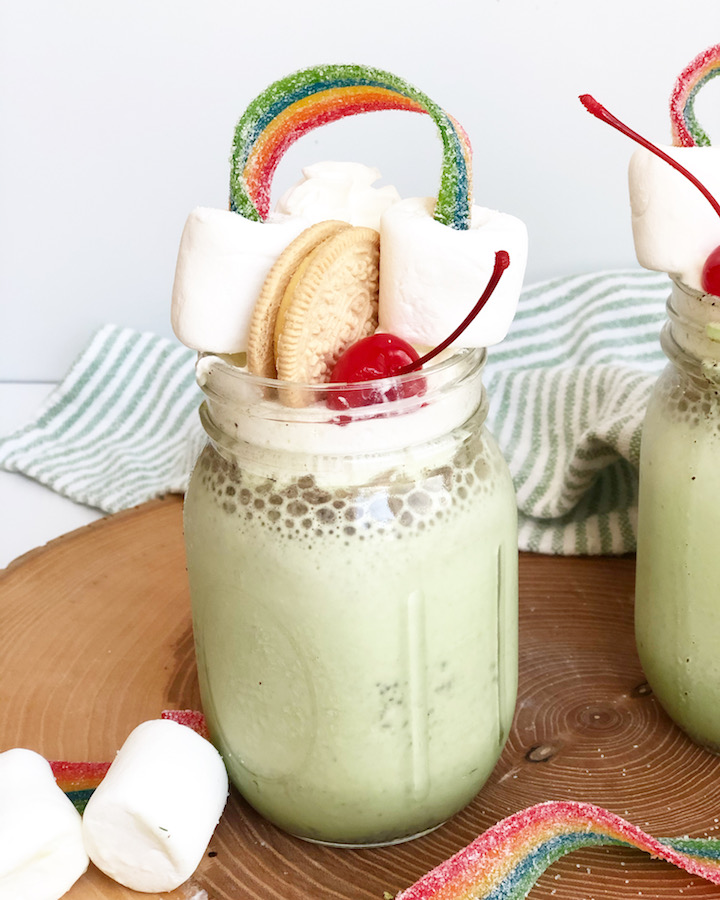 Place your ice cream, milk and spinach into a blender and blend until smooth.
Pour into your serving cup and top with a marshmallow candy rainbow, whipped cream, lemon Oreo and a maraschino cherry.
Dairy Free Version:
If you are lactose intolerant try these simple substitutes.
Dairy Free Mint Ice Cream
Coconut Milk
Handful of Spinach
Dairy Free Whipped Cream
Maraschino cherry
Get Your Kids Involved:
This is the perfect recipe to get your kids involved. They basically can help you with every step of the recipe or can even make them on their own depending on how old they are. 
You can also give them some different topping ideas with colored sprinkles, fun green straws or rainbow candies. 
Other St. Patrick's Day Ideas:
St Patrick Day Snacks: Leprechaun Bait Bark
Instant Pot Corned Beef And Braised Cabbage
Shamrock Shake Recipe: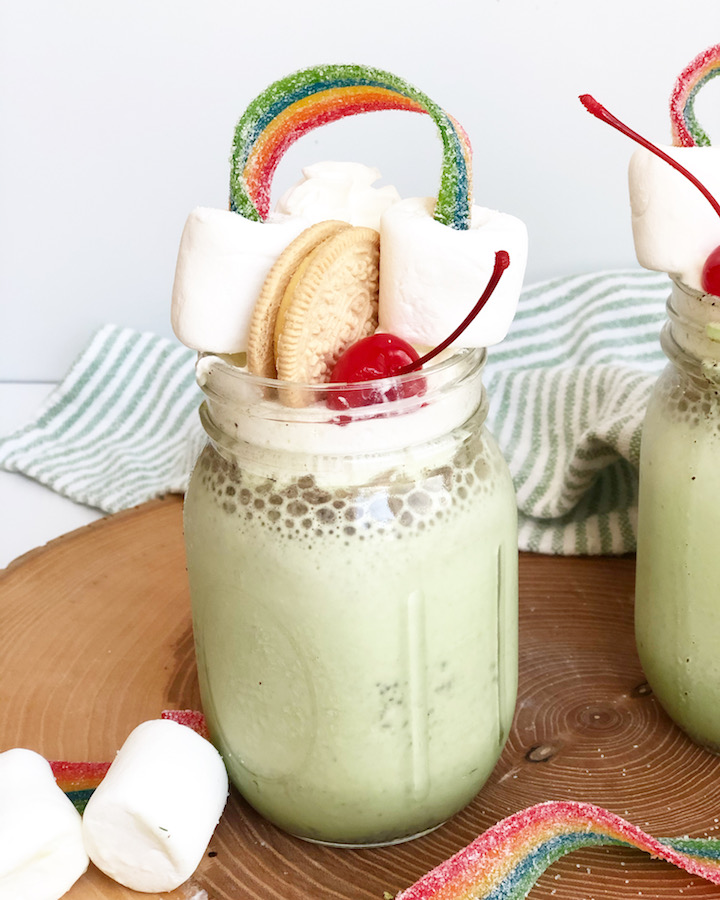 Yield:

Serves 2
How to make a Shamrock Shake for St. Patrick's Day!
Festive St. Patrick's Day drink and healthier Mc Donald copycat!
Ingredients
4 Cups Mint Chocolate Chip Ice Cream
1 Cup Milk
Handful of Leaves Spinach (optional)
Toppings:
Whipped Cream
2 Maraschino Cherry
4 Large Marshmallows
2 Rainbow Candy
2 Lemon Oreo
Instructions
Add ice cream to a blender.
Then add a handful of spinach and milk.
Blend for 10-20 seconds or until blended and smooth.
To make the rainbow toppers cut a slit in the top of the marshmallow. Stuff the rainbow candy into the slits of two marshmallows (one of both sides).
Pour the shake into your serving cups.
Top with whipped cream, rainbows, lemon Oreo and a marashino cherry.
Enjoy immediately.
Recommended Products
As an Amazon Associate and member of other affiliate programs, I earn from qualifying purchases.