Instant pot pork bao buns are actually much easier than you may think. These bao buns have a Thai twist and taste restaurant worthy! This recipe makes for the perfect date night at home or a fun dinner party idea. 
I tasted my first bao bun when I was in Portland, Oregon. We went to a little food stand and ordered stuffed bao's and dumplings and I have been dreaming about them ever since. 
They were stuffed with a curry chicken and ground pork and I knew right when I tasted them that I would want to re-create something similar. 
I truly fell in love with the texture of a fluffy bun stuffed with a flavorful filling. It was like having a fluffy dinner roll ripe and ready to soak the gravy on Thanksgiving night. What could be better than that?
It's truly the perfect combination of textures and a perfect vessel for just about any filling! 
Instant Pot Bao Buns:
Bao buns in the Instant Pot are fluffy, delicious and perfect to wow your guests or your significant other without the stress.
I promise they look a lot harder than they actually are to make.
With the help of the Instant Pot you can make bao buns easily with this steamer basket and the saute mode function. This is the steamer basket that I like to use because it fits all the different sizes of Instant Pots. 
And if you don't have an Instant Pot you can still make these pillowy buns in a pot or steamer.
All you have to do is use a steamer basket so they are able to steam instead of have direct contact with the water. 
You can see here I just put them in a large stockpot with the steamer basket and they worked great! 
Most people are probably not very familiar with bao buns so lets answer a couple FAQ's:
What is a bao bun:
Bao buns are fluffy buns resembling a taco shape.
They are a steamed bun that is perfect for any type of filling, typically some sort of pork is used. We are using a delicious sticky Thai pork recipe for the filling. 
The best part is the Thai style sticky pork can be made in the Instant Pot as well so minimal clean up and a mouthwatering, juicy and tender pork that cooks in minutes rather than hours! 
What to serve in steamed bao buns:
These little fluffy buns are meant to be served with a filling. Get creative and use whatever you want! I love my kalua pork as a filling or make it vegetarian with cauliflower taco filling. 
Where to buy bao buns: 
Bao buns are becoming more readily available at major grocery stores. Most are already filled with filling and are in the shape of a large dumpling.
Check your local Asian markets to see if they have them on hand. A lot of them have a great variety. 
Are bao buns gluten free: 
Unfortunately bao buns are not gluten free. But my friend over at Gluten Free On A Shoestring makes these delicious gluten free bao buns. 
How to cook bao in the Instant Pot: 
What's so great about this recipe is everything can be made in the instant pot.  Even your bao buns! Bao buns are steamed and you can easily turn your instant pot into a steamer by the use of a steamer basket and your saute mode function. 
To cook bao buns in the instant pot you will first turn the pot on to saute mode. Add 1 cup water and bring to a simmer. Place the buns on a steamer basket and lower them into the pot. Make sure they are not touching the water.
You may need to use a rack in the bottom of your pot. Cover the instant pot with a lid (you can use any lid) and let steam for 15 minutes. 
So whether you are following this Instant Pot version of bao buns or cooking them in a steamer on the stovetop, bao buns will soon become a new family favorite in your home. I mean what can be better than a fluffy bun filled with yummy goodness?
Instant Pot Pork Bao Bun Recipe: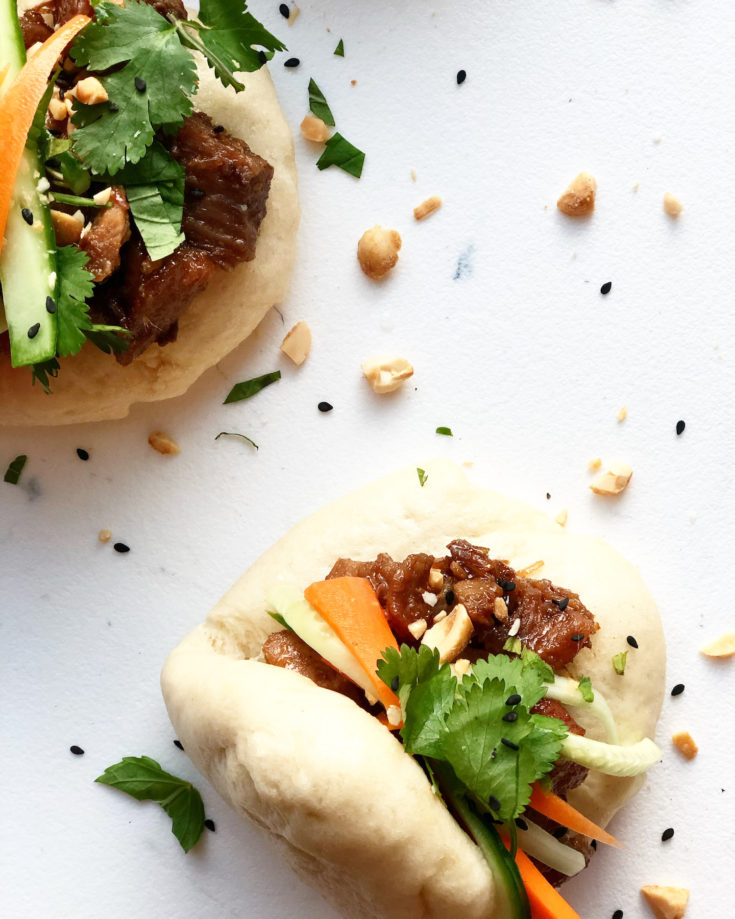 Yield:

Serves 6
Instant Pot Pork Bao Buns
Total Time:
2 hours
30 minutes
Pillowy bao stuffed with sticky Thai inflused pork will be your new favorite dish to make!
Ingredients
For The Dough:
2 3/4 cups all purpose flour
2 tablespoons granulated sugar
1/2 teaspoon salt
2 teaspoons dry instant yeast
3 tablespoons whole milk
3/4 cup warm water
3 tablespoons unsalted butter, very soft
1 tablespoon avocado oil
For The Pork:
3 Pounds pork country style ribs or pork shoulder, cut into 2 inch chunks
1 tablespoon avocado oil
½ cup water
2 Teaspoons sesame oil
2 teaspoons lemongrass paste
2 teaspoons ginger, minced
2 teaspoons garlic, minced
¼ cup brown sugar
¼ cup fish sauce
½ cup hoisin sauce
For The Slaw:
1/2 cup cucumber, julienned
1/2 cup carrot, julienned
1/2 cup pickle juice from a good quality pickle jar
To Top:
Cilantro, Torn
Mint, Torn
Peanuts, Chopped
Instructions
Make the dough by combining flour, sugar, salt and yeast in a bowl.
Add milk, warm water and butter to a bowl and stir to combine. Add to the flour mixture and stir. When the dough becomes too hard to stir transfer to a lightly floured surface and knead for 10 minutes.
Place the dough in an oiled bowl and let rise for 1 1/2 hours or until doubled in size.
After the dough has doubled in size knead again slightly and cut into 10 equal pieces. Roll into balls.
Roll each ball into a flat oval with a rolling pin and place on a parchment lined baking sheet.
Brush with oil and then place a small piece of parchment paper on half of the oval. Fold over to cover the paper.
Cover with plastic wrap and let rise for another hour.
Meanwhile prepare the pork by turning the Instant Pot on to saute mode. Add the oil and pork and sear for 7 minutes, stirring occasionally.
Add water and seal with the lid. Move the valve to sealing and cook on high pressure for 60 minutes.
Combine the slaw ingredients and place in the fridge.
Cook the buns according to one of the methods below.
When pork is done drain excess liquid from the Instant Pot and turn on saute mode again.
Add the sesame oil, lemongrass, ginger, garlic, brown sugar, fish sauce and hoisin sauce and stir to combine. Cook for 5 minutes to thicken.
Fill the cooked buns with pork and top with slaw and toppings of choice.
To Cook the Buns on the stove top:
To Cook the Buns on the stove top bring a large stockpot with 4 cups of water to a simmer over medium heat. Place 3-4 buns on the steamer basket and lower into the pot (make sure the steamer basket bottom is not touching the water. You may need to add a trivet if needed. Place the lid on the pot and steam for 15 minutes.
To Cook The Buns in The Instant Pot:
To Cook the Buns in the Instant Pot add 4 cups of water to the insert and turn on saute mode. Place 3-4 buns on the steamer basket and lower into the insert (make sure the steamer basket bottom is not touching the water. You may need to add a trivet if needed. Place the lid on the pot (do not seal or turn on any different functions, it will steam on saute mode with the lid covering it) and let steam for 15 minutes. *you can also use a large stockpot lid if needed.
Recommended Products
As an Amazon Associate and member of other affiliate programs, I earn from qualifying purchases.