This unsuspecting dessert is bound to satisfy your sweet tooth! Perfect for a mid-afternoon treat, a DIY ice cream sandwich bar, or a family night dessert, these ice cream sandwiches are guaranteed to create smiles and memories with your family and loved ones.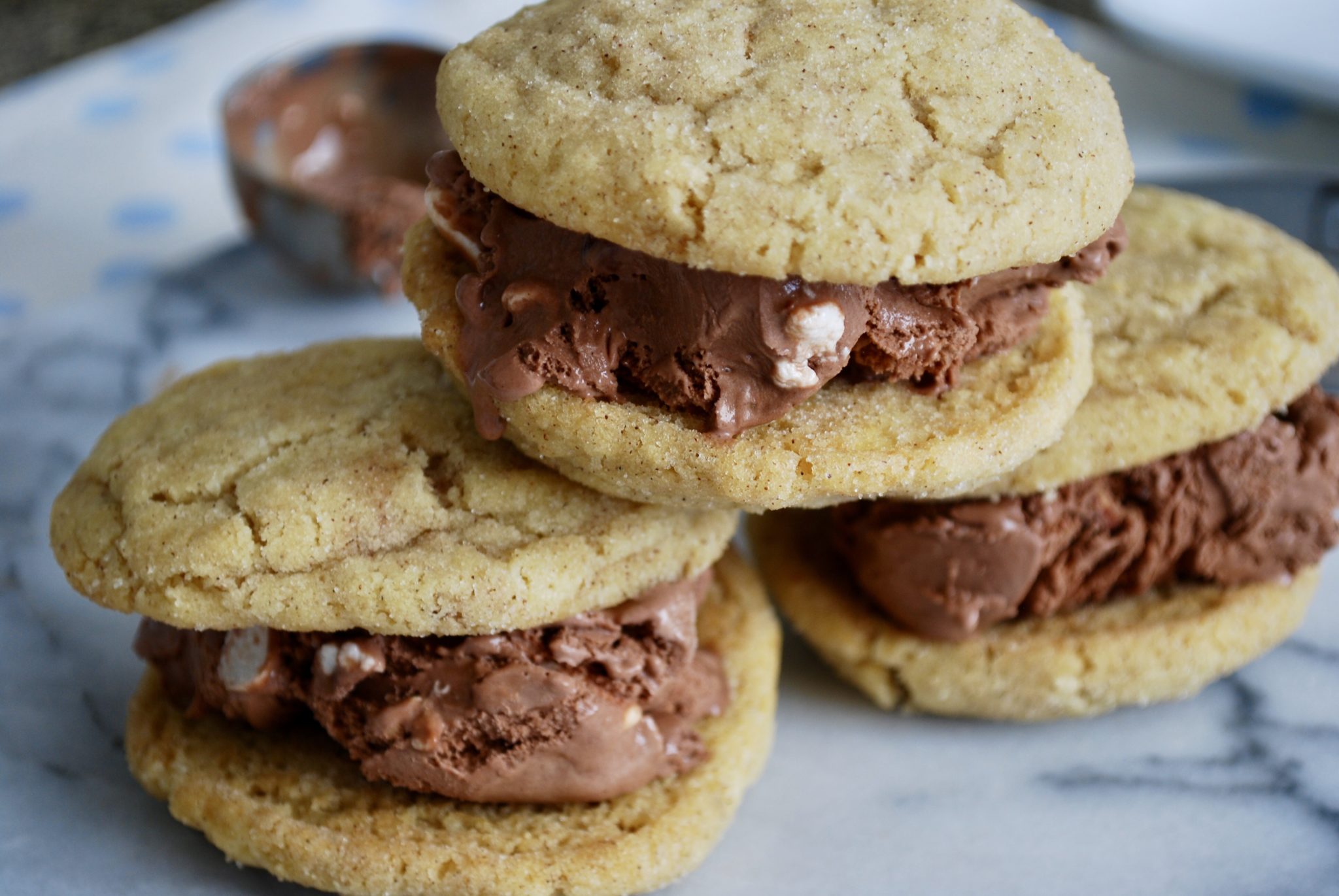 When I was a teenager and just beginning to explore cooking and baking, I turned to my Mom's Betty Crocker cookbook when I wanted to make something tried and true.
This cookbook was probably the only soft-cover cookbook we owned, and one from which I've adapted my gluten-free snickerdoodle recipe.
Snickerdoodles are just as classic of a cookie as chocolate chip cookies. Unlike chocolate chip cookies, you either love snickerdoodles or you don't.
They are a soft, chewy, cinnamon sugar cookie that has a hint of tanginess from the cream of tartar.
Cream of tartar may not be a staple in your pantry, but it is essential for true snickerdoodles. You'll find that using it gives the cookies its well-known tangy bite and also lends to the classic chew.
What is Cream of Tartar?
Cream of tartar is often used to stabilize egg whites and whipped cream, and is added to baked goods to help activate baking soda.
But did you know that it also helps to stop the sugar from crystalizing, which is why snickerdoodles are chewy and not crunchy!
There are actually more uses for cream of tartar than just baking. Check them out here!
Is Baking Powder Gluten-Free?
Generally speaking, yes, baking powder is gluten-free. However, not all manufacturers make it as such. Baking powder is a mixture of baking soda, an acid (like cream of tartar), and a starch (to absorb moisture). Depending on the manufacturer, the starch will either be gluten-free (corn starch) or not gluten-free (wheat starch).
Some baking powders contain aluminum, which might give the food a slight metallic taste. To avoid that, I always use an aluminum-free baking powder.
As always, double check the ingredients to ensure it is safe for you.
Is Baking Soda Gluten-Free?
Baking soda is naturally gluten-free because it's not made from one of the four types of grains that have the protein (wheat, rye, barley, or triticale).
What is the Best Gluten-Free Flour for Baking Cookies?
There are lots of decent gluten-free flours available at the grocers; however, I have found Bob's Red Mill 1-to-1 Flour to produce the most consistent and excellent results.
What I love about this flour is that the ratio is 1:1, meaning use 1 cup gluten-free flour for every 1 cup All-Purpose flour.
General Gluten-Free Baking Tips:
Sometimes, regardless of the recipe and ingredients, gluten-free baked goods can have a weird aftertaste, even when using aluminum-free baking powder or a good gluten free flour.
To combat that, I like to add a box of dry instant pudding mix to the recipe. You'll be surprised to find out that it doesn't negatively affect the flavor of the baked goods.
Gluten-Free Snickerdoodle Tips and Ice Cream Sandwich Tips:
Use Crisco. Your cookie will be more fluffy and not go flat.

Add a packet of dry instant pudding to help with any aftertaste.

Use this cookie scoop for perfectly shaped and evenly sized balls of dough that are not too thick.

Double roll the cookie dough in the cinnamon sugar mixture. You'll love the extra cinnamon sugar flavor!

Bake snickerdoodle cookies on light-colored baking sheets, lined with parchment paper.

Do not over bake the cookies! They will continue baking after they're removed from the oven. These cookies are intended to be soft, chewy, and pliable. They're meant to bend when you bite while at the same time hold onto the ice cream in the center.

Make sure the ice cream is as frozen as possible when scooping. The ice cream will soften as you're gobbling it up, so it's better to start with frozen ice cream, rather than soft.

You can also buy pints of ice cream and cut (through the packaging!) perfect circles to place in your ice cream sandwiches. Use a serrated knife to easily cut.

When making a large batch of homemade ice cream sandwiches, feel free to freeze them as you go along.

Be playful and creative when making flavor combinations! Here are some delicious cookie and ice cream combinations to spark your creativity!
Snickerdoodle Cookie | Rocky Road or Butter Pecan Ice Cream
Chocolate Chip Cookie | Vanilla or Chocolate Ice Cream
Oatmeal Cookie | Pistachio or Salted Caramel Ice Cream
Peanut Butter Cookie | Cookie Dough or Strawberry Ice Cream
How to Make Gluten-Free Snickerdoodle Ice Cream Sandwiches:
In a small bowl I prepare the cinnamon sugar topping and set to the side. I do this right when I preheat the oven so that I can immediately roll the cookies in the mixture before they dry out.
Using a medium bowl, I cream the crisco and sugar until light and fluffy using a spatula. Then I add the egg and mix until combined. Next I add the vanilla and almond extract and mix some more.
Then I add all my dry ingredients and stir to combine.
Once combined, I scoop out equal-size balls of dough and roll in the cinnamon sugar mixture.
Bake in a 350°F oven, then once baked and cooled, I place perfectly cut circles of ice cream between two cookies. (See above tip for this life-changing hack.)
These will knock your socks off. My only regret is that I didn't make these years ago!
Looking for other sweet treats? My kids love when we make:
Frozen Blood Orange Soda Sundaes
Mint Chocolate Oreo Ice Cream.
Gluten Free Snickerdoodle Ice Cream Sandwiches: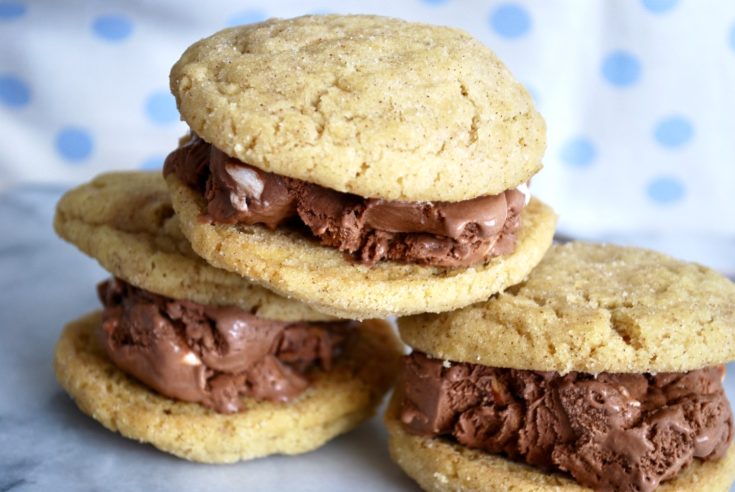 Yield: 6 Sandwiches
Gluten-Free Snickerdoodle Ice Cream Sandwiches
Prep Time: 10 minutes

Cook Time: 11 minutes

Additional Time: 10 minutes

Total Time: 31 minutes

Try this delicious gluten-free dessert. You won't even know it's gluten-free!
Ingredients
Cookie Dough Ingredients:
1 Cup Butter Flavored Crisco
¾ Cup Granulated Sugar
1 Egg
½ Teaspoon Vanilla Bean Paste or Vanilla Extract
¼ Teaspoon Almond Extract
1 ¼ Cup Gluten Free Flour (I like Bob's Red Mill 1-to-1)
3.4 Ounce Box Dry Instant Vanilla Pudding Mix
¼ Teaspoon Baking Soda
½ Teaspoon Baking Powder
½ Teaspoon Cream of Tartar
¼ Teaspoon Salt
1 Teaspoon Ground Cinnamon
Coating:
½ Cup Granulated Sugar
1 Teaspoon Ground Cinnamon
Sandwiches:
Instructions
Preheat the oven to 350°F.
In a mixing bowl, cream together Crisco and sugar with a spatula (you can also do this in an electric mixer but you will get fluffier cookies if you do it by hand).
Stir in the egg and mix to combine. Add vanilla and almond extract and stir to combine.
Add flour, pudding mix, baking soda, cream of tartar, baking powder, salt, and cinnamon.Stir until combined.
Combine coating ingredients in a small bowl and set aside.
Grab about a golf ball sized amount of dough and place into the cinnamon and sugar mixture. Roll to coat.
Place the cookie dough ball on a parchment lined baking sheet.
Bake for 11 minutes, remove from the oven and let cool.
Place a scoop of the ice cream on one cookie and top with another cookie to form a sandwich. Serve immediately.
Notes
You can make regular, non gluten-free cookies by omitting the gluten-free flour and replacing it with a 1:1 ratio of All-Purpose flour.
Recommended Products
As an Amazon Associate and member of other affiliate programs, I earn from qualifying purchases.