This copycat Mastro's Butter Cake is warm, buttery, and tastes just like Mastro's Butter Cake at the restaurant. It's easy to make and the perfect dessert for a special occasion.
Today I'm talking all about this delicious butter cake. This isn't your everyday butter cake. This is a perfect copycat of Mastro's Butter Cake that you'll want to whip up for your next Sunday dessert.
This has got to be the best dessert on the planet. Mastro's warm butter cake is by far one of my favorite desserts. The butter cake Mastro's makes is served warm and topped with vanilla ice cream and drizzled with raspberry sauce.
The cake is crunchy on the outside from turbinado sugar, yet moist and almost gooey in the center. The textures and flavors are unbeatable.
When I taste something that makes me this happy, I have to try to create a copycat recipe. There are some recipes that take me one try to create. This one, on the other hand, took me three days and about 50 different versions to get to "the one."
The Mastro's version has a cream cheese filling, but I found that I preferred the without it. It's a little lighter and equally delicious.
How a copycat recipe came to be….
Let me share a little back story with this one…. I worked in restaurant consulting before I got married. I was the head chef of recipe development creating recipes, menus, and opening up new restaurants.
I absolutely loved my job! My boss would take us on "discovery tours" where he would order everything on the menu and then tell me to make x, y, and z. We would hit up 10, sometimes 15, restaurants in a day! It was insane, but so much fun.
This recipe came from a project that I opened in South Dakota. It was an upscale Mexican restaurant and my boss really wanted a warm butter cake to be on the menu (like the one you find at
Mastro's Steakhouse
).
After a long discovery tour, I headed to the test kitchen to start recipe testing. During recipe testing I would get the right texture, but not the right flavor, or I would get a good flavor, but not the right texture. It took me three 10-hour working days and many failures to get to this Mastro's Butter Cake recipe perfect!
When I make it for family or friends I remember those long hours, getting a little frustrated, and then jumping for joy when I got it just right! I hope you enjoy this little cake as much as I do.
I know, it looks super daunting but it is unbelievably easy. Trust the process!
Here Are My Tips To Ensure A Successful Recipe:
Use Butter Flavored Crisco:
Trust me on this one! I tested this recipe with butter and it just doesn't turn out the same. It really makes a huge different with flavor and texture.
Coat The Ramekins In Crisco And Sugar In The Raw (Turbinado Sugar):
This will not only help the butter cakes to come out of the pan easily, but it will also create an amazing crust on the cakes that is signature to a Mastro's Butter Cake. This picture shows is what the ramekins should look like fully coated.
I like to use these ramekins as it yields the perfect sized butter cake for the recipe.
Follow the baking times pretty closely. The cakes will look a little undercooked:
This is intentional. You do not want to overcook the butter cakes. Mastro's Butter Cakes have a gooey, yet cake-like center. I would err on the side of caution and cook for less time than more.
Make them mini:
Have some fun with this recipe or serve this up for an elegant party and make them mini. You can easily make these mini by using a mini muffin pan. Follow the mini directions in the recipe for how long to cook them.
How To Make Buttercake Step By Step Video:
Mastro's Copycat Buttercake Recipe: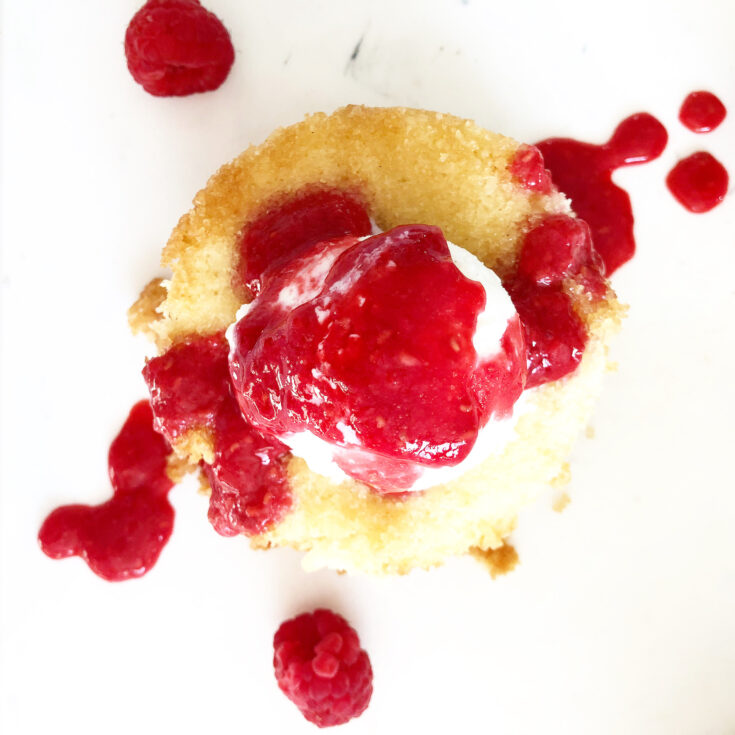 Yield:

6
Mastro's Butter Cake
This cake is warm, buttery, and topped with vanilla ice cream and fresh raspberries. The best copycat Mastro's Butter Cake recipe you will try!
Ingredients
For Coating:
½ Cup Butter Flavored Crisco
1 Cup Turbinado Sugar
For Cake:
1 Cup Butter Flavored Crisco
1 ½ Cups Granulated Sugar
2 Eggs
1 ½ Cup Milk
2 Teaspoons Vanilla Bean Paste
3 Cups All-Purpose Flour
1 Tablespoon + 1 Teaspoon Baking Powder
1 Teaspoon Salt
Raspberry Sauce:
1 Cup Fresh Raspberries
1 Tablespoon Sugar
½ Cup Water
To Top:
Vanilla Ice Cream
Fresh Raspberries
Instructions
Preheat the oven to 350°F. Thoroughly rub the inside of each ramekin with ½ cup Crisco (just enough to coat), including bottom and very top edges.
Sprinkle turbinado sugar into the ramekins, ensuring it covers all the sides and the bottom. Shake out excess sugar and place in the next buttered ramekin. Repeat with all ramekins.
Add 1 cup Crisco and granulated sugar to the bowl of a stand mixer. Using a paddle attachment, mix to combine.
While the mixer is on low speed, add one egg at a time.
Combine milk and vanilla in a separate bowl.
Combine flour, baking powder, and salt in a separate bowl.
Add the flour mixture and milk mixture to the Crisco mixture in ALTERNATING, small batches, beginning and ending with flour. Be sure to scrape down the sides of the mixing bowl with a rubber spatula. Do not overmix.
Fill the ramekins ¾ of the way up.
Bake, uncovered, for 18-23 minutes (cake will be a little gooey in the middle, which is intentional).
Let cool for 5 minutes and then invert the buttercake onto your plate.
Top with vanilla ice cream and raspberry sauce (recipe follows). Serve immediately.


Raspberry Sauce:

Place all of the ingredients into a saucepan and bring to a simmer. Break the raspberries up with a potato masher.
Cook for 3-5 minutes. Then submerge an immersion blender into the liquid and blend until smooth. You can also blend in a blender.
Serve over warm Butter Cakes.
Notes
To make this recipe in mini form: grease and coat a mini muffin pan with Crisco and turbinado sugar. Place 1 tablespoon batter into each muffin tin and bake at 350°F for 10 minutes.
Recommended Products
As an Amazon Associate and member of other affiliate programs, I earn from qualifying purchases.