Quick marinated miso salmon bowls are heathy, family friendly and a delicious easy way to serve salmon.
Miso salmon bowls are one of my favorite fish dishes to serve to my family. It is so flavorful, healthy and a fun way to get the kids to eat fish. 
If you want to try to incorporate more fish into your families diet, I would highly recommend using a fish like salmon. Salmon is full of omega-3 fatty acids and yields so many great health benefits. Because it's full of healthy fats, it tends to be an easier fish to cook.
Salmon is a great fish to cook because it is forgiving in the sense that it won't dry out as much as a white fish will if you overcook it. It's also not as strong as other fish flavors so your family won't be overwhelmed with a super strong fish flavor. 
How to serve fish to kids:
The only fish I had growing up was in the form of a fish stick! Once I grew a little older I fell in love with fish and the many ways to prepare it. 
Bowls are great way to serve fish to your family because they can be so full of flavor and other ingredients that you know your family will like. Try serving the fish with flavors that you know your kids already enjoy.
Some ideas are topping it with mango or pineapple salsa or teriyaki sauce. 
Bowl building is a great tool for picky eating too! Giving your kids the ability to "make their own" offers autonomy in the eating process and helps them to feel like they are apart of the process. 
If you want to check out some more great bowl ideas try these Air Fryer Egg Rolls bowls and BBQ Quinoa Chicken Salad Bowl.
What is miso:
Miso is a fermented paste made out of soybeans. It adds an amazing salty, umami flavor. You can buy white miso at any major grocery store. It also comes in other varieties such as red, yellow and many more!
I love adding miso to marinades specifically for salmon or making miso soup with it. 
How to marinate salmon:
Marinating fish is quick and easy. Fish will take less time to marinade than beef or pork can it is a great way to impact the flavor. 
I combine my marinade ingredients in a bowl and then add it to a ziploc bag. Add the fish and remove all the air. Let sit in the marinade in the fridge for up to 30 minutes. 
You do not want to over marinate fish as it can start breaking down the texture of the protein and make your fish mushy. 
Here is a reference chart on how long to marinate your proteins.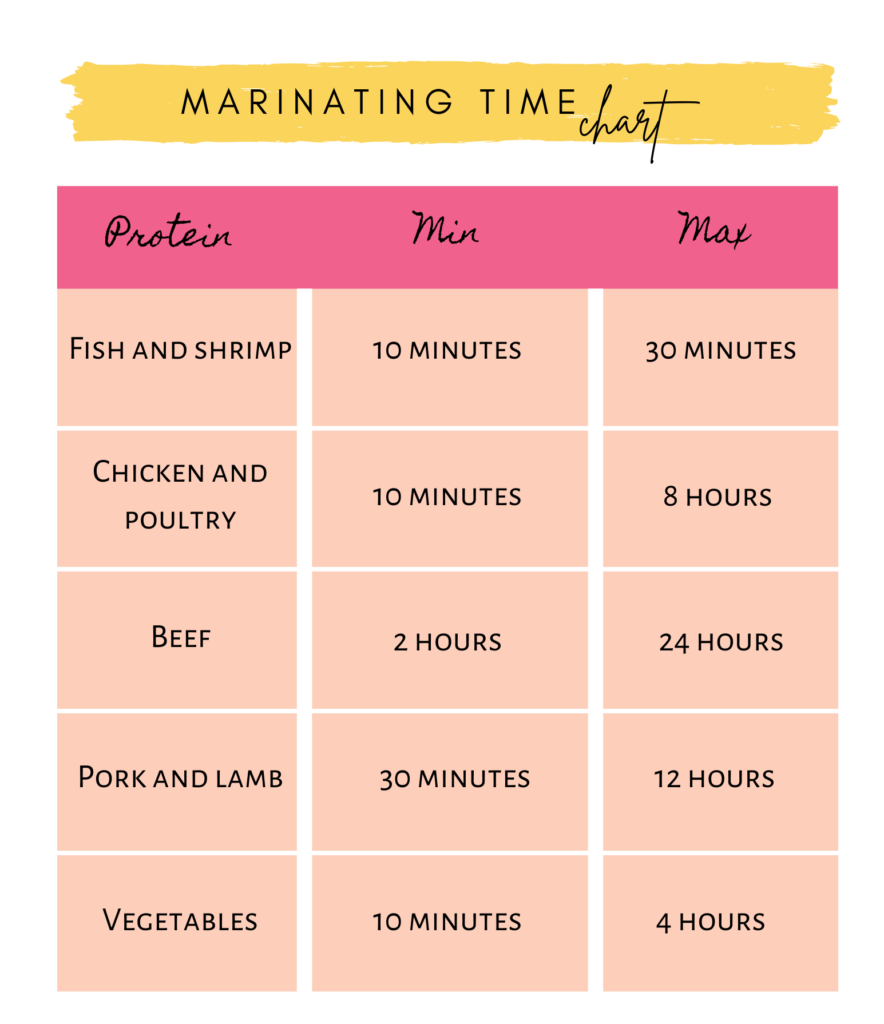 Miso Salmon Bowl Recipe: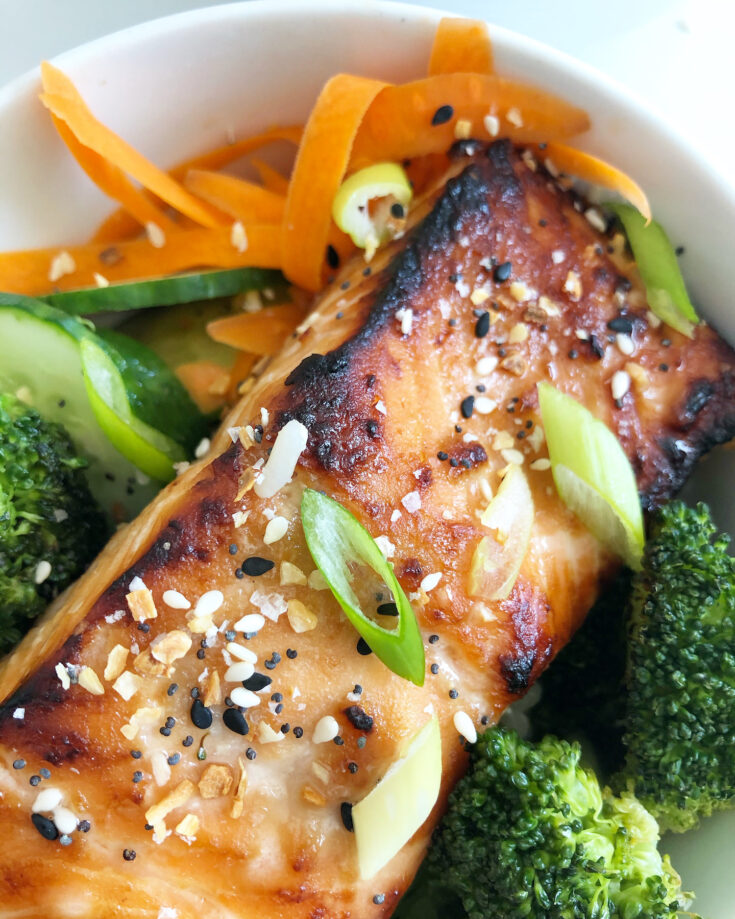 Yield:

4 servings
Miso Salmon Bowls
These delicious salmon bowls have a umami flavor and are perfect for a quick dinner.
Ingredients
Marinade:
1 clove garlic, minced
2 teaspoons ginger, grated
2 tablespoons Braggs Aminos
1 tablespoon white miso
1 tablespoon honey
2 teaspoons sesame oil
4 (6 oz) salmon filets
1 head broccoli, cut into florets
olive oil to drizzle
Kosher salt and pepper to taste
1/2 cup cucumber, sliced
1 cup carrots, shaved
3 green onion, sliced
Frozen brown or white rice
Everything But The Bagel Seasoning
Instructions
Preheat the oven to 400 F. Combine the marinade ingredients in a small mixing bowl.
Add half of the marinade to a ziploc bag and add the salmon. Let sit for at least 20 minutes in the refrigerator. Reserve the other half of the marinade to drizzle on top of the bowls.
Place the broccoli on a foil lined baking sheet, move to one side of the baking sheet. Drizzle with oil and sprinkle with salt and pepper.
Remove salmon from the marinade and add to the other half of the baking sheet.
Cook for 15 minutes.
Cook the rice according to package directions and prep the rest of the toppings.
Add the rice to your serving bowls. Add cucumber and carrots and roasted broccoli.
Run a spatula between the salmon flesh and skin (to remove the skin) and add to the bowls.
Top with extra marinade, everything but the bagel seasoning and green onion.