These quick and easy school lunch ideas can be made at home in under 20 minutes and are way better than a PB & J. These are great for kids and adults alike!
School lunch is now an in home lunch. No need to for crazy recipes. These school lunch ideas are perfect for making when you are stuck inside and doing school from home. The best part is they aren't just your typical turkey sandwich.
These lunch ideas are fun and exciting, easy to make and delicious for both kids and adults.
Lunch is one of the hardest time for my family when we are staying at home all day. Everyone wants to snack all day and I get stumped on what to make for lunch. I know how hard it can be to feel like you're cooking all day long when you have your kids at home.
These ideas can be made for lunch or dinner and some of them can even be meal prepped so you can cook once and then eat them throughout the week.
If you are struggling with lunchtime like I was try these easy recipes. They are family friendly and can be transformed to fit your specific dietary needs.
First up is this easy BBQ chicken and bacon grilled cheese. You can meal prep this item, place them on a baking sheet and keep them in the fridge. When you are ready to eat just put one in a dry saute pan and following cooking instructions. If you are gluten free you can make this recipe with your gluten free bread.
BBQ Chicken and Bacon Grilled Cheese: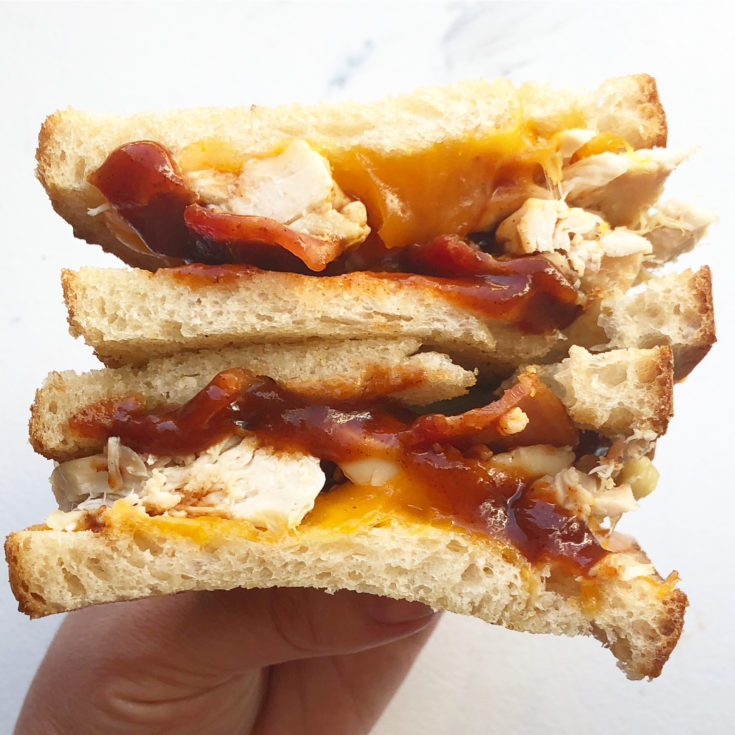 Yield: Serves 1
BBQ Chicken and Bacon Grilled Cheese
Prep Time: 5 minutes

Cook Time: 6 minutes

Total Time: 11 minutes

Smoky and cheesy grilled cheese is quick and easy to make and delicious.
Ingredients
2 Slices Sourdough Bread
1 Tablespoon Unsalted Butter, Softened
2 Slices Cheddar Cheese
1/4 Cup Rotisserie Chicken
2 Slices Bacon, Cooked Until Crispy
Drizzle BBQ Sauce
Instructions
Preheat a nonstick sauté pan over medium heat.
Spread the butter on both pieces of bread.
Place the cheese on both sides of the bread.
Add the chicken, bacon and bbq sauce to one slice and top with the other slice of bread to form a sandwich.
Place the sandwich into the pan and cook for 3 minutes per side.
Remove and slice the sandwich in half.
One of my favorite healthy meal prep lunches are these BBQ Quinoa Chicken Salad Bowls. They are perfect all year round, are high in protein and you can prep once and eat them throughout the week.
Change them up by adding different sauces like Sriracha or ranch dressing.
BBQ Quinoa Chicken Salad Bowl:
Yield: Serves 4
BBQ Quinoa Chicken Salad Bowl
Prep Time: 5 minutes

Cook Time: 15 minutes

Total Time: 20 minutes
Ingredients
2 Cups Quinoa
4 Cups Water
1 Tablespoon Dry Ranch Dressing Packet
1 Pound Chicken Breasts
1/2 Cup BBQ Sauce + More To Top
2 Cups Kale, Roughly Chopped
1 Cup Monterey Jack Cheese, Shredded
1 Avocado, Diced
1 Lime
Instructions
Preheat oven to 350 degrees.
Preheat a grill pan, gas grill or charcoal grill until hot. Toss the chicken in BBQ Sauce and place on the grill. Grill for 5 minutes per side.
Place in the oven and cook for 5 more minutes or until chicken is cooked through (If grilling on a gas grill or charcoal grill skip the oven). Remove from grill and dice, set aside.
Place quinoa in a medium sized sauce pan with water. Cook over medium heat until quinoa starts to boil. Cover and reduce the heat to low. Cook for 10 minutes or until quinoa is cooked and water is absorbed. Toss with dry ranch dressing and stir to combine, set aside.
To make your bowl place 1/2 cup quinoa, 1/2 cup kale, 1/2 cup chicken, 1/4 Cup cheese and 1/4 cup avocado into the bowl.
Drizzle chicken with extra BBQ sauce and top with squeezed lime juice.
English muffin pizzas were a childhood favorite and I love this easy recipe as a meal prep item. You can make a bunch of these ahead of time, wrap them in saran wrap and freeze. When your kids are cranky and ready to eat just unwrap however many you need and place them in the oven to cook.
Make a bunch of different types of pizzas with your kid's favorite toppings to have on hand in the freezer.
English Muffin Pizzas: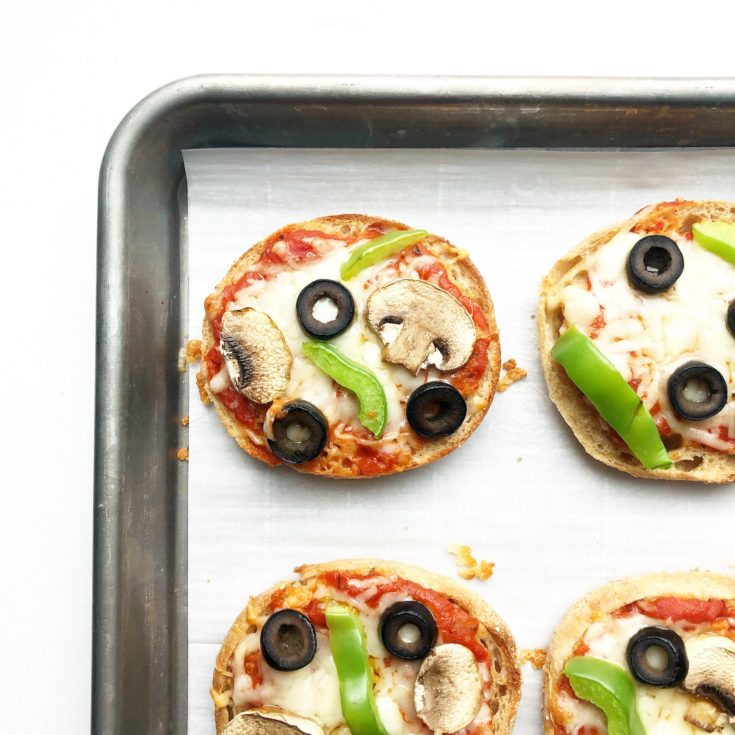 Yield: Serves 2
English Muffin Pizzas
Prep Time: 2 minutes

Cook Time: 5 minutes

Total Time: 7 minutes

The perfect lunch for kids and adults.
Ingredients
2 English Muffins, Sliced in Half
Tomato Sauce
Mozzarella Cheese, Shredded
Vegetables of Choice
Instructions
Preheat the oven to 400°F.
Place the English muffins on a foil-lined baking sheet.
Top the English muffins with sauce, cheese, and vegetables of choice.
Bake for 4-6 minutes or until cheese is melted.
Quesadillas are a great lunch option because you can make them quickly and change up the flavors every day. If you are gluten free use a gluten free tortilla.
This quesadilla is one of my favorites and the balsamic glaze is a must.
Caprese Quesadilla:
Yield: 1
Caprese Quesadilla
Prep Time: 2 minutes

Cook Time: 5 minutes

Total Time: 7 minutes

All the delicious flavors of a caprese salad stuffed into a quesadilla
Ingredients
1 Whole Wheat Tortilla
1 Small Tomato, Sliced
½ Cup Shredded Mozzarella Cheese
2 Basil Leaves, Torn
Optional:
Fresh Spinach, Torn
Balsamic Glaze
Instructions
Preheat a large cast iron skillet over medium heat.
Place the tortilla on the skillet. Place the tomato slices, mozzarella, basil, and spinach on one half of the tortilla. Fold the tortilla in half and cook on one side for 1-2 minutes.
Flip the tortilla and cook on the other side for 1-2 minutes, or until the cheese is melted.
Remove from the skillet and drizzle with balsamic glaze.
Being stuck inside can be hard, but hopefully these easy lunches can bring a little smile to your face and ease some of the burden of cooking at every meal.
And as always if you need something for the kids to do try out these Easy Recipes For Kids To Make.
Happy Cooking,
Meg