Are you ready to make these super cute Oreo Christmas cookies? We make a big batch of these no bake cookies every year and give them away to neighbors and friends.
The best part about these Oreo Christmas cookies is there is no cooking required. It is the perfect cookie to make with kids and get them involved in your holiday baking.
You can make these festive cookies with only 4 ingredients too! What could be better than an easy, low stress recipe that you can make with your kids to spread some holiday cheer?
Let's dive into the recipe shall we?
Ingredients for Oreo Christmas Cookies:
This couldn't be easier friends. Here is what you need to grab to make these festive cookies.
1 package Oreo cookies (any flavor)
1 package candy melts (color of choice)
Mini candy canes
Sprinkles of choice
Variations:
The variations are really endless with these cookies. You can make them for any holiday season too! Here are some of the variations that you can try.
Wreath Version:
Ingredients:
Oreo cookies
Green candy melts
Green sprinkles
Colored sprinkles of choice for ornaments on the wreath
Twizzler Pull N Peel Candy (for a ribbon)
Hanukkah Version:
Ingredients:
Oreo Cookies
Blue candy canes
Blue or white candy melts
Gold or silver sprinkles
Gluten Free Version:
Ingredients:
Gluten free Oreos
candy melt of choice
sprinkles of choice
Gluten free mini candy canes
Other Christmas Cookies To Make With Kids:
Best Christmas Cookies Ever: One Dough Makes 4 Cookies
Stained Glass Gingerbread House Tutorial
Easy Classic Chewy Chocolate Chip Cookies
Video Tutorial:
Ingredients: Oreos, candy melts, mini candy canes and sprinkles
1
Place your Oreos on a parchment lined baking sheet.
2
Prep candy canes by removing from the wrapping. You will need to work quickly with the candy melts.
3
Melt your candy melts (color of choice) in the microwave in 3 (30 second) intervals.
4
Dip the Oreos into the candy melts on both sides.
5
Quickly place the candy cane in the center of the Oreo (hanging off to one side).
6
Top the candy cane with more candy melt to cover. Then add sprinkles.
7
You can top with multiple different sprinkles.
8
Let cool for 10 minutes. Enjoy!
Recipe: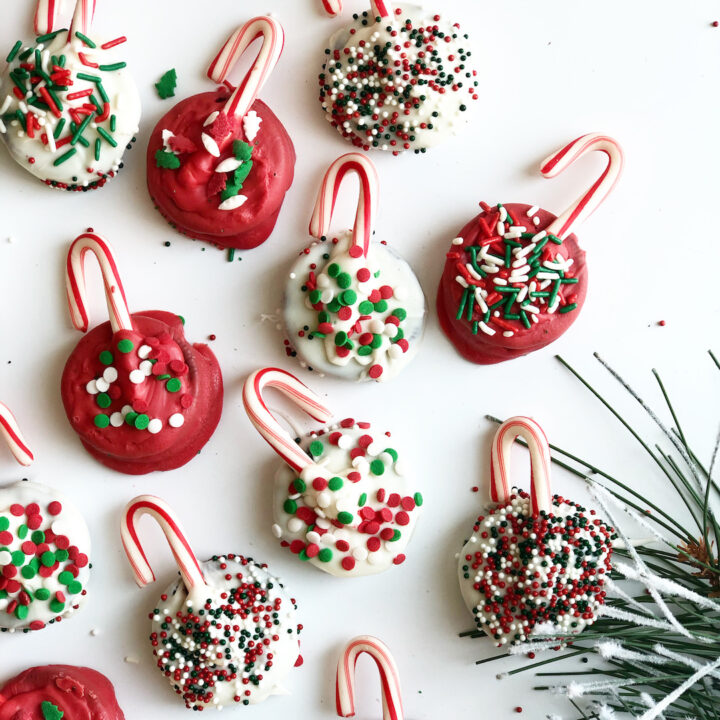 Oreo Christmas Cookies
These cute Oreo Christmas cookies can be made into ornaments or wreaths. You can change the design up to fit any holiday!
Ingredients
1 package Oreos (flavor of choice)
1 pound candy melts (color of choice)
1 package mini candy canes, removed from wrapping
Sprinkles of choice
Instructions
Arrange the Oreo cookies on a parchment lined baking sheet.
Melt the candy melts in a microwave safe bowl in 30 second intervals. Stirring in between for a total of 1 minute 30 seconds.
Dip the cookies into the candy melts on both sides to coat. Place them on the parchment lined baking sheet.
Place the candy cane in the middle of the cookie hanging it half off the side to create the ornament look.
Top with a small amount of melted candy to cover the candy cane. Immediately top with sprinkles.
Let cool completely for 10 minutes.
Recommended Products
As an Amazon Associate and member of other affiliate programs, I earn from qualifying purchases.