Cookie dough frosting is by far my new favorite obsession! Rich, creamy and tastes just like cookie dough, this recipe is the best around!
This cookie dough frosting recipe took me multiple attempts to get just right.
First I tried to just turn my famous chocolate chip cookies into a frosting and that didn't work. Then I tried to make a simple buttercream and add cookie dough to it and that didn't work either. Finally, I created a whole new recipe taking the best parts of cookie dough and making it edible in raw form. And my friends, it worked!
It really is the best cookie dough frosting I have ever tasted! Therefore it goes well on just about everything! Try it on brownies, cakes, cupcakes or just eat it by the spoonful. It's also great for a layer cake!
I made this frosting to top my favorite boxed brownies and it totally elevated the brownies to a whole new level. Rich, chocolaty brownies smothered with a light and fluffy chocolate chip cookie dough frosting, I mean what could be better?
Smooth and creamy, this frosting is the perfect topping. It's like an edible cookie dough combined with a creamy frosting but so much better!
Tips:
Here are a few tips to make the perfect cookie dough flavored frosting.
Use an electric mixer or a stand mixer for this recipe and mix until desired consistency is reached.
Make sure your butter is room temperature and good quality for optimal flavor and consistency.
Cream together the butter and sugar until light pale yellow. This will help to create a smooth consistency without any lumps.
Use semisweet chocolate chips or switch it up with some fun chocolate chips. Some fun options are mini chocolate chips, mint chocolate chips or butterscotch chips.
Try out vanilla bean paste. This paste is life changing and is pure vanilla flavor. You will even be able to see beautiful vanilla beans running through your frosting. I will link it in the recipe card. 
Can You Eat Raw Flour in Icing?
Raw flour should not be eaten raw because it could potentially carry salmonella.
Because of this potential risk, you will want to cook the flour. There are two main ways to cook the flour. Which include the microwave and the oven. Here is how you can cook the flour using one of these two methods. 
Microwave: Spread the flour on a microwave safe plate and microwave for 1 minute.
Oven: Spread the flour out on a baking sheet and cook at 400 degrees for 5 minutes.
NOTE: Make sure the flour is cooled completely before adding it to the frosting.
Cookie Dough Frosting Ingredients:
This recipe calls for ingredients you probably already have on hand. Here is what you need to make this delicious dough flavored frosting.
good quality butter (I like the Kerry Gold brand)
brown sugar
milk
vanilla bean paste or extract
powdered sugar
salt
cornstarch
flour (heat treated)
semisweet chocolate chips
Chocolate Chip Cookie Dough Frosting Recipe: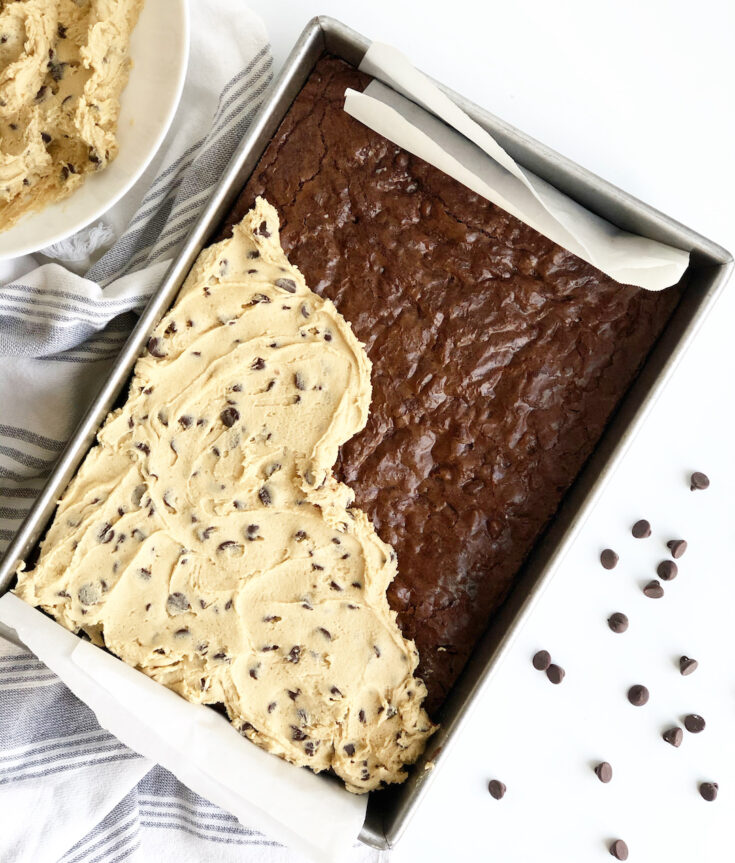 Yield:

Cups 2 1/2 Cups
The Best Cookie Dough Frosting
Frosting that tastes just like chocolate chip cookie dough! Yes Please!
Ingredients
8 ounces unsalted butter, softened
1 cup all purpose flour
1 cup brown sugar, packed
1/4 cup milk
1 teaspoon vanilla bean paste or extract
1/2 teaspoon salt
1 teaspoon cornstarch
1 cup powdered sugar
1 cup semisweet chocolate chips
Instructions
Add the softened butter to a stand mixer.
Measure the flour and place on a paper plate or microwave safe plate. Microwave for 1 minute.
Add the brown sugar to the mixer.
Cream together the butter and sugar for 1 minute.
Add the milk and mix to combine.
Add vanilla bean paste or extract, salt and cornstarch.
Mix to combine.
Add the powdered sugar and mix on low to combine.
Then add the flour and mix to combine.
Add chocolate chips and mix just to combine.
Use on top of cake, boxed brownies or cupcakes.
Recommended Products
As an Amazon Associate and member of other affiliate programs, I earn from qualifying purchases.