This yellow chicken curry with potatoes is a traditional Thai inspired dish and it's even better than take out! Serve this delicious curry over rice and you have a perfect quick meal in a matter of minutes. 
Tender chicken, potatoes and a rich, creamy, drinkable homemade curry sauce is the perfect dish to serve over a bed of rice. This Thai yellow curry is unreal! 
We are huge Thai food eaters in our house. Even the kids are huge fans. And it's one of my husband and my favorite date night spots. I mean, we hit up our favorite Thai food restaurant at least 2 times a month. 
Our order is always the same. Don't judge, we are just creatures of habit and when something is that good you just can't live without it. 
We get an order of egg rolls, Tom Yum soup, an order of shrimp green curry and then the best yellow chicken curry imaginable. We literally could lick the sauce right off of our plates. It's that good. 
Thai Food At Home
I love supporting my local Thai restaurant, but sometimes I am craving a good yellow chicken curry and I just don't want to drive anywhere to get it. Hence I have to have a recipe that tastes just as good and can be made in a matter of minutes at home, because kids right! 
So I have spent the last year or so perfecting this yellow chicken curry recipe and it's finally good enough to blog. I think you will love it too! 
If you are looking for something to serve this delicious curry with, try my Air Fryer Egg Rolls. They go perfect together. 
It's Easy Too!
So many curry recipes out there call for obscure ingredients. Some even have you make a homemade curry paste.
Honestly, I don't have time for that. I have found some shortcuts that give almost the exact same flavor without having to head to a special Thai market to find ingredients or spend time with a mortar and pestle making a homemade paste. 
Let's get into the ins and out of making this curry shall we?
What Type Of Curry Is Good For Kids:
Yellow curry is a great starter curry if you have never had curry before. There are so many different types of curry and different countries make their own versions.
I have found that my kids love this Thai yellow curry because it is't spicy and has a subtle sweetness to it because it is coconut milk based. 
Yellow curry is a great curry for kids. Have them get involved in the cooking process and see if they will try it. 
Possible Variations:
I always like to give some variations for recipes for those of you who have dietary restrictions or are vegetarian or vegan.
Thai food is such a great option for those who are vegetarian or vegan. Here are some variations to switch this recipe up. 
Vegetarian Yellow Curry:
Substitute the chicken for tofu or if you eat fish try using shrimp instead. Both are delicious. 
Vegan Yellow Curry:
Substitute oil for butter, omit chicken and fish sauce. 
Gluten Free Yellow Curry:
Make sure you buy gluten free fish sauce Everything else should be naturally gluten free.
Dairy Free Yellow Curry:
Substitute oil for butter. 
Ingredients for Thai Yellow Curry:
Let's go over the ingredients you will need for this recipe. 
Boneless Skinless Chicken Breast: Cut the chicken breast into thin 1 inch pieces to cook quickly. 
Butter: We use butter for flavor in this recipe. You can also use oil if you prefer that. 
Yellow Onion: I like the yellow or white varieties for this recipe. The onion adds a sweetness to the dish which is delicious. 
Dorot Gardens Frozen Garlic: I love these frozen garlic cubes. It's so convenient and easy to use. You can find frozen garlic cubes at most major grocery stores. If you can't find them substitute 3 garlic cloves, minced. 
Dorot Gardens Frozen Ginger: Again these are so convenient. If you can't find frozen ginger cubes you can substitute for 1 tablespoon grated fresh ginger. 
Yellow Potatoes: The potatoes soak up this sauce and are so heavenly! You could really use any potato variety, I just like the yellow potatoes because the skin is thin. 
Yellow Curry Powder: Make sure you grab a good quality curry powder. There are many different varieties of curry powder. If you like it a little more spicy, grab a spicy variety. 
Coconut Milk: Don't skimp on the coconut milk. You want a full fat coconut milk so make sure you don't buy the lite variety. The coconut milk will not only thicken the sauce but it gives a creaminess to the sauce that is perfection. Normally there will be a thick layer of the cream of coconut on top of the can, make sure you all all the contents of the can when making this recipe. 
Brown Sugar: Brown sugar helps to balance all the spices in the curry. It adds a sweetness and is essential!
Bamboo Shoots: This is an optional item, but I love them in this curry dish. You will be able to find bamboo shoots in a can in the Asian isle of the grocery store. Make sure you strain out the liquid before adding it to the curry. 
Basil: Typically a Thai yellow curry recipe will use Thai basil. I can only find Thai basil in my Thai grocery store so it would be an added extra trip for me that I just can't justify. Regular basil will do just fine. Make sure you use the fresh basil leaves. 
Mint: The combination of fresh basil and mint mimic the flavor of the Thai basil. Make sure you use fresh mint leaves. 
Fish Sauce: I know some of you will not include this because you may think it sounds gross, but honestly it is a must in Thai cooking!
Thai food is all about sour, sweet, salty flavors. I promise you fish sauce will not make your curry taste fishy. It adds an umami flavor that really can not be duplicated with any other ingredient.
Don't skip out on this ingredient. It is also available at major grocery stores in the Asian food isle. 
Kosher Salt: Kosher salt is a coarser salt that dissolves slower than regular iodized salt. I really recommend adding the full amount of salt as it brings out all the flavors. If the curry is tasting dull at all add more salt!
Thai Yellow Curry Recipe: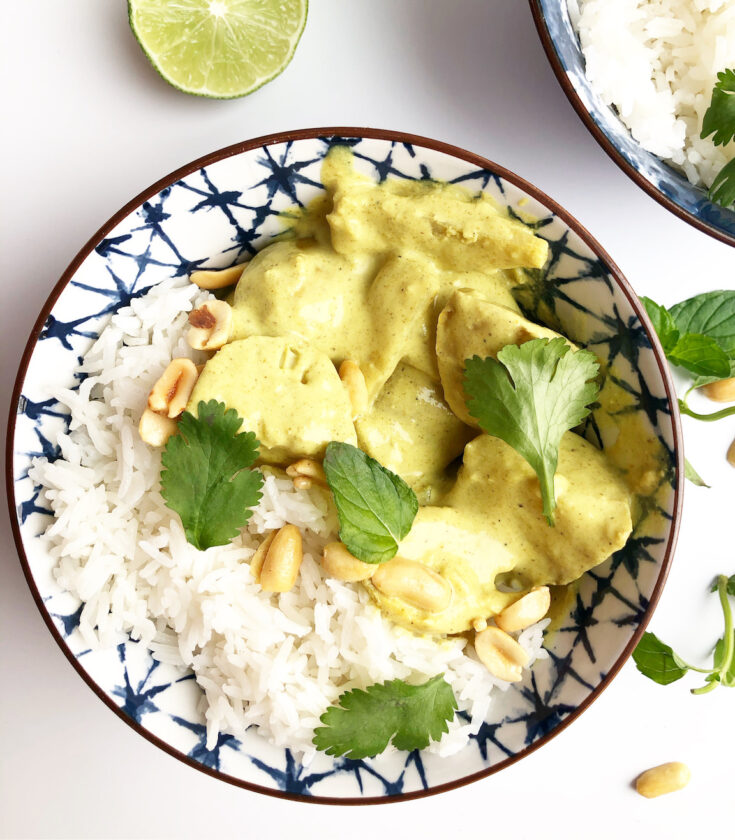 Yield:

Serves 6
Thai Yellow Chicken Curry With Potatoes
This yellow chicken curry with potatoes is a traditional Thai inspired dish and it's even better than take out!
Ingredients
3 cups rice
4 tablespoons butter
2 pounds chicken breast, cut into thin 1 inch strips
1 cup yellow onion, diced small
3 cubes frozen garlic
3 cubes frozen ginger
4 cups yellow potatoes, quartered
3 tablespoons yellow curry powder
3 (13.5 ounce) cans coconut milk
2 tablespoons brown sugar
1 (8 ounce) can bamboo shoots, drained
1/4 cup fresh basil leaves, torn
1 tablespoon fresh mint leaves, torn
2 teaspoons fish sauce
1 tablespoon kosher salt + more to taste
Optional:
Cilantro, torn
Peanuts, roughly chopped
Instructions
Cook the rice according to package directions.
Preheat a large saute pan over high heat. Add the butter and chicken and saute for 3 minutes.
Add the onion, ginger and garlic. Saute for another 3 minutes. Stirring frequently.
Add the potatoes and stir to combine.
Add 3 tablespoons curry powder.
Stir to combine and let cook for 2-3 minutes.
Add the coconut milk. Stir to combine.
Add the brown sugar.
Add bamboo shoots, basil leaves and mint leaves.
Add the fish sauce.
Then add salt and simmer for 15 minutes. Taste for seasoning.
Serve over rice and top with fresh cilantro and peanuts if desired.
Recommended Products
As an Amazon Associate and member of other affiliate programs, I earn from qualifying purchases.
Nutrition Information:
Yield:
6
Serving Size:
1
Amount Per Serving:
Calories:

647
Total Fat:

22g
Saturated Fat:

14g
Trans Fat:

0g
Unsaturated Fat:

6g
Cholesterol:

149mg
Sodium:

1411mg
Carbohydrates:

57g
Fiber:

5g
Sugar:

7g
Protein:

54g