This picanha is tender and juicy and so full of flavor. Try this recipe out for your next Brazilian date night in or Sunday BBQ. 
Picanha is a popular cut of beef found in Brazil. It is also commonly found in Portugal. This cut is known for being juicy, tender, succulent and it's the perfect meat to cook for a Brazilian churrasco.
This may sound weird, but when I taste picanha it brings back so many wonderful memories.
The first time I tasted picanha I was in Portugal. I was visiting my brother while he was living over in Europe and we went to an amazing restaurant that served picanha two ways. I still dream about it to this day!
It wasn't until I was talking to my husband years later that I realized that this was one of his favorite Brazilian dishes.
My husband served a mission for our church for two years in Brazil and would rave about the delicious Brazilian BBQ.
After I found this out I had to perfect it and make it at home. So the recipe testing began. 
I finally perfected it recently when we got together with a few friends. Most of them also served their missions in Brazil so we threw a huge Brazilian BBQ.
It was amazing! And this picanha was the star of the show.
So let's go over the basics and then hop into how to make picanha at home.
What is picanha?
Picanha is a cut of beef from the rump cap muscle just over the top of the rump. It has a large fat cap and is one of the most flavorful cuts of beef in my opinion.
Other common names for picanha are top sirloin cap, rump cover or rump cap.
The picanha cut of beef is popular in Brazil where it is often skewered and cooked over an open fire churrasco.
Picanha steak
Typically you would buy the picanha as a single cut. However you could also ask your butcher to cut the picanha into individual steaks if you like. Or you could cut them yourself when you get home.
If you are cutting the steaks yourself make sure you use a sharp knife and cut the steaks starting on the fat cap side. Cut the meat into 1 inch steaks.  
Where to buy
You probably won't find picanha in the meat section of your local grocery store, unless you go to a Brazilian market. However you can call your local butcher and ask if they sell any of the following.
top sirloin cap
rump cover
rump cap
If they are butchering from the primal cuts they should be able to provide you with this cut of beef.
Remember to keep that beautiful fat cap on for cooking. This will add so much delicious flavor to your meat. You can then cut it off after the meat is cooked if desired or leave it on.
How To Cook Picanha
There are many ways to cook this beautiful cut of beef.
However the most popular and traditional would be over a churrascuria. The meat is cut into 3-4 inch thick slices and then skewered in a crescent shape on long skewers and seasoned with a Brazilian coarse sea salt. 
The skewers are cooked over a charcoal or wood burning grill for 15-20 minutes almost like a rotisserie.
However you do not need a churrascuria to make this meat.
Here are some of the best ways to cook it.
Over a wood burning grill or charcoal grill:
You could also place the meat directly on a grill which is how I make it in the recipe section below. Grilled picanha comes out perfectly!
Be careful with flareups while cooking directly on the grill. The meat should be placed on the outer rim of the grill for more of an indirect heat. When the meat is almost done cooking you can transfer it to the center for a few minutes to sear on both sides. This is what we call a reverse sear. 
I do recommend grilling on a charcoal or hard wood lump charcoal grill. Gas grills will work, they just don't give off as much flavor. 
In a cast iron pan:
I would recommend this cooking method for cooking individual steaks. Pat the meat dry, drizzle with some oil and season heavily with coarse salt or Arisco seasoning.
Preheat the pan over medium high heat and sear both sides until browned and caramelized (about 5 minutes). Then transfer to a 400 degree oven for 10-15 minutes or so to finish cooking.
However you decide to cook it make sure you follow these simple tips below.
Picanha Cooking Tips:
Let the meat sit out at room temperature for 30 minutes.
Pat the meat dry and then rub with oil.
Lightly score the fat cap.
Season generously with coarse salt or my favorite Arisco seasoning.
Let the meat rest for at least 10 minutes before slicing into it.
Seasoning Matters!
This is my favorite seasoning to use for picanha. My friend who is from Brazil used this and it's delicious. You can find it in a couple of different flavors like spicy or garlic. It's by far my favorite. I put a link below.
If you can't find this seasoning you can also use a coarse Brazilian sea salt. Don't be shy with the seasoning!
Internal Temperature Chart:
Because your meat might be a different size than mine you can refer to this internal temperature chart to cook the meat to the desired doneness you prefer.
Picanha should be eaten rare to medium. I wouldn't cook it more than that as it is such a juicy and tender cut of beef.
Brazilian BBQ At Home:
Let's bring a Brazilian steakhouse right to your own home! Serve these other recipes to go alongside this delicious picanha recipe to round out your steakhouse dinner at home.
Chocolate Dulce De Leche Bundt Cake
Picanha Recipe: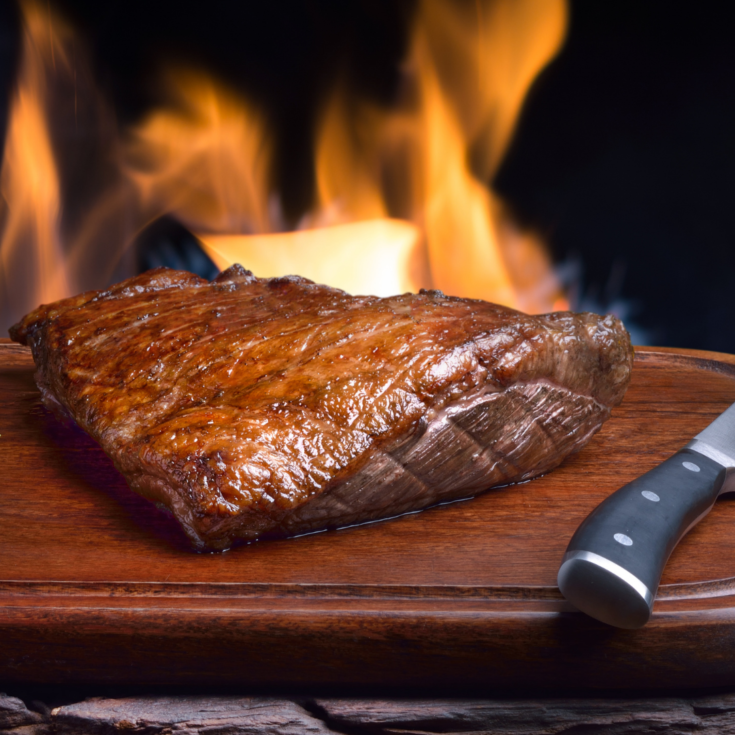 Yield:

Serves 10
Picanha (The Best Brazilian Steak Recipe)
Cook Time:
40 minutes
30 seconds
Total Time:
1 hour
10 minutes
30 seconds
Bring a Brazilian BBQ to your own home with this juicy, tender picanha.
Ingredients
4 pounds picanha with fat cap scored
1/4 cup Ariscos Seasoning or Brazilian sea salt
Instructions
Let the picanha sit out for at least 30 minutes at room temperature.
Meanwhile start your wood charcoal chimney (refer to the video in the post for a tutorial).
Pat the picanha dry with a paper towel.
Score the fat cap vertically with a sharp knife in 1/2 inch slices then score horizontally (make sure to only score 1/2 way through the fat cap).
Liberally rub the ariscos seasoning on both sides of the meat (you won't need any oil).
Place the hot coals in the center of the grill. Top with the grate. Make sure the grate is clean.
Add the picanha to the outer rim of the grill (indirect heat). Cook for 15 minutes per side with lid on rotating occasionally (check half way through to make sure the fire is not too hot). If you get flare ups spray the flame with a little water.
After the 30 minutes, place the picanha in the middle of the grill to sear for 3-5 minutes on both sides. Refer to the internal temperature guide for desired doneness.
Remove the meat from the grill, loosely tent with foil and let rest for at least 10 minutes.
Notes
Because picanha has a large fat cap it can cause flare ups. Make sure you have a water bottle handy to put out any flare ups. Make sure to not douse the coals with too much water or you will put your fire out completely.
Recommended Products
As an Amazon Associate and member of other affiliate programs, I earn from qualifying purchases.
Nutrition Information:
Yield:
10
Serving Size:
1
Amount Per Serving:
Calories:

442
Total Fat:

27g
Saturated Fat:

10g
Trans Fat:

1g
Unsaturated Fat:

15g
Cholesterol:

152mg
Sodium:

2043mg
Carbohydrates:

2g
Fiber:

0g
Sugar:

0g
Protein:

47g