Change up the traditional Brazilian brigadeiro with this beautiful brigadeiro cake filled with dulce de leche and topped with a velvety chocolate ganache and chocolate sprinkles.
This festive and delicious cake is moist, full of chocolaty flavor and is perfect for any occasion. It's super easy to make too! You can make it into a layered cake or into a bundt cake. I'll give you instructions for both forms.
Now let's make some cake!
What is Brigadeiro:
Brigadeiro is a traditional Brazilian dessert made with condensed milk, cocoa powder, butter and sprinkles.
These little treats are popular for festive events and served as a sweet treat.
We are changing it up today and taking some of the elements in the traditional brigadeiro and taking it to the next level with a cake!
There are two ways you can make this brigadeiro cake.
Bundt Cake:
One way is to make it into a bundt cake. For this version you will need a bundt pan. Just follow the recipe card directions below for this method.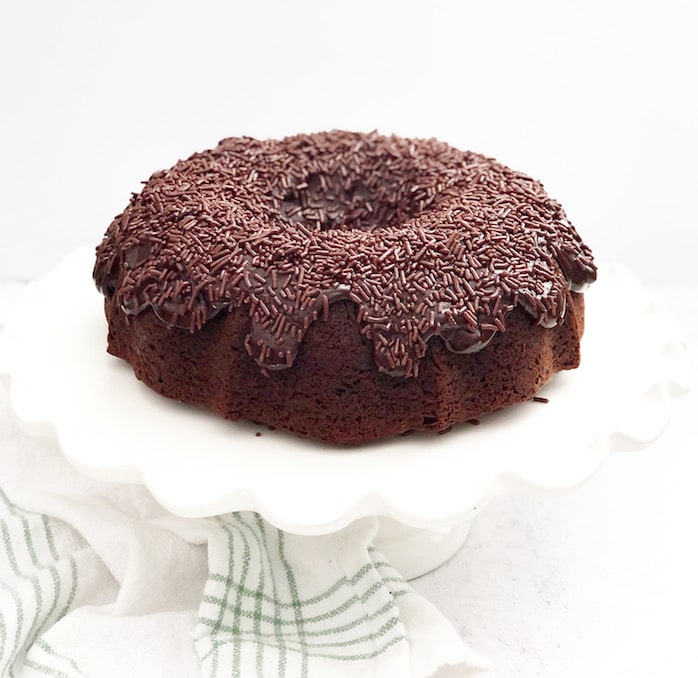 Layered Cake:
You can also make this cake in two cake pans for a more traditional chocolate cake look. For this option cook the cake batter in two 8 inch cake pans instead of the bundt pan. Cook for 20-25 minutes.
The cakes will be cooked when a toothpick inserted in the center comes out clean. Make sure to check the cake around the 15 minute mark.
To assemble place a cake layer on your serving platter and then layer with the dulce de leche filling. Top with another cake layer. Frost with the chocolate ganache and top with chocolate sprinkles.
Ingredients You Will Need:
Boxed Chocolate Cake Mix: Any boxed chocolate cake mix will do! Use your favorite brand.
Instant Chocolate Pudding Mix: Make sure you just use the dry mix. Don't add any milk to it!
Vegetable Oil: You can also use canola oil or avocado oil.
Water: No notes necessary.
Eggs: No notes necessary.
Sour Cream: You can also use Greek Yogurt as well.
Chocolate Chips: I like to use semisweet chocolate chips.
Canned Dulce De Leche: No need to make it homemade the canned stuff works great for this recipe.
Chocolate: Use a good quality chocolate bar. I like a dark chocolate but you can also use milk chocolate.
Cream: Make sure the cream is hot but not boiling.
Chocolate Sprinkles: This is the fun part! You can use as much or as little as you want.
What to Serve With Brigadeiro Cake:
This cake goes great with a Brazilian feast! Here are some recipes you can make for a full Brazilian food night. And make sure to make this cake for dessert.
Coxinha (Easy Brazilian Chicken Croquettes)
Picanha (The Best Brazilian Steak Recipe)
Grilled Pineapple With Cinnamon and Brown Sugar
4 Ingredient Brazilian Limeade
Brigadeiro Bundt Cake Recipe: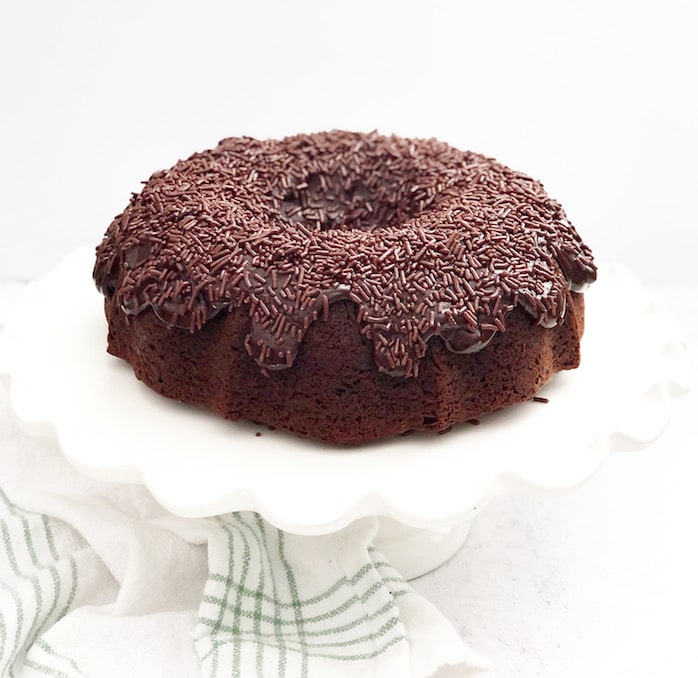 Yield:

Serves 12
Brigadeiro Cake With Dulce De Leche
The perfect chocolate bundt cake filled with a delicious dulce de leche filling.
Ingredients
1 box chocolate cake mix
1 small box dry chocolate instant pudding mix
1/2 cup vegetable oil
1/2 cup water
4 eggs
1 cup sour cream
2 cups semisweet chocolate chips
1 can dulce de leche
8 ounces semisweet chocolate bar, cut into small pieces
1/2 cup heavy whipping cream
1 cup chocolate sprinkles
Instructions
Preheat the oven to 350 F.
Add the box cake mix to a mixing bowl. Then add the instant chocolate pudding mix.
Add the vegetable oil.
Add the water.
Add the eggs.
Add the sour cream and then stir to combine.
Add the chocolate chips. Stir to combine.
S[ray a bundt pan with cooking spray.
Fill the pan with the batter. Bake for 40-45 minutes.
Fill a piping bag fitted with a star tip with the canned dulce de leche.
Insert the tip 1 inch into the cake and fill with the dulce de leche. Continue filling in a circular patter.
Invert the bundt pan onto the cake pedestal. Remove the pan.
To make the ganache topping chop the chocolate into small pieces. Place in a glass bowl.
Bring the cream to a simmer over medium heat.
Add the hot cream to the chocolate and stir until melted. If the chocolate has not melted completely you can microwave for 10 seconds.
Line the cake pedestal with parchment paper pieces.
Top the cake with the chocolate ganache. Spread evenly on top.
While ganache is still warm, top with the chocolate sprinkles.
Remove the parchment paper and brush off excess sprinkles with a pastry brush.