Nothing beats this copycat Pressed Juicery dairy free frozen yogurt recipe!
Fresh. Delicious. Convenient.
Pressed Juicery frozen yogurt has become a little obsession of mine lately so of course I had to recreate their frozen yogurt recipe for all of you. I can't wait for you to try this copycat Pressed Juicery frozen yogurt, but let me tell you how I got hooked on it first!
One of my favorite pastimes is going to the local froyo store with my friends. I'm sure you've done the same thing with your friends or family, so you know the drill!
You walk into the chilled, brightly lit store and first scope out their offerings before reaching for a sample cup to taste all 15 or 16 flavors.
Then comes the most important part – picking the bowl. I never veered from my favorite colored bowl (pink. Always pink), but I can see how choosing a bowl AND frozen yogurt might be challenging (let's not forget about the toppings!).
The flavor (or flavors) I chose definitely determined what toppings I picked. I mean, I guess it's possible to eat froyo without nuts or chocolate chips or gummy bears, but why should life be boring, right?
Looking back as an educated, responsible individual, I totally get that that defeated the purpose of eating frozen yogurt, since frozen yogurt typically has fewer calories and saturated fat than ice cream.
Regardless, I definitely don't regret those late night frozen yogurt runs. It's what pulled me through my senior year and summers.
Those carefree days are long gone and now I'm much more conscious about what I put inside my body.
So, when Pressed Juicery opened "nearby" I may have jumped for joy. I have been searching the internet with the words Pressed Juicery near me for years and finally one comes up in the search that isn't more than 50 miles away!
I love Pressed Juicery because they use only fresh fruits and vegetables in their juices, and their soft-serve has only 6 ingredients! Such a win for this frozen yogurt loving gal! They call their frozen yogurt Pressed Juicery Soft Serve Freeze since it actually does not contain any yogurt or dairy in it. It's totally gluten free, dairy free and vegan.
Pressed Juicery Freeze Menu:
They offer three traditional flavors (chocolate, strawberry, and vanilla) of frozen yogurt, but I have never veered from chocolate topped with chocolate sauce, chocolate chips, and fresh strawberries. It's like eating a chocolate covered strawberry. Heaven!
They also have a variety of toppings to choose from including fresh fruit and chocolate sauce.
If you don't have a Pressed Juicery near you, I've got you covered. This frozen yogurt recipe is dairy-free, uses plant-based ingredients, and is naturally sweet thanks to bananas and dates.
This recipe is super simple to make — just ensure your ice cream maker is prepared by freezing it for 24 hours in advance, and your dairy-free yogurt will come out perfectly every time.
Enjoy!
xoxo,
Meg
Looking for another frozen treat? Check out my favorite Ice Cream Cake .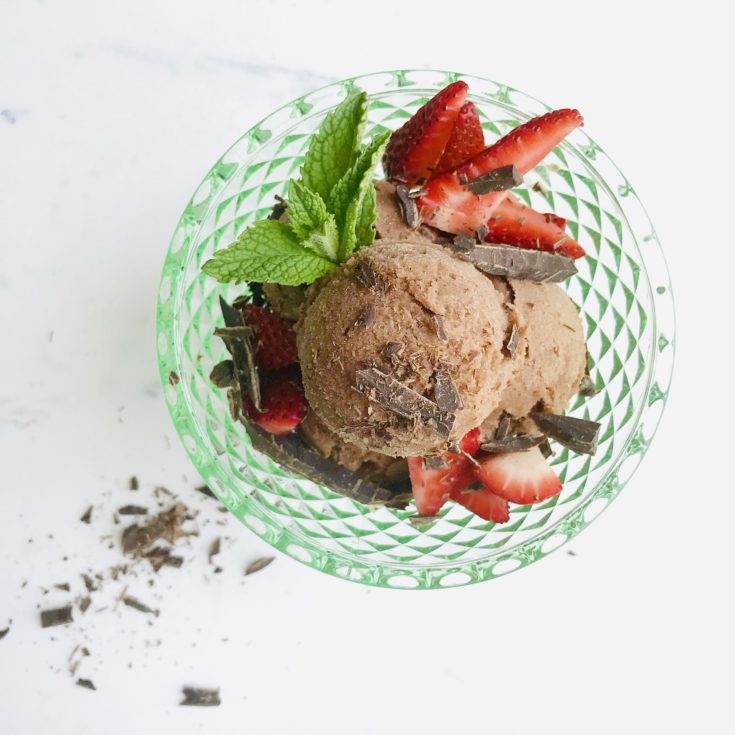 Yield:

Serves 4
Pressed Juicery Frozen Yogurt
Frozen yogurt without the guilt!
Ingredients
2 Large Bananas, Very Ripe
½ Cup Pitted Medjool Dates
4 Cups Califia Farms Chocolate Coconut Almondmilk (or your favorite brand)
3 Teaspoons Cocoa Powder
Pinch of Salt
Toppings:
Dairy Free Chocolate
Fresh Strawberries, Sliced
Instructions
Place all of the ingredients into a blender and blend until very smooth (2-3 minutes).
Transfer the liquid to an ice cream maker (make sure your ice cream bowl has been frozen for at least 24 hours).
Turn the ice cream machine on for about 10-12 minutes or until the mixture becomes the consistency of frozen yogurt.
You can serve at this point (my favorite), or you can place in the freezer for 15-20 minutes to harden some more.
If you freeze this mixture completely it becomes very hard, so let it sit out for a little before serving.
Scoop desired amount of ice cream into a serving bowl and top with chocolate and strawberries.
Notes
This recipe is best fresh from the ice cream machine.
Recommended Products
As an Amazon Associate and member of other affiliate programs, I earn from qualifying purchases.