Silky, creamy avocados loaded with crispy bacon, heirloom tomatoes, fresh herbs, and lots of citrus makes for a delicious loaded guacamole appetizer.

It's my favorite season — guacamole season! Blame it on my California roots, but avocados deserve to be on most everything. From toast to salads to smoothies, they're so versatile with such a neutral flavor. In addition, they're chock-full of healthy fats and essential nutrients.
Right now is the perfect time to practice your avocado picking and guacamole making skills. Here are some tips that will help you find the best one!
How do you pick the best avocado?
Avocados are in abundance and in-season generally from spring thru fall. When looking for a good avocado, look for one that has a green color between kelly green and forest green. That's when the avocado is at its peak. You can also check by gently squeezing the outside skin with your full palm. If the avocado is ripe, it will have a little give.
If the skin has begun to pull away and separate from the flesh of the fruit itself, it's safe to assume the fruit is past its prime. The skin should be taut but pliable to the touch. Give it a light squeeze to find out.
What's the difference between avocados?
I've heard that there are more than 500 varieties of avocados! That's really incredible. The most common variety you'll find at the grocers is Hass, but I've included a summary of other common varieties.
Bacon — Oval Shape, Smooth Skin, Medium/Large Seed, Medium-sized Fruit, Harvested Late Fall into Spring.
Fuerte — Pear Shape, Smooth Skin, Medium Seed, Harvested Late Fall through Spring.
Gwen — Plump Oval Shape, Pebbly Skin, Small/Medium Seed, Slight Larger than Hass.
Hass — Oval Shape, Pebbly Skin, Small/Medium Seed, Medium-sized Fruit.
Lamb Hass — Oval Shape, Pebbly Skin, Medium/Large Seed, Medium-sized Fruit, Available Late Fall into Spring.
Pinkerton — Long Pear Shape, Slight Pebbling Skin, Small Seed, Harvested Early Winter through Spring.
Reed — Round Shape, Slight Pebbling Skin, Medium Seed, Large-sized Fruit, Available Summer and Early Fall.
Zutano — Pear Shape, Shiny Skin, Medium Seed, Harvested September through Early Winter.
What is the best avocado to use in guacamole?
Hands down large Hass, aka Lamb Hass. The richness of the fruit makes the Hass easy to mash and whip, which results in a riche.
How do I cook bacon in the oven?
I've been cooking bacon in the oven for several years now and I haven't gone back to the stovetop method.
Simply line a rimmed baking sheet with parchment paper. The parchment paper will help the bacon not stick to the pan. Then, turn on the oven to 400°F. Once the oven has preheated, cook the bacon for approximately 20 minutes, depending on your crispness preference.
How to make loaded guacamole:
Just follow some simple steps and you'll be enjoying this loaded guacamole. Warning: this never lasts, so consider doubling the recipe!
First, cook the bacon in a 400°F oven on a parchment-lined rimmed baking sheet. While the bacon is cooking, you'll want to dice the tomatoes and chives, and also juice the limes.
Then, while the bacon is cooling, prepare your avocados by slicing them in half, removing their seed, and scooping the flesh into a small-sized non-reactive bowl. Immediately add the lime juice and salt to the avocado so as to stop the oxidation process. Mash to your desired consistency and to also incorporate the juice and salt throughout the avocado.
Finally, crumble or chop the bacon to your desired size. Top the avocado with bacon, tomato, and chives.
Serve with tortilla chips, on top of nachos or burritos or with pork carnitas! Make sure to make fresh horchata to sip on!
Loaded Guacamole Recipe: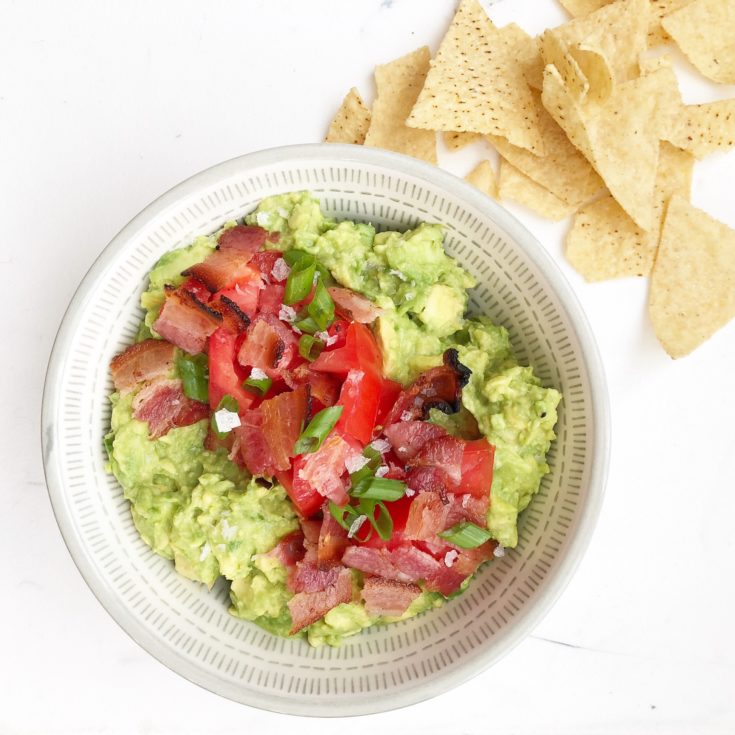 Yield: Serves 4
Loaded Guacamole
Prep Time: 5 minutes

Total Time: 5 minutes

Creamy loaded guacamole can be a meal in itself.
Ingredients
4 Large Hass Avocados
2 Limes, Juiced
½ Teaspoon Kosher Salt
3 Sliced Uncured Bacon, Cooked and Crumbled
1 Heirloom Tomato, Diced
1 Teaspoon Chives, Diced
Instructions
In a small non-reactive mixing bowl, combine the avocados, lime juice, and salt. Smash with a fork to combine.
Transfer the avocado mix to your serving bowl and top with bacon, tomatoes, and chives.
Enjoy!