These roasted carrots with shallot cream sauce are the perfect side dish for any dinner or dinner party. 
These delicious roasted carrots are cooked at a high temperature to caramelize their natural sugars. Then they are drizzled with a delicious shallot cream sauce and topped with fresh dill. If you are looking for a delicious vegetable side dish this is it! 
How to roast vegetables:
Roasting is a dry, high heat method of cooking normally used to cook meat or vegetables. As the food cooks at high heat, the natural sugars caramelize and create delicious flavor. 
How to roast carrots:
To roast carrots, peel the carrots and cut on a bias.
Place the sliced carrots on a sheet pan and drizzle with olive oil or avocado oil.
Season with salt and pepper and toss the carrots to combine.
Lastly cook in a 450 F degree oven for 25-30 minutes
Tips for roasting vegetables:
Use whole carrots instead of baby carrots.
Use heat over 400 F. Usually around 425 F- 450 F. 
Make sure the vegetables have enough room on the pan so that the hot air can circulate. 
Cook directly on the cookie sheet. 
Roast vegetables with low water content for best results. 
Shallot cream sauce:
This shallot cream sauce is made by reducing shallots in white wine and then adding cream.
It is so simple, but the flavors are complex and absolutely divine on just about anything.
I serve this sauce on fish, chicken and pork tenderloin. It's also delicious on roasted vegetables like these roasted carrots. 
Other delicious vegetable side dishes:
Try these other vegetable side dishes. They are all easy to make and delicious for any type of gathering. 
Roasted Greek Asparagus With Dill and Feta
Roasted Carrot Recipe: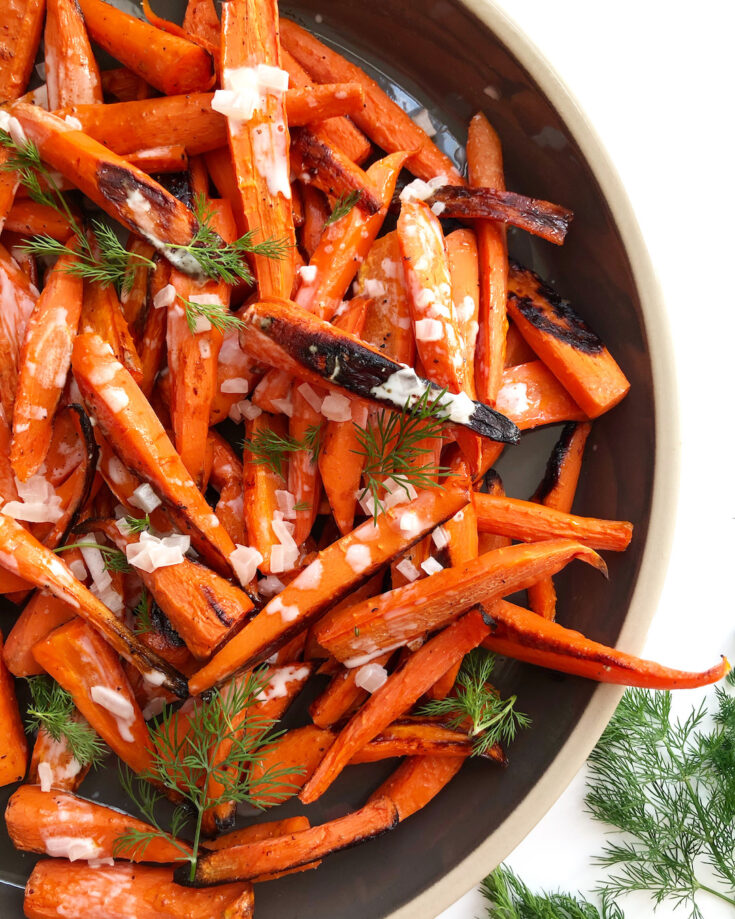 Yield:

Serves 8
Roasted Carrots With Shallot Cream Sauce
Deliciously roasted carrots topped with a lucious cream sauce is the perfect side for a fancy dinner party or a weeknight dinner.
Ingredients
3 pounds carrots, peeled and cut in half
1 tablespoon olive oil
1 1/2 teaspoons Kosher salt
1/2 teaspoon black pepper
2 large shallots, finely minced (about 1/2 cup)
13.1 ounces white wine or white cooking wine
1/2 cup heavy cream
2 teaspoons fresh dill, roughly chopped
Instructions
Cut the peeled carrots in half on a bias.
Drizzle with oil, salt and pepper. Toss to combine.
Roast at 450 F for 30 minutes.
While the carrots are cooking make the sauce by finely dicing a shallot.
Add the shallot to a saucepan and add white cooking wine.
Reduce on the stove over medium heat for 7 minutes.
Lower the heat to low and add the cream. Cook for 2 minutes and remove from the heat.
Remove the carrots from the oven.
Top with sauce and fresh dill.